Best Skin Care Routine For Dry Black Skin
Finding the best skin care routine for dry black skin is very important as this skin type requires extra attention and care to maintain its natural radiance and suppleness.
A good skin care routine for dry black skin involves gentle cleansing, mild exfoliation, hydrating moisturizers, sun protection, hydration, avoidance of harsh products, treatment of hyperpigmentation, and sufficient rest. By following these tips, you can help keep your skin looking healthy, radiant, and beautiful. To find out more about ingredients that are effective in treating hyperpigmentation and what other products you can include in your routine, make sure to check out my e-book "Skin of Color: Hyperpigmentation".
In the text below there are ingredients and product recommendations that you can include in your skin care routine, but keep in mind that those are not recommendations for a complete routine, just for specific steps.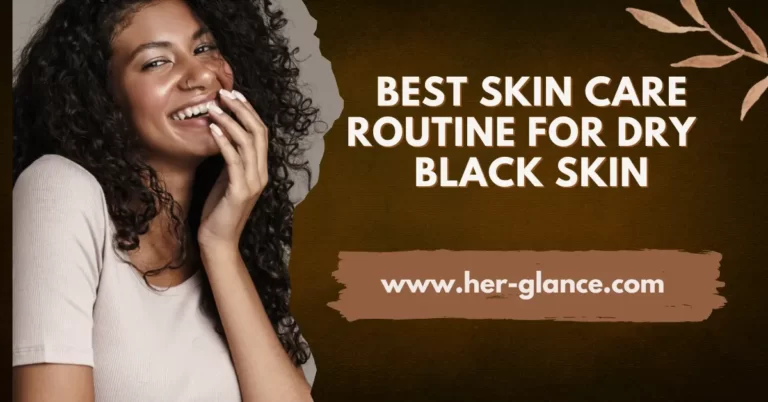 Tips For The Best Skin Care Routine For Dry Black Skin
The first step in any good skincare routine is cleansing. However, it's important to choose the right type of cleanser for your skin type. For dry black skin, look for gentle, hydrating cleansers that won't strip away natural oils or irritate the skin. Avoid harsh scrubs or exfoliants, as these can be too abrasive and cause irritation.
Paula's Choice Omega Complex Cleansing Balm, Double Cleanse Face Wash
Double cleansing is a very important part of the nighttime routine even for dry skin because that additional step of cleansing with an oil-based cleanser gets rid of makeup sunscreen and impurities. When it comes to cleansers make sure to look for a gentle one, without fragrance, that is suitable for sensitive and dry skin. This is very important because fragrance is the number one cause of contact dermatitis, and this is more important for stay-on products than for cleanses, but it will not hurt to pay extra attention to your skin.  
Paula's Choice Omega Complex Cleansing Balm checks all the boxes, it is suitable for sensitive and dry skin and doesn't contain fragrance, sodium laureth sulfate (SLES), silicones, soap, sodium lauryl sulfate (SLS), and parabens. The cleaning balm consists of a combination of antioxidants and nourishing omega fatty acids that work to cleanse and hydrate the skin without removing any of its natural oils. The balm successfully removes makeup, debris, and pollutants while being kind to your sensitive skin.
Key ingredients that make this formula great are:
Caprylic/​Capric Triglyceride which is derived from coconut oil and glycerin. It's considered an excellent emollient that helps to moisturize and replenish skin. This ingredient is safe but you should avoid it if you are allergic to coconut. Due to its non-irritating and non-comedogenic properties, coco-caprylate is a fantastic option for persons with sensitive or acne-prone skin. Additionally, it is soothing and suitable for all skin types, including combination, oily, and dry skin. Even though this ingredient is safe for acne-prone skin, this cleanser contains Ethylhexyl palmitate, which has a comedogenicity level of 2-4, which can cause pore clogging in that skin type.
Meadowfoam Seed Oil, which is rich in Omega-9 fatty acids and vitamin E, can aid in preventing free-radical damage, which can cause early indications of aging. Due to this ingredient's extremely powerful moisturizing abilities, fine lines and wrinkles seem plumped up and less noticeable on hydrated skin. In the cleanser, this ingredient acts as softening agent that prevents moisture loss during cleansing.
Jojoba oil helps to soothe chaffing and chapping, lessen dry skin's tendency to turn red, lessen the symptoms of eczema and rosacea, and keep skin calm due to its anti-inflammatory characteristics. The Jojoba Oil's Vitamin E and B-complex vitamins aid in skin regeneration and damage prevention.
Rapeseed oil serves as an occlusive, thickening agent, and emollient on the skin. As a plant oil, its antioxidants (primarily the chemical known as synaptic acid and vitamin E), as well as polyunsaturated fatty acids like the extremely stable omega-9 erucic acid help, maintain healthy, youthful-looking skin by halting water loss, mending skin's surface, and increasing the skin's antioxidant levels.
La Roche-Posay Toleriane Hydrating Gentle Face Cleanser
This cream cleanser helps the skin to retain moisture while cleaning it. It doesn't contain fragrance and it is gentle and suitable for sensitive and dry skin. Keeps the skin's natural protective barrier and pH intact while gently removing face and eye makeup, grime, and pollutants.
The formula contains La Roche-Posay Thermal Water that assists to restore the balance of the skin's microbiome and to strengthen the skin. The water has special antioxidant, prebiotic, skin-softening, and soothing characteristics, making it a great option for dry skin.
This cleanser contains a lot of actives in the formula, like niacinamide, ceramides, glycerin, and panthenol. I know that the question of the efficiency of active ingredients in a wash-off product arises.
Is it worth spending extra money on a cleanser packed with active ingredients?
Dr. Peredo claims that "active ingredients that are found in cleansers or wash-off products typically work soon after the application," i.e., they penetrate the skin to provide their unique skin-care advantages as soon as you start lathering your face in the foam.
Also, it is important to note that cleaning products with active chemicals, according to Dr. Zeichner, "need enough contact time with the skin to allow the active ingredient to penetrate through the outer skin layer." He suggests that you sing the alphabet to yourself while you scrub your skin to ensure that your cleanser has enough time to do its job properly.
So, the Np Ceramide which is one of the ingredients in this cleanser is a very good ingredient to incorporate into the best skincare routine for dry black skin. Naturally, the skin of color has lower levels of ceramides, which in many cases is the main cause of dry skin. So, applying them topically, even in a wash of product can help your skin. According to research, ceramide NP-containing skin care products can help dry or dehydrated skin look and feel better since they have the ability to retain water. Ceramide NP has also been demonstrated to improve the skin's ability to withstand external stresses by strengthening the skin barrier. To learn more about ceramides visit this link. 
Another active ingredient that is present in this cleanser is niacinamide, which enhances the function of your skin's lipid barrier (a water-and-oil layer that shields your skin). Your skin will become more moisturized and less sensitive as a result of this helping to lock in moisture and keep pollution or other possible irritants out. If you want to include additional steps with niacinamide in your routine make sure to visit my post about toners with niacinamide, where you can find a detailed analysis of toners and ingredients that they contain.
Niacinamide reduces inflammation, which helps to reduce the redness that appears as a side effect of some skin conditions including eczema, rosacea, and acne. Additionally, it can soothe irritation caused by powerful exfoliants that remove dead skin cells from the surface of your skin, such as retinol or glycolic acid, which is especially important if you have been over-exfoliating.
The cleanser also contains glycerin, which is the best humectant that hydrates the skin, and panthenol which is a form of vitamin B5 that strengthens your skin's moisture barrier to improve its ability to hold on to moisture.
Dry black skin requires plenty of hydration to keep it looking healthy and supple. Look for moisturizers that contain ingredients like hyaluronic acid, glycerin, or shea butter, which help to lock in moisture and nourish the skin. Apply your moisturizer immediately after cleansing, while your skin is still damp, to help seal in hydration.
Naturium Plant Ceramide Rich Moisture Cream
The rich moisture ceramide cream from Naturium is made with ceramides that are plant-derived. These, which are naturally shielded by a layer of phospholipids, aid in repairing and supporting the natural moisture barrier which treats dry skin. As stated, before ceramides are an important part of the skincare routine for dry skin of color, because of naturally lower levels in that skin type, so make sure to replenish them topically.
The formula is non-greasy, rich, and without alcohol, fragrance, and essential oils, so it is suitable for sensitive and dry skin. If it is your first time using it, I suggest doing a patch test on your neck to see how your skin is going to react. This part goes for all new products because you don't want post-inflammatory hyperpigmentation.  
Naturium Plant Ceramide Rich Moisture Cream contains a blend of skin-identical and soothing ingredients, as well as antioxidants. Among other skin-identical ingredients that are part of this formula are:
Glycerin is a humectant that has very small molecules that are able to penetrate deeper into the layers of the skin, making it the most effective humectant on the market according to studies. It hydrates the skin and reduces dryness.
Squalene is saturated oil that acts as a moisturizer that is lightweight and leaves skin hydrated, supple, and radiant. Due to its close resemblance to skin's natural oil, it tends to deliver the ideal amount of moisture without over (or underdoing it).
Linoleic Acid or LA, is a particularly crucial substance that is naturally present in our skin. It is the most common fatty acid in the epidermis and a structural precursor for ceramides, which makes it invaluable for dry skin. 
Linolenic Acid or ALA is an acid in whose case, it seems that oral ALA supplementation is more significant than applying it topically to your face. That is not to imply, though, that topical ALA is a bad thing; on the contrary, it is a positive thing. Although it is an ingredient that is similar to skin and is probably moisturizing and anti-inflammatory, its topical effects are less well-known than those of linoleic acid.
Sodium Hyaluronate is a cousin of hyaluronic acid that acts as a humectant that draws water into the top layers of the skin. To add the extra step of hydration to your skin you can apply toner with hyaluronic acid. To learn how and which ones are the best make sure to visit my post. 
One of the anti-oxidants and soothing ingredients in this formula is Rosemary Leaf Extract, which aids in reducing skin edema and puffiness due to its strong anti-inflammatory effects. Additionally, this plant has potent therapeutic properties that aid in the treatment of burns and soothe the skin. Due to its antioxidant characteristics, the rosemary leaf extract is anti-aging and can firm and tighten your skin. It blends very nicely with other ingredients and helps to hydrate the skin.
Another soothing ingredient is sunflower extract which is rich in linoleic acid that helps your skin maintain moisture and avoid drying out. And for people with eczema or other dry skin conditions, strengthening the natural moisture barrier is extremely beneficial. In my post "Is Olay good for your skin" you can find affordable Olay products that contain, moisturizers that besides hydrating ingredients also contain ingredients that target specific skin concerns like wrinkles and hyperpigmentation.  
Treating hyperpigmentation
People with dry black skin are more prone to hyperpigmentation, which can make the skin appear darker in certain areas. To make your routine the best skin care routine for black dry skin look for products that contain ingredients like vitamin C, retinoids, or niacinamide, which can help to brighten and even out the skin tone.
Here is one interesting product recommendation to treat hyperpigmentation just make sure to implement it into your routine in a way that will be beneficial for your skin, for example, don't use it in the same routine when you use retinoids or exfoliants to avoid skin irritation.  
Paula's Choice Radiance Renewal Night Mask
Treating hyperpigmentation can be a struggle that even people with a darker complexion can have because hyperpigmentation is not just acne scarring. According to Hartman, itchy skin is a result of dry skin. "The skin's ability to retain water and oil is reduced when the skin barrier is damaged. The skin begins to itch, and the scratching causes a rash, said the expert which leads to inflammation and ultimately to hyperpigmentation.
This overnight face mask has a thick, feel that hydrates your skin as you sleep. Enhances hydration, boosts a more even-looking skin tone, and soothes and refines the skin's surface. The mask's formulation without alcohol, parabens, and fragrance works to improve the skin's tone, softness, and plumpness for a youthful glow. The mask contains incredibly calming ingredients that improve skin tone and the look of wrinkles and fine lines, leaving the skin dewy and hydrated.
The mask is suitable for all skin types with hyperpigmentation issues and is meant to use this overnight mask at least once weekly, or as often as desired as the last step in your evening facial skincare routine.
Paula's Choice Radiance Renewal Night Mask among other ingredients contains niacinamide (you can find benefits of niacinamide for dry skin in the section about La Roche-Posay Toleriane Hydrating Gentle Face Cleanser), glycerin (best humectant on the market), dimethicone, olive fruit oil, arbutin, allantoin, Magnesium Ascorbyl Phosphate (a form of vitamin C) and Sodium Hyaluronate Crosspolymer.
Arbutin helps to reduce scars appearance, lighten darker regions of the skin, and even out and brighten skin tone, according to Annie Chiu, MD, a board-certified dermatologist at The Derm Institute in North Redondo Beach, California. The researchers also point out that arbutin has antioxidant qualities, which may further contribute to its skin-brightening effect by lowering oxidative stress in the skin. It works well for melasma, acne scarring, and post-inflammatory hyperpigmentation and pairs great with vitamin C (which this mask contains).
Arbutin application may result in dermatitis or contact dermatitis, which is skin irritation brought on by coming into contact with an allergen. The symptoms include redness, itching, dryness, and blisters, so make sure to do a patch test of a product containing arbutin. Some of the people reported dried-out skin after using this mask which can be a reaction to some of the ingredients, so it is very important to do a patch test, especially if you are using some of the ingredients for the first time.  
Magnesium Ascorbyl Phosphate is a form of vitamin C that is suitable for sensitive and dry skin. Magnesium Ascorbyl phosphate has been shown to have a hydrating effect on the skin, according to 2022 studies by decreasing transepidermal water loss (TEWL) and allowing your skin to retain moisture better.
Olive fruit oil has fatty acids, some of which originate from the emollient squalene, which is good for dry skin.  Oleic, palmitic, and linoleic acids are among the necessary fatty acids present in olive oil that dry skin needs.
Dimethicone and allantoin are soothing ingredients, while sodium hyaluronate crosspolymer (a form of hyaluronic acid) penetrates deep into the skin, draws water, reduces inflammation, and works wonders for decreasing dryness and wrinkles when used topically.
While exfoliation is important for removing dead skin cells and keeping the skin smooth, it's important to be gentle when exfoliating dry black skin. To create for yourself the best skin care routine for black dry skin look for products that contain mild exfoliating agents, such as alpha-hydroxy acids (AHAs) or beta-hydroxy acids (BHAs), which are less likely to irritate. In my post "Best affordable toners" you can find gentle exfoliating toners that are suitable for dry skin like Hanskin Real Complexion Hyaluron Exfoliating AHA Treatment or Keenoniks Cream Toner for Face – Potentilla Calming Face Toner.
Sun damage can cause premature aging, hyperpigmentation, and other skin issues, so it's important to protect your skin from the sun's harmful UV rays. Look for a broad-spectrum sunscreen with an SPF of 30 or higher, and apply it every day, even when it's cloudy outside.