Toners With Hyaluronic Acid List of
TOP 10
This post is all about toners with hyaluronic acid, their benefits for the skin, and how to properly use them and we will also give you a list of the best ones.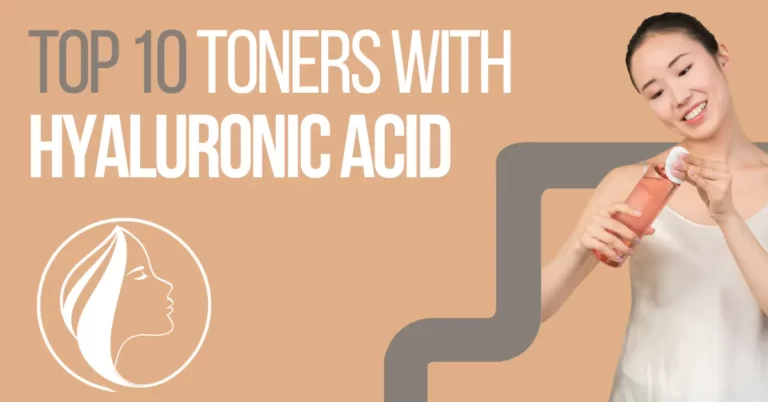 Are you wondering if toner is a waste of money?
Here is your answer: no, definitely not. Toner should be included in your skincare routine (even into basic one) because it is packed with active beneficial ingredients. It will help your skin to be healthier, dewier, and more hydrated and prime your skin for serum, moisturizers, and makeup.
It is very easy to include into your skincare routine and your skin will be thankful because it will provide a boost of hydration.
Since you have shown interest in toner with hyaluronic acid, we bring you its benefits for your skin:
As you know it increases skin hydration and
Plumps up wrinkles and fine lines
It also improves the appearance of skin texture
Better moisture content and natural turnover of the cells (natural exfoliator)
More efficient work of enzymes (no build-up of dry skin and bumpiness)
Since hyaluronic acid is found in our skin (your immune system should not react) it should be easy to tolerate for all skin types. But it is better to be safe than sorry, introduce it to your skin with a patch test (apply toner on a small area of your skin and check for reaction)
It enables skin flexibility. Hyaluronic acid lessens wrinkles and creases while assisting the skin in stretching and flexing. Additionally demonstrated that hyaluronic acid promotes wound healing and lessens scarring
It can help with facial redness
It helps other ingredients to penetrate deeper into the skin (acts like carrier molecule for a lot of actives like vitamin A, niacinamide, kojic acid, and vitamin C)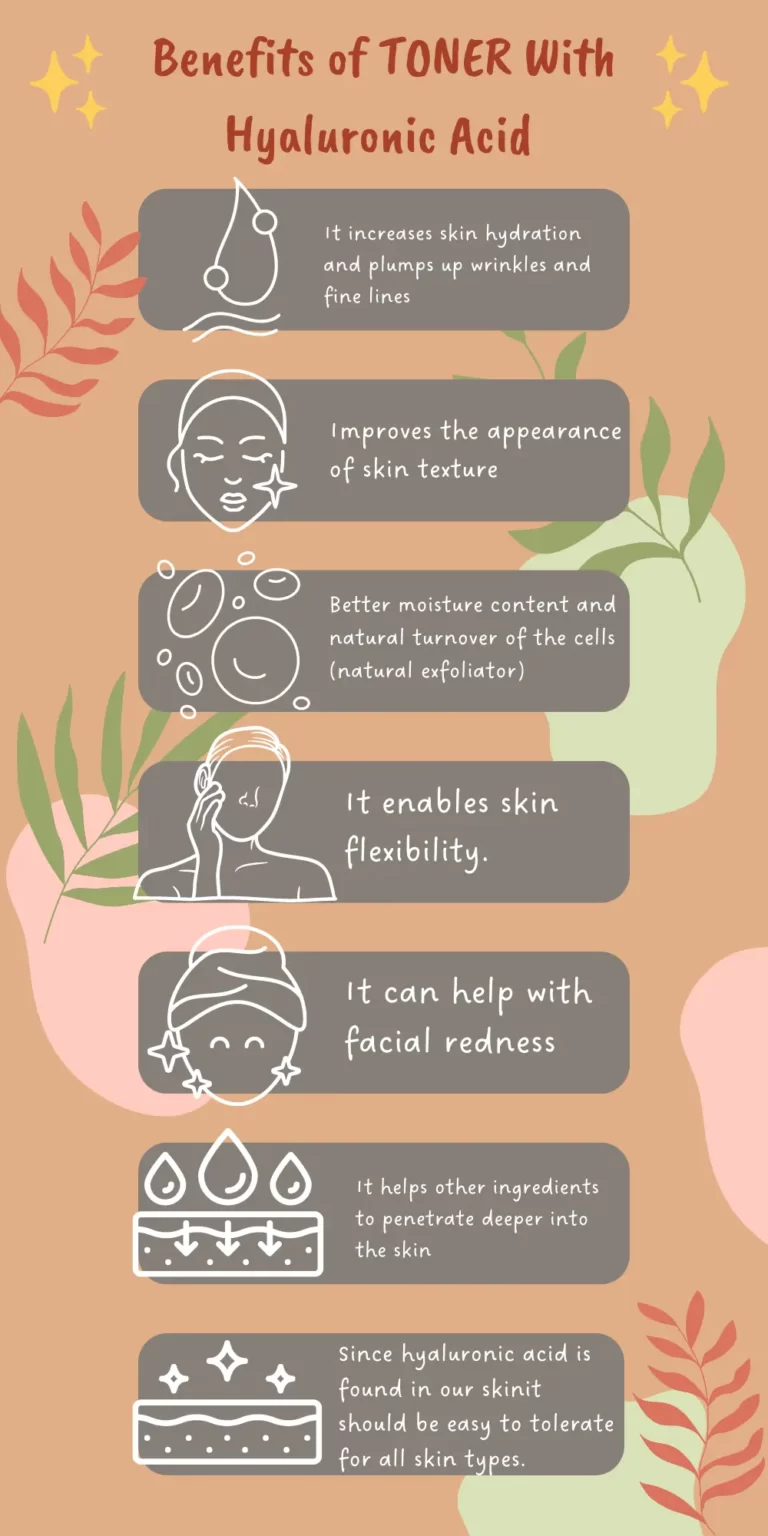 List of Best Toners With Hyaluronic Acid
Haruharu Wonder Black Rice Hyaluronic Toner
This toner with hyaluronic acid is great if your skin feels flaky, dry and has increased tension, and sensitivity, or needs something hydrating. It will make your skin supple and dewy, and who doesn't want that?
In addition to hyaluronic acid, it also contains:
Fermented rice extract which may be a significant asset if you struggle with issues like dull skin, pimples, or an uneven skin tone. Your skin's collagen synthesis will be increased, resulting in a soft, radiant complexion. In addition, it aids in the fading of scars, pigmented spots, and blemishes.
Beta-glucan which can keep moisture in and stop moisture loss, resulting in skin that is smoother and more supple. The research discovered that despite the beta-glucans enormous molecular size, they may efficiently fill in fine lines and wrinkles in addition to their capacity to hydrate the skin. Beta Glucan significantly lessens skin redness.
Scutellariaia baicalensis root extract which prevents cells from oxidative damage and apoptosis calms inflammation, and shields skin from UV-induced damage. It also lessens irritation brought on by acne and accelerates the healing process.
It is also packed with antioxidants which can help repair your skin from sun damage (wrinkles and fine lines) and boost collagen production.
When tested it is obvious how are antioxidants in this toner powerful. They completely neutralize iodine solution (the greater ability to neutralize iodine equals greater clarity) and toner pretty much turns into a clear solution.
If your skin is severely damaged by UV rays we recommend you our post with detailed guidelines for sun-damaged skin.
This toner has a watery texture and it is more hydrating for oily and normal skin types. It uses Japanese Peper Berry as a preservative which may be irritating for some people.
It is Vegan, Cruelty-Free, 7 types of parabens-Free, 11 harmful substances-Free, Skin irritation test completed, EWG Green for all ingredients and they have two versions: with and without fragrance.
Blanc Doux Oligo Hyaluronic Acid 5000 Toner
The Lab By Blanc toner is suitable for all skin types, dry, oily, normal, and even sensitive, and will leave your skin feeling very smooth.
This toner with hyaluronic acid is very effective with its low molecular weight technology.
This is very important because if the molecules are large the product is less effective. After all, ingredients cannot penetrate deep into your skin.
The molecule of hyaluronic acid in this toner is 5000 Da in size, where Da is a measurement used for molecular mass ( lower the number = smaller molecule).
It has molecules that are 20 times smaller than conventional hyaluronic acid. You can easily test the penetration of a product. If your skin feels moisturized and hydrated for a short amount of time it means that penetration of that product is not great.
The Lab By Blanc toner with hyaluronic acid is lightweight and absorbs fast because of its water-like texture. It is fragrance-free which means that it is suitable for sensitive skin. It is very effective in calming and soothing eczema skin.
It is alcohol-free and also contains Camellia Japonica Leaf Extract which has antioxidant, anti-inflammatory and toning benefits for the skin and it helps to enhance skin regeneration. It effectively soothes, guards against damaging environmental influences, gets rid of extra sebum and increases skin moisture.
Fresh Rose Deep Hydration Facial Toner
As you can assume since it contains hyaluronic acid this is hydrating toner and a very gentle one.
Fresh Rose Deep Toner made our list of best toners with hyaluronic acid because it is not stripping, is suitable for all skin types, and contains real rose petals (you can see them inside the toner).
They claim that it helps to lift away surface debris and residual impurities, so it is recommended to apply it with a cotton pad. But that is not the way we want you to use toner. It should be used in hydrating phase, not in the cleansing one, so do your double cleanse and apply it on your hands (it is on the expensive side so you don't want the cotton pad to soak your product).
It feels nice on the skin (soft and smooth skin after using it) without leaving it dry and tightened. It has a fresh scent that is not very strong.
Other ingredients that make this toner very beneficial are toning rose extract, rose water, and rose flower oil with soothing and nourishing properties. It can aid in skin cleansing and acne prevention as a mild astringent and antibacterial.
Rose Extract is perfect for all skin types (oily, dry, mature, and sensitive) because of its relaxing and healing characteristics, which help decrease redness and alleviate irritation. Rose essential oils and extracts are among the best-kept secrets in skincare since they are rich in antioxidants, antimicrobial powers, nutrients, and minerals.
These powerful skincare products are so adaptable that they can easily treat everything from acne-prone skin to old, dry skin.
Hada Labo Tokyo Anti-Aging Hydrator
Hada Labo Tokyo is Japan's number one skincare line. This hydrator should be a hydrating step of your skincare routine, so apply it after cleansing (double cleanse), before serum, and moisturizer. Since it contains vitamin A we would recommend you make it part of your nighttime routine. It is suitable for all skin types since it has no fragrance, parabens, dyes, and mineral oils. It is very light-weight so it absorbs instantly leaving your skin smooth, non-greasy, and without any residue. It is a very effective product recommended by many experts like Dr.Vanita Rattan and it is not that expensive which is a great bonus. It has a great combination of ingredients for deep hydration, and those are:
Super hyaluronic acid which is a combination of 3 types of hyaluronic acid,
Retinol complex which promotes the generation of skin cells (proliferation). It aids in pore cleaning. Additionally, retinol exfoliates your skin and boosts collagen synthesis, which can lessen the visibility of wrinkles and fine lines and give your skin a younger, plumper appearance.
Collagen which is great for the overall health of your skin. It provides deep moisturization, improves skin elasticity, and reduces signs of aging.
Dr.Dray
recommends
Hada Labo Tokyo Men Lotion
which is great as after-shave care for moisturized and soothed skin. It is important to note that it should be always used after washing your face.
COSRX Hydrium Watery Toner
This is hydrating, soothing, and calming toner for all skin types, yes even for sensitive skin. It has a watery texture, so the skin absorbs it very quickly and it leaves hydrating finish.
COSRX Hydrium Watery Toner with hyaluronic acid made our list because it contains skin-friendly ingredients that alleviate irritated skin. It is Hypoallergenic, Dermatologist tested, Animal Testing-FREE, Parabens-FREE, Sulfates-FREE, Phthalates-FREE.
They recommend 3 different ways of using it. Applying it with a cotton pad to remove residue of makeup, applying it with your hands and soaking cotton pads in it, and using them as a sheet mask.
Out of those three ways we would recommend applying it with your hands because using it as a sheet mask is just wasteful. This toner is a little bit pricey, so applying it with a cotton pad seems like losing money.
It has a great combination of ingredients. This toner has 6 types of hyaluronic acid, allantoin, and panthenol.
Allantoin is a powerful moisturizing, hydrating and soothing ingredient that improves skin dullness, and healing and it rejuvenates skin because it is very important for collagen synthesis.
Panthenol is a fantastic component for moisturizing. According to studies, it lessens transepidermal water loss (water that evaporates through the skin). The skin may be quickly hydrated with products containing as little as 1% panthenol, giving it a suppler feel and look. The emollient qualities of panthenol aid in preserving a strong skin barrier.
It'S SKIN Hyaluronic Acid Moisture Toner
This is a toner for deep moisturizing of normal and dry skin. It provides the moisture system which is a methodical self-system that has advantages for a healthy complexion, including moisture and pore-tightening.
Its SKIN Hyaluronic Acid Moisture Toner comes in a glass bottle which is great for the environment. If you apply it on damp skin it will last you a very long time because a little bit goes far on damp skin.
It has a little bit of fragrance so we would not recommend it for people with very sensitive skin because it could be irritating.
Next to the hyaluronic acid this toner also contains:
Portulaca oleracea extract has antioxidant and skin-soothing properties and it is very beneficial for your skin. Its peptides and humectants also make the skin seem "healthy and rejuvenated." The appearance of damage and aging signs is diminished, and the skin feels quickly renewed thanks to long-lasting moisture.
Thanks to its high concentrations of the antioxidant vitamins A (as beta-carotene), C (as alpha-tocopherol), and E (as tocopherol), as well as other antioxidant components like glutathione, this golden or green-colored plant has skin-soothing effects. Here at HerGlance, we love antioxidants because of their ability to stimulate collagen production which is great for minimizing signs of aging.
 A powerful source of antioxidants and moisturizing polysaccharides, acerola fruit extract (also known as Malpighia emarginata) has been demonstrated to protect skin fibroblasts from oxidative damage, which results in younger-looking skin and it is known for its ability to reduce inflammation.
Does hyaluronic acid toner remove dark spots?
Unfortunately, it does not. Hyaluronic acid is a humectant which means that its primary role is to hydrate your skin.
Since this is a very common question about hyaluronic acid we can assume that you need hydrating and brightening properties. And this is the way to choose a product for your skin, always ask yourself what kind of benefits you want for your skin from the product.
So, you should choose toner based on your skin concerns and based on what you want to improve. For hydrating and brightening toner we recommend one with niacinamide, humectants, and anti-inflammatories.
If you have a dark complexion and problems with dark spots make sure to check our post on the best toners for black skin. 
And we have in mind just the right one:
Rovectin Activating Treatment Lotion
This pure and kind treatment essence lotion moisturizes, promotes firmness, ensures an even texture, and calms dryness and problematic skin all at once. After cleansing, this toner strengthens and hydrates your skin.
Dead skin cells are removed by the Rovectin moisturizing Barrier Repair Complex, which also aids in repairing and restoring the skin's natural moisture barrier.
To replace lost moisture, this product also includes the anti-oxidant Vitamin E, the naturally hydrating hyaluronic acid, and trehalose.
Natural skin-soothing ingredients like caffeine and vasoconstrictor smooth and depuff the skin.
Aminopeptidase, an enzyme, is added to aid in absorption and act as a natural exfoliant.
This is a very effective product without parabens, artificial colors, artificial fragrances, mineral oil, and steroids, and it is gentle enough to be used by all ages.
Is hyaluronic acid toner good for oily skin (acne)?
Yes, it is, you just have to find a toner with hyaluronic acid that has additional ingredients that are beneficial for oily skin. Contrary to popular opinion (that oily skin does not need hydrating products), it does.
Oily skin benefits from moisturizing ingredients.
It is often the case that people with oily skin use very stripping cleansers and removing natural oils causes the skin to produce more oil. So, hydrating and moisturizing ingredients can repair the skin barrier. We bring you a very effective one for oily skin.
TORRIDEN Dive-in Low-Molecular Hyaluronic Acid Toner
Dive-In Toner has a watery, very light texture that cools down the skin and hydrates it to deliver hydrating refreshment without greasiness or irritation. Perfectly prepares the skin so that the subsequent phases of your skin care regimen function even better. Oily and dehydrated skin types are best suited for the Dive-In skincare line.
This toner made our list because it is free of artificial fragrance, colorants, parabens, mineral oils, isopropyl alcohol, and other ingredients.
It contains allantoin which has exfoliating properties, 5 types of hyaluronic acid, and panthenol which is great for moisturizing and reducing scarring.
How do you use a hyaluronic acid toner ?
First, you have to understand how hyaluronic acid works. It acts like a magnet, a very powerful one. Research has shown that one molecule of hyaluronic acid can draw 1000 molecules of water.
Where does that water come from?
If you live in a humid environment hyaluronic acid will draw water from that environment. But if you spend most of your time in a dry environment (with central heating or air conditioning) that water will come to form deeper layers of your skin rather than the environment and leave your skin feeling dryer after using it.
So, it is very important to use a toner with hyaluronic acid properly to get benefits from it. After a double cleanse apply hyaluronic acid toner on damp skin. And on top apply moisturizer so the water comes from it.
If your environment is very dry ( a lot of air conditioning) moisturizer is not going to be enough. Our best advice for you is to get an air humidifier and you will get young supple skin every morning.
Toner should be hydrating phase of your skincare routine, not a cleansing one. If you see the residue of makeup or dirt on a cotton pad after applying toner that just means that your skin was not clean enough to start with the second step of your routine (toner).
So, make sure to double cleanse and if you are a skincare beginner you can find everything about skin cleansing in our previous post.


Nowadays toners contain active ingredients that are very beneficial for your skin. You should apply toner after cleansing your skin for the best results because this way active ingredients are directly on your skin.
To get the most out of your product apply it with your hands, it goes without saying that your hands should be clean.
We hope that this post helped you to find the best toner with hyaluronic acid for your skin type.