Ingrown Hairs After Waxing
Ingrown hairs after waxing are a common occurrence and ingrown hairs occur when they grow back into the skin, instead of on the surface. Sometimes ingrown hairs appear regardless of whether we have previously done removal by shaving/waxing or not.
When an ingrown hair appears, you may notice small round bumps called papules or small pus-filled bumps called pustules. In some cases, the skin around the ingrown hair may become darker, or hyperpigmentation may occur.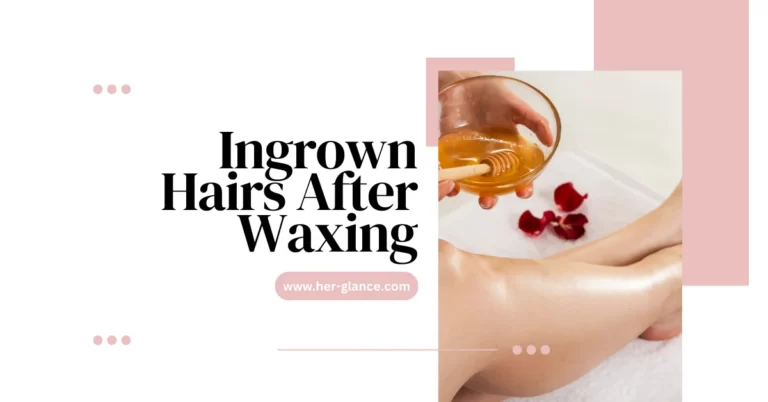 In the text, we will answer questions such as how to prevent ingrown hairs after waxing, how to treat ingrown hairs after waxing, why do you get ingrown hairs, how to stop ingrown hairs from appearing, also how to get rid of ingrown hairs after waxing and we will show best products to prevent it.
Ingrown hair is basically an inflammatory reaction of our skin to the hair breaking through the skin again.
When we remove hairs, they will grow back over time. Depending on whether the hairs were shaved, removed with wax or sugar paste, it will take a shorter or longer period for the hairs to come out, and most of them will come to the surface of the skin. However, the hair may begin to grow at the wrong angle and will not be able to break out on the surface of the skin.
This is often the case after shaving because in that case the hair curls much more often or starts to grow sideways towards the hair follicle. When this happens, the skin reacts as if it were a foreign object, so symptoms such as itching, redness, swelling and, in certain cases, even pain occur.
The reason why growths often appear on the pubic parts of the body is that the hair on that part of the body is thick and curly and grows quickly, and the skin in that area is particularly thin and delicate.
An ingrown hair can look like a tiny, skin-colored bump, sometimes with visible hair in it. If the area is inflamed, the lump may be red, tender, and swollen, and may contain pus.
How To Prevent Ingrown Hairs After Waxing
Whether you have ingrown hairs on your bikini area, legs or groin, prevention is better than cure. To begin with, good hygiene and hydration of the skin is necessary before and after each depilation. It is preferable to use body oils or body creams with fruit acids (AHA) or salicylic acid. ACV lotion containing malic and lactic acid is also very effective after waxing or shaving.
It has an extremely strong antiseptic and antibiotic effect. In addition, it has an "astringent effect" that is very useful especially after depilation and cleaning the face, and prevents the development of bacteria while cooling and soothing the skin at the same time.
If you shave the hairs, never shave them without a shaving product on the skin, and for this you can use a cream, soap or gel – in sufficient quantity. Also, don't press the razor all the way to the skin. It is important to shave or wax in the direction of hair growth and not in the opposite direction.
Waxing with sugar paste in a beauty salon or at home has several advantages, one of which is that the hairs are removed in the direction of their growth and there are fewer possibilities of ingrowth.
The importance of peeling is also great, which will remove dead skin cells and thus make it easier for the hair to break out on the surface. In addition to purchased exfoliating products, you can also make an exfoliating mixture at home – from, for example, sugar and olive or almond oil.
It is also recommended to use cosmetic products with anti-inflammatory and soothing effects immediately after depilation. One such preparation is Aloe Vera gel, which with its soothing and hydrating effect will surely help in the prevention of ingrown hairs.
Seven Minerals Organic Aloe Vera Gel
How To Treat Ingrown Hairs After Waxing
In most cases, the ingrown hair will eventually come to the surface on its own. After that, the redness or hyperpigmentation will subside. If the hair does not grow back outside the skin for a long time, it is recommended that you take the following steps to get rid of the ingrown hair:
– Apply an anti-acne cream to the skin, and after a few hours or the next day, apply pure, organic tea tree essential oil because it has anti-inflammatory and antibacterial properties. Before applying tea tree oil to the skin, dilute it in olive or almond oil. You repeat the procedure for a couple of days until there is an improvement.
– Put warm compresses on the place where the hair has grown. After a few minutes, you can rub with a damp cloth or a soft toothbrush and massage that part of the skin with circular movements.
– After the hair emerges on the surface of the skin, pull it gently with sterile tweezers or a needle. However, do not pierce the skin with the needle, as this can cause infection. Do not treat the area with anything until the skin has healed.
– It is also recommended not to remove hair in that area for a while, especially not by shaving because the use of a razor will worsen the condition in that sensitive area.
– You can exfoliate the skin around the ingrown hair to stimulate microcirculation and help the hair to break out on the surface of the skin and prevent further ingrowth.
– If the hair does not come out in the end or the same problem occurs again, especially in the case of more severe forms of ingrown hairs and folliculitis, you can seek the advice of a doctor.
Why Do I Get Ingrown Hairs After Waxing
Depilation is responsible for hair growth and inflammation of the follicles. With each depilation, we remove the hair from the root. It thereby weakens it enough that it cannot break through the skin to the surface many times, so it remains "stuck" below the skin level. If there is enough space, it will turn and grow further.
Every hair on our body has 3 phases of growth: anagen, catagen and telagen, i.e. a phase of active growth, a phase of transition, and a phase of rest and death. In my experience, the problem of ingrown hair is greatest in the phase of active growth, and the hair follicle becomes inflamed when the hair no longer has room for active growth. Another reason for inflammatory processes during hair removal is sensitive skin types in combination with darker and firmer hairs.
How To Stop Ingrown Hairs After Waxing
After you have noticed the parts of your skin affected by this problem, it is not a bad idea to know what is possibly irritating them additionally. Is it possible that, apart from depilation, we provoke this problem with other factors – for example, by wearing certain clothes and sweating during sports or summer heat?
Most often, hairs will grow in places that are sensitive or irritated. By irritation, I mean tight jeans, pantyhose or, if it is a bikini area, underwear made of synthetic materials. Ingrown hairs are most often found on the lower legs and knees and the bikini area. In summer, waxing and irritation are more often caused by high heat and sweating, and it is definitely recommended to wear light but loose clothing.
Leave the jeans in the closet until fall, and replace them with linen or viscose pants, or summer dresses. For areas prone to ingrowth, we always recommend depilation with sugar paste, because when using it, ingrowths are significantly smaller, primarily due to the direction of plucking.
How To Get Rid Of Ingrown Hairs After Waxing
Peeling is the key and solution to the problem of ingrown hairs. Body peeling, you will work on the lower legs with circular movements from the feet upwards. You can also use an exfoliating glove, which will additionally help the hairs to break out on the surface. I suggest you do it at least twice a week, and with thick skin every second or third day is allowed.
Must be applied to well-moisturized skin, with slow circular movements. For people who are prone to folliculitis, inflammatory processes, I suggest using specialized shower gels or dermatological body sprays based on salicylic acid. They will suppress possible inflammations and disinfect the pores.
In three-month treatments in appropriate salons, it is possible to bring the problem completely under control, and in most cases they only have to use dermatological shower gels. Of course, folliculitis also has several stages, so a diagnosis is definitely mandatory before treatment, but it's good to know that we can treat any part of the body, even the bikini area.
Best Products to Prevent Ingrown Hairs After Waxing
1. 2% BHA Exfoliating Liquid
It is important to treat ingrown hairs properly, and one of the ways is salicylic acid, which is an ideal ally for problematic skin prone to blockages. It is the main ingredient of this micro-exfoliating non-granular liquid for cleaning combinations and oily skin prone to blocked pores and inflammatory processes.
Thanks to the combination of 2% Salicylic Acid  and zinc, it effectively removes excess sebum and unclogs pores even after a short contact with the skin. It is suitable for the care of the skin of the face, but also other parts such as the back or hands. In addition, salicylic acid has a positive effect on skin prone to keratosis pilaris or the so-called turkey skin that appears on the upper arms.
You can use this product in your morning or evening routine. The frequency of use will depend on personal tolerance of salicylic acid and the rest of the care. On sensitive and thin skin, the product can be used once or twice a week, while the resistant skin of the face and body will tolerate the cleanser well in daily care.
2. NOREVA Kerapil Cream Against Ingrow Hair
This cream encourages the removal of thickened and rough parts of the skin and reduces hair growth thanks to ammonium lactate. Dry skin with a rough and lumpy surface (Keratosis pilaris) ingrown hairs after shaving or hair removal are everyday skin problems that affect almost one in four people.
The cream is applied to the affected area in the morning and the evening, and it is important to shake the product before use. It contains AHA and therefore it is advisable to avoid sun exposure after applying the cream or protect yourself from the sun with a hat, clothing or sun protection products.
3. The Ordinary Salicylic Acid 2%
Accumulated dead skin cells cause clogged wrinkles. And that's why The Ordinary Salicylic Acid 2% Solution serum removes these skin cells. By stimulating the natural exfoliation of the skin, it significantly reduces the overall clogging of the skin pores and will help you achieve a cleaner and brighter face. It works against all imperfections and at the same time smoothes rough and uneven texture.
It is excellent as a tool that will help you solve the problem of ingrown hairs after depilation due to its composition, and mostly due to the presence of salicylic acid, which is the basis of this product.
Apply Ordinary Salicylic Acid 2% once a day, in the evening, to the face you have washed before applying moisturizing serums, oils and creams. Apply a very small amount topically only to problem areas, or spread an appropriate amount over the skin of the entire face. Avoid eye contours and contact with eyes.
4. CeraVe Hydrating Cleanser Bar
This CeraVe soap does not disturb the natural balance of the skin and stimulates the renewal of the upper layers of the skin. It hydrates perfectly and locks moisture in the epidermis. It consists of hyaluronic acid that retains moisture in the skin, ceramides that stimulate the renewal of the skin barrier, and patented MVE technology that gradually releases moisturizing substances over 24 hours. The product is hypoallergenic and without soap and parabens.
It is excellent in solving the problem of ingrown hairs because it can be used independently or as part of peeling the affected part of the skin.
I definitely recommend that you read our other articles about CeraVe  products, because you will find a lot of useful information
5. Aveeno Daily Moisturizing Lotion
Aveeno Daily Moisturizing Lotion is an ultra-light, non-greasy lotion by Aveeno. It is formulated to provide 24-hour hydration for a softer and smoother skin texture. The lotion is enriched with natural colloidal oatmeal that helps soothe dry and itchy skin and restores the protective layer of your skin.
All formats are suitable for all skin types, including sensitive skin that requires daily hydration throughout the day. This lightweight lotion acts as a water reservoir to help keep your skin soft and supple while retaining the essential moisture needed for healthy-looking skin.
Other key ingredients like emollients, glycerin and dimethicone help lock in moisture in the surface layers of your skin. This fast-absorbing formula absorbs quickly into the skin without leaving any residue or greasiness on the surface.
Precisely because of its ingredients, it is suitable for solving the problem of ingrown hairs after waxing.