Toners With Niacinamide LIST + FULL REVIEWS
Toners with niacinamide are gaining popularity as a skincare staple due to their ability to improve the appearance of uneven skin tone, reduce the appearance of fine lines, and minimize pores.
Niacinamide is a form of vitamin B3 that is known for its ability to improve the skin's barrier function and increase hydration.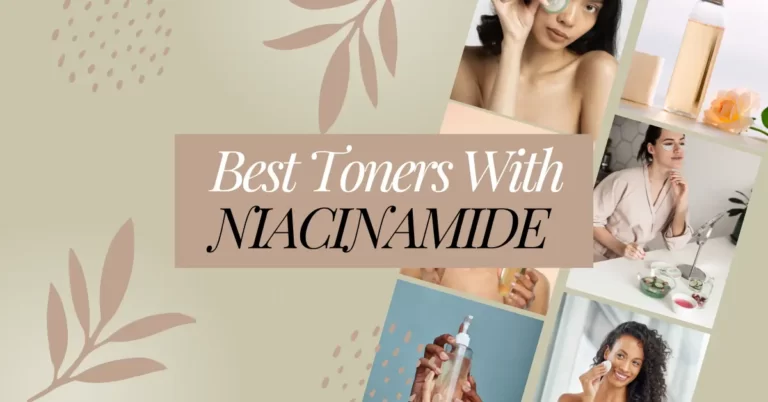 What are the benefits of niacinamide?
Niacinamide is one of the best ingredients because it is not irritating, which is possible due to its neutral and similar to the skin's pH. Niacinamide is stable, doesn't interact with other ingredients, and doesn't decrease their efficiency and it helps you to tolerate other ingredients better. Beliefs that niacinamide doesn't work with some other ingredients are based on outdated studies and they should not be taken into the consideration.
The fact that it is not irritating igredient is very important for skin of color which makes niacinamide a great ingredient for that skin type.
If you want to learn more about toners for a dark complexion make sure to check out our previous post.
Benefits of toners with niacinamide for your skin
Reduces the amount of pigmentation that is seeable on the skin.
It has anti-inflammatory, and anti-microbial benefits and reduces sebum production which means that niacinamide is great for oily and acne-prone skin.
It improves the appearance of the pores because it has benefits that make that possible and those are: reducing sebum, redness, and inflammation and helping with elasticity and hydration
Toners with niacinamide are your best friend for anti-aging with their ability to hydrate skin, make a healing environment for your skin, prevent water evaporation from the skin, and stimulate collagen production. All of these benefits combined make niacinamide great for reducing fine lines and increasing elasticity.
Niacinamide is better than gold standard ingredients for acne and hyperpigmentation. There was a study where half of the participants were using niacinamide and the other half were using hydroquinone (it is believed that this is the best ingredient for treating hyperpigmentation). The study showed that those two ingredients had the same results but without side effects for niacinamide. In another clinical study over eight weeks, period niacinamide and clindamycin (the gold standard for treating acne) were compared. That study showed that both of the ingredients had a similar reduction of acne. Since clindamycin has antibiotic properties that can lead to bacterial resistance, it is always better to choose niacinamide. Acne is a skin condition that can affect our self-esteem, and finding good guidance about it is very hard. So, to find tailored solutions you should certainly check out our digital guide "The Ultimate Guide to Get Rid of Acne" to learn more about the best foods to eat (and avoid), top skincare products and ingredients to look for, and much more.
1. Good Light Moon Glow Milky Toner
Good light toner is a hydrating toner that is suitable for oily, sensitive, dry, normal, and combination skin types. The milky toner helps to maintain a healthy skin barrier, removes dead skin cells, and deeply hydrates. Also, it has a soothing and nourishing effect on the skin.
All of that is possible because of a great combination of ingredients. Besides niacinamide, this toner also contains:
Hyaluronic acid which is one of the best ingredients for hydration. To find out more about the benefits of hyaluronic acid and the way you should use a toner that contains hyaluronic acid check out our previous post.
 Snow mushroom is a humectant that has many benefits for the skin. When applied topically its anti-inflammatory and antioxidant benefits can restore the skin's natural balance and temperature. Snow mushroom is also one of the anti-aging ingredients of this toner because it helps skin to maintain high water content which makes skin look naturally plump. It is considered as powerful as hyaluronic acid because its molecules are smaller than molecules of hyaluronic acid so they penetrate deeper into the skin but they hold less water than the molecules of hyaluronic acid.
 Ceramides tightly keep skin cells together in the top layer of the skin. In addition to keeping the fluid in the skin, this shields it from allergies and other outside aggressors. Ceramides are crucial for a healthy skin's look as well as its functionality. They have anti-aging properties since they create a barrier that prevents moisture loss which helps skin to stay hydrated, plump, and supple.
Here at HerGlance, we believe in beauty from the inside. In addition to applying ceramides topically, you can boost ceramide production in your skin by consuming wheat, soy, eggs, and dairy.
 Meadowfoam seed oil functions as an emollient when applied to the skin, locking in moisture and keeping the skin supple and smooth. Meadowfoam seed oil, for example, helps to regulate the natural sebum production of our skin, preventing it from becoming excessively dry or overly oily, according to Chimento.
Good light moon glow milky toner made my list of toners with niacinamide because it is vegan, cruelty-free, and free from BPAs, parabens, phthalates, and more. Even though it is a super hydrating toner you still have to layer it. Apply it before your moisturizer and sunscreen.
2. TIAM Vita B3 Mist Toner with Niacinamide
This toner has a lightweight texture that hydrates and evens out skin tone and it is suitable for all skin types including normal, oily, combination, and dry sensitive skin.
TIAM vita B3 toner is one of the best toners with niacinamide because it contains 3% niacinamide, which is very important since niacinamide is effective up to 5%, and everything higher is just irritating for your skin.
If you have been reading our previous posts about toners you know that we love alcohol-free, paraben-free, essential oil, and fragrance-free formulas, and this toner is one of those which makes it suitable for sensitive skin.
Also, it is very convenient regarding the application, just spritz it and you are good to go.
Ingredients that make this toner effective are:
Tranexamic Acid is a powerful ingredient that according to board-certified dermatologist and founder of the Bella Skin Institute Anna Guanche, MD, can function as a lightening agent to eliminate dark spots and improve hyperpigmentation. "This is because tranexamic acid prevents the formation of melanin," And it is also great for strengthening your skin barrier.
Vitamin C as you already know is a strong antioxidant that evens out skin tone, brightens up the complexion, and reduces the appearance of fine lines and wrinkles. Tranexamic acid combined with vitamin C and niacinamide will refresh your skin and leave it dewy and glowy.
 1,2-Hexanediol is a humectant and emollient that has soothing and softening benefits due to its ability to create a protective moisturizing film. Since it tends to pull up moisture from the deep parts of the skin to keep the top layers from drying out we recommend you apply it on damp skin and avoid being in a dry environment so it can pull up moisture from the air.
Having toner that doesn't leave greasy and sticky residue is great for layering your skincare and this is one of those. Apply it on the clean skin before serum, moisturizer, and sunscreen.
There is one interesting thing about this toner, they also recommend applying it as a pick-me-up toner whenever your face feels dry and dull or on a face full of makeup for a dewy finish. This is possible thanks to the spritz technology, so if you enjoy face mists this toner can be one.
3. PSA Heroine Mandelic & Licorice Superfood Glow Toner
PSA (Purposeful Skincare by Allies) is a relatively unknown brand, so we want to tell you more about them and their superfood glow toner.
PSA uses very quality ingredients and products are alcohol-free, silicone-free, synthetic fragrance-free, cruelty-free, and sulfate-free, so pretty clean products.
They market Heroine toner as a daily toner for all skin types especially tired, stressed, and break-out prone skin.
Since it is a gentle exfoliator we would not recommend using it daily right away especially if you have sensitive skin. Start by using it every other night to see how your skin will react.
PSA Heroine toner made it on my list of toners with niacinamide because it is great if your skin is too sensitive for strong chemical exfoliants. This is possible because it contains acids that will ensure the gentle resurfacing of top layers without stripping your skin.
Since Heroine toner contains AHAs that have large molecules, so they don't penetrate the skin deeply, your skin will feel smoother and be more glowy.
Some of the ingredients that make this toner great are:
In the field of skincare, mandelic acid is a go-to anti-aging component. It helps to eliminate surface-level dead skin that can cause fine wrinkles and poor complexions by breaking the microscopic links holding skin cells together, which speeds up cell turnover. Mandelic acid tightens the skin, lowers hyperpigmentation, promotes acne healing, and enhances skin texture. All skin types, including sensitive, dry, and acne-prone skin, can use it. However, to protect your skin while using mandelic acid, you should always use sunscreen.
Lactic acid is a gentle exfoliant that belongs to the group of AHAs with large molecules for eliminating accumulated dead skin cells on the top layer of the skin.
Licorice root extract is excellent for calming inflamed skin. Licorice is extremely helpful for those with atopic dermatitis and other skin problems that cause redness and inflammation (like acne and eczema).
Organic acids and natural probiotics found in kombucha preserve the skin's natural balance and "have been demonstrated to enhance the skin barrier and alter skin moisture," resulting in fewer breakouts. The probiotic bacteria included in kombucha support healthy skin and give your skin a natural shine. They support the skin's natural defenses against damage from environmental stresses.
This toner is great if you need extra moisture but you don't want to change your skincare routine. Rice toner is great for dry skin, skin with eczema, and oily skin with dry patches.
If we say that it is great for dry skin that doesn't mean that somebody with oily skin can not use it. Everybody can use it because it is hydrating toner and because it is light enough for oily skin. If your skin is oily apply only one layer of this toner.
But if you have sensitivity to niacinamide we recommend you avoid I'm From-Rice toner.
Shake it before using and apply it on your cleansed skin by patting on with your hands and then apply your serum, moisturizer, and sunscreen. It will absorb very quickly ensuring brightened and hydrated skin without leaving a greasy feeling.
Rice toner is one of the best toners with niacinamide because it contains rice is that they are very soothing, and gentle, and don't cause irritation. And this toner is one of those because it contains 77.78% rice extract.
Due to its numerous skin-friendly properties, rice extracts are a common component in skincare products. They aid in lowering UV ray damage, wrinkles, hyperpigmentation, and dead skin cells, and assist boost the generation of ceramides in the skin. Additionally, rice peptides can boost collagen production and lighten skin.
Rice extract is rich in fatty acids which are the foundation of healthy cell membranes. These polyunsaturated fats also aid in the creation of the skin's natural oil barrier, which is essential for maintaining the skin's hydration, plumpness, and youthful appearance.
It also has anti-inflammatory and antioxidant benefits. To learn more about rice extract visit this link.
Another ingredient that makes this toner great is portulaca oleracea extract which has very beneficial antioxidant and skin-soothing properties. The peptides and humectants in it also make the skin help to be "healthy and rejuvenated." The appearance of damage and aging signs is diminished, and the skin feels quickly renewed thanks to long-lasting moisture.
So the rice toner is great for summertime with a more lightweight moisturizer and in winter for an extra layer of hydration.
If you are interested in Korean skincare you can find more about the best Korean toners in our previous post.
5. Bliss Disappearing Act Niacinamide Toner
Bliss disappearing act is a hydrating toner that doesn't feel sticky. It helps with redness and it is very affordable.
As with all toners above this one also doesn't contain any harsh alcohols, common allergens, parabens, silicones or sulfates, fragrances, and essential oils.
Thanks to the great combination of ingredients it will remove excess oil, dirt, and dead skin cells and give you a pore-less complexion.
In addition to niacinamide, it also contains:
When used regularly as part of your routine, Camelia sinesis leaf (green tea) extract may truly be a miracle ingredient for skincare, and it is simple to add to your regimen! It can help restore the natural moisture in your skin, treat acne, open up clogged pores, and lessen inflammation that causes your face to seem bloated. For more information visit this link.
Cucumber helps moisturize dry skin, soothe irritated skin, aid acne-prone skin, and fight against premature aging. It also lowers puffiness and dark bags around the eyes. It feeds your skin with vitamins, antioxidants, and minerals.
Oatmeal will make your skin feel moisturized, protected, exfoliated, and cleaned. Additionally, oatmeal helps increase collagen formation, enhances the appearance of your skin, and lowers skin irritation.
It contains witch hazel so people with sensitive skin should be careful when applying this toner.
6. Q+A Niacinamide Daily Toner
This is an affordable and effective toner. It is suitable for all skin types including oily, stressed, dry, sensitive, normal, and combination.
Q+A toner has anti-aging, calming, pore-minimizing, and hydrating benefits, so a lot for such a small price.
It leaves your skin feeling smooth and soft without drying it out. Next to niacinamide it also contains aloe vera and hyaluronic acid which are great humectants.
And as you already know it has to be alcohol-free, fragrance-free, and vegan-friendly to make it on our list, and fortunately, this toner is.
Another interesting thing about this toner is its packaging. They listed skin types and benefits of the toner and marked those that belong to the toner which is very convenient if you get overwhelmed by the ingredients of products.
How to use niacinamide toners
Using niacinamide toner is very simple. Apply it on clean damp skin. It is very important to avoid applying it on wet skin because it will evaporate in that case. After applying your serum, moisturizer, and sunscreen (for your morning skincare routine).
When you are buying niacinamide toner you have to determine the percentage of niacinamide because beyond certain percentage ingredients lose their effectivity and for niacinamide, that bar is 5%. A high percentage will not bring you anything good, as matter of fact, it is just irritating in that case.
Can you use niacinamide toners with vitamin C?
Yes, you can. You can find online that some people don't recommend using niacinamide and vitamin C together, but that is not true because that conclusion is based on old studies from the 60-s. In that study, they used vitamin C and niacinamide together at high heat which resulted that niacinamide becoming more irritating.
But that is not a problem in real life with modern formulations and the fact that your niacinamide toner and vitamin C are not combined on high heat, so it is more than fine to use those two together. They have benefits that are similar for the skin and you can even swap your vitamin C for niacinamide if you don't want to use vitamin C because of its problem with stability.
In our previous post about repairing sun-damaged skin, we addressed the problem of vitamin C and shared a recipe for homemade vitamin C. So if that is something that you might be interested in here is the link.