Is Olay Good for Your Skin?
Are you wondering if is Olay good for Your skin? To answer your question, I will explore the benefits and drawbacks of using Olay products and examine the key ingredients that make them effective.
I will also discuss the different types of Olay products available and which ones are best suited for different skin types. By the end of this article, you'll have a better understanding of whether or not Olay is a good fit for your skincare routine.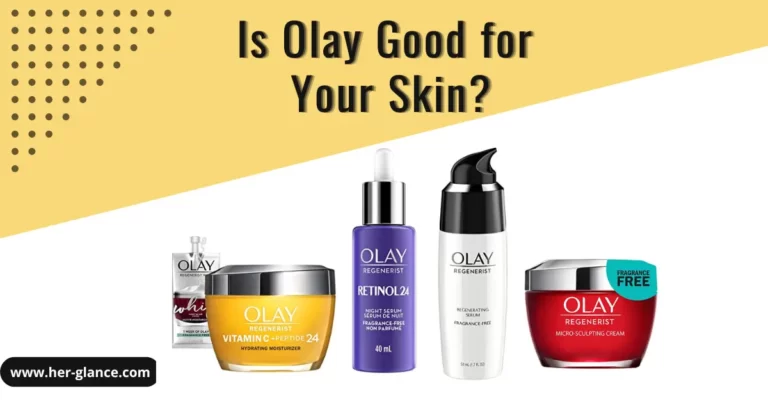 Why is Olay Good For Your Skin?
Olay is a well-known skincare brand that offers a wide range of products for different skin concerns. Olay is good for your skin because its formula contains beneficial ingredients without irritants like fragrance, which is very important for people with sensitive, and skin of color. It is important to note that not all of their products are fragrance-free, so if your skin doesn't tolerate fragrance, you will have to look for ones that are.
Some of those that make Olay good for your skin ingredients are:
niacinamide reduces fine lines, helps with acne and eczema, and reduces hyperpigmentation, so it is a frequent ingredient in their brightening products
humectants like glycerin which is the best on the market. It draws water to your skin and reduces transepidermal water loss (evaporation of water from your skin) which results in hydrated skin
retinol which is a compound derived from vitamin A that makes your skin feel and look softer and smoother. It helps to increase collagen production which means that it has the ability to reduce fine lines and wrinkles. It increases cell renewal and prevents pore blockage. This will enhance the penetration of your other skincare products and help to reduce breakouts. Additionally, it will support your entire skincare routine and maximize outcomes.
panthenol which has hydrating and moisturizing properties. I love the fact that their moisturizers contain it because that is the ingredient that differentiates moisturizers from a serum.
combination of anti-oxidants is a very important feature of a product. If combined antioxidants are effective for a longer period of time. I love that about Olay because there are not many brands with formulas like that.
peptides are a great addition to the skincare routine for people in their late twenties and thirties. They help to improve the skin barrier, reduce wrinkles, increase skin elasticity, ease inflammation, and clear breakouts.
However, it's important to note that every person's skin is different, and what works for one person may not work for another. So, to determine why is Olay good for your skin I have explored several Olay products below. The explanation of products includes the benefits of key ingredients, suitability to certain skin types, advice on how to use particular products, and potential drawbacks.
Olay Total Effects 7 In One Moisturising Day Cream
Olay 7 in 1 Day Cream contains good humectants that can hold water molecules in the epidermis (top layer of the skin) which makes it a good choice for normal to dry skin. Don't get me wrong. Humectants are invaluable for all skin types, from normal and dry to oily skin. But, I would not recommend this moisturizer for very oily skin because of the other ingredients that it contains. To be specific it contains Isopropyl Isostearate and Cetyl Alcohol, which are highly comedogenic and can cause breakouts by clogging the pores, even on mature oily skin. If you have oily skin make sure to read my previous post, where I explained in detail whether this cream is for oily skin type.
Those humectants are glycerin and panthenol. Glycerin is the best humectant on the market and it has very small molecules that can penetrate deeper into the skin and help to reduce irritation from other ingredients. It is naturally present in the skin, so it should not be irritating. Glycerin, which is FDA-approved for wounds and burns helps scars to heal faster because of its anti-microbial and anti-viral properties. Since it is a humectant, it improves moisture retention and skin barrier function which results in smoothing out wrinkles by space-filling.  Panthenol retains moisture in the epidermis because it is a humectant, which means that it hydrates the skin which results in a more supple feel and appearance. It also functions as an emollient, which means that it can calm, moisturize, and help protect the skin from environmental factors and skin stressors.
Another ingredient that is beneficial for all skin types is niacinamide. Niacinamide is one of my favorite ingredients because it helps with different kinds of skin concerns. It reduces fine lines and increases elasticity which can be great not just for aging skin, but also for people in their late twenties and early thirties. It also reduces acne, improves eczema, and helps with hyperpigmentation. The ability to help with acne and reduce hyperpigmentation is very important for people with skin of color. This is the case because strong ingredients can irritate the skin and lead to post-inflammatory hyperpigmentation, which can be hard to get rid of. Niacinamide is non-irritating because it has PH similar to the skin's PH, so people with sensitive skin can use it and makes a healing environment for your skin which is essential as we age.
Olay 7 in 1 Day cream also contains a combination of antioxidants, which is a great thing for the efficiency of the product. Oxidants oxidize quickly, so to prevent them from oxidizing in the bottle it is crucial to include a combination of them in the formula.  
The downside of this product is SPF 15. It certainly is not enough because people don't apply enough sunscreen in general, so we should always wear SPF 30 to 50, especially in the summer when the UV rays are strongest. It is also important to note that this cream is not fragrance free, so be careful if you have sensitive skin type. 
Olay Regenerist Micro-Sculpting Serum
This is one of the best Olay serums that are fragrance-free. As you can tell I am a big fan of fragrance-free products, and that is very important for our skin. Especially for sensitive and aging skin, because as we age our skin becomes dryer and more sensitive. With that in mind, it is important to avoid fragrance because it is a huge irritant and can lead to contact dermatitis and other skin conditions. Olay Regenerist Micro-Sculpting Serum contains humectants such as cyclopentylsiloxane, glycerin, and panthenol.
Cyclopentylsiloxane
is a silicone that improves texture and reduces transepidermal water loss (water evaporation from the skin). Since it is silicone, cyclopentylsiloxane also helps to make a formula feel smooth, silky, and easy to apply. It evaporates from the skin quickly and leaves a thin layer that keeps the water in. This serum also contains
niacinamide and peptides,
Palmitoyl Pentapeptide-4
to be specific. This peptide consists of 5 amino acids and boosts collagen production in our skin which leads to firm and hydrated skin. Even though this serum doesn't contain irritating ingredients you will have to decide for yourself if you want to purchase it because peptides are pretty low on the ingredient list which means that their concentration is not that high.
Olay Regenerist 24 Cream and Serum
Olay Regenerist 24 cream is anti-aging retinol cream that is fragrance-free, which means that it is also suitable for people with sensitive and extremely dry skin. It helps to reduce fine lines, plump and hydrate the skin. The thing that I don't like about this cream is the packaging.  When it is in a form of a jar cream, the amount of retinol will be reduced over time if you keep opening and closing the jar because it is sensitive to light and air.   
The main ingredient of this cream is retinol and retinyl propionate. Retinol helps to boost collagen production which leads to reducing of fine lines and to reduce hyperpigmentation. Retinyl propionate has the same effect as retinol, but it works slower and is not as strong, which means that it will cause less skin irritation and balance out retinol.  This great affordable retinol cream contains niacinamide, which helps reduce acne, scarring, and hyperpigmentation and has an anti-aging effect. Since this cream has a thick, oily-based texture I would not recommend it to people with oily skin.
If you would prefer your retinol with an air-tight pump Olay has come out with night serum, which has the same ingredients, but with the texture of a serum, since they have removed the starch component. So, it is more aqueous, easy to apply, and more suitable for combination and oily skin because it is less oily.
It is important to note that you should use retinol as a part of your nighttime routine, always apply sunscreen during the daytime, and avoid overdoing it, especially if you are just starting.
Olay Regenerist Vitamin C + Peptide 24 Cream and Serum
Unfortunately, this cream is not fragrance-free, so if you have sensitive skin do a patch test before using it or avoid it entirely.
Also, since Olay Regenerist Vitamin C + Peptide 24 contains Ethyl Ascorbic Acid, which is a form of vitamin C, and ultimately an oxidant I would apply it as a part of the nighttime routine. The reason for that is that it is better to load up the skin with antioxidants at night to avoid any chemical reaction taking place on the skin when it is exposed to UV rays. Another reason for that is Lactic acid which is an exfoliant that helps with skin texture. Unfortunately, this cream doesn't contain a combination of antioxidants which is a quite downside because the formula would be a lot more effective.
It is important to note that you should apply sunscreen religiously because AHAs make your skin more sensitive to the sun. And pay attention to ingredients in other products that you use because if they also contain exfoliating acids, you might over-exfoliate your skin.
Other than that, the cream has a great combination of ingredients. Vitamin C, Lactic acid, and niacinamide work great on brightening up your skin. If you have skin of color and hyperpigmentation make sure to check out my e-book "Skin of Color: Hyperpigmentation"to find out more about ingredients that are effective in treating hyperpigmentation and what other products you can include in your routine.
Olay has done studies that prove, that their Regenerist Vitamin C + Peptide 24 cream does brighten the skin. In addition to skin glow this cream also helps to hydrate the skin and has an anti-aging effect. And all of that is because of glycerin and panthenol which are humectants and because of peptides that fight fine lines.
If you want those ingredients in a serum Olay has a brightening face serum that is also very effective, but as the moisturizer it also has fragrance.
Olay Regenerist Collagen Peptide 24 Face Moisturizer
Olay Regenerist Collagen Peptide 24 is a fragrance-free moisturizer that is beneficial for people in their thirties and up. This is because the studies showed that topical peptides do increase collagen production by signaling your skin to make more collagen and thickening up our skin. But it will be fine if you are younger than that, like in your twenties and you want to use it.
Regarding the collagen part, there is not enough data that show that topically applied collagen or collagen in form of supplements leads to thickening up collagen in our skin. It improves hydration and increases hyaluronic acid stores and that may be the reason for the hype about collagen, but actually, it is the peptides in this cream that help with smoothing out fine lines. 
You can use this cream as part of your morning and nighttime routine. A great strategy to increase collagen production is to pair up this moisturizer with retinol or retinoids at bedtime. If you are new to retinol or retinoids it might be good to apply moisturizer first to prime your skin and avoid irritation. So, you can first moisturize with this cream and then apply your retinol. The cream is gentle and works with a lot of active ingredients, so it should not cause irritations.
In addition to the collagen peptides complex, this moisturizer also contains
glycerin, a powerful humectant that draws water to your skin and reduces transepidermal water loss which leads to the healthier and more functional skin barrier
niacinamide helps with a bunch of different things like regulating sebum production, reducing hyperpigmentation and it has anti-inflammatory properties
panthenol which is moisturizing and hydrating at the same time is a very important ingredient that parts moisturizer from serums or retinol creams.
If you want to include peptides in your routine in the form of a serum or eye cream Olay has great ones that are also fragrance-free and very effective.