Best Niacinamide Serum for Oily Skin
Finding the best niacinamide serum for oily skin can be a game changer in your skincare routine. In the text below I have written about serums for different concerns like hyperpigmentation, large pores, and dehydration (yes, oily skin can also be dehydrated). It is important to note that all of the serums I have picked out are fragrance-free. In the text, you can also find the benefits of the niacinamide serum and tips on how to include it in your routine.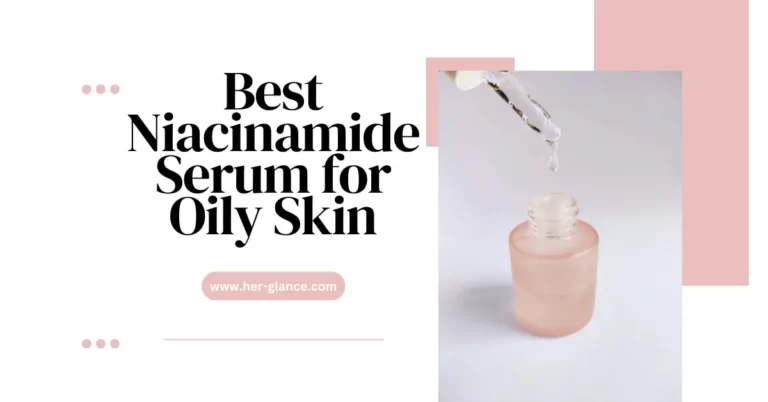 Paula's Choice 10% Niacinamide Booster
Even though it seems contradictory, hydration is not just beneficial for oily skin but also required. To hydrate oily skin, you have to know what kind of product you should look for. So, look for niacinamide serums that are lightweight and moisturizing, with components like glycerin or hyaluronic acid. Those can maintain a healthy amount of moisture and stop excessive oil production.
The good thing about hydrating niacinamide serums is that usually they contain other goodies besides hyaluronic acid and glycerin, that target oily skin concerns. So, in that spirit, I have chosen to put Paula's Choice Niacinamide Booster into the hydrating category because it contains hyaluronic acid, but I have to clarify that hydration is not the only skin concern that it targets. It helps with enlarged pores, bumpy texture, uneven tone, wrinkles, and fine lines.
Besides the formula, which is without fragrance, alcohol, and essential oils I also like the packaging. The bottle is opaque glass, and it has a dropper which is a great combination to maintain the ingredient effectiveness and protect them from oxidizing.
Now let's talk about the formula. Besides niacinamide there are also:
Including hyaluronic acid in your skincare routine for oily skin will make a huge difference because it is a lightweight, non-comedogenic, and non-greasy ingredient that can deliver moisture to the skin without making it feel greasy. It helps to keep the skin properly hydrated, which can help regulate oil production because when you over-strip natural oils your skin tends to produce more oil.
Hyaluronic acid is versatile and simple to add to existing skincare routines. It provides hydration without clashing with other active ingredients and helps your skin tolerate strong actives from your routine.
Another key ingredient in this formula is licorice root because it has many benefits for oily skin. It regulates oil production which means less shiny skin and reduced appearance of greasiness. Licorice root has anti-inflammatory and anti-irritant properties which are very helpful for oily skin that is prone to redness, inflammation, or sensitivity.  It can help to reduce the appearance of redness and stop future irritation by calming and soothing the skin. It also helps to hydrate the skin and reduce post-inflammatory hyperpigmentation.
Even though it has so many benefits you have to keep in mind that there are ingredients that you should not use with licorice root extract. Those ingredients are vitamin C, exfoliating acids, retinol, and benzoyl peroxide. Licorice root in combination with niacinamide is considered safe, but it's important to note that individual skin sensitivities can vary, and some people can have specific allergies or reactions to certain ingredients.
Due to the possible vasodilatory effects of niacinamide and licorice root extract, some people can experience flushing or redness when using them together. I am saying this because Paula's choice serum contains both those ingredients and if you experience any irritation or redness, you can separate the use of these ingredients. So, before using the serum make sure to do a patch test.
This Paula's Choice serum contains a bunch of anti-oxidants that are relatively unknown. There is ascorbyl glucoside (a form of vitamin C), ubiquinone (coenzyme Q10), EGCG (the most active polyphenol of green tea), carnosine (peptide), and genistein (soybean component).
Neutrogena Hydro Boost + Niacinamide Serum
This Neutrogena Hydro Boost serum is a more affordable version of the best niacinamide serum for oily skin for hydration. In addition to niacinamide, it also contains hyaluronic acid and glycerin. Since it contains those two humectants it is a good hydrating serum without fragrance, parabens, and dyes. So, you will get the benefits of the niacinamide for oily skin and lightweight hydrating ingredients.
Best Niacinamide Serum For Oily Skin With Large Pores
Naturium Niacinamide Face Serum 12% Plus Zinc 2%
After the first use, this product amazed me since it improved texture, encouraged smoothness, and refined pores. My skin has seen a significant transformation because of the serum in only a few days; it feels moisturized and supple and acts as an incredible canvas for foundation.
I have seen a noticeable improvement in virtually all my problem areas, particularly where I have hyperpigmentation and old acne scars. My dark, discolored spots have significantly lightened after including this product in my routine. especially the region with hyperpigmentation and mild acne scars. I have to admit that you will have to use it for a longer period to see significant improvement. Also, since it has a high concentration of niacinamide which can be irritating to the skin, make sure to follow how your skin reacts.
Other than that, high niacinamide concentration I like the formula. It is fragrance-free and contains humectants (hyaluronic acid and glycerin), vitamin E (antioxidant), and zinc PCA.
Zinc PCA's ability to control sebum (oil) production in the skin is one of its main advantages. Because of this, it is especially helpful for those with oily skin who want to reduce extra shine and greasiness. Due to its anti-inflammatory properties, zinc PCA can help calm and soothe inflamed skin. It also helps to get smoother skin by controlling oil production and reducing inflammation, which leads to pore minimizing.
Because it can reduce the redness and irritation caused by breakouts, it is often included in products for oily skin. Another benefit of this ingredient is its anti-bacterial property, which means that it can reduce the growth of bacteria that cause acne.
When it comes to zinc you have to be careful how you incorporate it in your routine. If your skincare routine has other oil-controlling ingredients, those in combination with products containing zinc PCA, develop a risk of over-drying the skin, which can result in irritation. Those oil-controlling or drying ingredients include benzoyl peroxide, sulfur, or alcohol-based toners.
COSRX Niacinamide 15% and Zinc PCA 1% Face Serum
This serum is a more affordable version of the best niacinamide serum for oily skin with pore-minimizing properties. It has a similar formula to the Naturium niacinamide serum. COSRX is also fragrance-free and contains zinc PCA and a form of vitamin E.  So, the benefits are similar.
Best Niacinamide Serum For Oily Skin In The Evening
Youth To The People Retinal + Niacinamide
In this bottle, you can find the most powerful retinoid you can purchase without a prescription, 0.15% retinaldehyde. The active form of vitamin A that does wonders for your skin, retinoic acid, is produced directly from retinol (retinol dehydroacetate). It helps balance out uneven skin tone, reduce the appearance of fine lines and wrinkles, and smooth out texture and blemishes.
Most serums contain retinol, which must undergo two transformations to become retinoic acid. The amount of retinaldehyde in this serum is higher than even the highest concentrations of premium/luxury serums. Because it contains retinaldehyde instead of retinol this serum is on the expensive side, but it is worth the name of best niacinamide serum for oily skin in the evening.
Retinaldehyde has anti-inflammatory properties that can help reduce the redness and inflammation associated with acne breakouts. It can also regulate oil production, which can contribute to fewer breakouts over time. Next to the anti-inflammatory properties it also has exfoliating properties, which help to improve skin texture and unclog pores, which means less chance for breakouts. Retinaldehyde helps to minimize the pores due to its ability to promote cell turnover. Retinaldehyde stimulates the production of collagen, which over time can help to increase skin suppleness and lessen the visibility of fine lines and wrinkles. As a result, it works as an effective anti-aging component for oily skin.
If you want to learn more about retinoids, I have made a little infographic for you, so make sure to check it out.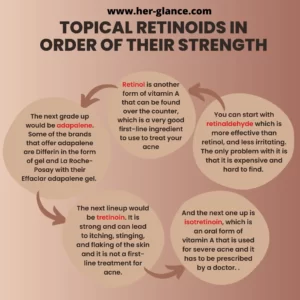 That's not all, though. Niacinamide, another powerhouse component in this serum that regulates tone, clarifies pores, and strengthens the skin's barrier, is also present at 5%. Niacinamide is beneficial for retinoid users since it also lessens sensitivity and inflammation. Thanks to glycerin, hyaluronic acid, aloe vera, and allantoin, the serum is incredibly moisturizing and soothing. It is thin and immediately penetrates the skin.
The serum also contains ceramides, which are great non-comedogenic ingredients for maintaining the skin barrier. And as we all know, a healthy skin barrier means healthy skin, regardless of the condition. For oily skin, this means that ceramides help restore and strengthen the skin barrier which can sometimes be compromised due to excessive cleansing or harsh skincare products. Oily skin can sometimes be sensitive or prone to redness and irritation. Ceramides have soothing properties that can help calm and alleviate sensitivity, making them suitable for oily, sensitive skin types.
The only great thing about having oily skin is that it ages slower than dry skin, but it would be smart to include ceramides in the routine regardless of that because they can contribute to the prevention of premature aging and the maintenance of youthful-looking skin.
Japanese Honeysuckle Flower Extract
Including this ingredient in your routine for oily skin can have many benefits. Japanese Honeysuckle Flower Extract is a natural antioxidant that helps to protect the skin from free radical damage, which means reduced effects of environmental stressors and pollution. It also has anti-inflammatory and anti-bacterial properties. Since it is not an oily ingredient, that means that provides a level of hydration to the skin without adding excess oil, which is a great bonus for oily skin.
Best Niacinamide Serum for Oily Skin with Hyperpigmentation
Paula's Choice CLINICAL Discoloration Repair Serum 5% Niacinamide
Just one look at the ingredients list makes this serum worth calling the best niacinamide serum for oily skin with hyperpigmentation. The formula doesn't contain fragrance, essential oils, and alcohol, but it does contain a whole bunch of goodies that help to fight pigmentation. If you want more product options for pigmentation on oily skin make sure to visit my previous post about pigmentation serums for oily skin. There you can find reasons why pigmentation occurs on oily skin, different pigmentation-fighting ingredients, and product recommendations in a wide price range.
Besides niacinamide, there are also tranexamic acid, anti-oxidants (vitamin E and bakuchiol), malic acid (exfoliant), and glycerin (humectant). In the text below you can find the benefits and potential drawbacks of particular ingredients.
Including tranexamic acid in your routine can be a smart move because this acid is very valuable for dealing with pigmentation on oily skin. This is the case because it helps to reduce post-inflammatory pigmentation (pigmentation that occurs as a result of breakouts) and it is non-comedogenic.
Tranexamic acid is useful in improving the complexion and giving the skin a more radiant and youthful appearance by preventing the development of melanin, the pigment responsible for skin color, so essentially it brightens the skin. It also helps to minimize the appearance of the pores, improve skin texture, reduce oiliness, and reduce the effects of sun damage.
This Paula's Choice serum contains a popular natural alternative for retinol, the bakuchiol. It can increase skin suppleness, reduce the visibility of fine lines and wrinkles, and promote the production of collagen. These anti-aging benefits come without the risk of excessive dryness or irritation that comes with retinol. Bakuchiol also helps to reduce acne and breakouts, improve skin texture, reduce oiliness and hyperpigmentation, mildly exfoliate, and enhance hydration.
The product description says that you should increase the use of this serum gradually to twice a day and apply an SPF of 30+, and I assume that is because of this ingredient. So, I agree with the first part completely and I would even recommend sticking to it once or twice a week if your skin is super sensitive. When it comes to the second part, I would recommend applying SPF of 50+.
This acid belongs to the AHA group. So, it exfoliates the skin which helps to unclog pores. Malic acid also helps to regulate sebum production, reduce the appearance of dark spots, prevent breakouts, increase absorption of other skincare ingredients, and protect the skin from free radicals damage.  
Benefits Of Niacinamide Serums For Oily Skin
Niacinamide is a form of vitamin B that is very beneficial for oily skin and easy to incorporate in the routine. Most skin types, including sensitive skin, handle niacinamide very well. A lot of people with oily skin can use it since it is less likely to irritate or dry up their skin than certain other skincare products. I would say that it is a mandatory ingredient for oily skin because it helps the skin to tolerate strong ingredients better.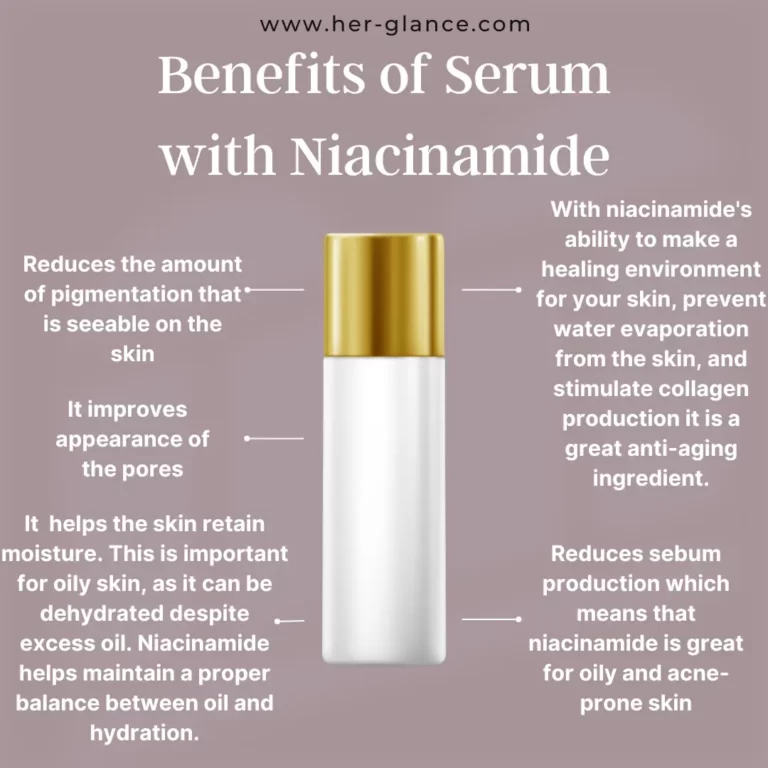 How to include niacinamide serum in your routine
Understanding your skin type and any issues is crucial before introducing any new products to your skincare routine. Although niacinamide is safe for use on most skin types, including oily, combination, and sensitive skin, I would advise you to talk to your dermatologist, especially because a lot of niacinamide serums have high niacinamide concentrations, which can be irritating for the skin.
So, including niacinamide serum in your routine is very simple. All you have to do is apply your skincare products in order of thinnest to thickest consistency. This means that serum goes after toner but before moisturizer and oils.
Also, it is important to note that you have to pay attention to the ingredients because a lot of niacinamide serums contain additional ingredients with different effects on the skin. As you can see I have written about all the key ingredients in the formula, so you know what their properties are. Always do your research about ingredients because it is not a good idea to use niacinamide serum with exfoliating ingredients and to apply a moisturizer with retinol afterward.