What Is The Best Body Wash For Combination Skin?
The best body wash for combination skin is the one that has a good blend of ingredients. That combination should include humectants, antioxidants, vitamins, and other ingredients to treat specific concerns. In the text below is my pick for body washes with different ingredients and scents. I would like to note that there are also body washes that don't contain fragrance.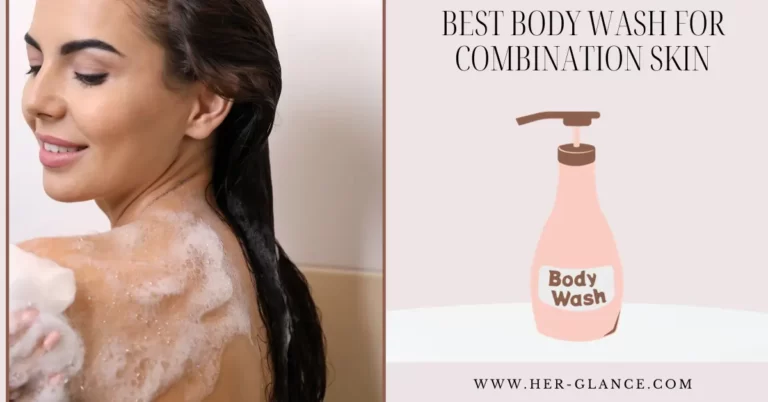 Maude pH Balanced Body Wash + Bubble Bath No. 0
There is a much that I love about this body wash. First, I love the fact that it comes in different options, in terms of fragrance. There is No.0, which is unscented, No.1, No.2, and No.3 and all of those have a different scent which comes from different plants. So, if you like your body washes to smell nice you can choose between those scents and if you have sensitive skin that easily gets irritated by fragrance then No.0 is for you. That inclusivity and formula made me consider it the best body wash for combination skin.
Second, I love the brand philosophy which makes sure that the body wash is PH-balanced. The pH of the wash varies from 5.5 to 6.5 (our skin has a pH of roughly 5.5. They use low levels of preservatives and citric acid which acts as a pH balancer. Their products also undergo several testing procedures, and all about those you can find on their website.
I also love the quality of this body wash. It is very nourishing and makes skin very soft and it smells great (scented versions). The only thing that I kind of don't like is the packaging. It is kind of difficult to use because the bottle is stiff. It's hard to squeeze and it doesn't pour out.
B3 (Niacinamide) which helps to improve the skin barrier by reducing moisture loss and protecting the skin from environmental stressors. It also reduces redness and inflammation, boosts collagen production, and evens out the skin.
B5 (Pantothenic Acid) is a humectant which means that it hydrates the skin. It also repairs the skin barrier and soothes irritated skin.
vitamin C as you already know is an antioxidant that protects the skin from free radical damage caused by UV radiation and pollution. It also brightens the skin and stimulates collagen production.
vitamin E is another antioxidant in this formula. It helps lock in moisture, keeping the skin hydrated and preventing dryness. Vitamin E also reduces skin inflammation and redness, which means that it is suitable for sensitive skin.
SALT & STONE Antioxidant-Rich Body Wash
This body wash smells wonderful, and if you like your products to smell nice and your skin can handle fragrance then this wash is for you. The formula is great and contains a lot of goodies. Some of them are:
niacinamide which helps the skin to tolerate other ingredients, reduce hyperpigmentation, increase elasticity, and reduce sebum production
ethyl ascorbic acid, which is a form of vitamin C, an antioxidant with anti-inflammatory properties that boosts collagen production
pomegranate enzyme increases cell turnover and acts like exfoliating acids. Even though it is not as effective as other acids it can be an alternative if you are just starting to exfoliate.
bunch of moisturizing and hydrating ingredients like glycerin which is a humectant with small molecules that help to hydrate the skin. There is also arginine, sodium PCA, hyaluronic acid, alanine, glycine, and others.
soothing ingredients like aloe vera juice and blueberry fruit extract, which also has anti-aging, skin brightening, and hydrating properties. Other than fragrance the only ingredient that I don't like in this formula is sodium C14-16 olefin sulfonate, which is a strong cleansing agent that can be a little bit harsh on the skin.
Although the container is smaller than I thought it would be, the product is excellent and worth the price. I didn't experience any problems with the bottle's pump as some people from the reviews have. The wash has such a nice texture, and it lathers up well!
Neutrogena Rainbath Refreshing
Neutrogena Rainbath, renewing shower, and bath gel contains their trademark scent—a fusion of spices, fruits, and herbs. Again, if you like your washes to smell nice you will love this product, but if your skin is sensitive the fragrance can irritate your skin. In my previous post I have written about body washes for sensitive skin, so make sure to check it out.
The formula is much more basic than in the case of the previous body wash (there are not so many active ingredients), but the price is lower, so you will be choosing between formula and price. It helps to soften and moisturize the skin without leaving behind a greasy film. You can add it to your bathwater, use it as a loofah or washcloth to massage it into your body or use wet hands.
Besides ingredients that help the formula to stay stable, emulsify, and clean the skin there is also Propylene Glycol. It is a colorless liquid that brands typically use to increase a product's so-called freeze-thaw stability. In other words, it ensures that a product won't melt or freeze in extreme cold or heat. This ingredient also helps to hydrate the skin (has humectant properties) and helps other ingredients to penetrate better.
Another ingredient in the formula is citric acid. This is exfoliating acid (AHA), but It is less effective than other exfoliating acids so brands usually use it as a helper ingredient in small amounts to adjust the pH of a formulation. Since I cannot see the concentration, and based on the product description I would say that that is its function in this product also.
The Best Body Wash For Combination Skin For Exfoliation
SOL DE JANEIRO Bom Dia Bright Body Wash
Now we are in the territory of exfoliating body washes for smooth and radiant skin. I am not even the biggest fan of their perfumes, but this body wash smells incredible. Imagine bathing in fruity pebbles. Of course, this goes if your skin is not sensitive and can handle fragrances. Please don't use it just for the smell and then regret it later. Below I have listed unscented options that are more suitable for sensitive skin.
I have to mention that there is a travel-size option, so if you are not sure you can get that one for a much lower price and decide if you want to commit to the full-size body wash. SOL DE JANEIRO Bom Dia brightening body wash contains fruit AHAs, vegan lactic acid, and salicylic acid. Before I get to the benefits of those acids, I have to mention that body wash also contains Sodium C14-16 Olefin Sulfonate, which is a strong cleansing agent that can be very harsh on the skin.
So, the fruit acids come from mango and banana which contain natural alpha hydroxy acids (AHAs). They are exfoliating, brightening and anti-aging. AHAs help to reduce hyperpigmentation and can help hydrate the skin, making it appear plump and healthy.
This acid is one type of AHA, and if it's sourced from vegan-friendly, plant-based sources, it's referred to as "vegan lactic acid." The benefits of vegan lactic acid are similar to the benefits of other AHAs, including exfoliation, hydration, skin brightening, and anti-aging.
This is a beta hydroxy acid (BHA) and penetrates deeper into the pores than AHAs because it is oil-soluble. It helps to unclog pores, treat acne, and reduce a bunch of skin problems associated with oily skin like blackheads, whiteheads, redness, and swelling.
Naturium The Smoother Glycolic Acid Exfoliating Body Wash
Now comes the exfoliating body wash without fragrance. Naturium body wash contains an AHA combination of glycolic, lactic, pyruvic, and tartaric acids, and removes dead skin cells while hydrating the skin (contains glycerin and sodium PCA). I think that there is no need for me to write in detail about those acids because they belong to the group of AHAs, and I have already written about them above.
But I would like to note something that you should pay attention to because it contains glycolic acid. Glycolic acid is the smallest and simplest AHA acid which means that it has the smallest molecules that can penetrate deeper into the pores. That molecule size allows it to be a very powerful exfoliant that if not used properly can irritate the skin.
Although most skin types can benefit from glycolic acid, those with sensitive or extremely dry skin might want to start with smaller doses and gradually increase their usage. I would not recommend it for people who have active skin conditions such as open wounds or severe acne. This body wash contains 5% glycolic acid which is considered a mild concentration, but just in case be careful with using it.
CeraVe Body Wash with Salicylic Acid
CeraVe salicylic acid body wash is also fragrance-free (suitable for sensitive skin) and has a great combination of ingredients, which made me consider it the best body wash for combination skin. I love this formula because, in addition to exfoliation, it also has ingredients that hydrate the skin, help to tolerate strong ingredients, and repair the skin barrier. 
Besides salicylic acid, it also contains niacinamide, glycerin, and ceramides. Ceramides are crucial in maintaining a healthy skin barrier. They improve moisture retention, soothe the skin, repair the damaged skin barrier, reduce sensitivity, and have an anti-aging effect. Even though they are great ingredients to have in your routine I would recommend avoiding things that damage the skin barrier in the first place. Those include harsh weather, excessive cleansing, or certain skincare products.
The Best Hydrating And Affordable Body Wash
Naturium The Multi-Vitamin Daily Nutrients Body Wash
When it comes to body washes many of them don't make a difference on the skin, but based on the ingredients list this one might.  This multivitamin body wash, however, looks AMAZING!! First, there is no smell, it's not crazy colored, and once you dry off, your skin should be soft even before you reach for your lotion. It helps to clean the skin without being too harsh.
The nutrient-rich body wash is made with an amino acid composition, vitamins, and minerals that preserve healthier-looking skin. It helps to promote the skin's NMF (natural moisturizing factor) balance due to its great combination of ingredients. There are antioxidants, skin brightening, moisturizing, hydrating, and soothing ingredients. Below you can find a little bit about the key ingredients of this formula.
Camellia Sinensis Leaf Extract is rich in antioxidants. Therefore, it protects the skin from free radical damage and offers anti-aging properties.
Ascorbyl Glucoside is a stable form of vitamin C and it brightens skin, lightens dark spots, and increases the production of collagen.
Form of vitamin E, hydrates the skin and functions as a strong antioxidant, protecting it from external stresses and helping the skin to maintain its moisture balance.
Due to its antibacterial properties, rosemary leaf extract is good in reducing acne and promoting cleaner, healthier skin.
Raspberry Fruit Extract includes natural antioxidants that encourage a more youthful look by minimizing signs of aging. In the group of moisturizing and hydrating ingredients, there are glycerin, sodium PCA, serine, alanine, glycine, threonine, arginine, and proline.
The Best Organic Body Wash For Combination Skin
Gilly's Organics With Hydrating Rich Foam
Gilly's body wash is a body wash with a very light fresh scent. Based on the ingredients list it should leave the skin feeling clean without stripping it dry. The product description states that you can use it as shampoo. To be honest, when I was reading the ingredients list the first thing that popped into my mind was meadow, so I started calling it meadow in a bottle. This body wash also uses coconut surfactants to create bubbles that moisturize as they clean, which made me consider it the best body wash for combination skin with organic ingredients.
What I love most is that it's clean and has a great formula, but my concern is that it might be on the pricey side. A little goes a long way but still seems like the body wash is overpriced because the tube is tiny, but if you like your products to be clean then it is not.
 It contains organic aloe leaf juice, and we all know how moisturizing, hydrating, and soothing it is. There are also Atlantic Sea salt, glycerin, shea seed oil, organic chamomile extract, organic calendula flower extract, organic kelp extract, and comfrey leaf extract. Doesn't it sound like a meadow in a bottle?
The Best Body Wash For Combination Skin On Budget
Method Body Wash, Simply Nourish
The method is a brand that makes products with no parabens, no phthalates and they are plant-based. They have a huge range of body washes with different key ingredients and scents. This one in particular has coconut, rice milk, and shea butter. Coconut in skincare products in any form helps to moisturize and hydrate the skin. It also has antioxidant, and anti-inflammatory properties that help to repair and strengthen the skin barrier.  Those anti-oxidant properties can contribute to a more youthful appearance by reducing the signs of aging, such as fine lines and wrinkles.
Rice milk contains natural enzymes and vitamins that can brighten the skin, which helps to reduce the appearance of dark spots and hyperpigmentation. It also soothes the skin and helps to maintain moisture balance. Shea butter is highly emollient and forms a protective barrier on the skin's surface, sealing in moisture and preventing dryness, of course, I don't know to what extent this goes with body wash since it is a rinse-off product. But, there is a property that is useful in a body wash. It is anti-inflammatory which means that it can calm irritated skin.
To learn more about Method and their products make sure to read my previous post which is dedicated to Method body washes, their ingredients, and benefits.
Love Beauty And Planet Body Wash
With Love Beauty and Planet Coconut Water & Vitamin C Plant-Based Body Wash, you can improve your shower and skincare routine. This mild body wash is rich in foam, delicately scented, and made with coconut water and vitamin C. Because of the fragrance I would not recommend it for sensitive skin.
It leaves skin feeling smooth and looking visibly brighter and more radiant. Additionally, this body wash has no sulfates, parabens, or phthalates and is 92% organically sourced, 100% biodegradable, cruelty-free, and vegan.
How To Find The Body Wash For Your Combination Skin
The answer to the question of how to find the best body wash for combination skin is not that simple. There are many factors that you have to consider. The most important in my opinion is reading the ingredients list and knowing the ingredients or committing to learning about their benefits and potential drawbacks.
When you are looking for body wash, look for the labels "for combination skin" or "suitable for all skin types." These products are designed to give hydration while balancing oiliness. Avoid using body washes with strong sulfates or alcohol since they might dry out your skin.
To find body wash that will address your concerns you have to look for particular ingredients. First, I would recommend you look for a gentle body wash that will not over/strip your skin.  You can do that by searching for gentle, sulfate-free surfactants like sodium lauroyl methyl isethionate or sodium cocoyl isethionate. These cleansers remove dirt and oil from the skin efficiently without depleting it from its natural moisture.
Choose body washes that contain moisturizing and nourishing ingredients including hyaluronic acid, glycerin, aloe vera, and ceramides. Those are hydrating ingredients that benefit oily and dry parts of your combination skin.  Also, look for body washes with ingredients like salicylic acid (BHA) for acne-prone regions or calming ingredients like chamomile or calendula for sensitive areas if you have specific skin issues (such as sensitivity or acne). Another factor that you have to consider is fragrance. It is okay if you like your body wash to smell nice and your skin can handle it. But if you have sensitive skin prone to irritation look for unscented body washes to minimize the risk of irritation.
Also, I would recommend you start with the travel size of the product or with the smaller bottle to see how your skin reacts. And if your skin tolerates it, you can get a bigger bottle and enjoy it. 
Consult a dermatologist if you have skin issues or disorders (such as eczema, psoriasis, or severe acne). They can make suggestions for products and procedures that are appropriate for your skin needs.
How to Use Body Wash Effectively
After finding the best body wash for combination skin that is suitable for your skin concerns make sure to use it effectively. By that, I mean to make it a part of a functional body care routine. That includes using lukewarm water when showering, because hot water can strip the skin of natural oils, potentially exacerbating dryness in certain areas.
After taking a shower, you must moisturize to seal in moisture. For oily areas, apply a thin, non-comedogenic moisturizer, and for dry regions, a thicker, moisturizing one or just use lotion labeled for all skin types. I like to apply lotion on damp skin to lock in more moisture, especially if it contains hyaluronic acid because it can be drying if it doesn't have anything to draw water from other than the deep layers of the skin.
Keep in mind that everyone's combination skin is different. As the seasons change or as your skin changes, be patient and ready to adjust your skincare routine and if you have severe or persistent skin issues, or if you're unsure about how to care for your combination skin effectively, consult a dermatologist.