Vitamin C Serum for Combination Skin
This post is all about Finding the best vitamin C serum for combination skin. In the text below you can find serums that besides vitamin C contain a lot of other beneficial ingredients. For your convenience, I have listed them according to their price, where I start with the lowest to highest ones.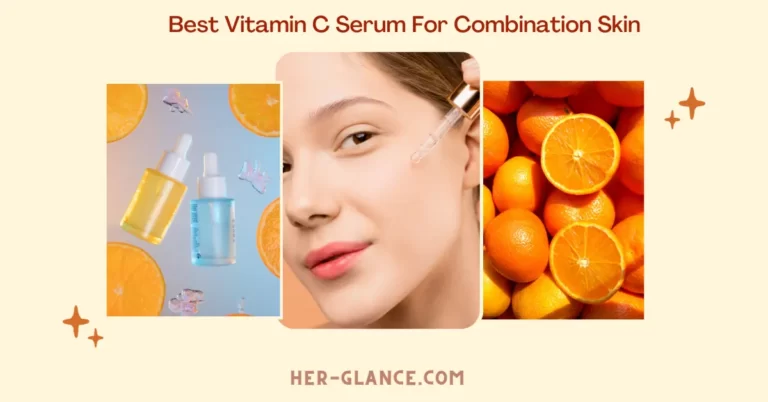 Olay Serums Vitamin C + Peptide MAX Brightening Serum
This Olay can be a great starting serum if your skin is sensitive to pure vitamin C because it contains vitamin C derivatives. Besides that, vitamin C derivative, there are also Olay's amino peptides and niacinamide. Olay vitamin C serum is lightweight and helps to brighten the skin while also addressing signs of aging. It absorbs quickly and doesn't leave skin feeling greasy or sticky, which is great for the oily parts of the face.
As I already said before the serum is a combination of a potent combination of ingredients that have various benefits for the skin. Now I will write a little bit more in detail about those benefits. Vitamin C and amino peptides, the two major ingredients, work well together without irritating the skin or causing redness. Peptides maintain the firmness of skin cells while vitamin C significantly brightens the skin.
Additionally, there is lactic acid, an AHA that improves aging symptoms and exfoliates skin. Lactic acid is an exfoliator and a humectant that moisturizes, as previously stated by Michelle Wong, the creator of Lab Muffin and a cosmetic scientist, in an interview with InStyle. "It can hydrate your skin, reduce clogged pores, smooth out skin texture, and help fade pigment," she stated. It is hardly surprising that the serum performs so well given the combination of ingredients. Unfortunately, it does contain fragrance, but if your skin can handle it and you like your products to smell nice I recommend trying out this vitamin C serum for combination skin.
Hydrating Vitamin C Serum For Combination Skin
Naturium Vitamin C Complex Face Serum
This serum is suitable for all skin types including acne-prone, combination, sensitive, dry, and normal. I tried to google the percentage of vitamin C in this serum and stumbled across the information that  Naturium serum contains 22%, according to one of the posts on Google. However, I don't know how reliable that number is, but looking at the ingredients list vitamin C is pretty high on the ingredients list.
Honestly, the percentage doesn't matter. A higher percentage doesn't mean more effective, like in the case of niacinamide, where concentrations above 5% can become irritating for the skin. I recommend you look for effective and non-irritating formulas.
When it comes to the stability of the vitamin C serum, I like that this one contains vitamin E because those two combined make the difference. For the skin, vitamin C is fantastic. Also, vitamin E is. When you combine them, you get something amazing. Decades of scientific study proving how their interaction boosts antioxidant effectiveness to generate visible results supports this "better together" connecting of two super-antioxidants. Vitamin E is a highly potent antioxidant critical for protecting against premature skin aging. Vitamin E helps to fight damaging free radicals and when combined with vitamin C, it receives a boost that reignites its age-fighting power.
To be honest I like this formula better than the formula of the previous one because Dr.Dray has said that it might be challenging to combine niacinamide and vitamin C in the same bottle because vitamin C needs acidic PH to work. It also contains hyaluronic acid, which is a humectant that helps to hydrate the skin, it does not contain fragrance and it is still affordable.
Gentle Vitamin C Serum For Combination Skin
Honest Beauty Vitamin C Radiance Brightening Serum
Even though I refer to it as a vitamin C serum for combination skin, this one isn't very potent. It has a derivative of vitamin C called sodium Ascorbyl phosphate, or SAP for short. Even though the position of the ingredient on the ingredients list doesn't mean that it is in small concentration considering it's practically at the bottom I am going to assume that there is not a high percentage. This is because I was unable to find that information since Honest Beauty doesn't disclose the percentage that it has in the mix.
On the good side, though, even 1% SAP can make a difference in brightening and evening to the skin. Additionally, it is kinder than L-ascorbic acid, making it a potentially better choice for people with sensitive skin. Besides SAP it also contains aloe vera extract, which soothes the skin, and a form of hyaluronic acid called sodium hyaluronate, which is a humectant that keeps skin hydrated.
The serum itself is great, gives you a nice glow, and doesn't dry out your skin. However, the bottle design has been defective in my case. It's a plastic bottle with an airless pump. It stopped pumping serum out when there was plenty of serum left in the bottle. The serum has a lightweight texture that absorbs quickly and doesn't peel.
Vitamin C Serum For Combination Skin with Collagen and Humectants
Mario Badescu Vitamin C Serum for All Skin Types
This product, which contains ascorbate and 3-0-ethyl-ascorbic acid, two of the most stable and efficient forms of vitamin C is marketed for all skin types, including sensitive skin. Many people with that skin type have said that it penetrates their sensitive skin without causing any irritation or redness.
The smell is another thing I like about this vitamin C serum: it doesn't have any, which is a little out of the ordinary. It is important to note that you should not combine the Vitamin C Serum with AHA, BHA retinol, or retinoid products because that can lead to skin irritation & destabilization of Vit C, and this applies to all vitamin Cs, not just this one.
Besides vitamin C as the key ingredient in this formula, there are also:
–collagen which in topical form helps to condition and moisturize skin.
–sodium hyaluronate, which is a derivative of hyaluronic acid with decreased molecular weight and enhanced absorption.
Users are reporting that after using this serum for just a month, they can see the difference in their hyperpigmentation. Also, they reported that it helped to reduce sunspots and hormonal acne scars. Another stated that they started using it because of Martha Stewart since she has had gorgeous, glossy skin and she said in an article that she uses this serum.
When it comes to me, I noticed a difference in the shine of my skin after a week. I wanted to see its effect on wrinkles, I have a few on my forehead. In over all my skin seems more radiant and healthier! I will continue to use it because it takes time for the serum to make a difference with fine lines and wrinkles.  
Anti-Age Vitamin C Serum For Combination Skin
Vibriance Super C Serum for Mature Skin Made in the USA
Dermatologists and beauty writers alike agree that vitamin C serum is one of the items that everyone should include in their routine, regardless of age or skin type. This skincare ingredient is anti-oxidant which means that it can prevent free radical damage to the skin, which can lead to aging, in addition to promoting radiant skin and fading post-inflammatory hyperpigmentation.
With so many options available, this serum from Vibriance stood out with trending on TikTok and almost 3,000 positive ratings on Amazon.
The key ingredient in the formula is 3-O ethyl ascorbic acid, which is a more stable derivative of pure vitamin C. In this form, vitamin C doesn't oxidize as quickly, but it still has all the same properties as regular vitamin C, including brightening, fading of spots, and reducing signs of aging. However, using vitamin C in this form has huge advantages. It doesn't need to be kept in the refrigerator and can last longer after opening.
Additionally, it also has pro-vitamin B5, which can reduce inflammation and enhance moisture retention, and vitamin E, which is well-known for its antioxidant, healing, and moisturizing properties. Caffeine is another important component. Due to its ability to combat free radicals and brighten skin, caffeine is a common antioxidant element in anti-aging treatments, and this serum is made with a beautiful message from the brand: "We want to inspire every woman to see her outer beauty and let her inner beauty shine regardless of age."
Brightening and Plumping Vitamin C Serum for Combination Skin
Medik8 C-Tetra - Brightening, Balancing, Plumping Daily Vitamin C Serum
Here is a little explanation of how antioxidants work, so you can understand the importance of applying them topically. Natural antioxidants in your skin help protect you from environmental free radicals. The skin is unable to defend itself when the number of free radicals from the environment surpasses the antioxidant capacity of the skin. Free radicals cling to the helpless skin cells, inflicting irreversible harm that eventually results in early aging of the skin (fine lines and wrinkles).
As before, this vitamin C serum for combination skin serum also contains vitamin E. Vitamins C and E work together synergistically as 'network antioxidants', boosting the serum's overall antioxidant effect to keep skin protected throughout the day. In addition to that antioxidant protection, there is also jojoba seed oil. which provides lightweight nourishment and an immediate glowing look. The natural emollient oil easily penetrates the skin's protective layer to provide the advantages of vitamin C.
The serum is suitable for all skin types and boosts skin with antioxidants to prevent and heal damage caused by free radicals, while also stimulating the production of collagen and elastin. Vitamin C's smoothing and brightening properties are enhanced by red ginseng. Squalane, vitamin F, and maracuja oil deeply hydrate and nourish your complexion, leaving it feeling smooth, soft, and plump.
Vitamin C Serum for Combination Skin with Niacinamide and Peptides
Vitabrid C12 Dual Drop Serum
As regular readers know, vitamin C is one of my favorite skincare active ingredients. It went through extensive research to ensure the safety and efficacy of its anti-aging, acne-fighting, and brightening properties. Now, I will write about serum from a vitamin C-focused line called Vitabrid C¹².
The key ingredient is stabilized vitamin C (ascorbic acid), which means that it can provide the advantages of vitamin C without having to worry about the product expiring too soon.
Guys, the ingredient list is huge. It contains numerous antioxidants, humectants, and soothing ingredients. To be honest I have never seen a list this long and full of beneficial ingredients. But there is one ingredient that I don't like and that is Rose Geranium Flower Essential Oil, which is a fragrant essential oil coming from the flowers Rose Geranium. It does have antioxidant and antimicrobial properties, but if you have sensitive skin, be careful.  
Among all the beneficial ingredients there are:
Niacinamide which can help repair compromised skin, balance out uneven skin tone, help to tolerate stronger ingredients, and bring an overall radiance to the skin. I kind of have mixed feelings about combining it with vitamin C in the same bottle. I have seen that some brands claim that research shows that it is safe to mix them, either together in the same product or combined from different products that you layer one over the other. And I have also heard dermatologists with different opinions.
Peptide Complex includes different peptides that work together to reduce the appearance of fine lines and wrinkles. Vitabrid C12 has developed a delivery system to the skin called Peptibrid and it ensures that the skin gets all the benefits of peptides.
Morning Routine Vitamin C Serum For Combination Skin
Youth To The People 15% Vitamin C Face Serum
This unique 15% vitamin C serum is clinically graded and contains three potent vitamin C forms (ethyl ascorbic acid, tetrahexyldecyl ascorbate, and magnesium ascorbyl phosphate). It also contains plant-derived caffeine which helps to brighten and moisturize skin right away, improve microcirculation, and lessen morning puffiness.
For more information about the formula, texture, and benefits of this serum make sure to visit my previous post about the best serums for the morning routine, where I have written in detail about Youth To The People serum.
Vitamin C Serum for Combination Skin with Ferulic Acid
IMAGE Skincare IMAGE MD Restoring Power-C Serum, 20% Vitamin C
This is an ideal vitamin C serum for combination skin. Hyaluronic acid and vitamin C, in their optimal forms together fight signs of aging. The serum contains 20% tetrahexyldecyl ascorbate, a highly concentrated type of vitamin C that targets fine lines and firmness loss while also brightening and evens out the skin. To restore more firmness, smoothness, and elasticity, an enhanced hyaluronic acid complex seals in moisture at the same time.
It also contains ferulic acid which boosts results of vitamin C. Ferulic acid is a potent antioxidant, and as you already know that means less oxidative stress on the skin, caused by free radicals. This is particularly important for combination skin, as it can experience both dryness and oiliness, making it more susceptible to environmental damage. It also helps to even out skin tone by reducing hyperpigmentation and soothing and calming any redness or irritation that can occur in combination skin. Another thing that is important for combination skin is that it can reduce excessive oiliness in the T-zone while maintaining moisture in drier areas. It doesn't contain alcohol, fragrance, parabens and sulfates.
Clinical Outcomes (Daily Use for Four Weeks) of this serum include:
-enhances pigmentation and skin tone by 24%
-enhances rigidity by 24%
-reduces wrinkles and creases by 16%
To be honest, I haven't tried it out, but there are very positive reviews on Amazon. People are saying that it is not oily and that it quickly penetrates the skin. After using it for about a week, their skin felt clear and brighter. Some of them said that other vitamin C serums made them break out, but this one did not. In conclusion, they said that it was a good investment and worth the money.
What Are the Benefits of Vitamin C For Combination Skin?
Before writing about the benefits of vitamin C serum for oily skin, it is important to say that you have to choose a product with a quality formula, that also includes ingredients that help to reduce oxidation of vitamin C. Also, I would like to note that to reap the full benefits of anti-oxidants like this one you should apply sunscreen regularly. As you can see including into your routine is very easy. Apply it on clean skin and follow with moisturizer and sunscreen in the morning. If you are wondering what moisturizer you can use, here is a link to my post about the best moisturizers to use after such serum.
As you already know, vitamin C can decrease the visibility of dark spots, hyperpigmentation, and dark patches. It is an excellent option for people who have dry and oily areas of their skin since it may help balance the complexion overall. It also helps to boost collagen production, which makes it an ideal ingredient for those who are battling fine lines and wrinkles.
Since combination skin means oily T zone, including vitamin C is a pretty good idea because it helps to regulate sebum production, leading to a reduction in excess oil and a more balanced appearance. For both dry and oily regions of the skin, vitamin C can strengthen the skin's natural barrier, increasing its ability to hold moisture and fight against environmental stressors.
Other Ingredients To Look For In Vitamin C Serum
Here is an infographic with ingredients that besides boosting the efficacy of vitamin C, also have many benefits for the skin. All of the ingredients have been mentioned in the text above, so you can remind yourself about their benefits for the skin.