Best Body Wash For Sensitive Skin In 2023
In this post we have prepared a list of the best body washes for sensitive skin. I understand that it can be hard to find suitable products of any kind when your skin is stubbornly sensitive. Don't worry, I know what you need or what you don't need in your body wash, and those are ingredients like a fragrance that can be super irritating for sensitive skin, alcohol, sulfates, petroleum, etc.
So let's start and I hope that this text will provide you with your next body wash that will make you feel comfortable in your skin.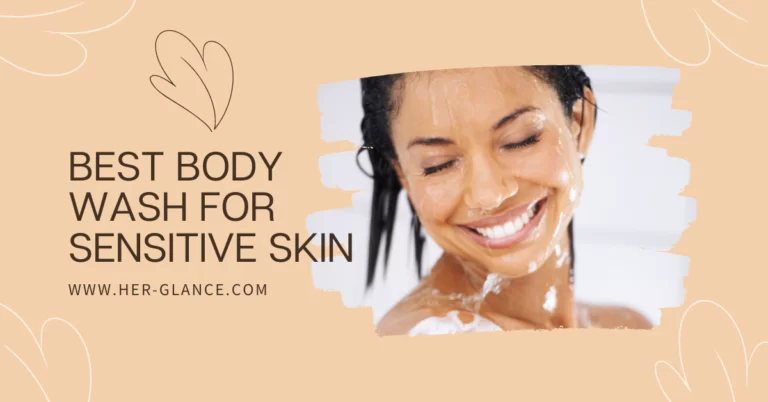 Best body washes for sentive skin in 2023 are: 
La Roche-Posay | Lipikar Wash AP+
Puracy Body Wash
Kiehl's Made For All Gentle Body Cleanser
Aveeno Skin Relief Fragrance-Free Body Wash
Glossier | Body Hero Daily Wash
La Roche-Posay | Lipikar Wash AP+
La Roche-Posay | Lipikar Wash AP+ is a gentle foaming moisturizing wash that can be used both for your face and for your body.  It can be used by both men and women and it is actually safe for the whole family.
Its moisturizing effects start to take effect right from the shower and they can last for the whole 24h. What is most important for someone with sensitive skin is that this wash is fragrance-free and also alcohol-free so you won't have trouble with irritations. Also in terms of antioxidants and other beneficial ingredients, it contains niacinamide which is gentle as an ingredient can be.
It's very well tolerated and often recommended as a smart option for those with sensitive skin or for anyone looking for a gentle but effective skin-nourishing ingredient. Of course, niacinamide is also good for skin brightening it has anti-acne benefits and it protects the skin's natural barrier.
Another useful ingredient is shea butter which is emollient. Since it is known that shea butter contains ingredients like vitamins A and E, it's useful to treat sensitive and irritated skin with it.  So you can clearly write down one more plus for the La Roche-Posay | Lipikar Wash AP+ in your books. Of course, there are some humectants from which I would point out at the mannose.
Mannose is very common in skincare products and it is very acceptable for people with sensitive skin.  Also when I say humectant I mean it assists the skin in the retention and attraction of water to the skin's surface.  
From the negative side, this product contains Sodium Laureth Sulfate which can cause a little bit of dryness but nothing much. Perhaps that is the reason it is not as moisturizing as most of people claim it to be.
Also if you are interested in terms of animal testing La Roche-Posay is not cruelty-free. In terms of its performance when I tested it for a whole bottle.
I would also like to add that La Roche-Posay is famous for their care for sensitive skin. We wrote a few posts on why is that so here is a link if you are interested.
It does a pretty good job, for my body especially as I mostly used it for it. I didn't regularly use it for the face, only in some cases when I was in a hurry. Also, I still had to apply lotion after it as to be honest, it was not as moisturizing as it was proclaimed to be. Of course, it does not leave your skin dry but it was my personal preference to apply the lotion.
It also does a pretty good job removing makeup and sunscreen if you had it applied beforehand. It did struggle a little bit with waterproof makeup but it does remove that as well.  Also, I would like to add that this product would be great for people with oily skin as it contains Sodium Laureth Sulfate so for them that would not be a negative ingredient.
To sum up, a very nice all-around cleanser that can be used on both face and body if you have sensitive skin (more oriented towards the body). It also falls into the category of more affordable cleansers as its price is currently 17$ on Amazon. We have a link to it underneath the image.
Best Body Wash For Sensitive Skin With Natural Ingredients
Puracy Body Wash is probably one of the most natural ingredients body wash out there. Their formula contains 98% natural ingredients and of course, that can be super beneficial for sensitive skin.
The scent the Puracy body wash provides is also great and extremely calming, unfortunately, that comes with the cost of containing a small amount of fragrances that provide this kind of product with the scent. Of course, I would not recommend it to you if that was no natural fragrance in it so in that case it is acceptable even for sensitive skin.
One of the best things about it is that it is sulphate and paraben free which saves sensitive skin and of course that is what you are after. Naturally, we will go through the most important ingredients together. One of the most beneficial ingredients this body wash contains is Vegetable Glycerin, it is an oldie but goldie as they say. It is a great natural moisturizer that plays a very important role in skin hydration and overall health.
Next up is Sodium Methyl Cocoyl Taurate which is a mild and non-drying cleanser that gives skin a nice and soft after-feel. It also has great foaming properties, comes from coconuts and it's biodegradable. The last of the important ingredients is Gluconolactone which is polyhydroxy acid and is lately commonly regarded as the next-gen AHA.
It gently lifts off dead skin cells and makes your skin look very smooth. Also, it provides moisturizing effects after the product is applied. Also in the long term it provides anti-aging benefits also increases skin thickness and decreases wrinkles.
The price of the body wash is even more affordable than the previous one as Puracy Body Wash costs around 11$
Overall it is certainly suggested for sensitive skin but I would personally recommend the La Roche-Posay more as it does not contain any fragrance even though in this one fragrance is natural.
Best Gentle Body Wash For Sensitive Skin With Best Smell
Kiehl's Made For All Gentle Body Cleanser
Kiehl's Made For All Gentle Body Cleanser is certainly a top-shelf cleanser and of course, it falls into the category of the most pricy ones. Naturally with the greater price comes great quality as it provides great scent, smooth skin, and no chance of irritation even if you have sensitive skin.
Again, it contains a fragrance that is natural and should not cause trouble to any skin type. In most cases, even with sensitive skin if the product has a smaller amount of fragrance it doesn't cause any issue to sensitive skin. One of the best ingredients this cleanser provides is Glycerin. Glycerin is extremely beneficial to sensitive skin because it's a natural component of skin, it helps to visibly calm redness and inflammation.
Glycerin's gentle, hydrating properties have a calming effect on sensitive skin, helping to beautify it by providing rejuvenating moisture.
Kiehl's Made For All Gentle Body Cleanser also contains salicylic acid which is in most cases extremely beneficial for acne-prone and oily skin. Unfortunately, if you have dry skin I would not recommend using this cleanser. Some research clam that salicylic acid can cause dryness and irritation.
Of course, people with sensitive skin absolutely can and should use salicylic acid but in moderation.  Another interesting ingredient is Aloe Barbadensis Leaf Juice Powder. A spray-dried or freeze-dried version of Aloe Leaf Juice.
The point of both drying methods is to make water evaporate from the juice and leave just the "useful" components behind. So aloe powder has similar soothing, emollient, and moisturizing properties as the juice.
My opinion is that people with dry skin should avoid using this product and use the 1. La Roche-Posay | Lipikar Wash AP+ doesn't contain salicylic acid but for any other skin type, I would certainly recommend  Kiehl's Made For All Gentle Body Cleanser including sensitive skin type. (again if your skin is not dry!)
Best Fragrance and Alcohol Free Body Wash For Sensitive Skin
Aveeno Skin Relief Fragrance-Free Body Wash
Aveeno Skin Relief Fragrance-Free Body Wash is again one of the body washes that are perfect for sensitive skin as it does not contain fragrance or alcohol. It is also family-friendly so all of your family can use it as well. I would recommend using it if you have sensitive skin but also dry. So with this product, we have covered all of the skin types and I am sure everyone will find somebody for themselves.
As for other ingredients in this body wash it contains glycerin same as the Kiehl's Made For All Gentle Body Cleanser and Puracy Body Wash. Second beneficial ingredient is Avena Sativa (Oat) Kernel Flou,  a finely powdered form of Oat Extract that has skin soothing, skin protecting, and antioxidant benefits. It is loaded with skin goodies such as anti-inflammatory agent beta-glucan, skin nourishing lipids, and moisturizing carbohydrates.
It is extremely beneficial for dry, irritated, inflamed, or eczema-prone skin. Other ingredients like Polyquaternium-10 which helps thicken the texture of the product are not that important for you and the information you are seeking. It is also important to note that this body wash is soap-free and also paraben free. This means that there is almost a 0% chance that it will cause irritation for sensitive skin.
So to sum it up, I recommend this body wash to people with dry sensitive skin that want to moisturize and clean their skin. Ingredients contained in it will not cause any irritation and will give you the benefits you are looking for.  Unfortunately, it does not contain any "special" ingredients that can be found in Kiehl's Made For All Gentle Body Cleanser for example but it is certainly a safer option for you. Its current price at the time of writing this text is 12$ which certainly falls into the category of less expensive body washes.
Best Moisturizing Body Wash For Sensitive Skin
Glossier | Body Hero Daily Wash
Glossier | Body Hero Daily Wash is a seven oil blend. The nicest thing about this product is that it contains a lot of oils that lisf up the dirt and it does not strip away your skin oils. You will certainly feel its cleansing benefits and it wont leave your skin dry but moisturized. It unfortunately contains fragrances also but it certainly has the nice scent to it.
Again fragrance is not that scary for the sensitive skin as the alcohols are but I advise you to use it moderately if you decide to purchase it.  This body wash falls into the series of Body Hero products and their signature scent consists of orange blossom and neroli. Of course, both of these scents are the exotic ones and they come from the same white flower of the bitter orange tree.
As for the ingredients it contains really beneficial oils like Glycine Soja (Soybean) Oil
Which is the emollient plant oil coming from the soybean. It is considered to be a nice, cost-effective base oil with moisturizing properties. As for its fatty acid profile, it contains 48-59% barrier-repairing linoleic acid, 17-30% nourishing oleic acid and also some (4.5-11%) potentially anti-inflammatory linolenic acid.
 Another beneficial oil is Vitis Vinifera Seed Oil. It's a light emollient oil that makes your skin feel smooth and nice and also contains a bunch of good-for-the-skin stuff. It's a great source of antioxidant polyphenols, barrier repair fatty acid linoleic acid (about 55-77%, while oleic acid is about 12-27%), and antioxidant, skin-protectant vitamin E.
Other very beneficial oils are Carthamus Tinctorius (Safflower) Seed Oil, Limnanthes Alba (Meadowfoam) Seed Oil, Olea Europaea (Olive) Fruit Oil, Sesamum Indicum (Sesame) Seed Oil, and Tocopherol.
If you require a nice smell from your body wash this is certainly the one for you. Unfortunately, the bottle in which it comes is relatively small so if it won't bother you to use up your body wash a bit faster than the other ones I suggest you buy this one.