Does toner help with acne?
COMPLETE ANSWER
In this post we will provide an answer to the question does toner helps with acne and provide cases of when it does.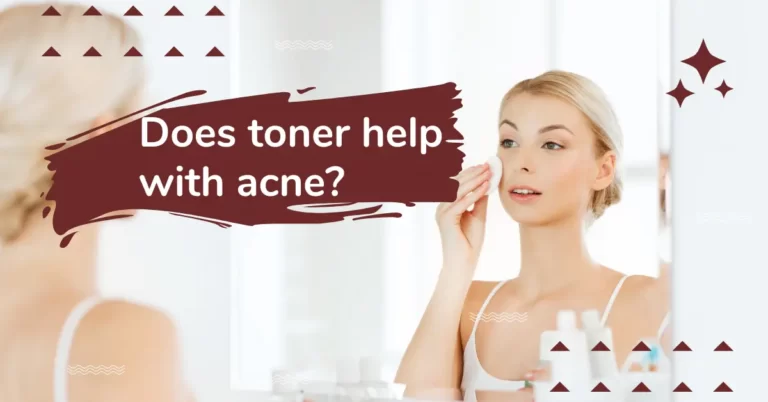 Toner helps with acne if it doesn't contain alcohol and other irritating ingredients, if you apply it the right way, if it is part of a functional skincare routine and if it contains ingredients that are beneficial for your skin barrier.
Toner helps with acne if it doesn't contain alcohol.
When you want to incorporate a new product into your skincare routine you should always carefully examine the list of ingredients. Since toner is a leave-on product and comes right after cleansing its ingredients have the highest absorption.
Toner that has gentle and unharmful ingredients will help your skin. If you apply a toner that contains alcohol you will most certainly make acne even worse.
Why is that?
People with oily skin that have excess sebum often make mistakes about alcohol because it leaves a clean squicky feeling. Making your skin that way is not healthy and it will create more problems. That feeling means that the product (toner with alcohol) has gotten rid of oil temporarily.
Your acne could get worse if you use products with alcohol on it. Your sebaceous glands produce more oil in response to these things drying out your skin. Sebum, or too much oil, can unintentionally lead to acne outbreaks.
Acne outbreaks also frequently seem to become more obvious due to redness, peeling, and flaking.
More dead skin cells hiding on the surface of your skin due to excessive dryness can clog your pores and cause whiteheads and blackheads.
In general, the American Academy of Dermatology advises using alcohol-free acne treatments to lessen these kinds of issues. For more information visit this link. 
So, our best advice for you is to carefully examine the list of ingredients and to stay away from alcohol toners that contain alcohol.
It helps if you apply it the right way
To help with acne toner must be applied the right way. When applying toner your hands must be clean. Yes, this sounds ridiculous but it needs to be said. This is very important to note because your hands are full of dirt, oil, and bacteria.
Let us paint you a picture. You are in your bathroom and you have just cleansed your face. Notification on your phone comes. You pick up the phone and check out the notification. After putting your phone down you reach for your toner and start applying it. You have just transferred and trapped bacteria from your phone to your pores.
This will allow acne and breakouts to grow like crazy.
The bottom line is always to be careful when you are dealing with your face. Even a small mistake like that can create a lot of problems.
Also, you need to avoid using a towel after the cleansing phase of your skincare routine. The towel is a great environment for bacterial growth especially if it has been already used.
You can use a single-use towel that is clean and it is one-time use only. This is the solution if you absolutely have to use a towel but this is bad for the environment, so we would not recommend this.
Just let your face dry naturally and to speed that up gently pat your face with a clean hand and you will be good to go.
So, with your clean hands apply toner by gently patting it on your damp skin. This method will help with absorption and you will not waste your product like when it is applied with a cotton pad (50-60% of the product gets absorbed).
If toner is part of a functional skincare routine
Does toner help with acne is a simple question, but the answer is a little bit complicated. If you want your toner to be helpful for acne you have to have a functional skincare routine.
Having a functional skincare routine means that you care about the steps of your routine and the ingredients of the products that you are applying to your face.
You cannot apply products that have irritating ingredients like essential oils and fragrances if you have sensitive skin and expect them to help you with your acne. It will just irritate your skin even more and lead to inflammation and breakouts.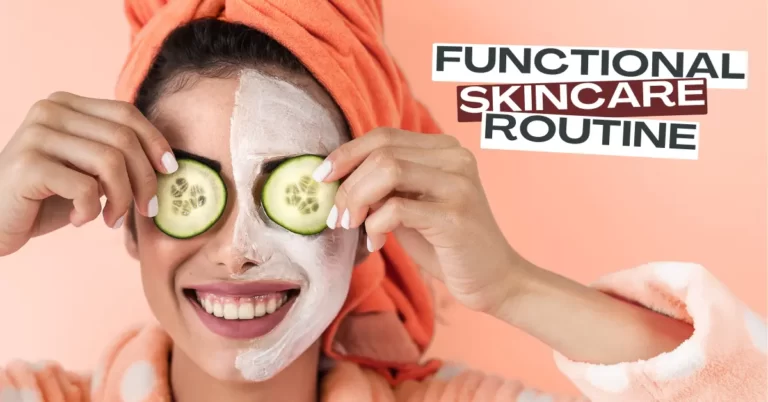 Also, you cannot apply multiple products that contain the same ingredient. For example, you don't want every product to have tea tree extract, hyaluronic acid, or some other ingredient. Too much tea tree extract can lead to skin irritation, scaling, burning, dryness and redness and on the other hand, too much hyaluronic acid will lead to dry and aged skin.
To be helpful for your acne and your skin, you have to use the particular ingredient in moderation. Carefully select your products and pay attention to the ingredient list.
When you are searching for the perfect ingredients for your skin you have to be also careful to pick products that don't have ingredients that cancel each other out and make your skin worse.
Maybe you have heard that AHAs, BHAs, retinoids, and salicylic acids are great for acne. Yes, they are if you use them the right way.
For example, you bought a toner that contains salicylic acid (which is oil solvable, it will absorb into oil glands and break up debris and unclog pores) and you combine it with topical vitamin A (retinoids) in your nighttime routine. That is a huge mistake.
If you want your toner to be helpful for your acne you cannot incorporate it into your routine randomly. You have to first research if ingredients from that toner go well with the products of the rest of your skincare routine.
Mentioned toner needs to be applied in the morning and retinoids at the night. A functional skincare routine is consistent and has 3 basic steps: double cleansing, moisturizing, and sunscreen. Between those steps, you can add toner and serum for better results.
So, the bottom line is that toner will be helpful for your acne if you combine it well with the rest of your skincare routine.
To help you make a functional skincare routine here are some of the previous posts that we wrote about skin cleansing, moisturizers, and the sequence of applying serum and moisturizer.
If toner contains ingredients that are beneficial for your skin barrier
Nowadays toners are so well formulated and they contain active ingredients that can help your skin barrier.
You may be more vulnerable to experiencing acne, dry scaly skin, itchiness, and rough or discolorated patches when your skin barrier is compromised.
If you want to learn more about your skin barrier visit this link. 
Since acne may appear due to a damaged skin barrier, toners are a great addition to your skincare routine to incorporate more active ingredients for repairing the damaged skin barrier, and ultimately to help heal your acne.
Ingredients that are helpful for your skin barrier are niacinamide, hyaluronic acid, ceramides, allantoin, panthenol, and glycerin.
We wrote about all of those ingredients and listed toners that contain them in our previous posts about toners with niacinamide and toners with hyaluronic acid. 
Also if you are a person of color you should be particularly careful with your toner pick. We have prepared a list of the best toners for dark skin.
Here is a great toner that doesn't contain alcohol and you can easily incorporate it into your skincare routine.
La Roche-Posay Serozinc Face Toner for Oily Skin with Zinc
This toner is suitable for oily sensitive skin since it does not contain alcohol. It is great for soothing your skin and getting a soft, hydrated, and mattified feeling. It contains zinc sulfate which is a great ingredient for fighting acne.
In their approach to treating hormonal acne, several healthcare professionals suggest zinc. A mineral called zinc is essential for collagen formation and healthy skin. In addition to decreasing sebum production (perhaps by reducing androgens), it also aids in maintaining healthy levels of inflammation, which both assist with acne.
In some cases, toners can have negative effects on the skin and actually cause acne. This usually occurs in several cases which we have described in detail in our previous post on the topic "can toners cause acne".