What Is The Best Serum For Morning Routine?
Choosing the best serum for morning routine depends on your skin concerns and skin type. Whether you are looking for anti-aging, hydration, or brightening benefits, there is a serum out there for you, and in the text below you can find serums targeting all those concerns.
The best serum for morning routine should have a lightweight formula that penetrates deep into the skin and provides long-lasting hydration and nourishment. Always remember to patch-test new products and introduce them slowly into your routine to avoid any adverse reactions. With consistent use, a good serum can help transform your skin and give you a healthy, glowing complexion.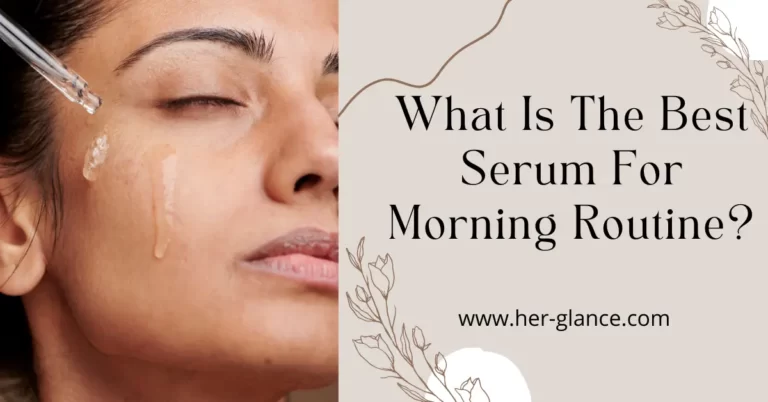 The Best Serum for Morning Routine with Vitamin C
Vitamin C is an antioxidant that helps protect the skin from free radical damage caused by UV rays and pollution. It also helps brighten the skin, improve skin tone, and reduce the appearance of fine lines and wrinkles. To find out more about ingredients that are effective in treating hyperpigmentation and evening out skin tone and what other products you can include in your routine, make sure to check out my e-book "Skin of Color: Hyperpigmentation". A good Vitamin C serum should contain a stable form of Vitamin C, such as L-ascorbic acid, as well as other antioxidants like Vitamin E and ferulic acid. It should also be lightweight and easily absorbed into the skin.
Youth To The People 15% Vitamin C + Clean Caffeine Energy Serum
This serum is a great option to include anti-oxidants in your skincare routine. It is suitable for Oily, Combination, Mature, and Normal skin. I would not recommend it for dry skin because it contains strong vitamin C derivatives. The serum with liquid and lightweight texture helps to brighten, reduce morning puffiness, and hydrate. With daily use, this super dose of antioxidants helps reduce hyperpigmentation, even out skin tone, and visibly firm the skin.
According to their research after one week of using 84% of people said that their skin looks brighter and 84% saw visible improvement in overall skin tone. After four weeks of using this serum, 90% saw an overall improvement in skin tone, 87% agreed that skin looks brighter, 87% agreed that skin looks refreshed and 80% saw a visible improvement in skin texture.
Since the formula contains powerful vitamin C derivatives, you have to be careful about including it in your routine. For instance, you may find vitamin C in several serums and facial oils. Therefore, the morning after applying an AHA-rich exfoliation (such as lactic acid) in the evening, you can use your vitamin C serum. Similar to using a toner that may be high in BHA (like salicylic acid), you can apply your vitamin C-containing serum the following morning. Naturally, you'll want to use your moisturizer and apply sunscreen because using a BHA or AHA the night before will make your skin more sensitive to the sun.
To be the best serum for morning routine the formula needs to combine efficient anti-oxidants and skin-identical ingredients without parabens, phthalates, added fragrances, sulfates, and PEGs. And this serum has that kind of formula. Also, it is important to note that it contains water and oil-soluble forms of vitamin C which means that it is stable and shouldn't degrade while on your shelf. Unfortunately, there are not enough studies that can confirm the stability of vitamin C, so in many cases, we must trust the claims of the manufacturers. This serum contains clean plant-based caffeine that acts as an antioxidant, and passion in combination with dragon fruit for delivering antioxidants and essential moisture.
This is the best serum for the morning routine because the formula contains three potent sources of vitamin C, 3-O-Ethyl Ascorbic Acid, Tetrahexyldecyl Ascorbate, and Magnesium Ascorbyl Phosphate. Vitamin C is a recognized antioxidant, collagen-booster, and skin-brightener, which are its three main miraculous powers. The issue is that it is extremely unstable, becomes brown, and loses its efficacy quickly (after a few months), therefore the cosmetics industry is working to develop clever derivatives that are stable and have the same miraculous effects as pure Vitamin C.
3-O-ethyl-L-ascorbic acid is an extremely stable form of vitamin C and has superior brightening abilities compared to other vitamin C forms. Tetrahexyldecyl Ascorbate is a fat-soluble, gentle, and very stable form of vitamin C that can also penetrate to the deeper layers of the skin with an absorption rate that's 3x better than Ascorbic acid.
Magnesium Ascorbyl Phosphate is a stable form of vitamin C that needs to be transformed into ascorbic acid by our skin, resulting in a much gentler but not as potent as other forms. This form of vitamin C is suitable for dry skin.
Skin-identical ingredients in this formula are glycerin, squalene, and sodium hyaluronate. Glycerin is a powerful humectant with small molecules that are able to penetrate deeper into the skin. According to studies, it is the most effective humectant on the market that draws water to the skin and improves moisture retention and skin barrier function. It is naturally present in our skin and there for the skin-identical property which means that it will not be irritating for most people. The great thing about glycerin is that it can reduce irritation that may be caused by other stronger ingredients.
Squalane is a modified version of squalene, a natural substance produced by the sebaceous glands that make up 10 to 12% of your skin's oil, which is a natural antioxidant that keeps your skin moisturized, supple, and youthful looking. However, squalene production tends to decrease as we age, so it is important to replenish it by applying it topically. Benefits of Squalane include reducing the appearance of fine lines, moisturizing the skin, softening texture, soothing the skin, preventing irritation, controlling oil, and helping fade the look of dark spots.
Sodium hyaluronate helps in moisturizing the skin while promoting a more refreshed and younger appearance. Most skin types, even those prone to acne, can be soothed by sodium hyaluronate since it is so mild. Sodium Hyaluronate enhances the texture of the skin and minimizes the appearance of wrinkles.
If you are struggling with acne-prone skin make sure to check out my e-book with the top skincare products and ingredients to look for, including cleansers, toners, serums, and moisturizers, and lifestyle changes you can make to support healthy skin, including stress management techniques, sleep hygiene, and exercise routines.
Paula's Choice RESIST Super Antioxidant Serum with Vitamin C
If you have dry skin and want to include vitamin C in your routine Paula's Choice RESIST Super Antioxidant Serum is a great option for you. Vitamin C is very beneficial for dry skin, as it helps reduce dryness and wrinkles, keeps the skin moist, and slows down the aging process.
The serum contains plant- and vitamin-derived antioxidants that work synergistically to visibly improve the appearance of wrinkles, uneven skin tone dryness, and vibrancy. This formula rejuvenates the skin's surface and enhances firmness. Super Antioxidant Serum with Vitamin C is a smooth serum that restores moisture to dry, sun-damaged skin. It contains stabilized Vitamin C and peptides in addition to powerful antioxidants all of that without alcohol, fragrance, and essential oils. Powerful antioxidants that can be found in this formula are Thioctic Acid which can decrease skin roughness and improve general signs of photoaging significantly, and Tocopheryl Acetate, a form of vitamin E that is more stable and has a longer shelf life, it's also more poorly absorbed by the skin.
There is also Ferulic Acid whose primary function is to act as an antioxidant – gained popularity when a 2005 study found that adding 0.5% FA to a 15% vitamin C + 1% vitamin E solution stabilized the extremely unstable, vitamin C and increased the formula's photoprotective properties by double.
In addition to Tetrahexyldecyl Ascorbate, and Magnesium Ascorbyl Phosphate it also contains ceramides, glycerin, coenzyme Q10, and peptides.
Ceramides are lipid molecules that are crucial to the structure and barrier function of the skin, limiting moisture loss and defending the skin from the effects of the environment. Ceramide levels in the skin decrease with age, even though the body creates them, and replenishing them topically is a favor to our skin.
Ceramides are very important for dry skin because they reduce the transepidermal water loss that occurs because of the damaged skin barrier. Reducing the level of water loss is invaluable because it leads to dry and inflamed with an increased risk of developing inflammatory conditions such as psoriasis, acne, and eczema. Because of their water-retaining properties that prevent moisture loss from the skin, the skin is more hydrated, and hydrated skin can help minimize the appearance of fine lines and wrinkles, which are often more visible when the skin is dry.
Coenzyme Q10 levels in the body should be enough to preserve skin elastin. Decreases caused by age in CoQ10 levels in the body are similar to those in collagen. Your skin is therefore more prone to fine lines, wrinkles, and an overall dull look. Your skincare regimen may be able to lessen these effects by using CoQ10.
The serum also contains soothing ingredients like Beta-Glucan which has skin-repairing and wound-healing properties, Glycine Soja Seed Extract, and Curcuma Longa Root Extract.
The Best Serum With Hyaluronic Acid And Niacinamide
Hyaluronic Acid is a natural substance found in the skin that helps retain moisture and keep it hydrated. As we age, our skin loses its ability to produce as much hyaluronic acid, which can lead to dry, dull skin. A hyaluronic acid serum can help replenish the skin's moisture levels, making it look plump and dewy.
For those with oily or acne-prone skin, a Niacinamide is an excellent ingredient for the best serum for morning routine that is suitable for your skin. Niacinamide, also known as Vitamin B3, helps regulate oil production, reduce inflammation, and improve the appearance of pores. It also helps brighten the skin and reduce the appearance of dark spots and hyperpigmentation.
Brandefy Daily Triple Hyaluronic Acid for Face with 4% Niacinamide Serum
This Brandefy Daily Serum is suitable for combination, sensitive, dry, and normal skin. It can be used for acne-prone skin if you are looking for something that is going to hydrate your skin while dealing with hyperpigmentation and inflammation. The estimated results in two weeks include a 20% reduction in skin roughness and a 25% reduction in fine lines and wrinkles. The serum is formulated to be silky smooth, non-sticky, and without fragrance, alcohol, and essential oils.
This is the best serum for a morning routine with niacinamide and humectants. Looking at the ingredients of this serum, it does a lot. It contains antioxidants, cell-communicating skin brightening, skin-identical ingredients, and soothing ingredients.
Niacinamide is one of the cell-communicating and skin-brightening ingredients. This serum contains 4% niacinamide which I love because it is effective up to 5% and higher percentages can be irritating for the skin. Niacinamide helps to tolerate irritating ingredients like retinol and reduces transepidermal water loss. It is a super stable ingredient that is not irritating for most people because of its PH which is similar to our skin's PH.  Niacinamide helps to reduce fine lines, increase the elasticity of the skin, reduce acne, improve eczema, and reduce pigmentation. By forming a lipid barrier that aids in preventing moisture loss, niacinamide protects your skin. 
Additionally, it will lessen blotchiness and redness while also making your pores look smaller. In addition to protecting your skin from UV damage and treating hyperpigmentation, it controls oil production. Naturally, it also aids in reducing the appearance of wrinkles and fine lines, so it is an ingredient that is beneficial for all skin types.
Niacinamide is one of my favorite ingredients for skin of color because it helps to deal with post-inflammatory hyperpigmentation that develops from irritation caused by strong topical ingredients. If you want to include more niacinamide in your routine make sure to read my post about toners with niacinamide with a detailed analysis of products. 
Brandefy Daily Triple serum also contains a peptide complex. Peptides help to build a stronger skin barrier which can be damaged by UV rays, pollution, sleep deprivation, over-exfoliating, and many other factors. Peptides can repair damaged skin, reduce inflammation, even out skin tone, and reduce wrinkles.
Antioxidants that can be found in this serum are vitamin E, centella asiatica extract, and green tea extract. The use of vitamin E in the prevention of UV-induced damage has received a great deal of research since its principal function in the skin is to fight damage caused by free radicals and reactive oxygen species. Since several studies have shown that vitamin E can reduce inflammatory skin damage caused by UV exposure, it has long been believed to act as an anti-inflammatory agent in the skin. Topical vitamin E can lessen UV-induced skin swelling, skin thickness, erythema, and edema, all of which are symptoms of inflamed skin.
Centella asiatica extract is a very beneficial ingredient in skincare products. Even though that is not the case with this product, as a side note, some of the products have completely replaced water with Centella Asiatica in their formulas. It has antioxidants, anticellulite, anti-inflammatory, and anti-aging properties. Centella Asiatica is not an anti-acne ingredient but its calming effects can support essential acne-fighting ingredients by assisting in maintaining skin calm and notably reducing redness while the active ingredients are at work. To learn more about this powerful ingredient make sure to visit this link. 
Green tea extract reduces the appearance of cellulite, relieves redness and swelling, evens out discoloration, reduces signs of aging, heals damage, exfoliates, and lessens the frequency and appearance of blackheads.
Among the humectants in this formula are hyaluronic acid, sodium hyaluronate, and glycerin. A humectant is an ingredient that causes the skin, hair, or nails to absorb water. If the air is sufficiently humid, it may also come from the skin's deeper layers. When adding moisture, humectants are helpful since they don't feel greasy or heavy. Even if they sound great and beneficial there is one thing that you have to be careful about. Humectants will draw water from deeper layers of the skin if there is not enough water in the air which may cause it to dry out. So, make sure to apply them to damp skin and follow with a moisturizer that contains water because they can also draw water from the moisturizer.
The Best Serum For Morning Routine With Hyaluronic Acid
ClarityRx Daily Dose of Water Hyaluronic Acid Hydrating Face Serum
With this lightweight yet moisturizing serum, you may increase moisture levels and give yourself a radiant appearance. This distinct, quickly absorbing solution instantly leaves the skin feeling soft and supple, making it ideal for dry skin or after a procedure. ClarityRx Daily Dose of Water Hyaluronic Acid Hydrating Face Serum is alcohol-free, fragrance-free, and essential oils-free. The serum is suitable for all skin types, even oily skin that needs hydration.
This serum has the shortest ingredients list I have ever seen, which makes it ideal for dry and sensitive skin. It contains purified water that acts as a solvent and helps to promote healthy and hydrated skin by trapping moisture.
Phenoxyethanol, which helps to prevent the growth of fungi, bacteria, and yeast is combined with ethylhexylglycerin, which is another preservative. Pairing those two makes a great combination because ethylhexylglycerin boosts the effectiveness of the phenoxyethanol, which means that there are no parabens in this serum.
The ingredient that makes this serum great for hydrating your skin is hyaluronic acid. Hyaluronic acid is a humectant that is easily tolerated by most people because it is found in our skin. It is a water magnet with small molecules that draw water to the epidermis from the environment and deeper layers of the skin. But here is the thing if your environment is not humid enough then the water will be drawn from deeper layers of the skin, so the skin will feel dryer after using it. To avoid that apply it on damp skin and follow with a moisturizer, so the water can come from the moisturizer also. Unfortunately, if you use a lot of air conditioning even the moisturizer will not be enough, so the next best thing is a humidifier.   
While improving moisture content it also leads to better natural skin cell turnover. Hyaluronic acid enhances the penetration of other ingredients and causes enzymes to work more efficiently because there is no buildup of dry skin. It is a carrier molecule for vitamins A and C, niacinamide, and kojic acid. Hyaluronic acid increases skin hydration and plumps it up which leads to improving the appearance of fine lines and wrinkles.