Best Collagen for Wound Healing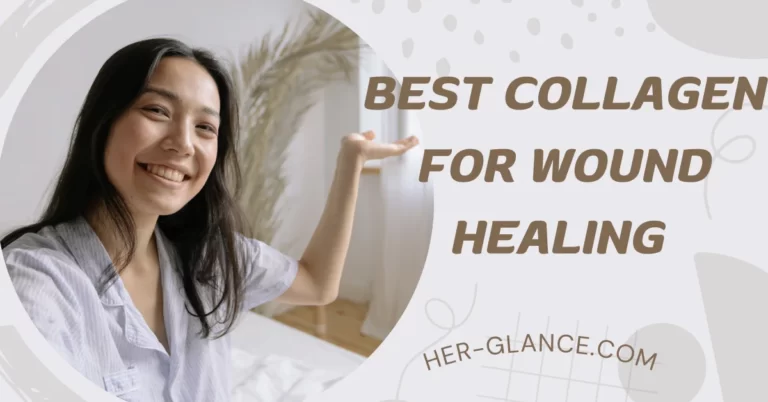 Collagen and hyaluronic acid are vital for maintaining the quality of the skin structure – collagen provides firmness, and hyaluronic acid nourishes and hydrates. It is well known that wounds heal faster and better when the body is younger (because it contains more hyaluronic acid), and new medical research has also shown that in moist conditions the natural wound healing process is accelerated because a moist environment prevents the formation of scabs, which has a positive effect on quality of healing.
1. Accelerates healing
Wound healing with collagen and hyaluronic acid enables faster and more efficient regeneration of skin cells. To form new tissue, cell division is necessary, and the best cell division is achieved in moist conditions. The mentioned collagen supplements with hyaluronic acid create optimal conditions in which cells can multiply, grow and migrate.
2. Prevents scab formation
In conditions of moist wound healing, the formation of a scab is prevented. The moist healing process stimulates the growth of new cells and their migration and provides key proteins that close the wound. A wound that is left to dry in the air forms a scab, which makes it difficult for the wound to heal because in dry conditions it takes much longer for new tissue to form.
3. Makes the wound supple
Moist wound healing keeps the wound supple because a scab does not form. This ensures better mobility, especially if the wound is located on folds. In addition, moist wound healing ensures painless removal and/or replacement of gauze, plasters, or dressings because newly formed tissue will not be removed with them.
4. Enables proper healing
Treatment with moist wound healing is the best way for safe healing and re-epithelialization and reducing the risk of scab formation and aesthetic irregularities. The products that I recommended to you provide optimal cosmetic results.
Best Collagen for Wound Healing
Moderne Biocell Liquid Collagen
One of the best collagen for wound healing is Moderne Biocell Liquid Collagen. Biocell Collagen is a multi-patented healthy aging ingredient from the USA that promotes active joints and younger-looking skin.
Biocell Collagen contains three biologically active ingredients: hydrolyzed collagen (especially type 2 collagen), bioavailable hyaluronic acid and a natural source of chondroitin sulfate.
Biocell collagen has a low molecular weight, which means that it can be optimally absorbed through the gastrointestinal wall. The patented hydrolysis process creates highly bioavailable building blocks that are crucial not only for cartilage structure but also for the skin.
Although these two types of tissue appear different at first glance, they both contain the same macromolecular building blocks – namely collagen, hyaluronic acid and chondroitin sulfate.
In addition to being great for healing wounds, biocell collagen also promotes joint health and mobility, nourishes, strengthens and regenerates the cartilage structure, increases skin moisture and firmness, reduces wrinkles and lines by suppressing natural and gentle aging, and contains hyaluronic acid that ensures improved skin moisture.
This is one of the best collagens for wound healing. It also contains glycerin, which is a natural moisturizer found in our skin. Not only a simple moisturizer but knows much more: keeps the skin lipids between our skin cells in a healthy (liquid crystal) state, protects against irritation and also helps to restore the barrier.
After only 6 weeks of use, you will feel tighter and more elastic skin. This product has been clinically tested and approved by a large number of dermatologists. Derma E collagen also contains Caprylic.
Caprylic is a super common emollient that makes your skin feel nice and smooth. It comes from coconut oil and glycerin, it's light-textured, clear, odorless and non-greasy. It's a nice ingredient that just feels good on the skin, is super well tolerated by every skin type and is easy to formulate with.
MedVance Collagen Dressing Pads
MedVance Collagen is 100% non-hydrolyzed type 1 bovine native collagen. It is perfect for wound healing. This collagen absorbs the exudate of the wound and helps the wound to heal.
It is easy to apply and remove and is completely safe to use. It is easy to wear and will not interfere with your daily tasks. It is also recommended to use it after surgical operations, different degrees of burns, infected and non-infected wounds.
If you were to ask me what is the best collagen for wound healing, it would definitely be this product. If you currently have a problem with wounds, then MedVance Collagen dressings are something you must take immediately for better and faster wound healing.
Vital Proteins Collagen Peptides
When we're talking about the best collagen for wound healing, we can't help but mention vital proteins collagen. For the treatment of wounds, I chose vital proteins and collagen peptides from their collection. The main ingredients of this product are Bovine hide collagen peptides, hyaluronic acid (sodium hyaluronate) and vitamin C.
There are four different steps in the wound healing process in your body, and this collagen is a great aid in each of them to help the wound heal properly.
This collagen is great for your physical health and appearance and helps keep your skin healthy and vibrant. Part of keeping your skin healthy and vibrant is making sure your body has everything it needs, including collagen, to heal wounds properly and fight infection effectively.
Neocell Super Collagen + Vitamin C
Finally, we have a great thing for healing wounds, fortified with vitamin C. Collagen is an essential protein that is part of the bones, muscles, joints, tendons and ligaments in our body. Collagen, like all other structures in the body, is consumed and renewed.
However, due to the low daily intake of vitamin C, which promotes the formation of collagen in the body, its regeneration is slowed down, which causes several negative effects on your health. It is from these things that this combination is an excellent recipe for wound healing.
As a dietary supplement, 3 x 2 tablets a day on an empty stomach. For optimal effect, take it 30 minutes before meals. To increase the absorption and incorporation of collagen, reduce the intake of milk or other protein drinks because they reduce its effect. It can be used with vitamin preparations.
The Best Natural Medicine for Wounds Healing
When there is tissue damage or injury, the wounds can be deep or only superficial, and you can use some of the natural remedies to solve the problem. With superficial wounds, the epidermis is damaged, and such wounds usually heal without a scar. There can also be ulcerations, which means a deeper tissue defect that can reach all the way to the bone, in which case the wound heals with a scar.
Wounds caused by mechanical injuries are most often found on the surface of the skin, the oral cavity or the genital region. Some natural remedies or preparations can usually be used for such wounds. The size of the wounds can vary from a few millimeters to a few centimeters and, depending on the stimulus, can be acute or chronic. An acute wound without treatment heals by itself within 10 days and usually without a scar. Medicine can speed up this process.
Most of us know well what wounds look like, but it is good to know how to distinguish them from more serious damage. So the wounds can be red or white-yellow in color and usually hurt to the touch. They can have a smooth surface and a rough edge that can be raised in chronic wounds.
Treatment of Wounds With Traditional Medicine
If you want to get rid of wounds caused by injury or infection faster and without using heavy drugs, you can try some of the natural remedies for wounds. These are various plants and natural ingredients that have been used for faster healing since ancient times.
Natural remedies for wounds are:
– baking soda
– propolis and honey
– black and green tea
– chamomile, sage, St. John's wort
– cantarion oil
– coconut oil
– turmeric
– garlic
– sea water
Before you decide to use one of the listed natural remedies for wounds, be sure to apply them with clean hands and with clean utensils or gauze. If the wound is bleeding, first stop the bleeding by applying light pressure and stopping the circulation. After that, clean the wound thoroughly with clean water and, if possible, saline solution, but only when the bleeding stops.
Do not scratch the wound, but gently tap with clean gauze to remove excess water. Only now can you start applying the medicine itself to the wound.