What Shoes To Wear With Leather Pants
BEST IDEAS
In this post, we will put an end to your wondering about "what shoes to wear with leather pants" and give you ideas on how to combine shoes with leather pants by style and season.
Leather pants can be a little bit intimidating to style, but don't be afraid with the right type of shoes you have a great chance to stand out.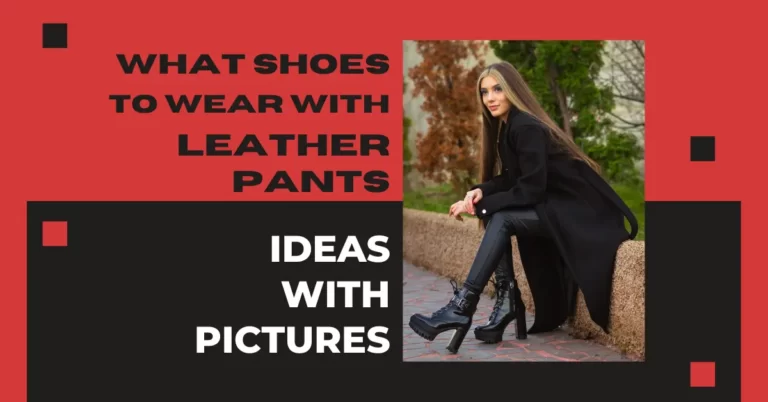 You have to remember that it is not enough just to choose shoes, you have to think about all aspects of your combination like accessories, bags, blouses or coats. In this post, we will also give you little tips about styling leather pants that are as important as choosing the right shoes.
What Shoes To Wear With Leather Pants For An
Elegant Look?
To dress elegantly means to make a statement with your clothes and leather pants are a great way to do that. Also, an elegant look is not just about clothes, it is related to your confidence and attitude in most cases. It is for sure that elegant leather pants can make you confident and empowered.
For more tips for an elegant look visit our previous post on the topic of how to dress elegantly. When you are deciding what shoes to wear with leather pants for an elegant look you have to look at the whole picture because it is not just about shoes, it is very important what are other pieces of your combination.
Our best advice for you is to go with high-waisted pants, and it is up to you to decide if you want wide-leg or skinny leather pants. If you choose skinny leather pants make sure to wear something longer with them like a coat or blouse and if you choose wide-leg pants pair them with a fitted top.
To stand out you need pair of rememberable leather pants and the right type of underwear because there is nothing more unappealing than a seeable panty line. A Sable panty line will make you look careless, so make sure to buy seamless underwear if you don't already own it. Here is
an idea
for rememberable faux leather pants that will make you look elegant and glamorous. There is a thing with wide-leg pants. If you are a short person you have to pair them with high heels to elongate your figure. On the other hand, they can look really good on a tall person paired with flats for more of a casual look. Always opt for neutral colors like black and brown for an elegant and chick look. With this kind of pants, the possibilities are endless. There are many ways to style shoes with these pants. You can go with pants, a blouse, and a bag of the same color and shoes with a print (leopard for example) or with pants, a blouse, and shoes of the same color and bold bag. You can play around, but remember that your combination should not be more than two pieces with print or more than two bold pieces to achieve an elegant look. If you are a beginner in styling that kind of piece it is better to stick with just one bold piece or one piece with print and others of the same color. These kinds of pants are great for all seasons, you just have to suit your shoes to the season. For the fall and winter, you can pair them with ankle boots. Since these pants have cutouts, you have to wear tights underneath to achieve an elegant look.
That is a kind of rule for colder months, don't let your skin show if you want to look elegant.
If your pants are black wear black tights and if your pants are brown wear tights in number underneath.
Here are some ideas for ankle boots that you can pair with elegant leather pants.
If you want to elevate your look with skinny leather pants pair them with knee-high boots, a chunky knit sweater, and an A-line coat. just remember when you are combining knee-high boots and leather pants they should be the same color. This is very important if you are short because paired like this, knee-high boots will elongate your legs.
You can find some examples of elegant knee-high boots below.
Leather pants are a great option for spring, paired with pumps, and for summer nights, paired with high heel sandals. Cut-outs on the bottom of the pants will make your shoes visible and make you look great and put together.
Here are some ideas for shoes for those summer nights when you are going clubbing, date nights, and fancy dinners.
If you are a tall person you can pair faux leather pants with flats and loafers for more of a casual, but still, chick look. Here is an idea for shoes that will be comfortable and elegant at the same time.
What Shoes To Wear With Leather Pants For An
Classy Look?
Dressing tastefully and carefully is the definition of being classy. You must pay close attention to every aspect while dressing classy, from the colors and fabrics of your clothing to your accessories.
For dressing classy money is not the issue. Being sophisticated doesn't need you to dress in pricey high-fashion items; rather, it depends on your style and what flatters you the most. Simply understand where to look for classy pieces whenever you go shopping. For more outfit ideas and tips for dressing classy visit our previous post. 
Here are some ideas for faux leather pants that will make you appear classy and sophisticated.
Cropped leather pants are very easy to style but you have to be aware that this kind of pants look best with high heels especially if you are a short person. They are a great option for all seasons. You can pair them with a blazer, coat, chunky knitted sweater, blouses, and fitted tops.
With these pants, you can go with ankle boots (in colder months you should wear tights underneath), pumps, and sandals in warmer months. You can play with colors just make sure to avoid having more than three per outfit to get a classy combination.
Here are some ideas for ankle boots, pumps, and sandals that would go great with these leather pants.
Strait-leg pleater pants like the ones in the picture above are not for every season because they don't have wide enough leg opening for ankle boots and they are not fitting enough for knee-high boots. They are ideal for warmer months when you can pair them with high heel sandals and pumps.
Depending on their length and the width of the pant leg opening you can wear them in winter and fall. If they are above the ankle and wide enough you can pair fitted ankle boots with them.
Loose-fit leather pants are suitable for all seasons. They will look great in colder months with fitted ankle boots and in warmer months with high heel sandals and pumps.
You can also achieve a classy look with skinny leather pants if you combine them the right way (remember that there is not anything classy in wearing tight pants and a tight top, balance your look). Pair skinny leather pants with high-heel knee boots (you can go with flat-knee boots if you are tall enough), ankle boots, pumps, or sandals.
When it comes to color, having boots and pants the same color will elongate your legs and appear classy. Make sure to choose a color based on your complete outfit. For a classy look, it is better to opt for neutral and solid colors with one bold piece.
If you choose knee-high boots make sure that the pants you are pairing them with are fitted enough and that they are the same color.
What Shoes To Wear With Leather Pants For A
Casual Look?
Westerners often dress in casual clothes, which are unstructured, occasionally spontaneous, and appropriate for everyday usage. Following the counterculture of the 1960s, casual clothing gained popularity in the West. Casual clothing may also be referred to as loungewear or leisurewear when emphasizing its comfort.
When it comes to casual style people always think of sneakers. Yes, you can combine them with leather pants, but they are not the only thing that will make you look casual.
If you are a short person it would be best for you to combine sneakers with skinny leather pants, but tall people can pair them with a skinny, straight leg and loose-fit leather pants. You can find a lot of pictures online of combining sneakers and leather pants.
Don't be afraid, there are options if you don't want to look that casual. If you want to combine a classy or elegant look with comfort you can always go with flats (ankle boots, loafers, or knee-high boots).
Given their low weight and great ankle covering, flats are the ideal shoe to wear with a pair of leather pants. The ideal footwear to wear with a pair of leather trousers is a pair of black or neutral flats. Alternatively, you may dress them down with a simple ensemble like a white top and pants.
Here are some ideas:
What Color And Material Of Shoes Go With Leather Pants?
When it comes to colors and textures you should mix textures and match colors. You'll have more freedom to experiment with various textures if you stick to a more constrained color palette.
This does not mean that you have to go with a monochrome look. You can choose neutral colors to anchor your outfit or go with two or three matching solid colors (for example brown leather pants and soft brown shoes, go with complimenting hues). Avoid any contrast when combining shoes with leather pants (white shoes and black leather pants) because that will make your outfit look too much.
In terms of texture, mixing shoes with leather pants is easy and you can not go wrong as long as that combination goes well with the rest of your outfit.
Suede shoes go great with leather pants. Also, you can mix leather boots (ankle boots or knee-high boots) with leather pants, but you have to be careful. Mixing brown and black leather will ruin the simplicity and sophistication that comes with leather pants.