Dress Classy
Full Guide With Outfit Ideas
This post will help you to understand what it means to dress classy and we will give you guidelines and outfit ideas to transform your look.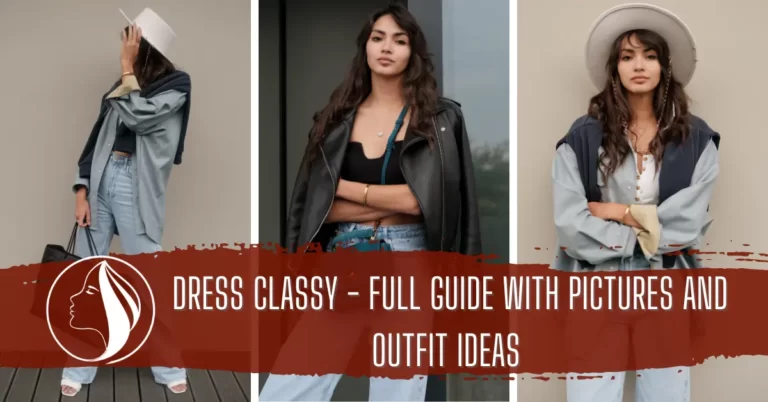 To dress classy means dressing tastefully and with care. When you want to dress classy you have to pay attention to every detail, from the colors and materials of clothes to accessories.
It is not about money. You don't have to wear expensive high-fashion pieces to be classy, it is about your taste and wearing what works best for you. You just have to learn how to find elegant pieces where ever you are shopping.
This way of dressing means that you care about yourself and the image that you portray. Our appearance is very important for our private and professional life.
Dressing classy will help your professional life because some employers take into consideration your appearance, especially if you have to deal with clients. They don't want their employees to leave a bad first impression with their careless looks and bad style.
When you are well-dressed people take you more seriously and respect you more.
As a consequence, more people will be drawn to you, which will be advantageous if you're trying to network, make new acquaintances, or find a spouse.
Your options are endless when you invest in your beauty! Even though it all seems so phony and shallow, that is how our subconscious mind is programmed. We construct our opinions based on what we find attractive and what qualities we have been taught to see as trustworthy.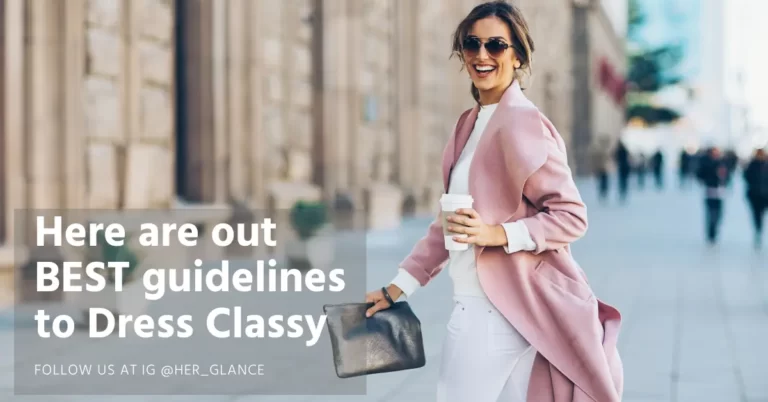 In this part, we are going to list guidelines and outfit ideas that will help you not just to dress classy but to BE more classy in the eyes of other people.
To Dress Classy Means to Dress With Self-Respect
You will show self-respect if you approach to fashion with sophistication.
This means that you should not dress provocatively, so you should find a way to include elegance and attractiveness in your style. You should know that you can wear whatever you want but there is a price to pay. This is because people who don't know you judge you on your appearance, so your way of dressing can cost you a job, or friend, or encourage someone to make inappropriate comments. Also, show self-respect with your behaviour. Even if you are not dressed provocatively there will always be men who act inappropriately (with comments and whistles). Don't respond to that kind of behaviour. There is a powerful quote that every lady should take into consideration:
"If a man whistles at you, don't respond. You're a lady, not a dog."
–
Adele
Clothes are not the only thing that can show your self-respect. You will show it if you don't engage in pointless arguments. Not everyone is worth your time.
"Classy is when you have a lot to say but you choose to remain silent in front of fools."
"Simplicity is the ultimate form of sophistication."-
Leonardo da Vinci
In Order To Dress Classy Don't Overexpose
Like with everything in life you should find balance in your way of dressing to look classy. You will achieve this by finding clothes that offer a little bit more coverage on some parts of your body.
To find that kind of clothes you should follow this rule: never show your legs and cleavage at the same time.
Next time when you are shopping avoid short and low-cut dresses that show too much.
Also, you should know when to expose your skin. For example, if you have to attend some kind of occasion that is business related it is smart to avoid exposing too much.
To dress classy also means dressing appropriately. If you are invited to an event try to dress appropriately by following the dress code to show respect to the host.
This is very important because people might find underdressing rude and disrespectful. Imagine if you were a host and someone showed up to your wedding in a T-shirt. Would you find that rude?
So you should consider the dress code and do your research about events to dress appropriately.
Today clothes are very versatile so you don't have any excuses to be underdressed or overdressed.
To Dress Classy Means to Make an Effort With Outfit
To look classy you should always make an effort with your outfit, even if you are running an errand. It is not expected of you to look perfect all the time, but don't take it too far in the wrong direction.
You should look somewhat representable when you are leaving your house.
For that kind of situation opt for casual clothes and outfits that keep a certain standard. You will achieve this if you commit to avoiding buying anything that makes you look scruffy and throw away old and stained clothes.
If your goal is to look classy while running an errand the key is to dress casually but with style.
Forget UGGs, sweatpants, and activewear. A sophisticated lady may frequently dress down with high-quality things that show no indications of wear and tear and adopt a more relaxed appearance.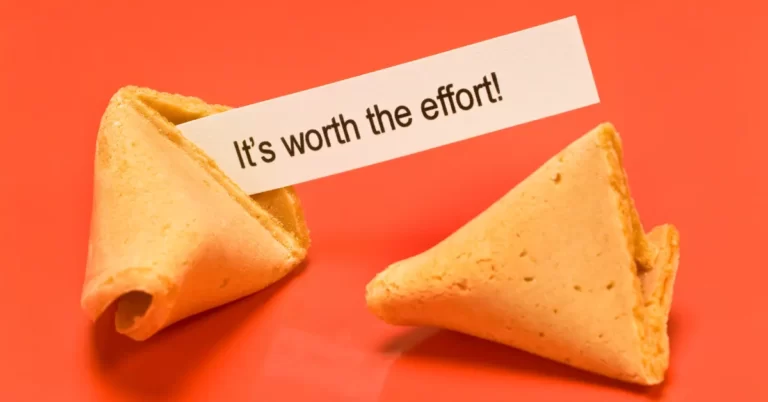 Her casual attire may be made of a nice soft fabric that appears warm but is both stylish and comfy. She removes her heels and changes into a pair of ballerinas and white tennis shoes (but keep in mind, white needs to be spotless to look classy).
You can also dress down by wearing jeans and a T-shirt (in neutral colors) or a loose shirt with rolled sleeves tucked in front. A good option for the casual look is an oversized blazer combined with skinny jeans, a T-shirt in a neutral color, and pair of ballerinas.
When you are dressing down you should make an effort with hair and makeup. Don't let yourself leave the house with messy hair and makeup from last night.
If you want to dress classy you have to start with your closet. There is no need to immediately go shopping. You have to find pieces in your closet that will work for your classy style.
Also, it is very important to emphasize that you should not lose your style in this process. You don't have to try to look like someone else, it is very important that you stay true to yourself.
So during this process, you should always keep in mind that you have to find pieces that are your style and well-fitting.If you already don't know what is your style, we recommend you our post about finding personal style.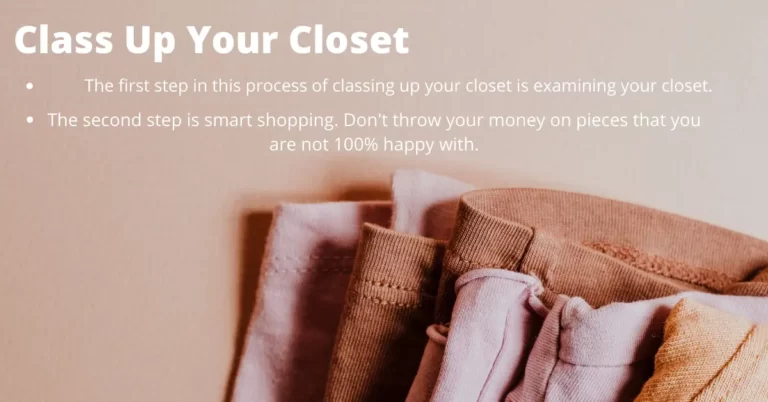 The first step in this process of classing up your closet is examining it.
You must instantly remove from your closet any attire that doesn't make you seem sophisticated. It's a serious matter, and it especially concerns the hoarders who save clothes they don't wear but believe they'll wear someday.
While examining your closet look for pieces that don't fit you anymore, with stains and holes, that are washed out and of poor quality. Your best option is to get rid of them.
If you find pieces in your closet that can be part of your classy style but are faulty in some way, try to fix them. Only if there is no way to make it work throw them away.
This part can be a little bit scary. Now you might be wondering what to wear after throwing away a lot of your clothes.
There is nothing wrong with wearing the same piece repeatedly. As we have stated before, class is not about money. It is better to own fewer pieces of good quality than more of bad quality.
Also, try to make as many as possible combinations with the remaining pieces, and here is a little tip for you: accessorize. Accessories can make a huge difference.
The second step is smart shopping. Don't throw your money on pieces that you are not 100% happy with. Have you ever noticed that sometimes after making a purchase, you feel pleased but not particularly thrilled?
However, there are instances when we locate something in a store, put it on, and it fits us so well that we feel as though we had won the jackpot! No of the cost, you quickly decide to purchase the item, and you return home like a child in anticipation of the day you will wear it for real.
That's how you should shop moving forward; your new buying policy is to only purchase clothing that you adore.
Pieces That Are Desirable To Dress Classy
(OUTFIT IDEAS WITH PICTURES)
In this section, we will list timeless pieces that will elevate your wardrobe to the next level. It is important to emphasize that you don't have to follow this list strictly, try out different combinations and stay true to yourself.
That is the most important part, to learn how to incorporate these pieces into your style without losing yourself. The only purpose of this list is to give you an idea, and you should figure out on your own everything else. Treat this list as a new base to work with.
A little black dress is a must-have if you want to dress classy. When you are buying this kind of timeless piece don't look at the price, it is worth it because you will get good wear out of it.
Keep in mind that it doesn't need to be a high-fashion piece. It can be a cheaper brand, but it needs to be of good quality (the best material you can afford).
Some might consider it a safe option, so to avoid that pair it with bold stiletto or statement jewelry.
Also, makeup can help you to escape the "safe zone", smoky eye or red lip is a great option.
This is a very practical piece of clothing because you can pull off different looks with it. You can also down-dress it, or pair it with a blazer for a formal look.
If it has straps you can go for a more casual look, with a white T-shirt underneath, white tennis shoes, and subtle accessories (thin neckless and bracelets). Another option for a more casual look is a tied white shirt over the dress or a shirt underneath the dress.
Just be careful when wearing white, it needs to be spotless to look classy.
As you can see this piece is very easy to style so you just have to play around with it and try out different combinations. Also, you don't have to own just one, a minimum of two is a better option.
"When the little black dress is right, there is nothing else to wear in its place." – WALLIS SIMPSON, DUCHESS OF WINDSOR
To dress classy go for a little white dress but, When you are wearing it you have to be careful because the wrong footwear and undergarments can sabotage your look.
For a chic and elegant look pair it with bold gold, silver, or nude pumps or high-heel sandals and statement jewelry (gold, silver, rose gold, and turquoise).
If your dress is flowier you can add a brown leather belt and keep accessories in the same kind of tons of brown. Jewelry depends on the buckle of the belt. If it is of golden color wear gold jewelry.
For a more casual look pair it with espadrilles, loafers, or sandals in nude, white or metallic. Also, you can pair it with a blazer, but keep the blazer open to show the dress, and style it with a belt to get a more rounded look.
For a super casual look pair it with a denim jacket and white tennis shoes. Add some subtle accessories to elevate the combination.
If you are wearing it on its own with sneakers add statement jewelry and a bold bag (it can be bright color) for a more elevated casual look.
The little white dress is a great option for summer, to show off the tan that you got on your vacation. You can also wear it when it is a little bit cooler outside. Pair it with a leather jacket, leather boots, and a small bag.
But don't forget to wear the right underwear, because colored undergarments underneath are going to be visible. So opt for flesh-toned underwear to avoid looking tacky.
A white dress she had on. She was carrying a white parasol. I only saw her for one second. She didn't see me at all. But I'll bet a month hasn't gone by since I hadn't thought of that girl. – CITIZEN KANE
Suit pants are a great way to dress classy on many occasions. When it comes to suit pants try to purchase ones that are not too snug (so you can move freely) and not too baggy. It would be ideal to get tailored suit pants, but if that is not possible for you try to find ones that fit you the best.
Black ones are the easiest to style, but you can get colored ones. Here we will give you a couple of ideas for styling black suit pants.
For a casual look pair them with a white T-shirt and white trainers. For a jacket, you can go with denim or brown. You can go for a monochromatic look with a black T-shirt and black blazer and pair that with white trainers.
Also, a great option are navy suit pants, you can style them with White T-shirt, white trainers, and a denim jacket.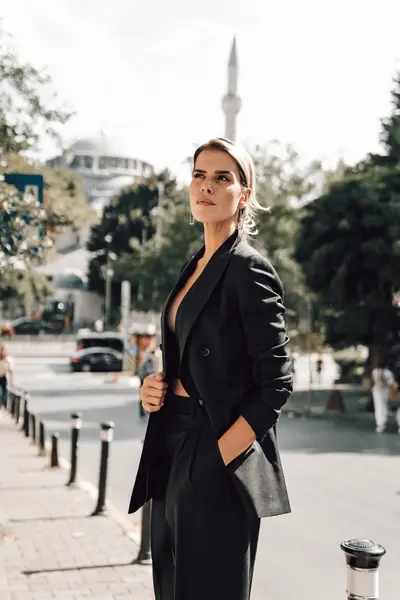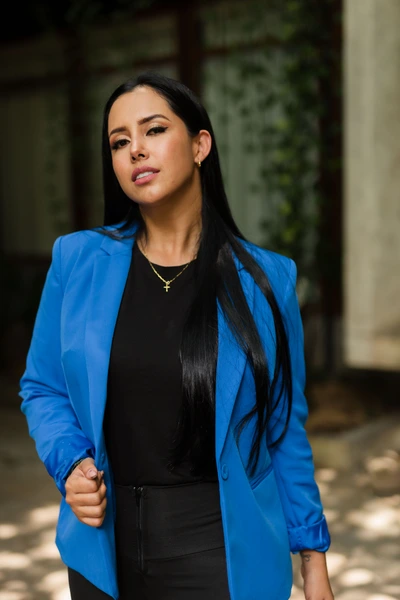 For a formal look pair them with a black T-shirt, black high-heel ankle boots, and a blazer with a classic print, for example, houndstooth. Don't forget to cuff them to get a gap between boots and trousers.
For an elegant look, you can pair them with a silk blouse, a small bag, and high heels, and in winter replace the blouse with a chunky knit sweater and coat, but keep the high heels.
Here are some ideas for styling colored suit pants.
Dress pants can help you to elevate your wardrobe. You can style them very easy to look classy. You just have to keep in mind that part top should not be too baggy and it should be tucked in.
So always go for a blouse that looks nice when tucked in.
Here are some ideas on how to style them: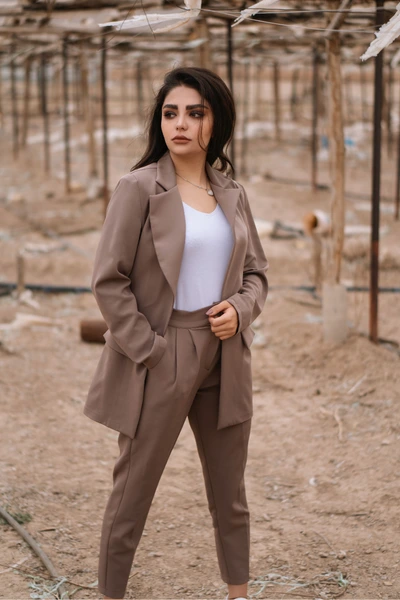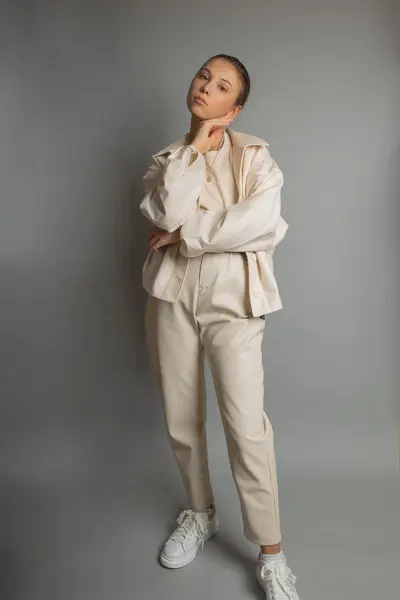 Pair them with short sleeve blouse, statement necklace, and flats or heels (depending if you are going for a casual or elegant look).
You can get a classy and elegant look if you pair them with a lace camisole, blazer, and high heels. Also, you can get that look with a button-up blouse, hoop earrings, and booties.
For a classy look in winter, you can pair them with a turtleneck top, a watch, simple long earrings, ankle boots, and a wool coat. Don't forget that pants should be cuffed.
For a more casual look pair them with a fitted high neck top, simple necklace, watch, belt and loafers.
You can go for a monochromatic look (black and beige are great options) with a fitted high-neck top, a simple necklace, and flats or heels.
If you want formal look pair your dress pants with a short fitted blazer, for example, keep the pants, T-shirt, and shoes the same color and choose a plain or patterned blazer.
If you want to dress classy, a jumpsuit can be your go-to piece of clothing because it is very versatile. You can easily dress it up or down.
Styling a jumpsuit is very easy, just wear cute shoes and there you go, a classy outfit in just a second. If it is a new type of garment for you don't give up if the first one doesn't fit you, get a few ones and try them on.
So when you are looking for a jumpsuit it is important to find one that fits you, so find a brand and cut that works for you.
There are various kinds of jumpsuits, wide-leg, with lining, fitted ones, elegant, denim and all of them with accessories make the classy look. You just have to play around.
You can buy more of a basic one and then elevate it with accessories to get an elegant look or you can buy an elegant one for more special occasions.
We would recommend owning both because the elegant one is very hard to dress down.
A white jumpsuit of quality material paired with a white belt and silver pumps is a great option for a fancy dinner or night out. If you need a formal look for a work type of event you can pair it with a baby pink fitted blazer.
We recommend you buy a jumpsuit in solid colors because that way you can get more wear out of it.
For example, a beige or black jumpsuit can be paired with a denim shirt, brown flats, a headband, and hoops. for a more casual street style.
For sporty look pair it with a loose T-shirt, cap, sports shoes, and a fanny pack.
To get classy look pair it with a white short jacket, black strappy heels, and a black matching bag.
You can wear an elegant jumpsuit to a wedding, just make sure that it is not white.
As you can see it is very smart to have a jumpsuit in your wardrobe because it can be worn on various occasions.
Khakis are great for a classy casual look when you want to kick it up a notch from the standard jeans.
You can pair them with a white structured cropped top and white tennis shoes. Also, you can get a casual look if you pair them with a black top, black blazer, and white trainers.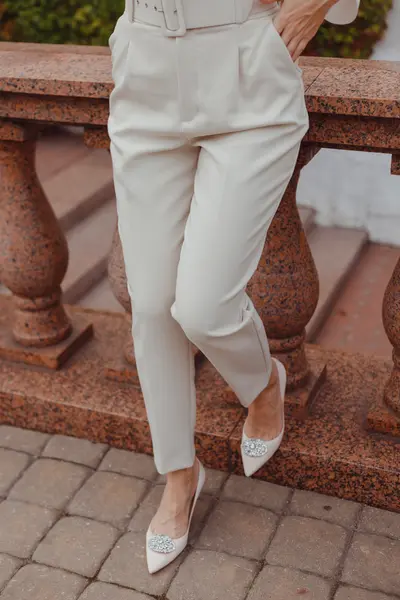 For a casual look that is a little bit more classy pair them with a patterned dolman shirt and loafers.
A little tip for you: when you want to combine a patterned blouse with khakis, choose one that has a pattern with the color of your pants and you will look much more put together.
Another important thing is to also choose shoes that are matching with one of the colors that are present in your pattern. The same goes for a bag.
This kind of pairing goes for any type of colored pants and a patterned blouse.
For business, related event pair them with a buttoned and tucked-in white shirt, ankle boots, or high heels, and a more formal bag. For a better look don't forget to cuff the pants.
They are great for girls' night out or dates. For that type of occasion pair them with a flirtatious fitted top and high heels or sandals.
You can also wear khakis in winter. They are great for creating a monochrome look, with a tucked-in sweater, ankle boots, and clutch.
Black and camel look great together. You cannot go wrong with pairing black jeans with a black top, a camel coat, a black bag, and black shoes (loafers or another type of flats or high heels).
To add some color to the combination you can swap back footwear for beige or a black top for white one.
Since black jeans are tight you can go for something baggy on top. Pair them with a poncho or large scarf (drape it over your shoulders and belt it).
For this outfit, you can go with the same colors, black, camel and white. Underneath the scarf wear a fitted white shirt.
You can pair black jeans with black ankle boots to elongate your legs.
Also black and gray make a wonderful combination. You can pair your black jeans with a gray knit, gray scarf, gray coat, black shoes, and a black bag for a classy and chic look, and for a more casual look swap high heels for trainers.
Another way to incorporate gray into your outfit is by wearing a gray poncho or blazer. Black and gray look great with deep red and camel, so you can add a coat or bag in one of those colors.
To dress classy we recommend you to pair black jeans with an oversized blazer. For a timeless look, you can pair black jeans with a check blazer, a white knit (white T-shirt in spring), and black shoes.
If you want to elevate this outfit add some red. Black jeans, a black top, and a check blazer (or coat) make a great base for adding a red bag or pumps.
Also, you can go with a solid color blazer for a classy and formal look.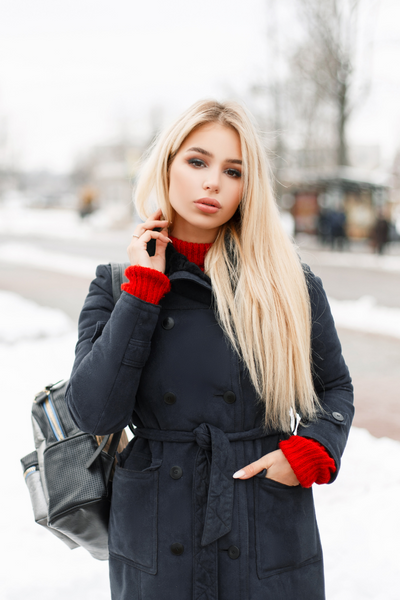 • Winter Coats (long puffer and wool coat)
If you want to look classy and edgy you can pair a long black puffer with h black turtleneck, black combat boots, black leather pants, and a black shoulder bag. If you want to add a little color to this outfit swap the black bag for a colored one.
To be extra classy you can match your jewelry with the hardware on the bag (for example if the chain on the bag is silver go for silver jewelry). This is optional of course but adds a nice touch to the outfit.
Another way to style a black puffer is to pair it with wide-leg jeans, a beige long-neck sweater, simple black booties (high heels), and a black bag.
For a more casual look wear it with black dress pants, a black top, and simple white tennis shoes.
A white wool coat will make you feel fabulous. You can go with a brown outfit underneath (with brown leather pants, a brown top, and gold jewelry) or all black, or all-white outfit.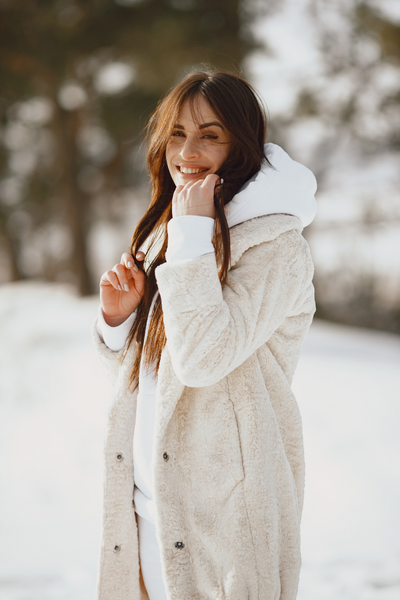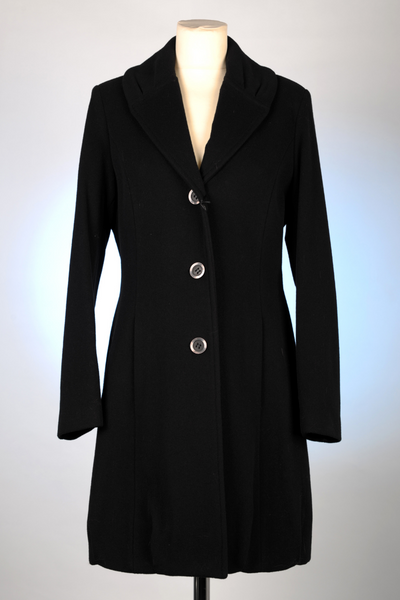 The black wool coat is a great option and will go great with a black or all-white outfit.
Also, you can combine a coat with the fitted dress but remember to wear tights underneath because it is winter and there is nothing classy about exposed skin without cover in the winter.For the end here are some quotes that will motivate you to start your journey to dress classy.
"A girl should be two things: classy and fabulous."
–
Coco Chanel
"And in a gist, a classy lady knows how to behave herself in every possible environment."
To Dress Classy You Have to To Show Your Femininity
There is no feminine technique, you should show your femininity through certain aspects of appearance, and those aspects could be anything that makes you feel beautiful and empowered.
Good posture is key for showing your feminine side since it is key for stature as a woman. Don't be afraid to pose yourself with your shoulders back and down, your chest out (but not too far; just keep it from caving in), and with a certain ease.
Wearing perfume can boost your confidence and show your femininity, but be careful don't overdo it. Too much perfume is not classy and you can leave the wrong impression.
If you don't already have a favorite trademark perfume, start looking into it.
Discover your favorite notes. Visit a top-notch store with skilled employees, and let them know what kinds of scents you are drawn to. They should give you numerous recommendations and perhaps even some samples to take home. Don't rush, and take your time. Enjoy the process, discover a cologne or perfume that you may fall in love with, and be proud to wear as your signature scent.
Manicure should be natural, filed nails with neutral and solid colors. You don't have to go to salon, do it yourself. It is great for relaxing and enjoying some alone time. Also pay attention to your cuticles, buy some oil and massage it in.