TOP 5 Ingredients In Shampoos That Cause Hair Loss
Most of the problems with hair loss come from ingredients in shampoos that cause hair loss when exposed to them for a longer period of time.
Before you start worrying, it is normal to lose some hair daily especially if you are washing your hair too often. You might start worrying when you notice larger clumps of hair in your shower drain, comb, or brush every time you wash your hair.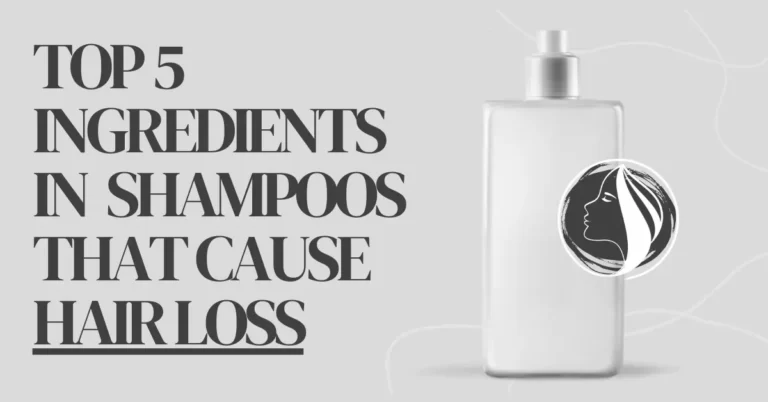 When we notice this kind of problem, we usually look at our shampoo bottle. When you take a look in your search for answers you might stumble upon a lot of terms and ingredients, but what do they mean? That's why we are writing this post, to explain all the dangerous ingredients that might cause hair loss for some people.
Because if you don't react now, after some time innocent shedding might become full-scale baldness, all respect to bald people but we don't want that. Also, feel free to read more about how 3 in 1 shampoo affects your hair in one of our previous posts.
NOTE: If your hair loss is already extreme, we highly recommend you visit your doctor as soon as possible.
These are the ingredients in shampoos that cause hair loss
1. Sodium Lauryl Sulfate and Laureth Sulfate
Sulfates are a hot topic in the beauty and care industry. However, not all sulfates are created equal. Some sulfates can be harmful (cause your hair to fall off) and irritating, while others may be entirely safe to use if your hair and skin can tolerate them.
Why is this substance dangerous in the first place? As previously stated, this dangerous component may be found in a variety of items ranging from cosmetics to dish soap and even shower gel.
While it is an efficient foaming agent, it may take natural oils from human skin, causing irritation and dryness. This harmful chemical can cause skin and scalp irritation by removing moisture from the skin and hair. If you have a dry scalp, you should avoid sulfates because they are a major cause of it.
On top of removing moisture from the skin and hair, sulfates also break down the proteins our hair needs to grow.
These two are potential reasons behind your hair loss and you should look for sulfate-free shampoos. If you are wondering what sulfate-free shampoo is, that is a shampoo that does not contain these ingredients.
Even though every shampoo needs a surfactant, you don't have to rely on one of these ingredients to get the job done.
To help you out we decided to list a few sulfate-free shampoos that don't contain any harmful ingredients that cause hair loss.
Playa's Every Day Shampoo is our top selection. It uses humectant glycerin, coconut-derived surfactants, and kukui seed oil6 to gently wash your scalp and hair without losing their natural oils. With a streamlined composition of 6 multi-functional ingredients—less than half as many as conventional dry shampoos—it refreshes hair and offers nutrients to the scalp.

Features Fulvic Acid is a super-nutrient derived from organic plant matter that detoxifies the scalp while also delivering over 65 minerals directly into the follicle to rebuild the microbiota. Rice and tapioca powders absorb more oil than talc and mix well with all hair colors and textures.

A small amount of honey-like substance will go a long way. If you want more lather, simply add some more water and gently massage it into your hair to produce a luscious foam. This sulfate-free shampoo also has a great scent—think fresh and fragrant with undertones of sandalwood and musk.
Alterna Caviar Anti-Aging Replenishing Moisture Shampoo
This top-shelf shampoo calls on caviar extract to improve elasticity and prevent UV damage, while rice protein and soy amino acids strengthen each strand.

It is mostly used to moisturize damaged hair and it does one hell of a job. It does not leave hair greasy after use and it smells great.
The biggest downside is its price, which ranges on Amazon from 40 to 60 bucks.
Key Ingredients: Glycerin, caviar extract, rice protein, soy amino acid.
Amika Vault Color-Lock Shampoo
If you have color-treated hair, a sulfate-free shampoo is advised in your wash day regimen to help retain your color. We recommend Amika Vault, which is developed to boost brightness, prevent fading, and give overall healthier hair. This color-preserving shampoo with UV filters and antioxidants, Amika Vault Color-Lock Shampoo, provides your hue with remarkable lasting power.
Glycerin, amino acids, and sea buckthorn are the primary ingredients.
We all love a nice smelling shampoo, right? Well, that comes with a cost. Many shampoo manufacturers use chemical fragrances to get a nice smell for a shampoo and to potentially mask the bad smells from other ingredients that were mixed in the shampoo.
Shampoo, like other cosmetics, includes synthetic scents. These scents may smell good, but they might provoke hormone imbalances. Changes in hormone levels have been shown to cause hair loss.
Unscented shampoos eliminate pleasant smells, and fragrance-free shampoos eliminate all artificial and natural aromas. If you wish to avoid fragrances because you don't know what components are in them, use fragrance-free shampoo.
You will prevent any potential adverse effects from utilizing shampoos containing possibly harmful substances.
We certainly advise you to avoid using shampoos with chemical fragrances, nice smell is just not worth the risk of going bald.
We recommend you use one of those:
Philip Kingsley No Scent No Colour Shampoo
Philip Kingsley's No Scent No Colour Shampoo is appropriate for all hair types and is great for those searching for a simple recipe. It's fragrance-free, color-free, sulfate-free, and paraben-free, yet it nevertheless cleans the hair and scalp well.

The gentle mixture gently removes dirt, leaving hair bright and silky. This is a shampoo that is suitable for all hair types with sensitive scalps. It is important to note that there are no ingredients in shampoos that cause hair loss here. Amaranth protein, glycerin, and chamomile are the active ingredients.
Most, if not all, mass-market hair products contain alcohol in their formulation. However, not all alcohols are created equal (or are necessarily bad for your hair), for example, fatty alcohols such as cetyl alcohol,
Cetearyl alcohol,
and
stearyl alcohol
can help soften and maintain moisture in your hair.
Propanol
and
isopropyl alcohol
should be avoided in hair products since they might dry out your hair and make it more prone to breakage. You should avoid hair products that feature any of these alcohols as the first few components, as they are listed in the order of their highest concentration in the product. There are a few more reasons you might consider using alcohol-free shampoo except the obvious one, hair loss.
Shampoo without alcohol means more moisture for your hair and will weigh hair down if necessary.
Formaldehyde is deemed safe at low concentrations. It is used in cosmetic items to destroy microorganisms and extend shelf life. The International Agency for Cancer Research, on the other hand, classifies excessive quantities of formaldehyde as a category 1 human carcinogen. Cosmetics also include formaldehyde donors, which are chemical substances that progressively release formaldehyde. 
Shampooing your hair every day should not expose you to significant quantities of formaldehyde. However, formaldehyde donors from hair products can be released into the air, which at certain amounts can irritate your eyes, nose, and lungs, as well as cause skin sensitivity or allergic dermatitis.
This form of exposure is more likely to occur in those who work in hair salons or who use hair straightening or smoothing products.
Exposure to formaldehyde not only can result in hair loss but also in allergic reactions and other serious health problems.
5. Diethanolamine (DEA) and Triethanolamine (TEA)
Diethanolamine (DEA)
is a natural ingredient that causes shampoo to foam. It is also used to modify the pH of shampoo. DEA is rarely used alone, and when it is, it is in modest doses. It is usually mixed with other compounds and then turned into a new component. The new component is not chemically identical to DEA. It helps to lower surface tension in shampoo, allowing water soluble and oil soluble components to combine and remain together. It is a surfactant, and there are several kinds of DEA. Cocamide DEA and lauramide DEA are the most prevalent ingredients in shampoos. Cocamide DEA is a surfactant created by chemically changing the chemical makeup of certain fatty acids in coconut oil with diethanolamine. It generates a thick, amber-colored liquid that may be used to foam.
Lauramide DEA
is another substance that is occasionally employed. It is a surfactant that regulates thickness and functions as a foaming agent. Lauramide DEA, which is produced from lauric acid, can be used in place of cocamide DEA.
Triethanolamine (TEA)
is also added to shampoo to boost its foaming ability, which is fine… We all like how the frothy bubbles make our scalp feel clean, right?
What you may not realize is that it is quite harsh on the skin and scalp
, leaving your hair brittle and dried out. You don't want your hair to lack brilliance and sparkle, do you? Triethanolamine should not be exposed for an extended period. The biggest difficulty with these elements is that they are so prevalent in cosmetics today, with up to 40% of products including them, implying that long-term exposure may still be an issue.
Both of them can dry out your hair and provoke irritation of your skin.
If you can you should try to avoid them, but that will probably be a harder task than with other harmful ingredients in shampoos that cause hair loss.