Simple Moisturizing Facial Wash REVIEW
I would like to start this Simple Moisturizing Facial Wash review by saying that this is one of the best inexpensive face washes.
Skin cleansing is a very important step of your skincare routine and if you want to quickly learn more about this step before reviewing this product I have written a post that contains everything you should know about skin cleansing.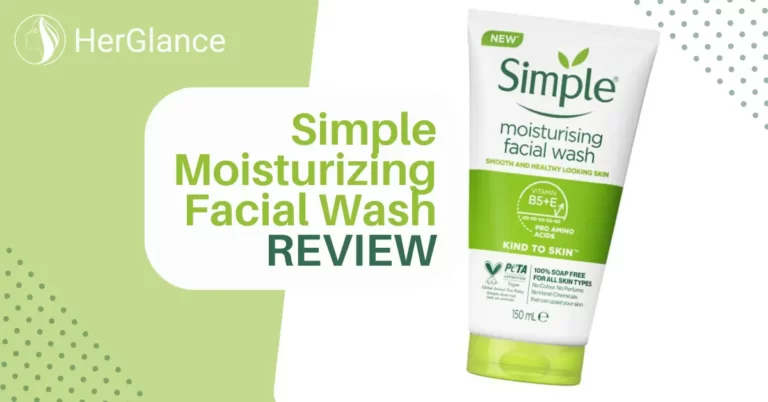 Simple Moisturizing Facial Wash Review Of Product
When it comes to a simple moisturizing facial wash review I will tell you how it performed on my skin and what ingredients it contains.
Simple Moisturizing Facial Wash is a gentle cleanser that has absolutely no smell. It is soap-free which is great for sensitive, inflamed skin and skin with dermatitis.
Are you wondering if it is effective since it doesn't contain soap?
Yes, it is because soap-free products contain a solution of emulsifiers that can pick up oil and dirt on the skin and wash it away, without leaving alkaline residue, which can increase skin's sensitivity and damage collagen in the skin leading to premature aging.
Using a soap-free cleanser will prevent moisture loss and won't dry out the skin.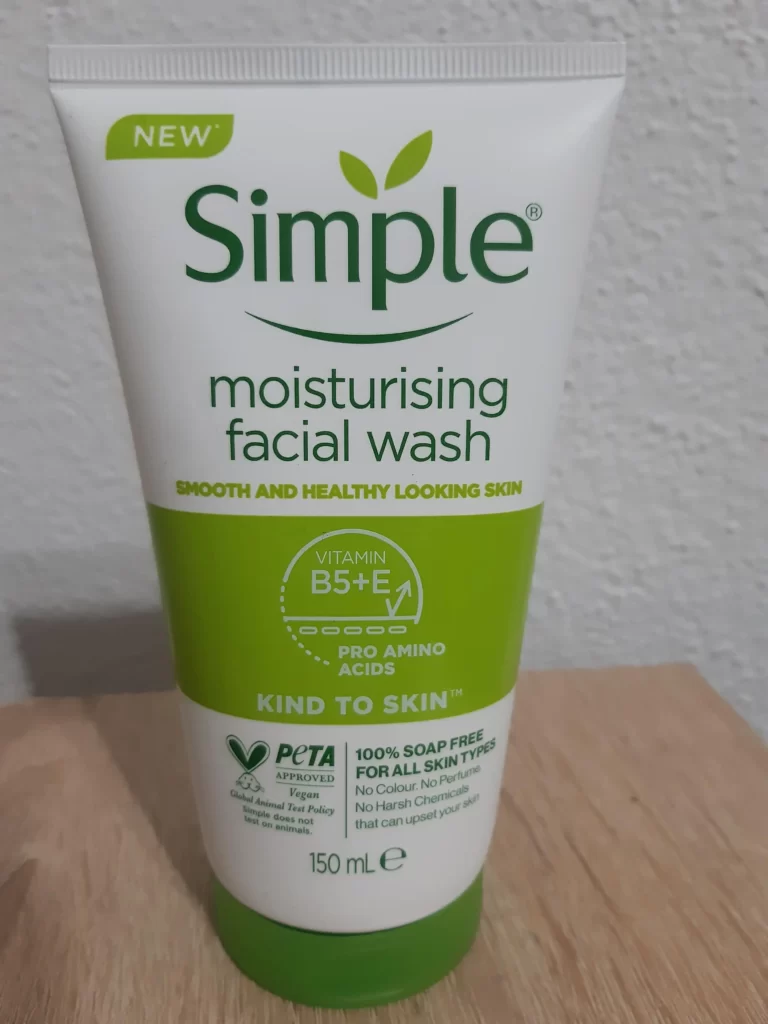 My skin is normal to oily, and this cleanser transformed my skin. It is not stripping and it doesn't leave a squeaky clean feeling. Squeaky clean skin may sound like something that cleanser should do, but it is very bad for your skin because it means that cleanser is too stripping (stripping away skin's natural oils and leading to even more oil production and breakouts).
If you currently own a cleanser that leaves that feeling please throw it away.
In my experience, the simple facial wash is the best when used after an oil-based cleanser (so as a second cleanser) because it is not able to remove waterproof makeup, and it is not supposed to since it is water-based. On a lazy day (only one cleanse, with sixty seconds of gentle application) when I was wearing a little bit of makeup it was able to clean my face well, it even removed sunscreen completely.
Since I was on a path to drying out my skin with harsh cleansers, a simple facial wash saved me. It leaves my skin clean, smooth, and soft and there is no tingling feeling and tightness after using it.
This cleanser feels silky and rich when I spread it on my skin. If you properly incorporate simple facial wash into your skincare routine (double cleanse, serum and/or toner, moisturizer, and sunscreen) it really can make a difference.
Using Simple face wash is very easy, and the bottle is very well designed. It is not too big, so it is travel friendly. Also, it doesn't have too big an opening, so you can control how much product you want to squeeze out.
The cleanser has a thick consistency and it lathers very well. There is no need to use a ton of product to get bubbles, a really small amount is enough, so it will last longer.
The PH of this cleanser is similar to the skin's PH (5.5), so it will not damage your skin barrier. Having a healthy skin barrier is very important because it keeps water in and that way it is keeping your skin hydrated, smooth and elastic.
Take a look at your cleanser if it has a PH above 7, replace it because anything above 7 damages the skin barrier.
Simple Moisturizing Facial Wash Review of Brand
When it comes to skincare it is not just about products, we should also research brands because you can tell a lot about a product based on the brand that is manufacturing it.
Simple is a brand that has a "Kind to skin" campaign and based on the ingredients they use this is justified.
They don't use colors, perfumes, and essential oils which are the main culprit in skin care for irritation, redness, sensitivity, and breakouts. If you ask me essential oils in products are used as a marketing trick. A lot of people might think the product contains jasmine if they smell it.
The best advice I can give you is to avoid products that contain essential oils.
Simple is kind to the planet because it is vegan and PETA-approved. Also, their packaging is recyclable, which is the next best thing to bio-degradable packaging.
Simple Moisturizing Facial Wash Ingredients
The simple moisturizing facial wash contains moisturizing and anti-inflammatory ingredients. Ingredients that make this cleanser great are:
Vitamin E has a hydrating effect that prevents your skin from losing its natural oil. It is easily absorbed into the skin since it is fat-soluble. Acne and acne-scars scars heal quicker as a result of this. Vitamin E reduces inflammation, has anti-aging effects, helps to protect the skin from environmental stressors, and helps to even out skin tone.
Pro amino acids applied topically help to strengthen the skin barrier and maintain the skin's hydration, resilience, and overall healthy appearance. They protect the skin from free-radical damage and reduce signs of aging.
B5 vitamin aids in maintaining healthy, silky skin. Additionally, it has anti-inflammatory properties that may aid in promoting the skin's natural healing processes. It deeply hydrates skin and draws moisture from the environment to keep skin hydrated. According to certain research, vitamin B5 moisturizes the skin and speeds up the healing of skin wounds.
Bisabolol has several important benefits for the skin, including calming and anti-aging properties. Because of its anti-oxidant qualities, bisabolol can help maintain skin tight and youthful-looking by noticeably reducing the indications of aging. It also helps to reduce redness and irritation.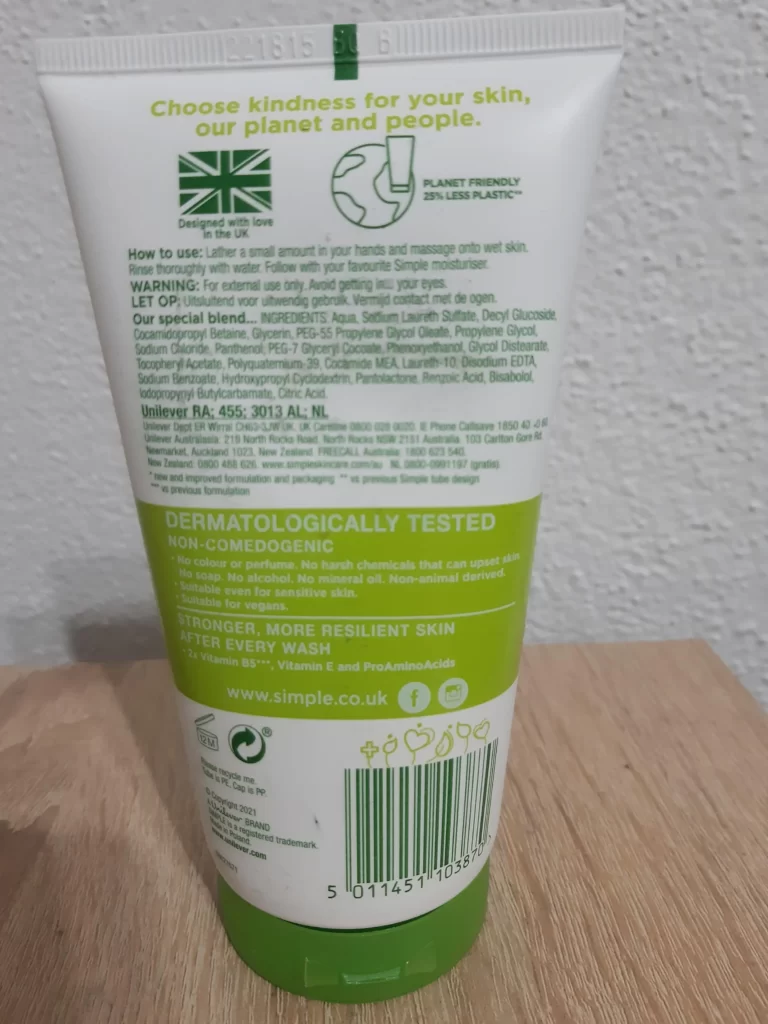 Simple moisturizing facial wash doesn't contain alcohol and other irritants which makes it suitable for sensitive skin and for skin of color (it is recommended by doctor Vanitta Rattan, an expert for dark skin). If you want to learn more about other steps of a skincare routine for dark complexion here is a link to my post about toners for black skin.
Alcohol is not good for any skin type, not just for sensitive skin. It can make oily skin and breakouts even worse, dry out already dry skin, and trigger contact dermatitis (contact dermatitis is the result of continued exposure to an irritant). You should always carefully read the ingredient list and avoid products with alcohol.
It contains parabens and sodium Laureth sulfate. Paraben is one of the best preservatives and removing it from the product can increase the chance of getting contact dermatitis sodium Laureth sulfate is much more gentle than sodium lauryl sulfate.
How did I incorporate Simple Moisturizing Facial Wash into my skincare routine?
At the end of a simple moisturizing facial wash review, I will tell you how I used this cleanser and give you some ideas for other steps of your skincare routine.
As I mentioned before I used it in combination with an oil-based cleanser. After it I applied niacinamide toner and Hada Labo Skin Plumping gel cream. 
I didn't use toner and serum at the same time. In the morning I used vitamin C serum and as part of the nighttime routine, I used toner. There is no specific reason for this, that way my skin felt great. And last but not least, don't forget the most important step of the skincare routine – sunscreen.
You can go the other way around, use a toner with hyaluronic acid and a moisturizer with niacinamide.