Is Olay Day Cream Good for Oily Skin?
To determine "Is Olay Day cream good for oily skin" I will explore Olay Day Cream's formula and how it might work for those with oily skin, which includes understanding the ingredients, their benefits, and potential drawbacks.
When it comes to skincare, finding the right products for your skin type can make all the difference. For individuals with oily skin, finding a day cream that doesn't leave a greasy residue or contribute to breakouts can be particularly challenging. One brand that many people turn to is Olay, which offers a range of skincare products for various skin types.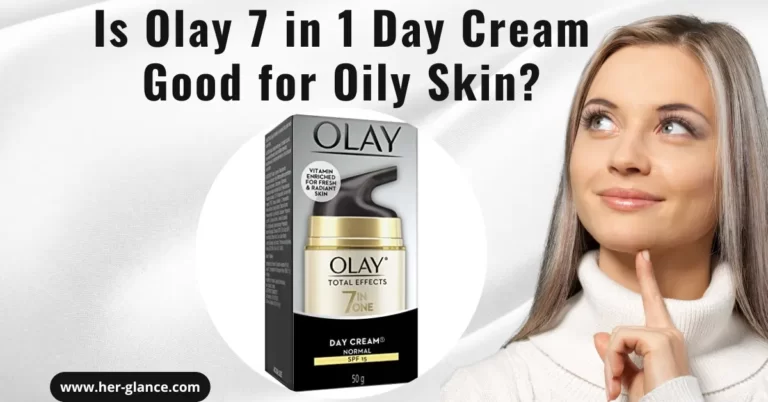 *Note
If you are having trouble with acne  You should certainly try our digital guide "The Ultimate Guide to Get Rid of Acne".
With expert tips and tailored solutions, this guide will help you achieve clear, healthy skin in no time. Don't wait – click the link now and take the first step towards a more confident you!
Olay 7 in 1 Day Cream ingredients analysis
Olay 7 in 1 Day cream is suitable for normal skin with its lightweight and oil-free formula. That texture may be good for oily skin, but besides the texture, the formula has to have ingredients that are beneficial for oily skin and non-comedogenic.
Ingredients that can be found in this moisturizer are:
Niacinamide is a great ingredient, both for anti-aging and reducing oily skin problems. It is suitable for all skin types because it is very well tolerated, which means that it can be part of a skincare routine for sensitive skin. Niacinamide's anti-aging abilities come from the fact that it supports the production of keratin (a protein that keeps your skin firm and healthy) in your skin, which results in a tighter and more youthful-looking complexion.
Niacinamide is a great ingredient for oily skin because it reduces sebum production and pigmentation. Studies have shown that niacinamide is as effective as hydroquinone (a gold standard ingredient for hyperpigmentation), but without side effects for niacinamide. So, niacinamide can support the maintenance of a clearer, smoother, and more even-toned complexion by regulating your skin's sebum production and inflammatory reactions.
Since your skin fights toxins and contaminants from the atmosphere every day, which over time can cause fine lines, wrinkles, dark patches, and other aging symptoms it is very important to include niacinamide into your routine. Niacinamide acts as an antioxidant, which provides protective qualities that can help prevent the skin-damaging impacts of environmental stressors.
Glycerin is the best humectant that has small molecules that can penetrate deep into the skin. It is naturally present in the body which means that it should not be irritating. Glycerin improves skin elasticity by making the skin barrier hydrated and more functional. It also improves moisture retention and reduces irritation from other ingredients. It has occlusive (stops water from evaporating) and hygroscopic properties (attracts water into the skin).
All of these hydrating properties are very important for oily skin because no matter what skin condition you have, your skin can become dry if the skin barrier is damaged. Your epidermis cells may begin to shrivel up if they start to lose hydration. Because of this, your fine lines appear more pronounced and apparent, and your skin may end up appearing lifeless and dull. Because even the oiliest skin can experience this, an appropriate moisturizer or hydrator is still always advised.
Panthenol is also known as vitamin B5 which is good at holding onto water, and it can hydrate the epidermis and keep it supple and silky. Panthenol also functions as an emollient, which means it stores hydration in the skin and seals all cracks, in contrast to hyaluronic acid, which only acts as a humectant, attaching water to the skin.
As was already stated, panthenol is an emollient and a humectant, which means that it helps your skin maintain hydration by reducing water loss. Additionally, this component activates epidermis barrier-enhancing cells. Your skin will continue to be moisturized, healthy, and flawless as a result. Panthenol is a highly effective component for controlling dryness and skin irritation if you have dry skin. For more information about panthenol visit this link.
Tocopheryl Acetate is the most common version of vitamin E in skincare products. It belongs to the group of anti-oxidants that reduce signs of photoaging (wrinkles, pigmentation, and fine lines caused by UV rays)  and has longer shelf life than pure vitamin E and it is more stable. But, despite these benefits, it is more poorly absorbed by the skin and may not have the same photo-protective effects as pure vitamin E.
Sodium Acerbly Phosphate is a salt of vitamin C (also an anti-oxidant) that is not as effective as pure vitamin C, but it is more stable and worth a try. In my opinion, this is a better deal than pure vitamin C, because its stability is a big challenge for the cosmetic industry.
When used for cosmetic reasons, Green Tea Extract is known to have benefits that reduce aging symptoms like wrinkles and fine lines. It is frequently used as an effective component in facial washes, moisturizers, serums, and other skin care products that work to reduce irritation, even out skin discoloration, protect the skin from UV rays, and repair damage. By moisturizing, boosting circulation, and controlling sebum production, products enhanced with green tea extracts are known to further support skin health which improves the tone, structure, strength, and elasticity of the skin.
To determine "Is Olay Day Cream good for oily skin" it is also important to explore structural ingredients in the formula.
Alongside active ingredients, Olay Day Cream contains other ingredients that make up the formula but also affect our skin. Many of those ingredients are emollients that help the skin to feel nice and smooth. Some of the emollients that can be found in this cream are Isohexadecane, Isopropyl Isostearate, which has a comedogenic rating of 4-5, Dimethiconol which is also a humectant,  and Cetyl Alcohol which has a comedogenic rating of 2.
So, ingredients with a comedogenic rating of 4-5 are highly comedogenic and will cog pores for almost all skin types and ingredients with a rating of 2 are moderately comedogenic which means that they might clog pores for some skin types and cause acne breakouts including those with mature skin. It is important to note that mature skin may also be more prone to dryness and sensitivity, so using products with a high comedogenic rating can exacerbate these issues. If you have a dark complexion make sure to read my post "Is Olay good for black skin?" 
Olay Day cream is good for oily skin, but it is not a great choice and needs to be used with precautionary measures. It does contain ingredients that can be beneficial for oily mature skin, but it also contains ingredients that are highly comedogenic which can create some problems for that skin type. Also, it is important to note that the formula is not fragrance-free, which can be irritating for people with sensitive skin.
This cream has an SPF of 15, which I don't think is enough, especially if you are planning to spend a lot of time outside and trying to reduce photoaging.So, if you decide to use this moisturizer, do a patch test and follow how your skin reacts to it in a certain period of time.