How To Use Winlevi With Tretinoin
In this post, I am going to answer the question, of how to use Winlevi with Tretinoin. Keep reading to find out what you should know before trying to treat your acne with Tretinoin and WInlevi combined.
To use Winlevi with tretinoin, apply tretinoin first and wait for it to fully absorb into the skin before applying Winlevi. Follow this up with a moisturizer that is non-comedogenic and fragrance-free.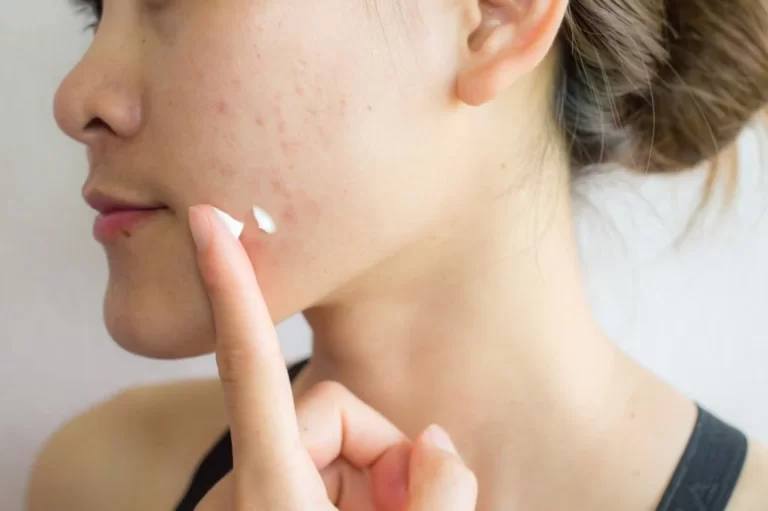 Since you're reading this post, chances are you're struggling with acne. You should certainly try our digital guide "The Ultimate Guide to Get Rid of Acne".
With expert tips and tailored solutions, this guide will help you achieve clear, healthy skin in no time. Don't wait – click the link now and take the first step towards a more confident you!
Similarity / Difference Between Tretinoin And Winlevi
So first things first you have to understand the difference between the two.
Tretinoin is usually used for hard-to-clear blemishes on the skin. It is a type of retinoid, which is a derivative of vitamin A. Tretinoin works by increasing cell turnover in the skin, which means that it helps to exfoliate and remove dead skin cells from the surface of the skin. This process can help to unclog pores, reduce the formation of comedones (blackheads and whiteheads), and improve the overall appearance of the skin.
Of course, this cream/gel is not for everybody since it can be really hard on the skin. Naturally, it is not recommended for people with sensitive skin since it can worsen the current situation.
Currently, tretinoin can be only purchased with a prescription in the USA so you will need to visit your dermatologist first if you think you should include it in your "getting rid of acne " plan.
Winlevi is also used as topical cream which means that it is applied on the skin directly. While it is known how tretinoin works for the Winlevi it's not that clear. There is some limited information that the way it works is that it controls your hormones and limits the amount of sebum they create.
Of course, there can be some side effects of using Winlevi, especially in combination with other products such as tretinoin, the most common side effect is purging.
Winlevi can cause purging by increasing the time it takes for your body to produce new skin cells at the bottom layer and shed old, dead skin cells at the topmost layer. We have a blog post dedicated to this topic, so here is the link to that article.
Make sure to tell the following details to your dermatologist if you will suggest the usage of tretinoin in combination with Winlevi:
1. Pregnancy and breastfeeding – If you are currently pregnant or plan to be make sure to notify your doctor since there are not enough case studies that can confirm the safety of using tretinoin while pregnant.
2. List of other medications: Make sure to inform them about all of your other medications, especially the ones that go on your skin.
3. Allergies: especially to medications or vitamin A-related drugs
4. Cosmetic procedures: If you have recently had any cosmetic procedures, such as chemical peels or laser treatments, tretinoin may increase sensitivity to these procedures.
How To Use Winlevi With Tretinoin – Full Skincare Routine
When you are using Winlevi and Tretinoin together it is important to use them in the correct order and at adequate timing to avoid irritation and to maximize the benefits both of these products provide.
Here is the full skincare routine you can use:
1. Cleansing – With cleansing at the start of your routine you will prepare your skin for a whole skincare regimen that will include Winlevi and Tretinoin. It is important to use a very gentle cleanser to not cause any further irritations. I would suggest using CeraVe Foaming Facial Cleanser since it is really gentle and it is fragrance-free. Follow the provided link to see its price on Amazon, I think I have found a good deal there.
Also, this cleanser will clean all of the dirt that accumulated on your face without disturbing a natural protective skin barrier on your face. If this first step of the skincare routine is not done properly, dirt and pollution accumulate at the surface of your skin and could potentially contribute to further breakouts and dehydration.
2. So after you have done proper cleansing, you can now apply tretinoin on your skin. Keep in mind that you should apply it to dry skin in the evening. I have to stress how important it is to apply it in the evening and there are two reasons for that. One is that the way tretinoin works makes your skin more susceptible to sun damage and increases the risk of sunburn. The other reason is that if exposed to the sun tretinoin can break down, it can even break down if exposed to too much artificial light.
Of course, you should be careful with the amount of tretinoin you apply at the start. I suggest asking your dermatologist for the starting amount. If you don't want to do that you should start by applying a lower amount and then gradually increase it over time as tolerated by your skin.
3. Next step is to simply wait for 20 to 30 minutes before applying any other skincare product to your skin after the tretinoin. This will give you enough time for your skin to absorb tretinoin well.
4. Winlevi – So the part where you apply Winlevi comes the next morning. You should apply a pea-sized amount of winlevi to the affected areas of the skin. It is important to apply Winlevi only in the morning and to avoid using it with any other topical acne medications, as this can increase the risk of skin irritation.
5. Moisturize – To finish your skincare routine you should apply a proper moisturizer to help soothe and hydrate your skin. You should use a moisturizer that is non-comedogenic (does not clog pores) and is fragrance-free. I would suggest CeraVe Daily Moisturizing Lotion since it falls into this category and it would certainly be good to use with previously recommended CeraVe cleanser. If you want to purchase or see the pricing of suggest CeraVe Daily Moisturizing Lotion here is the link.
The treatment that combines the usage of both Winlevi and tretinoin is used a lot by dermatologists and some of the patients have confirmed that their symptoms are getting better by as much as two weeks. Of course, by following a proper skincare regime you should see and expect the same results. In the end, I hope that you now have a clear image of the skincare regime to use while treating acne with Winlevi and tretinoin.