How To Use Olay Products Step by Step?
In the text below you can find detailed instructions on how to use Olay products step by step based on my own experience and science, meaning that I have explained the benefits and potential drawbacks of ingredients. Olay is a great affordable brand that you can easily incorporate into your routine. So, to learn how to keep on reading.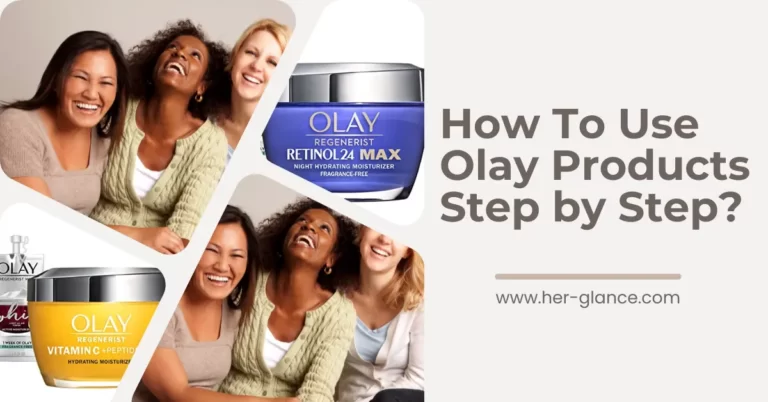 How To Use Olay Cleanser Step by Step
The first step of every routine should be skin cleansing. If it is done properly cleansing your skin can help you to maintain clear skin and to boost hydration. The skin produces sebum to help defend itself from environmental damage, but if you don't wash it off, it can mix with any poisons and pollutants already on your skin. This combination can result in aging, inflammation, or acne, so we do not want that.
Olay has a huge selection of cleansers packed with active ingredients. If you are wondering if it is worth using a cleanser with active ingredients, I must say it is. According to Valledor, the ingredients in face cleansers may be useful for a variety of things, including softening, hydrating, managing acne, exfoliating, and brightening. Dr. Marguerite Germain, a board-certified dermatologist, also agrees.
Emollients and stabilizers, which are examples of inactive chemicals, can support things like hydration, but they can just enhance a product's feel and scent, it is the active ingredients that benefit your skin.
So how do you choose a cleanser?
To choose a cleanser first, you have to know how to use Olay products step by step because cleansing is the base on which you build the rest of your routine. So here is how to choose your first step. How much of a certain active ingredient our skin absorbs while we wash our faces is debatable. According to Valledor, your skin will absorb some active ingredients, but the key is knowing how much your skin can handle—just as with the other products you add to your routine.
Avoid anything harsh if you have sensitive skin, such as AHA-containing cleansers or products with a lot of vitamin C, the expert advises. And you should avoid anything that is excessively thick or doesn't rinse clean if you have oily skin and trouble with inflammation.
As I already said Olay's selection with active ingredients is huge. It is very hard to choose just one to recommend. You can choose between cleansers with hyaluronic acid (for hydration), vitamin C (for hyperpigmentation), collagen, retinol, and peptides (anti-aging benefits). To be clear those ingredients have many more benefits for our skin, I have just selected one that is the most popular for that ingredient.
Including retinol in your routine with a cleanser can be a good idea if you are just starting to use retinol and you want to start at small concentrations to see how your skin will react. If you choose a cleanser with retinol, be careful if you are planning on using retinol serum or moisturizer in your routine. Remember that too much retinol in the routine can dry out the skin and cause flaking and skin barrier damage. As you know cleansers contain smaller concentrations of active ingredients, but it is better to be safe than sorry and not risk with too much retinol.
Since all of those ingredients are kind of specific for certain types, I have found one cleanser that is suitable for all skin types including sensitive skin.
Face Wash by Olay Gentle Clean Foaming Cleanser
I have included this cleanser in my guide on how to use Olay products step by step because it has a gentle formula that doesn't contain alcohol, fragrance, or essential oils, and I LOVE those kinds of formulas. Due to its gentle formula, it is ideal for all skin types even for acne-prone skin (not including severe acne when you have to use prescription cleansers with stronger ingredients), because usually, people with oily skin tend to over-cleanse and strip skin natural oils which leads to even more oil production. The ingredients list is short, superstar ingredients in this formula are glycerin and aloe leaf extract.
Glycerin is one of the ingredients that are beneficial for all skin types. As a humectant, glycerin draws water from the environment and holds it on the surface of the skin. This is particularly helpful for dry skin as it helps to maintain skin hydration and prevents moisture loss.
Glycerin provides calming effects that can help soothe and reduce irritation. Because it helps lessen redness and irritation, it can be very helpful for sensitive or irritated skin. Glycerin doesn't clog pores because it is non-comedogenic. As a result, it can be used on skin types that are oily or prone to acne since it moisturizes without clogging pores.
Aloe vera has a high-water content, which hydrates the skin and improves the moisture balance. Because it has a calming and hydrating effect, it is very helpful for dry skin. Due to its anti-inflammatory characteristics, aloe vera helps soothe skin irritations including redness, itching, and small burns. It's frequently applied to soothe skin irritations like sunburns.
Aloe vera is rich in antioxidants, such as vitamins A, C, and E, that can help shield the skin from oxidative stress and free radicals. These antioxidants are huge anti-aging fighters that help to lessen the visibility of wrinkles and fine lines.
Aloe vera is also beneficial for oily skin prone to acne because of its anti-microbial properties that can help reduce inflammation and redness associated with acne and promote the healing of blemishes and the fact that it is non-comedogenic.
Dimethicone is an emollient that enhances the texture of the products making them feel smoother and silkier. Even though it has a major effect on the formula, it has some benefits for the skin and I have decided to write about it since it is pretty high on the ingredients list. Dimethicone is helpful for products designed for oily skin since it can, in some formulations, mattify the skin. It can lead to a more matte appearance by reducing shine.
The ability of dimethicone to form a barrier helps in retaining moisture and maintaining the skin's hydration. This might be especially helpful for dehydrated oily skin. It is non-comedogenic which means that it is unlikely to clog pores and lead to breakouts.
Although most people tolerate dimethicone well, some people might experience skin sensitivity or discomfort. Before using products containing dimethicone, it's a good idea to do a patch test if you have sensitive skin.
If you are also looking for a day cream I have a dedicated post for Olay Total Effects day cream and its suitability for oily skin, so make sure to read that one.
Olay Niacinamide + Peptide 24 Face Wash
Another Olay cleanser that I like is the one with niacinamide. Unlike some cleansers that I've tried, which are so thick, this one is light and smooth on the skin, lathers well, and rinses easily. Even though I haven't used this product for very long it didn't dry out my skin.
Olay niacinamide cleanser is suitable for morning and nighttime routines, which is a great thing in terms of saving some money. The formula doesn't contain sulfates, parabens, phthalates, synthetic dyes, and mineral oils. Unfortunately, it does contain fragrance, so if you have sensitive skin be careful. I have to say that the smell is not strong, but if you have sensitive skin, I would go with the previous one. Besides niacinamide and peptides, this cleanser also contains glycerin and salicylic acid.
Salicylic acid is beneficial for all skin types if you use it properly. It is oil soluble which means that it can penetrate deeper into the pores and exfoliate, which means that it helps to remove dead skin cells, debris, and excess oil that can lead to clogged pores and acne. Another benefit of salicylic acid is its anti-inflammatory property that helps to reduce redness and inflammation that are the result of breakouts. It also regulates oil production without overly drying out your skin.
When it comes to normal skin it provides gentle exfoliation and leads to radiant and smooth skin. Although some people find salicylic acid drying, it's often kinder than other exfoliants like glycolic acid. It can help remove dead skin cells when used sparingly and at lower concentrations without leaving the skin too dry or irritated. So, this is the reason I would recommend a cleanser with salicylic acid for dry skin over serums. This way you can see how your skin will react to it and you will be able to know if you are ready to move to toners or serums.
How To Use Olay Toner Step by Step
Unfortunately, I haven't seen any Olay toners in the stores and when I checked their webpage there wasn't one there either. So, for this step, you will have to turn to some other brands. For the longest time toners have been considered unnecessary skincare products, but today they are packed with active ingredients and have a lot of benefits for the skin. It is also important to learn how to use Olay products step by step in combination with other brands.
Based on your skin concerns you can find many different options with different formulas. You just have to keep in mind that those actives from toners will stay on your skin, so you will have to consider layering. For example, don't use toner with salicylic acid and retinol serum together in one routine. It would be best to separate those two, one in the morning and the other as a part of the nighttime routine or use them on different days.  This might seem unnecessary but trust me if your skin is already dry and sensitive this combination might make that even worse.
Also, don't use too much of the same ingredient. You don't need hyaluronic acid in the cleanser, toner, serum, and moisturizer as part of one routine. When I was choosing toner for myself, I chose one with niacinamide and one with hyaluronic acid. The one with niacinamide I use when I am using stronger ingredients later in the routine because niacinamide helps the skin to tolerate those ingredients. I use the one with hyaluronic acid when my skin needs extra hydration.
How To Use Olay Serum Step by Step
The third step in my guide on how to use Olay products step by step is serum. Olay has a huge range of serums that you can choose from based on your needs. They have serums with niacinamide, retinol, vitamin C, collagen, and peptides. In the text below I will mention serums based on their ingredients and what would be the best to use them for.
I will also go through the ingredients list of the new Olay Super serum. I have to admit that have not tried it yet, so I will just give my opinion based on the ingredients. Another thing that I want to mention is that I will not pay a lot of attention to serums with collagen because I have not found studies that claim that our skin can restore collagen levels by applying it topically.
Vitamin C + Peptide 24 BRIGHTENING SERUM
If you are dealing with hyperpigmentation this serum might be for you. Looking at the ingredients list Olay Vitamin C serum is a brightening serum that also helps to hydrate the skin. The formula is interesting with a combination of great active ingredients. For this serum, you have to keep in mind that it does contain fragrance.
As you already know vitamin C is one of the most popular antioxidants. Due to its stability issue, some people tend to skip it and they turn to other alternatives like niacinamide because they have a similar effect on the skin.
If we ignore that issue for a bit (assuming that the manufacturer did everything in their power to make it relatively stable), vitamin C is a crucial ingredient to fight free radicals (unstable molecules that can damage the skin and cause premature aging, wrinkles, and other skin issues).
It also helps to fight hyperpigmentation (fading dark spots and giving the skin a brighter and more radiant appearance) by inhibiting the production of melanin, the pigment responsible for dark spots and hyperpigmentation.
Another reason to include it in your routine is that vitamin C is essential for synthesizing collagen. That leads to improving skin firmness, reducing the appearance of fine lines and wrinkles, and enhancing overall skin texture.
In conclusion, vitamin C is an ingredient that is beneficial for all skin types because it enhances the skin's natural barrier function, and a healthy barrier means happy skin.
Another ingredient that is also beneficial for hyperpigmentation is lactic acid. It is a mild exfoliant that aids in removing dead skin cells from the skin's surface. It improves the skin's texture making it softer and smoother. Being a humectant, lactic acid has the power to draw in and hold onto moisture. For people with dry skin, in particular, this can assist to maintain moisture and avoid drying out. Lactic acid also has anti-aging properties. It helps to stimulate collagen production which helps to reduce the appearance of fine lines and wrinkles.
Panthenol is a form of vitamin B, that has humectant properties which means that it can hydrate the skin. Other benefits of panthenol include barrier repair, soothing, wound healing, and anti-aging.
Niacinamide is my favorite ingredient because it has many benefits for the skin. It is beneficial for both oily and combo skin types since it can regulate sebum (oil) production. By managing excess oil, it can lessen shine's visual impact and help in preventing clogged pores. Niacinamide also reduces irritation and redness, reduces hyperpigmentation, boosts collagen production, enhances barrier function, and helps the skin to tolerate stronger ingredients.
Regenerist Retinol 24 Max Night Serum
I have included retinol serum in my guide on how to use Olay products step by step because this Olay serum has a great formula. It doesn't contain alcohol, fragrance, and essential oils, but besides retinol, it does contain hydrating ingredients like glycerin and niacinamide.
Retinol has many benefits for the skin. Some of them include anti-aging effects by boosting collagen production, improving texture, evening out skin tone, minimizing pore size, preventing wrinkles, and improving skin elasticity. If you have mature skin, make sure to read my post about the best Olay products for those over 60 and 70.
Like in the case of retinol cleanser in terms of use, retinol serum is not different. Use it a few times a week as a part of a nighttime routine to see how your skin will react and gradually you can move to every other day. Also, you have to keep in mind that there are active ingredients that don't react well with retinol and can cause irritation, like vitamin C, exfoliating acids, some prescription topicals, and other active ingredients.
So, if you want to use Olay Retinol serum don't combine it at the same time with Olay vitamin C or retinol moisturizer. For example, after it, you can use Olay Regenerist Microsculpting moisturizer with a lot of hydrating and soothing ingredients. To make the most out of the retinol consult your dermatologist for more advice.
Based on the description on their website this new serum seems great, besides fragrance, which I don't like particularly, but if your skin doesn't mind and you love that your skincare products smell nice go for it. Looking at the ingredients looks like they have combined most of the key ingredients from other products that I have mentioned above.
It contains glycerin, niacinamide, lactic acid, peptides, vitamin C, vitamin E, panthenol, and hyaluronic acid. All of those ingredients combined lead to better skin texture, reduction of hyperpigmentation, firmer skin, and hydration. The serum is suitable for all skin types, normal, oily, dry, and combination. Due to the presence of fragrance, I would be careful if you have sensitive skin. Because of lactic acid and vitamin C don't combine it with other exfoliating ingredients and retinol in the same routine.   
How to use Olay Moisturizer Step by Step
The fourth step in my guide on how to use Olay products step by step is moisturizer.  Like in the case of serums, Olay also has a large selection of moisturizers. There are ones with retinol, niacinamide, peptides, vitamin C, and collagen. Since serums and moisturizers have similar ingredients (the difference is in texture), I would recommend you choose between those two based on your skin type.
For example, if you have oily skin and want something with a light texture it is better for you to go with some of the Olay serums and moisturizers from other brands that have lighter texture suitable for your skin. On the other hand, depending on the state of your skin, it might be able to bear their texture. My skin is slightly oily, and I don't mind the texture as long as I use small amounts of the product. I have also written a post about Olay night creams for oily skin, so make sure to check it out.
Also, you have to take into consideration that those Olay products are more suitable for aging skin, and with age, our skin dries out, so they are a great option if you are building an anti-aging routine or routine for dry skin.