Best Toners For Rosacea
LIST + FULL REVIEWS
If you have rosacea, you already know the challenge of finding a suitable skincare product that won't irritate your skin, burn, or cause excessive redness.
As one of the most used skincare products, toner can be hard to pick because toner usually contains many ingredients that might cause the situations mentioned above. To help you out with this decision we made a list of the best toners for rosacea.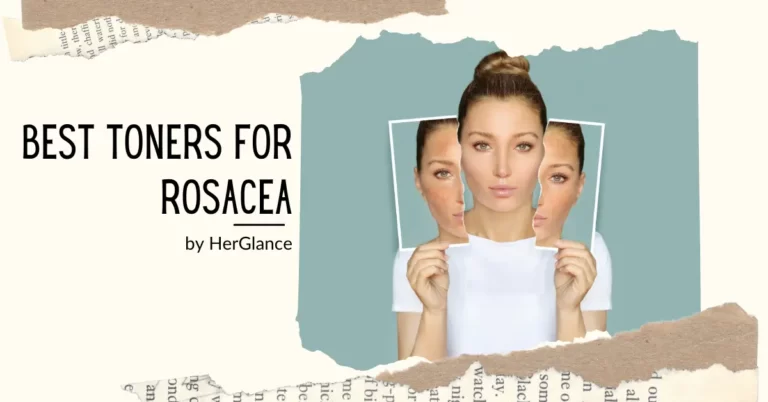 Rosacea is an inflammatory skin condition that is characterized by hypersensitivity of the skin. Hypersensitivity is expressed when skin gets in contact with certain products and that hypersensitivity is manifested with burning, flushes of redness, heat, and small red bumps that usually almost look like acne and pimples but differ in their underlying nature.
Keep in mind that all of the reviews were gathered from our audience on Instagram and twitter, all just with one goal to help you pick the best toner for rosacea.
Kiehl's Calendula Herbal Extract Alcohol Free Toner
This is my first suggestion when it comes to toners if you have rosacea. I think you can guess why because in the toner's name it says "alcohol-free ". It is not recommended to use skincare products that contain alcohol if you have rosacea because alcohol simply dries the skin out. If your skin is dried it will get irritated and probably redness will appear.
The toner is extremely gentle and soothing to the skin yet it can be even used to remove light makeup. Even though this toner is alcohol-free it is still naturally astringent which means that it will help balance natural oils in your skin.
Toner contains calendula petals which are very soothing for the skin, this ingredient is extracted from the marigold flower which you can see floating in the bottle of the toner.
The manufacturer of this toner recommends it be used twice a day and to be applied with the cotton pad after skin cleansing and before moisturizing. We have a whole text dedicated to skin cleansing which shows in detail how to do it properly. 
Even though the manufacturer advises that it should be used twice a day that doesn't apply to people with rosacea. If you have rosacea it should be enough to apply the toner once a day in the first 2 weeks just to keep yourself on the safe side. If you don't experience any problems in form of irritations you can try using it twice a day.
Something really surprising in a good way when it comes to this toner is that it smelt nice and relaxing. The only con when it comes to it is that it was relatively sticky to the touch and I found it a bit harder to smear it across the face. Of course, this should not be a big red flag since it does calm the skin which must be a number one priority if you have rosacea.
Secret Solutions Pro-Glycolic® 10% Resurfacing Toner
This toner has an interesting backstory, it has been created by a
dr.Rashini Raj
 who has been studying probiotics for 20 years. She thought that probiotics deserve a place in skincare and she decided to create this toner. Since probiotics are usually used to solve stomach problems where they kill bad bacteria with the help of good bacteria. When it comes to the most important ingredients, the toner contains
glycolic acid
and
green tea extract
which is a very good ingredient that helps with hyperpigmentation. Glycolic acid is an acid that has the smallest molecules out of all alpha-hydroxy acids which allows it to exfoliate the skin. Since the toner contains glycolic acid it is recommended to use it only once every other day if a person has rosacea. If you see that the toner is not irritating and it works well with your skin you can try using it more often.
Paula's Choice CALM Redness Relief Toner
Paula's choice is a brand that was established in 1995 and it has a mission to fight against acne, redness, and eczema. Many people have reported that this toner did great on their rosacea-prone skin. It is recommended to apply the toner with your fingertips and not use the pad as it gives you more control over the product.
After using the toner I have also felt my skin be less tight and dry, also the redness on the skin has been reduced. This is extra light toner that doesn't contain any ingredients that might be dangerous for rosacea-prone skin.
Some of the most important and interesting ingredients are Butylene Glycol which is used to hydrate the skin and Polysorbate 20 which enhances the texture of the skin. The next ingredient is Sea Whip Extract which is a very powerful soothing ingredient that is especially beneficial for those with rosacea-prone skin. Sea Whip extract also has the ability to halt skin irritations triggers and prevent them.
Colloidal Silver Toner With Green Tea & Chamomile By Face And Earth
This toner is recommended to be used if you are already using a cleanser. Its specialty is that it removes the dirt and oils that cleanser lefts behind. I have talked about the negative effects oils can have on rosacea-prone skin in the second part of this text.
This toner also detoxifies the skin which means that it will get your skin rid of most of the negative things and minimize the chance of future breakouts. It is one of the toners dermatologists suggest most of the time not only for their rosacea patients but also people with acne problems, eczema, dermatitis, and a variety of rashes.
Some of the ingredients in this toner are Aloe Vera which is an ingredient used for rosacea. Some people even it in a form of gel liberally during flare-ups for relief from redness and burning.
It also contains green tea extract and of course variety of other ingredients which should not be dangerous for rosacea-prone skin.
Of course, if you have rosacea step with caution with every ingredient and start slow, use the toner only once every other day to see its effects on the skin. After 2 or 3 weeks you can start using it more often if you see it's compatible with your skin.
Of course, rosacea is not the only factor that will decide does the toner work on your skin so be sure to go slowly with it.
General Skincare Tips For The Rosacea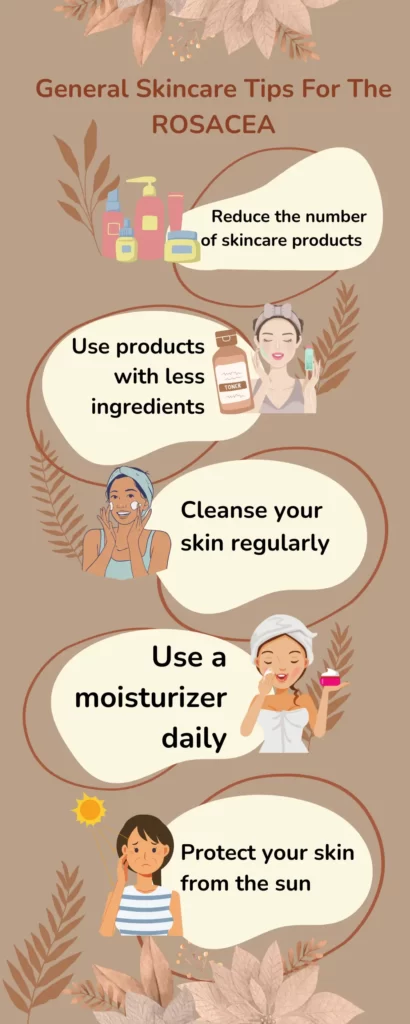 Reduce the number of skincare products
Since rosacea is a skin condition that makes your skin extremely sensitive to most of the products you put on your face, the best way to keep rosacea at bay is to reduce the number of products you use.
This is a really simple but extremely effective tip that might save you from that redness. Generally speaking, it is not recommended to have more than 3 to 4 products in your skincare routine if you have rosacea.
All of the skincare products you use should not be excessive and without many ingredients.
Whether you have oily or sensitive skin you still need to moisturize it on daily basis. Moisturizers are trapping the water on the surface of the skin and seal it there.
This tip is important when it comes to rosacea because moisturizers can calm down inflammation. It was also proven that people who used moisturizers along with their rosacea medications had much better results than people who used only their medications without moisturizers.
It is crucial that you cleanse your skin and not just with any cleanser, your cleanser should be a nonsoap and it should be extra gentle. The way you cleanse your skin is extremely important, it should be done gently and you should use lukewarm water. You should avoid any extreme temperatures to avoid irritating your skin. Also, it is important to use fingerpads in a circular motion across the face while cleansing.
Cleansing this way is important for all people but people with rosacea in particular because physical touch can also flare redness and irritation. In other words, you should avoid using things like spin brushes, scrub brushes, facial brushes, etc because they are extremely rough and harsh on the touch when it comes to sensitive skin.
To sum everything up, use your fingerpads in a circular motion across the face to apply the cleanser, and then use lukewarm water to rinse the cleanser off. 
You should first fully understand skin cleansing and then you can continue this text to find a perfect toner for your skincare routine and your skin.
Protect your skin from the sun
It is one of the most important steps in fighting rosacea, it is crucial that you protect your skin with broad-spectrum sunscreen. Most rosacea patients have a problem finding a good sunscreen that won't irritate their skin. The best tip for choosing a good sunscreen is that you pick the physical sunscreen which means that when you look at the active ingredients of the sunscreen it should say zinc oxide only or it should say zinc and titanium dioxide. These are the
active ingredients
that are well accepted by skin that suffers from rosacea since they don't irritate, sting or burn the skin. On the other hand, there are chemical ingredients in sunscreens that can irritate the skin with rosacea and you should avoid sunscreens that contain them. Some of the chemical ingredients that might irritate are
oxybenzone
,
avobenzone

,
and
octocrylene
. Since this is the case it's best to keep it safe and buy physical sunscreen.
Ingredients In Toners That You Should Avoid If You Have ROSACEA

Fragrance should be avoided by every means, not only in toners but also in any skincare product. There are a few reasons why people that have rosacea should avoid toners with fragrances.
People with rosacea have a higher likelihood of developing something that is called allergic contact dermatitis.
This reaction is activated when you get sensitized against an ingredient and then you get a skin allergy every time you come across this ingredient. This means that people with rosacea have a higher chance of developing an allergy to fragrances in their products.
Also, people with rosacea have a higher likelihood of flares of their symptoms regardless of the allergy. 
Just a quick heads up, many people misunderstand the label unscented and think how that means the product is fragrance-free which is not the case.
Unscented doesn't mean fragrance-free and you should be extra careful because unscented usually means that products contain both fragrances and masked fragrances which hide the scent of the product which is still there but you can't detect it.
Since manufacturers are not legally obligated to show the presence of the fragrances in the product they often use different names for the fragrances. In the image below I will try to show the names manufacturers usually use to mask the presence of the fragrance.
The next ingredient you want to avoid in toners and skincare products if you have rosacea are essential oils, lavender oils, and rose oil. In general, any type of essential oil no matter how it was processed is a big no if you have rosacea.
Another ingredient that should be avoided in skin care products and toners is alcohol. Alcohol is usually added to toners to stabilize other active ingredients that the toner contains.
To most people alcohol is not an ingredient to be afraid of but for people with rosacea, alcohol can be a big contributor to skin inflammations and irritations. Alcohol is dangerous for people with rosacea simply because it dries out the skin which people with rosacea don't tolerate as well as the people who don't have the disease.
Menthol is an ingredient that has to be avoided by anyone that has rosacea. That is the case because menthol is usually added to skincare products to achieve a tingling sensation in the skin. Since skin that suffers from rosacea is extra sensitive you don't want to tingle it and trigger irritation.
It should be avoided because of the same reason why menthol should be avoided. Peppermint also tingles the skin and it can trigger irritation.
Witch hazel is an ingredient that can be found in toners quite often and it is known to trigger irritations on even skin that doesn't suffer from rosacea. You want to avoid this ingredient when picking a new toner.
Ingredients That Your Toner Should Include If You Have Rosacea
Niacinamide is an anti-inflammatory ingredient which is something a skin with rosacea needs. Niacinamide also can reduce the amount of redness that is present on the skin. Other benefits of niacinamide are that it hydrates the skin and helps the skin barrier to heal over time.
It is an extremely useful ingredient for everyone but especially people with rosacea. If you want to get a toner that contains niacinamide you can check our post where we have listed the 8 best toners that contain that ingredient. 
Ceramides are also very helpful ingredients and their number one benefit is that they help to heal and protect the skin barrier.
Like niacinamide, licorice root extract is calming to the skin and it is mostly contained in products that are labeled as anti-redness. Products that contain this ingredient are usually made for people with rosacea and they are its target group of buyers.