Best Organic Essential Oils In 2023
In the post below I will list out the best organic essential oils. Of course I will not stop there and I will also help you choose the right organic essential oil for your skin type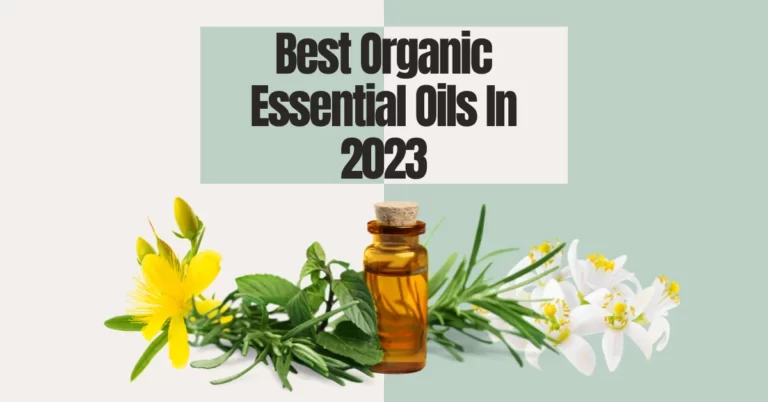 Best Organic Essential Oils in 2023 are:
Jojoba Oil
Argan Oil
Rosehip Oil
Coconut Oil
Sweet Almond Oil
Grapeseed Oil
Safflower Oil
Avocado Oil
Olive Oil


The best organic essential oil for for dry skin is Jojoba oil. Jojoba oil is a wonderful natural essential oil, which is a liquid wax collected and produced from the seeds of the jojoba tree. This beautifully scented oil has become one of the staples of beauty products worldwide. There is no need to spend money on expensive beauty products that promise amazing results but in reality have little or no impact. Forget about all chemicals, artificial additives, dyes, and preservatives.
Jojoba oil extremely protects the skin because it maintains its moisture and softens it. Wax is special compared to other vegetable oils precisely because of its composition, which is similar to human sebum. As it perfectly matches the composition of the skin, it works great in preventing the formation of wrinkles and is extremely effective for dry skin, which makes it one of the best organic essential oils.Pure wax is not adequate for massage, so it is necessary to mix it with other oils. It is usually used in a ratio of 10-20%.
Due to its natural moisturizing properties, jojoba oil is a really popular beauty product and is quickly absorbed into the skin. Since it resembles human sebum, it leaves your skin soft and hydrated. If you have oily skin, you don't have to worry about pimples, because jojoba oil manages to balance the skin's sebum production. You can use it alone, but you can also add a little oil to your body lotion to maximize its moisturizing effect.
Jojoba oil can be used to care for dry hair. Add a few drops of oil to the conditioner. In this way, you can keep your hair healthy, shiny, and strong. Jojoba oil is a great way to prevent split ends. Rub a small amount into the palm of your hand and apply to the ends of damp hair before drying. In this way, you can provide your hair with proper protection. By applying small amounts of oil, you make your hair soft and shiny.
Best Organic Essential Oils For Aging Skin
The smartest choice you can make when buying  organic essential oil is buying argan oil. This oil is the best ally for skin, hair and nail health. Argan oil is one of the most powerful anti-aging oils in the world, thanks to its rich composition of nutrients. It contains saturated and unsaturated fatty acids (linoleic, alpha linolenic, oleic), sterols, vitamin E, minerals and carotenoids.
Tocopherols, better known as vitamin E, are the most valuable ingredient of argan oil. Strong antioxidant properties are attributed to this vitamin. It is irreplaceable in the fight against scars, eczema and dry scalp. Another important ingredient of argan oil is carotenes, which protect the skin from UV radiation.
Essential fatty acids from argan oil prevent inflammatory processes on the skin, hydrating and strengthening it at the same time. Argan oil has a high proportion of squalene, natural compounds that protect against skin cancer and help soothe irritated skin. Ferulic acid from argan oil is a very strong stabilizer of vitamins C and E, so it doubles their effect.
It also contains polyphenols – natural compounds from plants that have an anti-inflammatory and regenerative effect on the skin. Argan oil is suitable for all skin types and can be used by pregnant women and small children. It nourishes and hydrates dry skin, helps with dermatitis and psoriasis and prevents infections.
You can remove dead skin cells from the face and body with the help of argan oil, in combination with brown sugar. This gentle and nourishing scrub will ensure healthy and shiny skin, nourish it, and give it shine and an attractive appearance while removing impurities and a feeling of tightness.
You can also use the gentle action of argan oil to protect your skin from stretch marks. It promotes elasticity and deeply nourishes the skin, and it can also be used by pregnant women. Spread 2-3 drops of oil between your palms and gently apply it to the problem areas on the body: hips, thighs, stomach and breasts. If you already have stretch marks, argan oil can help make them less visible: mix it with a little brown sugar, massage the scrub into the affected skin area and rinse gently. After that, apply a drop of pure oil on the stretch marks and let it absorb.
Protecting the skin from aging and wrinkles is another function of argan oil, which is rich in antioxidants and carotenes. It promotes the elasticity of the skin, deeply nourishes and cares for it, and helps to alleviate the consequences of exposure to UV rays, excessive sun and wind. Argan oil can stimulate skin regeneration, reduce visible sun spots and reduce inflammatory processes on the skin, and protect the skin from harmful environmental influences. All these are the reasons why argan oil is convincingly one of the best organic essential oils.
Best Organic Essential Oils For Mature Skin
It is common knowledge that rosehip oil is one of the best organic oils, especially for winter skincare. This precious oil was already valued in ancient Egypt as well as by the Mayan people for its healing properties, and it is ideal for dry skin. It soothes mature skin and skin damaged by the sun's rays and other influences. In addition, it reduces fine lines, wrinkles, scars, moles, and stretch marks and is especially effective for brittle nails and split hair. Rosehip oil can also be used to care for dry, cracked heels, and to remove makeup, and today it is one of the best organic essential oils.
It provides moisturizing care and helps the skin to regenerate after too long exposure to the sun. It also helps to even out the complexion, which is why many like to use it for pigmentation changes and minor skin color changes.
Fruits contain a lot, really a lot of vitamin C, which has been used for various health purposes for centuries. The proportion of vitamin C exceeds the proportion of one orange by as much as 20 times! Vitamin C is known for its ability to strengthen immunity, but it is also great for skin care. Vitamin C evens out the complexion, smoothes wrinkles, and protects the skin from external influences and pollution, which would cause damage. It helps to keep the skin younger and more beautiful because it also stimulates the production of collagen, which is why it has become an addition to many cosmetic products, which are intended for rejuvenation and facial care.
It contains a lot of essential fatty acids, including oleic, linolenic (omega 3), palmitoleic, and gamma-linolenic acids (omega 6). Essential fatty acids are not called essential for anything.
The body needs them. Care with rosehip oil, which is rich in fatty acids, restores balance to the skin and establishes healthy protection, which helps retain moisture. The skin is hydrated and therefore fuller and younger. Cells are renewed faster, which additionally ensures a younger and less tired appearance of the skin.
Some studies show that treatment with products containing a lot of unsaturated fatty acids reduces sensitivity to the sun in those who face photodermatitis, i.e. excessive sensitivity to UV rays, and also eases problems with psoriasis. Rosehip oil also contains vitamin F, which belongs to essential fatty acids and is composed of linolenic and alpha-linolenic fatty acids.
All these fatty acids in rosehip oil are absorbed into the skin, where they are converted into prostaglandins – lipid molecules, which participate in the formation of their tissues. They help to regenerate cell membranes, which leads to a younger and fresher appearance of the skin, and are also anti-inflammatory.
As for facial care, apply 2-3 drops of oil on a cleansed face, or after any facial care use a toner or hydrolat (flower water).
When it comes to body care, especially after sunbathing, apply and massage damp skin after showering or bathing. You can also add a few drops of your favorite essential oil directly into the bottle. This oil is also great for hair care, and it is best used by massaging a few drops into the hair, especially on the ends of the hair.
It is also known that the beautiful Princess Kate Middleton uses organic rosehip oil in her daily routine, both winter and summer, which certainly helps her achieve a youthful appearance.
Best Organic Essential Oils For Normal Skin
The best organic essential  oil for normal skin type is Coconut oil. Coconut oil is an exotic superfood with the richest source of unsaturated fatty acids. It contains 50% of 12-carbon lauric fatty acid and monolaurin, which can kill viruses, fungi and bacteria.
Coconut oil can serve a variety of purposes that are not directly related to nutrition. Many people use it for cosmetic purposes and to improve the health and appearance of their skin and hair. Studies on individuals with dry skin show that coconut oil can improve the lipid moisture content of the skin and can be an excellent protection and hair mask.
Natural coconut oil is non-toxic, and the skin absorbs it quickly, which helps you fight aging because you get perfectly soft and hydrated skin, helps heal wounds and successfully fights infections. Coconut oil has very positive effects on the skin, some of which are:
Coconut oil heals dry and chapped skin, in addition to providing excellent hydration, it also smells wonderful, and scientists claim that coconut oil is healthier for your skin than many expensive creams, you just need to use it regularly instead of cream and you will see for yourself that it is your best friend. skin.
Cracked skin, unlike dry skin, is a more serious condition. Persistence and patience are required both with creams and with coconut oil. In places where the skin has cracked need to apply a larger amount of coconut oil by soaking a gauze pad in the oil and placing it on the area with cracked skin, for greater effectiveness wrap the gauze pad with plastic wrap, as this will help you avoid stains on clothes and furniture.
Coconut oil also takes care of acne, and skin infections and fights bacteria. It restores the skin's protective layer and thus prevents microbial attacks. It nourishes the skin of your face and smooths out wrinkles. It removes dead cells from your face, which is why coconut oil is a great replacement for make-up remover lotion, as it will remove both waterproof mascara and dead cells from your face while nourishing and hydrating your skin.
Coconut oil increases the strength of connective tissue, protects against sunburn, can be used for insect bites, and helps fade scars.
Coconut oil is, without exaggeration, useful for everyone, we will prove by showing just some of the many useful properties of this product why it is one of the best organic essential oils.
Facial scrub – Mix coconut oil with cinnamon, polenta, sugar or oatmeal for a pleasant facial or body scrub.
Acne – This magical oil gently fights acne-causing bacteria. Apply it directly to the pimple-affected area and watch it shrink.
Stretch marks – Yes, yes, with coconut oil you can prevent and soften stretch marks caused by pregnancy.
Warts and birthmarks – Rub the oil on the desired area and cover it with a bandage. Rub in fresh oil and apply a new bandage every day.
Wrinkles – Rub into freshly washed skin to rehydrate and soften.
Moisturizer – Coconut oil is a great way to soften and moisturize dry, rough or damaged skin.
Athlete's foot – The powerful antifungal properties make coconut oil ideal for any fungal infection. Add a few drops of oregano or tea tree oil for additional antifungal action.
Dandruff – Rub coconut oil on your scalp to relieve symptoms of dandruff, itching and flaking.
Lip balm – Coconut oil hydrates and protects the lips. Coconut oil even offers protection from the sun, around 4 SPF.
Herpes – Coconut oil has antiviral properties that will help the body get rid of the virus that causes herpes. Rub in when needed and add a drop of oregano oil for a better effect.
Conditioner – Coconut oil maintains, strengthens and repairs hair. Rub a small amount into the ends of your hair and rinse well after ten minutes. A small amount can be rubbed into dry hair to tame frizz.
Best Organic Essential Oils For Sensitive Skin
One of the best natural organic essential oils  is sweet almond oil. Sweet almond oil is one of the most well-known skin care oils and is an ingredient used in a large number of products. It is popular thanks to its beneficial effect on all skin types. It is very light and has a soothing effect, so it is especially good for people with sensitive and irritated skin.
Almond oil is a mild, hypoallergenic oil that can be safely used even on a child's skin. When gently rubbed into the skin, it is completely absorbed, which is suitable for application after bathing.
To enhance absorption, warm the oil to body temperature before application. Almond oil is naturally endowed with the extremely powerful antioxidant vitamin E. Regular use of the oil can protect your skin from oxidative stress and UV damage, keeping it soft and supple.
Smooth, supple skin is a sign of youth, but it's the protein collagen that's behind the youthful appearance. Collagen forms a flat layer under the skin and acts as a good foundation that keeps the skin taut and soft.
Fine lines start to appear as we age due to the thinning of the skin and the appearance of bumps in the collagen. It is an inevitable part of the natural aging process, but premature aging can be caused by excessive exposure to the sun, tobacco smoke, and dehydration. With appropriate protection and skin care, the aging process can be somewhat slowed down. Almond oil plays a role here.
Oxidative stress is one of the main reasons for the deterioration of the collagen layer. Almond oil contains vitamin E, which is one of the strongest known antioxidants. It can help repair damage in the collagen layer.
The oil is particularly rich in proteins and can provide the amino acids necessary for the formation of collagen. The topical application of the oil can prevent dehydration by reducing moisture loss from the skin. If you have dark circles and bags under your eyes, almond oil can help. Apply the oil every night before going to bed. You will see a noticeable difference in about two weeks.
It has a light texture and easily penetrates deep into the skin, softening and removing dirt and debris that accumulates in the pores of the skin, which can help fight blackheads and acne. Thanks to the vitamin A content in the oil, it can even help reduce the appearance of acne. It is excellent for removing makeup even from the delicate area around the eyes.
Soak the pad in oil and apply it to your face. Let it sit for 2 minutes and then gently remove everything with a clean pad. It can be applied to the hands, nails and ends of the hair to make it supple, soft and shiny.
Best Organic Essential Oils For Oily Skin
When talking about organic oils, we cannot but mention Grape seed, especially for oily skin types. Grape seed oil will nourish and tighten your skin, so you can enjoy your reflection in front of the mirror! All you have to do is learn how to use it! The oil is produced after the processing of fruit for the preparation of wine and has been used in food for many years. Today, it is part of cosmetic preparations for facial care, natural masks and skin cleansers!
Grape seed oil is known for its fatty acids, which make the face fresh and hydrated. As it contains a high percentage of lanolin acid, which prevents dehydration of the face, it makes the cheeks plump and soft.
Initially, this natural oil was praised for its omega 3 and omega 6 fatty acids, which strengthen the skin's protective layer and make it resistant to external influences. The immunity of the face becomes strong, which is significant for dry skin that is prone to eczema.
Good skin tone is also due to vitamin E from grape seed oil, which directly nourishes cells and encourages them to create proteins. With this gift of nature, you don't have to worry about deep wrinkles on the neck, cheeks, and forehead because it hydrates your skin and makes it more elastic!
Usually, oils intended for facial hydration, which contain a lot of fatty acids, are recommended for dry skin. For oily skin, completely different preparations are recommended, which will soothe the face and prevent acne, and grape seed oil is just such an oil and is one of the best organic essential oils for oily skin.
Grape seed oil can soothe the sebaceous glands so that they begin to secrete a normal amount of sebum. Your face will not be overgrown and will become more resistant to bacteria from the outside environment. With regular use of grape seed oil, you will avoid infections on your face.
Grape seed oil is rich in active ingredients, so it should not be thrown away but should be properly applied to the face. When we say "throw away", we mean improper application, as a result of which the active ingredients do not penetrate the skin, but remain on the surface of the face.
To enable the absorption of active ingredients, first clean the pores! With your natural facial cleanser, pick up accumulated impurities on the skin, and make-up remains and open the pores so that the face is ready for the benefits of natural oil.
Pure grape seed oil for the face is applied to reduce the visibility of wrinkles and improve skin elasticity. You can apply it in your thirties, but also in your sixties, you will be delighted with the results!
Nature thought of all the stages of skin aging when she gave us nutrients from grape seeds. They will nourish your skin and restore the tone of your cheeks and smooth out wrinkles if you apply them correctly! It is necessary to heat the oil on low heat for a few minutes so that the skin absorbs it more easily. Warm oil will improve circulation so that the face deeply absorbs more active ingredients.
The good news is that you can apply it even when you are in a hurry. It only takes a few minutes for the nutrients to absorb and for your face to shine, fresh and soft! It is applied to the entire face in circular motions, relaxes, relieves stress and accelerates the regeneration of skin that has begun to age.
Best Organic Essential Oils For Acne-Prone Skin
Safflower oil is certainly one of the essential things that you must include in your collection if you have more problems with acne on your skin. Given that we struggle every day with various changes on the face and body due to numerous factors, we have to think about the best protection we can provide to our skin. It primarily refers to preventive protection against acne and pimples, care on cold days, as well as in the fight against wrinkles and antiaging treatments.
Various preparations are used for care, among which oils stand out as something innovative for care, cleaning and maintaining hygiene. To keep the skin of the face and body radiant, shiny, beautiful and healthy, it is necessary to provide it with maximum care and hydration, and safflower oil can help you with this.
There is a belief that saffron is a plant, with a very characteristic and striking appearance, that was found in the tombs of ancient Egypt, and found its best and longest-lasting use in China, where it has been used for centuries. Today the situation is somewhat different. In addition to being used in all countries of the world, saffron has demonstrated its true effectiveness in the field of cosmetics.
It is very effective in the treatment of dry and very dry skin, and fresh oil is pressed from the seeds of the plant, which has a mild taste and smell and is very effective. Safflower oil does not have a specific color or smell, so it is often mixed with other active ingredients and complements their effect. Due to the unsaturated fatty acids it contains, it must be stored at room temperature, in a dark and cool place.
In the food industry, oil is used, as fried or fresh, it is not thermolabile, so it is subject to high temperatures. It can also be used fresh in salads or as a spice in exchange for the expensive saffron flower. In terms of taste, it is most reminiscent of sunflower oil.
Safflower oil is usually used as a cleanser for the skin, to reduce or completely prevent it from drying out. Given that it concerns the tightening of the face, it has proven to be very effective in the fight against aging, in the case of already existing wrinkles, as well as in the prevention and emergence of new ones.
It is found in many anti-wrinkle serums, as well as in many herbal preparations, face lifting creams, and mild exfoliants. When we talk about proper facial care, certainly, you should always choose completely natural preparations, because in this way you will reduce the possibility of additional irritation and provide your skin with the nourishing care it needs.
The oil can only help perform a good deep hydration, you can also do a mild exfoliation of the face, all to penetrate deeply into the deeper layers of the skin. It is ideal for calming the redness of the skin and face, and all you need is to apply a few drops directly to the face and let the skin absorb it.
Best Organic Essential Oils for Combination Skin
If you have a combination skin type, then the best essential organic oil is avocado oil. Avocado oil contains a large number of antioxidants, such as carotenoids, vitamin E and various plant sterols, which have a beneficial effect on health and protect cells from oxidative stress.
Avocados are rich in fatty acids and antioxidants that promote wound healing and overall skin health. Recent studies have shown that the application of a cream containing avocado oil (20%) and vitamin B12 led to a significant improvement in the symptoms of psoriasis.
Avocado pulp is extremely rich in oil (up to 30%, depending on the variety). After the first extraction of the oil using the cold pressing method, the crude oil is very thick, viscous and intensely colored, varying from rich yellow to dark green or brown, depending on the origin of the fruit.
When applied to the skin, the oil is rather greasy and thick, but its absorption is extremely fast, therefore it is absorbed into the skin and an intense glow remains after it. This is a consequence of the fact that avocado oil contains numerous nutrients and vitamins that suit our skin and preserve its health.
Avocado oil is extremely rich in monounsaturated fatty acids (about 64% oleic acid and 2-13% palmitoleic acid), as well as polyunsaturated fatty acids (almost 10% linoleic acid (omega 6)), in addition to alpha-linolenic (omega 3) acid. Because of this specific composition, avocado oil is responsible for the suppleness and increased resistance of the skin and its hydrolipidic barrier, as well as for the revitalization of dry scalp.
For dry skin, avocado oil has a slightly occlusive and extremely moisturizing effect, helping to restore and preserve the hydrolipidic barrier of the epidermis, providing it with comfort and softness, and is equally beneficial for the skin of the face and body.
When it comes to mature skin, this great oil has a regenerative, restructuring and antioxidant effect. It helps against premature aging of the skin, prevents the formation of wrinkles and preserves the structure of the connective tissue of the skin (collagen, elastin, hyaluronic acid).
It improves the firmness of the skin and is especially useful for the area around the eyes and in the care of the décolletage, as well as the entire face.
Avocado oil helps with wound healing, so feel free to apply it to the cleansed affected area. Namely, avocado oil has a strong occlusive formula, which means that it promotes cell regeneration and the healing of even severe skin conditions.
Before using avocado oil for skin and face care, it would not be amiss to do an allergy test: apply a small amount of oil behind the ear, wait 24 hours, if no allergic reaction develops, you can enjoy its beneficial molecules.
Best Organic Essential Oils for Mature Dry Skin
Olive oil has numerous benefits for our entire organism and digestion. Given that it is most often used in the kitchen, it is less well-known that olive oil is an excellent choice for the face and body. The main ingredients for which olive oil is used are powerful antioxidants that regenerate the skin and essential fatty acids that give the skin softness.
Olive oil for the face and body has regenerating properties and has proven to be an ally in skin hydration, reduction of burns and sun damage, and facial skin tightening. It reduces wrinkles and pigmentation and is excellent for retaining the skin's natural moisture.
Pure and natural ingredients are always a better choice for the skin of our face and body than artificial creams and products. Olive oil for the face and body will suit almost any skin type, especially for the care of dry skin prone to sunburn. To get all the benefits of olive oil for the skin that we will describe later, it is recommended that you use cold-pressed virgin olive oil. It is produced by simply pressing and filtering olives.
This oil has numerous nutrients that the skin of the face and body will love. It mostly contains water and essential saturated fatty acids. It contains the highest percentage of oleic acid, palmitic acid, stearic acid, and linoleic and linolenic acids. Olive oil for the face is rich in chlorophyll and carotenoids, which have antioxidant properties, that is, they help to cleanse the body. This oil also contains a high level of vitamin E and phenols and sterols.
Because of all these ingredients, olive oil for the face is great for several things: it hydrates the skin, reduces signs of aging such as wrinkles and pigmentation, fights against oxidative stress, boosts collagen production, cleanses the skin of toxins, reduces the risk of acne, has anti-inflammatory properties.
Olive oil for the face and body can be used in several ways and various situations. It is ideal for hydration and daily care.
Because it is a natural product, olive oil can also be used for daily care, especially for dry skin prone to flaking. It contains ingredients that attract moisturizing ingredients to the skin and retain the skin's natural moisture. It can be applied directly to the skin, but to begin with it is recommended to dilute it with a gentler oil. Be especially careful with skin prone to allergies.
Please note that according to the order of application of products to the skin, the oil goes after the moisturizer. The reason for this is that it creates a natural barrier that protects the skin, so other ingredients have a harder time penetrating the deeper layers of the skin. If you apply it after all other products, it could keep all the hydration longer and reduce the drying of the facial skin.
If you don't want to apply olive oil to your face and body, you can consume it in your diet, and just one teaspoon will be enough to get some of the benefits of this liquid gold.
It can be used as part of anti-wrinkle care and other signs of skin aging. Given that this oil is a powerful antioxidant, it helps fight free radicals. This means that it prevents the degeneration or destruction of skin cells. The reason for this is squalene, an antioxidant with a strong effect against drying and oxidation of the skin.
This oil also affects the formation of collagen, an important component of our skin that is produced to a lesser extent with age. Collagen is responsible for the elasticity, radiance and suppleness of the skin, and it is difficult to obtain through creams and beauty products. This ingredient appears in larger molecules that will be difficult to penetrate through the skin, which is why it is important to adjust the diet so that greater collagen production is enabled.
Although it may not be the first choice, olive oil can be a great ingredient for making an exfoliant. Cleansing the skin with an olive oil scrub is great because it has properties that help flush out toxins.
In addition, it has been shown that massaging olive oil can affect the elasticity and firmness of the skin, which means that it can have a positive effect on the reduction of visible cellulite. Olive oil, like pine oil, helps to 'attack' cellulite at the cellular level.
Best Organic Essential Oils - Detox Effect
If you just start cleaning your face with oil, the condition of your skin may get a little worse at first, but there is nothing to worry about. It's just about the oil starting to work and drawing impurities and toxins from your skin to the surface.
But very soon that problem will disappear and your skin will be clean, beautiful and soft to the touch.
After about a month of regular use of the oil, your skin should be largely free of excess oil, acne and blackheads.
How To Choose The Right Organic Essential Oil For Your Skin Type
Each type of facial skin requires special care, but also a special type of preparation that will not cause reactions on your skin. It is the same with the oldest facial skin care products – skin and face oils. Choose only facial oils that are organic and suitable for your skin type.
Dry skin requires intensive care, especially in the colder months, which is why it is necessary to use oils in addition to quality serums. For dry skin, it is best to use jojoba oil, which with its beneficial properties will perfectly suit your skin and help it in many ways.
It's a misconception that people with oily skin don't need to use oils, it's just important that the product you use doesn't clog your pores. In Grapeseed oil you will find the perfect ally for your skin type. An oil that will keep your skin hydrated and regulate sebum production. It is quickly absorbed, and thanks to its anti-inflammatory properties, it is ideal for skin prone to irregularities.
As for mixed skin type, it is a real challenge to find a product that does not additionally oil and does not additionally dry out the skin. Avocado oil is the prototype of what you need, because it evens out the complexion, and protects and nourishes your skin.
If you have sensitive skin, then you must have the highest degree of caution. By choosing the wrong product, you can only cause damage to your face and body skin. For this type of skin, we decided on Sweet Almond Oil because of its properties on sensitive and irritated skin. This oil will also protect you from oxidative stress and harmful UV radiation.
If you do not know exactly what your skin type is and what your subtypes are, and you are not sure about everything you read on the Internet, then you can certainly download our Ultimate guide to choosing your skin type based on innovative dermatological and cosmetic technologies.
Finally, if you have black skin, you can also read our text Best Oils for Black Skin.