Oil is a great way to add extra nourishment to your skin, but when comes to skin with a dark complexion you have to be careful, so in this post, I will list you best oils for black skin based on your skin concerns.
The best oils for black skin are the ones that will not trigger any inflammation (unlike essential oils), and those are plant oils. Look for unrefined, organic and cold pressed plant oils because that way you will get maximum of benefits.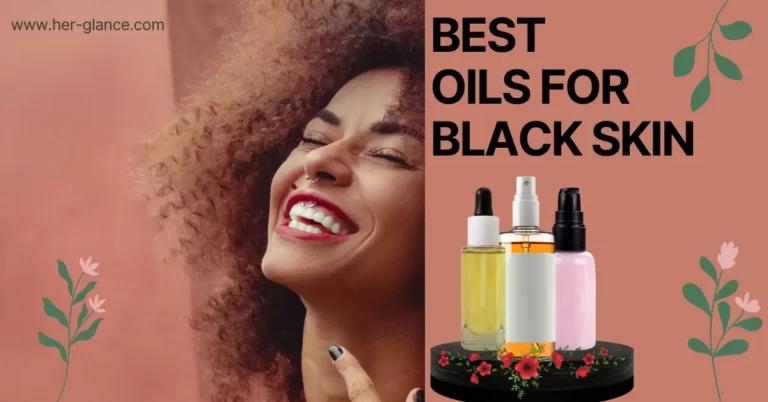 Best Natural Oils For Black Skin
Like every other product in your skincare routine, you should pick oils carefully. Using the wrong oil for black skin can lead to serious damage, like burns from tea tree oil which belongs to essential oils.
On the other hand, natural plant oils can help strengthen your skin barrier, so you should look for products that contain plant oils that are the best oils for melanin skin.
To help you choose the best oil for black skin, I have listed two types of products below: pure oils and oils with active ingredients, and directions on how to use them
Best Oils For Black Skin If You Have Hyperpigmentation And Acne-Prone Skin
If you need help with hyperpigmentation or brown spots you should look for oils that are rich in linoleic acid and have pigment-inhibiting abilities.
Usually, those kinds of oils are light and fast absorbing so they are suitable for oily and acne-prone skin (studies have shown that acne-prone skin is deficient in linoleic acid). The best oils for black skin that have those abilities are hempseed oil, grapeseed oil, and sunflower oil.
It contains Gamma-linolenic acid (GLA), one of the omega fatty acids that have anti-inflammatory benefits and also promote skin development and the production of new cells.
The hemp seed oil has anti-aging benefits thanks to linoleic and oleic acids. It reduces flakiness and itching while revitalizing and nourishing tight or dry skin. It regulates oil production when applied to the face, moisturizing without blocking pores.
Products Containing Hemp Seed Oil
e.l.f. All the Feels Facial Oil
MARA - Natural Evening Primrose + Green Tea Algae Retinol Face Oil
Grapeseed oil can be used to moisturize dry, dull skin, even out skin tone, and lessen the visibility of fine lines and wrinkles. According to Dr. Green, this is because linoleic acid and vitamin E help skin retain moisture in the skin while regaining its flexibility and protecting it from environmental harm.
It has anti-microbial, anti-inflammatory, and anti-microbial properties so, grapeseed oil is safe to use on acne-prone skin. This oil can keep the skin hydrated and nourished while also reducing inflammation and irritation on the skin, including acne and certain disorders like psoriasis.
Products Containing Grapeseed Oil
Sunflower oil is gentle so people with sensitive and mature skin can use it since it has calming properties. It can protect your skin from environmental stressors and calm temporary redness in sensitive or dry skin.
Sunflower oil is soothing and rich in antioxidants which means that it has anti-aging properties. Using sunflower oil is great if you want to repair your skin barrier and even out your tone and texture.
Products Containing Sunflower Oil
[Dr.Ceuracle] Pro Balance Pure Cleansing Oil
Suki Skincare Nourishing Facial Oil
Best Oils For Black Skin For Anti Aging
Rosehip oil is squeezed from the fruit and seeds of the rose plant, as opposed to rose oil, which is obtained from rose petals. It contains many vitamins, fatty acids (including linoleic and linolenic acid), and phenols that have antiviral, antibacterial, and antifungal properties.
Rosehip oil is worth including in your skincare routine because it has several benefits. Fatty acids make it great for the hydration of dry and itchy skin. Vitamin A, which is essential for the creation of collagen, is present in rosehip oil.
Rosehip has also been demonstrated to stop the body from producing an enzyme that breaks down collagen. Since it contains vitamin E, it can reduce inflammation and calm irritation. Vitamins A and E are also great for repairing sun-damaged skin and studies have shown that those two vitamins may prevent photoaging.
Even though rosehip oil contains vitamins that prevent photoaging you should not use it instead of sunscreen as it is not a complete alternative for retinol but you can get anti-aging properties without risk of irritation. It is also great for reducing hyperpigmentation, scars, and fine lines.
Products Containing Rosehip Oil
Eminence Rosehip Triple C+e Firming Oil
Hyaluronic Acid Serum, Rosehip Oil And Niacinamide Serum
Shibui Anti Aging Face Oil
2. Sea buckthorn seed oil
Sea buckthorn seed oil comes from the seeds contained in the berries and it is rich in vitamins A, B1, B12, and C (it has 50 times more vitamin C than an orange ), E, K, and P, as well as flavonoids, lycopene, carotenoids, and phytosterols.
The oil produced from the seeds contains high quantities of carotenoids, high levels of vitamin E, and a nearly 1:1 ratio of linolenic (Omega-3) and linoleic (Omega-6) acids. This oil helps to repair sun-damaged skin (wrinkles and brown spots) and slows down the aging process. It is great for soothing dry and irritated skin.
Due to the presence of carotene, this oil tends to stain skin, but formulations under 10% should be non-staining.
Products Containing Sea Buckethorn Seed Oil
SERUMKIND Youth & Glow Drop
livinglibations - Organic Best Skin Ever Seabuckthorn Facial Cleansing Oil
Best Oils For Black Skin If You Have Dry Skin
If you are fighting dry skin your ideal oil should be rich in linoleic acid with a little bit more heavy and greasy texture. The best oils for melanin skin that will help to treat dryness are borage seed oil, argan oil, squalene oil, etc.
In the text below you can find benefits and products containing those oils, so you can choose your best moisturizing oil for black skin. 
Borage was once known as "beebread" because bees adored the blue star-shaped flower, but it was only later that Borage seeds oil began to show up in skincare products. It is filled with antioxidants and it has anti-inflammatory properties. It is a relatively unknown oil but very beneficial.
Some of those benefits include: helping with softness, radiance, and suppleness of the skin, reducing signs of aging by boosting collagen production, promoting moisture retention, soothing, reducing scarring, and preventing acne.
Borage seed oil is a great oil for black skin if you want to start using strong active ingredients. You can include it in your skincare routine if you are just starting to use retinol because it tends to minimize irritation from strong actives and this is why it made my list of best oils for black skin.
Products Containing Borage Seed Oil
Borage Seed Oil 3.4 Fl Oz - 100% Pure & Natural
Argan oil has sebum-reducing abilities and anti-oxidant and inflammatory properties which make it great for treating several skin concerns.
Argan oil enhances overall texture and protects the skin's natural barrier, according to research.
Argan oil may also be your savior if you suffer from severe dry skin, psoriasis, or eczema because it also can be characterized as the best moisturizing oil for black skin. According to Dr. Khetarpal, it can be used to treat dry, sensitive skin for people seeking more natural treatments.
It helps to increase skin's elasticity which slows down the aging process. It helps to heal skin infections and to treat wounds.
To find out more about argan oil visit this link.
Products Containing Argan Oil
C-PRODUCTS – Repair Serum
Hemp & Argan Nourishing Korean Facial Oil
Squalane oil is one of the most intriguing and effective ones for dry skin in the world of skincare products. One of the great benefits of squalene oil is that it is unlikely to cause skin irritation or an allergic reaction. Also, it prevents moisture loss and helps skin to feel more supple.
Having it in your skincare routine will help with UV radiation damage.
If your skin has a lot of wrinkles and brown spots that are signs of photoaging, go to my previous post on how to repair your sun damaged face skin naturally to learn how to reduce those.
Products Containing Squalene Oil
Biossance 100% Squalane Oil
Biossance Squalane + Copper Peptide Rapid Plumping Serum
How To Use Oils For Black Skin
Now when you have chosen the best oil for black skin you have to incorporate it into your skincare routine properly. 
First of all, it should be noted that oil cannot be used instead of a moisturizer. Adding oil to your skincare routine is simple. You can use it before or after moisturizer, but never instead.
If you want to use oil before moisturizer you should find a product that has a blend of active ingredients and plant oils. In this case, your oil would be called treatment oil because it is intended to treat some skin concerns.
To get the maximum out of your oil apply 1 or 2 drops on damp skin. If you apply it on dry skin that will lead to a lack of absorption and a greasy feeling on the skin.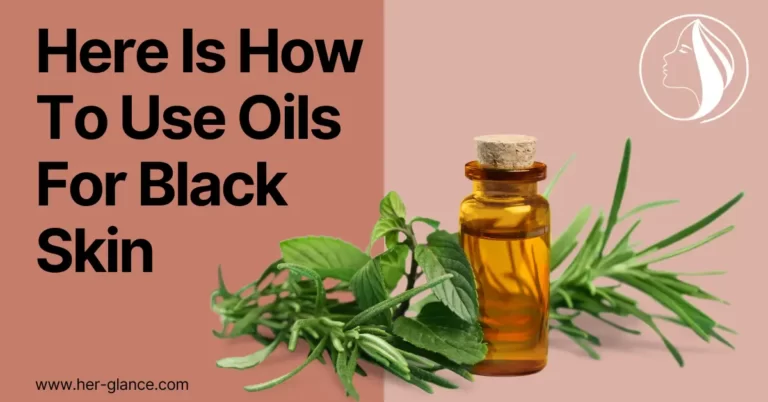 Also, you can use cleansing oils (oils mixed with cleansing ingredients: surfactants and emulsifiers) for removing makeup and waterproof sunscreen. Cleansing oil should be the first step of your skincare routine, followed by a water-based cleanser for a deeper cleanse.
So your routine should look like this:
 Double cleansing (if you are wearing makeup and waterproof sunscreen)
 Toner and/or serum (this step is optional and if you are not using one you can find some ideas in my previous post about best toners for black skin)
 Treatment oil (1 or two drops of oil that include active ingredients)
 Moisturizer
Using oil on top of your moisturizer will give you glowy, dewy, plump, rejuvenated skin and reduce transepidermal loss (If you frequently experience excessive transepidermal water loss (TEWL) overnight, your skin may feel tight or dry when you wake up in the morning.  Transepidermal water loss means that water passively evaporates through the skin and into the air).
Your skincare routine should look like this:
 Double cleanse
Toner and/or serum
 Moisturizer
Oil (use oil without active ingredients)
You should use oil just as a part of your nighttime routine. because our skin produces less sebum and oil at night. Also using oil in the morning can cause inflammation because during the day oil keeps heat close to the skin and any inflammation can lead to hyperpigmentation.
If you apply oil in the morning you may compromise the effectiveness of your sunscreen, so it is better to use it at night.
Also, you can use moisturizer based on plant oil.
Studies have shown that moisturizer that contains argan oil helps to reduce oiliness and treat acne.
Oils have a short shelf life and they go bad pretty quickly, so keep them in a dark and cool place to minimize the chance of oxidation due to exposure to light and air.
If it has an odd smell and changed texture throw it away. Plant oils are safe to use but you should treat them like every new product in your skincare routine and do a patch test to check for allergies.
Oils That You Should Not Use If You Have Black Skin
As I said before you should avoid using essential oils because they lead to sensitivity and inflammation since they can oxidize on the skin.
The following oils belong to this category: peppermint oil, tea tree oil, lavender oil, citrus oils, eucalyptus oil, rosemary oil, etc.
Synthetic oils (mineral oils and petroleum jelly) are not dangerous as essential oils, but plant oils are a better option.
Best Body Oil For Black Skin
There is no such thing as just one best body oil for black skin. All of the oils that are listed above are also great for the body and including them in your body care routine will be very beneficial.
All benefits of the plant oils such as squalene oil, rosehip oil, grapeseed oil, hempseed oil, argan oil, jojoba oil, carrot oil, or almond oil also apply to the body. To take advantage of natural oils it is always best to purchase a quality product that contains a blend of oils or quality pure oil. Just make sure to purchase unrefined, organic, and cold-pressed oils without added synthetic fragrances and essential oils.
Since I have already explained the benefits of mentioned body oils, in this section, you can find products that contain a blend of oils and examples of pure oils that show you what kind of oil to look for.
KORA Organics Noni Glow Body Oil
KORA Organics Noni Glow Body Oil is a lightweight oil that absorbs quickly leaving skin hydrated and nourished. This oil spreads easily without leaving the skin feeling greasy.
It doesn't contain artificial fragrance which is very important for skin of color because fragrance can lead to irritation that causes hyperpigmentation, so to be on the safe side it is better to avoid products that have fragrance.
The Kora Organic body oil comes with an additional pump head and is packaged thoughtfully. The pump, bottle plug, and cap are included in the package, so you get to decide how to distribute the oil. When you come to the bottom of the package use a bottle plug that can be inserted directly in the bottle mouth and will improve access to the tiny amount of body oil if using the original cap.
Besides rosehip oil, sunflower seed oil, and sea buckthorn seed oil it also contains:
Noni fruit extract is derived from Noni fruit and has anti-oxidant abilities. Vitamin C, and A, flavonoids, potassium, linoleic acid, amino acids, and phytonutrients, which are believed to improve the look of skin tone and suppleness, are among the nutrients that can be found in Noni.
Due to the presence of essential fatty acids, it is hydrating and moisturizing. Also, it helps to reduce the appearance of breakouts and sunburn (red inflamed skin).
Pomegranate seed oil is very beneficial for black skin because of its anti-inflammatory abilities. Due to its high content of the omega-6 fatty acids oleic acid, linoleic acid, and palmitic acid, pomegranate oil has proven to have an affinity for decreasing inflammation and dry, flaky skin. Pomegranate oil may be especially beneficial for persons who have acne, eczema, or psoriasis because of these skin-softening and hydrating ingredients.
Its ability to fade scars and hyperpigmentation resulting in brightened skin makes it very beneficial for people with a dark complexion.
Other benefits of this oil include an anti-aging effect for firmer, bouncier skin, helping to repair UV-damaged skin, and reducing water loss.
Cliganic Organic Argan Oil
Cliganic USDA Organic Jojoba Oil