What is Best Anti Aging Moisturizer For Black Skin?
The search for the best anti-aging moisturizer for black skin can be a daunting one. With so many products on the market, it's hard to know which ones are truly effective and which ones are just a waste of money.
Fortunately, there are some tried and true anti-aging moisturizers that have been proven to work for those with darker skin tones. In this article, I will discuss the best anti-aging moisturizers for black skin and why they are the most effective at combating signs of aging such as wrinkles, dark spots, and dryness.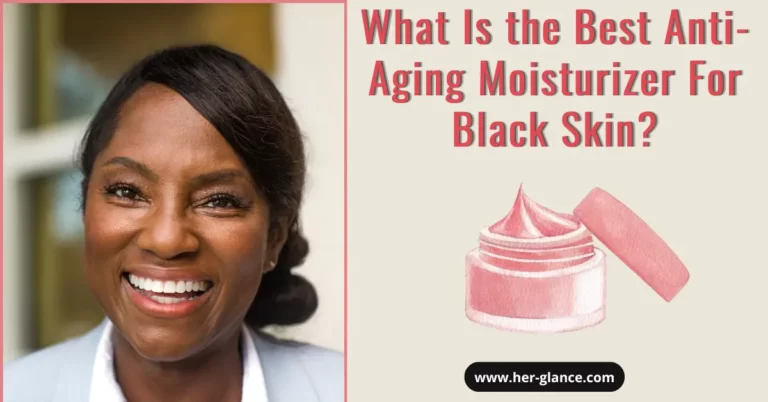 Aging is an unavoidable part of life, but that doesn't mean you have to accept wrinkles, age spots, and other signs of aging without a fight. For those with darker skin tones, finding the right anti-aging moisturizer can make all the difference in maintaining youthful-looking skin. Not only can these products help to reduce wrinkles and plump up fine lines, but they can also help to keep the complexion hydrated and prevent dryness.
Ingredients To Look For In An Anti-Aging Moisturizer
When it comes to finding the best anti-aging moisturizer for black skin, there are certain ingredients you should look for. These key ingredients help nourish and protect the skin from environmental aggressors while helping to reduce the signs of aging. Here is a breakdown of the must-have components in an anti-aging moisturizer formulated specifically for people with black skin:
Retinoids: retinoids are a powerhouse ingredient when it comes to fighting wrinkles and fine lines. It helps to boost collagen production, which helps keep the skin looking firm and youthful. Additionally, retinol also helps to even out discoloration due to its exfoliating properties.
Antioxidants: Antioxidants work by neutralizing free radicals that cause premature aging and damage to the skin. Look for moisturizers that contain vitamin C, green tea extract, or ferulic acid as these are all great sources of antioxidants.
Humectants: help keep the skin hydrated and plump by drawing moisture from the environment into your cells. This helps reduce wrinkles and restore a youthful appearance to your complexion. Some of those are hyaluronic acid, glycerin, sodium PCA, and urea.
Ingredients for prevention: sunscreen and antioxidants (consuming and topical). The sun's UV rays can be very damaging, especially for people with dark complexions. There are available moisturizers with SPF, but I would not recommend those because usually they have lower SPF. I would choose good moisturizer and good sunscreen with an SPF of 50.
Ingredients for collagen support: retinoids, fat-soluble vitamin C, peptides, and AHAs
Ingredients for keeping healthy skin barrier: ceramides, cholesterol, fatty acids, Omega 3, niacinamide, and humectants.
Anti-inflammatories: like aloe, panthenol, and allantoin because it tends to be more inflammation taking place in the skin as we age, so the skin doesn't recover rapidly from environmental assault (UV, smoking, and pollution ), and anti-oxidants to mop up free radicals and prevent collagen damage.
Best Anti Aging Moisturizer for Black Skin With Medical-grade Peptide Complex
For those looking for the best anti-aging moisturizer for black skin, there are several options available on the market today. From natural ingredients to powerful peptides, these products offer something different than traditional drugstore brands while still providing effective results.
Read on to learn more about these top-rated anti-aging moisturizers designed especially for black skin!
Replenix Age Restore Nighttime Therapy
This intensively renewing, reviving, and restorative night-time cream is formulated to help lessen the appearance of fine lines, wrinkles, and uneven tone while boosting elasticity for a plump, collagen-rich, youthful appearance without irritating the skin. The cream is fragrance-free, alcohol-free, and doesn't contain essential oils which are very important for sensitive, and skin of color, because those ingredients can lead to inflammation which can result in hyperpigmentation, and that is whole another problem to tackle.
Replenix states that 89% of users experienced clearer and more radiant skin, 84% experienced a reduction in the appearance of fine lines and wrinkles, and 84% had firmer and more youthful skin.
Apply this rigorous night-time anti-aging therapy to the preferred region (face, neck, or décolleté) in the evening after cleansing the skin, or as instructed by your doctor. It is important to note that when combining this cream with retinol, you should wait until the retinol has dried completely before using the moisturizer.
This night cream has a very interesting and effective formula. The key ingredients are:
Bio-Mimicking Ceramides that provide optimum nutrition, help heal the skin barrier, and enhance elasticity and texture, this pharmaceutical-grade ingredient replicates naturally existing ceramides. In the top layer of the epidermis, ceramides securely keep skin cells together. In addition to keeping the fluid in the epidermis, this shields it from pathogens and other outside aggressors. Ceramides are crucial for a healthy skin's look as well as its functionality. So, applying them topically is very important for dry aging skin.
The advanced, ultra-pure medical-grade peptide complex, is highly stable and helps plump skin to promote a firm, collagen-rich appearance and noticeably lessens the appearance of fine lines and wrinkles. Peptides are naturally present in our body and replenishing them is necessary for aging skin. So why do we need more peptides if the body already contains them? Experts believe aging to be the solution. After the age of 30, we lose 1% of our collagen annually, according to Dr. Robinson. "Over time, the natural pathways of transmission in our epidermis also deteriorate. Applying them topically signals your body to produce more collagen and even hyaluronic acid which leads to a healthier skin barrier.
Green tea polyphenol technology is the most potent and efficient antioxidant that immediately calms and soothes inflamed skin while protecting against aging. This antioxidant fights off free radicals (especially those that are brought on by UV-induced oxidative ultraviolet damage), which has been shown to lessen the symptoms of premature aging.
Humectants that are present in this cream are glycerin, sodium hyaluronate, and sodium PCA. According to studies, glycerin is the best humectant on the market that has small molecules that can get deep between cells to hydrate the skin. It also improves moisture retention, and skin barrier function and reduces irritation from other strong actives like retinol.  Sodium hyaluronate is a form of hyaluronic acid that helps to increase skin hydration and plumps it up which improves wrinkles and fine lines. Sodium PCA is a humectant with other benefits. It helps to restore the protective skin barrier and has anti-inflammatory properties which are very important since there is more inflammation in the aging skin.
Best Anti Aging Moisturizer for Black Skin With Retinol
Paula's Choice RESIST Intensive Repair Cream with Retinol
Paula's Choice Resist Intensive Repair Cream is a moisturizer with a rich texture and effective formula. It is suitable for sensitive skin since it doesn't contain fragrance. This moisturizer will make a great addition to your night-time routine because it contains emollients, antioxidants, ceramides, peptides, retinol, and niacinamide among other ingredients. This thick, intense moisturizing treatment helps to restore balance and moisture to your skin, deeply moisturizes parched skin, softens the appearance of wrinkles and fine lines, and gives the face, neck, and area around the eyes a firmer appearance.
The formula contains:
Glycerin is the best humectant on the market which has small molecules that can penetrate deeper into the skin. Since it is humectant it pulls the water from deeper layers of the skin and air into the outer layer of the skin. It also improves skin barrier function, provides protection against irritants, and helps to hydrate dry skin.
Jojoba seed oil is a plant oil that helps to moisturize the skin and also acts as an antioxidant, which means that it can help with damage from free radicals. It is a humectant that keeps skin hydrated and contains a natural form of vitamin E from which the anti-oxidant properties come. Oils should be a regular part of the anti-aging skincare routine because as we age our skin produces less oil and it helps to stimulate collagen production that we also lose as we age. Jojoba seed oil is similar to sebum and because of that it is less likely to clog pores. Jojoba seed oil has anti-inflammatory properties which are also important for aging skin because there is more inflammation taking place. This oil is at the top of the ingredients list which means that there is a pretty high concentration of it in the product.
Retinol helps to lessen wrinkles and fine lines by encouraging your skin to produce more collagen. They can also cause new blood vessels to form, giving your complexion a rosy hue. Age spots and uneven areas can both be faded and smoothed with retinol. When you first begin using retinoids, do not expect immediate effects. Before you notice a difference in your wrinkles or fine lines, it may take three months. The greatest effects may not appear for six to twelve months. It's crucial to be patient. And if you have any concerns, consult your doctor.
Ceramide Ng is part of a large ceramides group that makes up roughly 50% of healthy epidermis. Reduced ceramide levels result in a weakened layer, which leaves skin more susceptible to environmental stresses and dehydration. Ceramides are very important for skin of color because naturally, that skin type has lower levels of ceramides. That, combined with aging, which leads to losing ceramides in our skin can result in a weakened skin barrier so, it is very important to apply them topically.
The topical application of ceramide NG as a skin care ingredient helps to restore the skin's barrier, giving it a better chance to protect itself from outside stressors. To increase the hydration, resilience, and elasticity of the skin, single ceramides perform best when paired with other replenishing components.
Sodium hyaluronate is a cousin of hyaluronic acid. It is important to note that those two have the same effect, they are humectants that draw water to the skin and hydrate it.  But the real difference appears to be that salt is more stable, cheaper, and simpler to make, so it appears more frequently on the ingredients list.
Niacinamide also boosts collagen production to reduce discolorations and smooth wrinkles, preventing early symptoms of skin aging. Niacinamide's unique property as an anti-aging component is that it improves barrier function. Barrier damage, which is common in aging skin, can increase sensitivity and irritability by making it easier for exterior irritants to penetrate the skin. Niacinamide can be used topically to lessen skin reactivity to irritating detergents like sodium laurel sulfate (SLS) and to increase the tolerability of components like retinoids, according to studies, which makes it a great ingredient for those new to retinol. For more information about niacinamide make sure to visit this link.
Magnesium Ascorbyl phosphate (MAP), is a  pure vitamin C combined with a magnesium salt to increase its stability in water-based formulations, so it is a water-soluble type of vitamin C. Magnesium Ascorbyl phosphate is also lipophilic, or oil-loving, in contrast to other water-soluble types of vitamin C, which enhances penetration into the epidermis. (although how well this form converts to ascorbic acid within the skin is up for debate).  It helps with uneven skin tone and promotes deeper hydration. Unfortunately, it is not as strong an anti-oxidant as pure vitamin C.  
Green tea leaf extract helps to reduce signs of aging such as wrinkles and fine lines. By moisturizing, boosting circulation, and controlling sebum production, products enhanced with green tea extracts are known to further support skin health which improves the tone, structure, strength, and elasticity of the skin.
Best Anti Aging Moisturizer for Black Skin With Hyaluronic Acid
Paula's Choice SKIN RECOVERY Replenishing Facial Moisturizer Cream with Hyaluronic Acid
This is a daily moisturizer that is a great option for the skin of color. This formula doesn't contain fragrance, alcohol, and essential oils, so it is suitable for dry, very dry, sensitive, eczema-prone, and rosacea-prone skin. You can use this cream as a part of your morning or night-time routine. It is important to note that you should follow with sunscreen in the morning.  Paula's Choice Replenishing facial moisturizer alleviates flakiness and dry patches, soothes skin, and revives dry and dehydrated skin.
This formula is a combination of humectants, peptides, anti-oxidants, and anti-inflammatories The key ingredients in this moisturizer are hyaluronic acid which is a powerful humectant (hydrates the skin), chamomile extract, which is according to board-certified cosmetic dermatologist Dendy Engelman, MD, FACMS, FAAD, chamomile is a popular component in skin care because of its great calming, healing, anti-oxidant, and anti-inflammatory qualities, and evening primrose oil.
Evening primrose oil soothes and moisturizes the skin while enhancing elasticity which makes it a great anti-aging ingredient. The ability of evening primrose oil to lessen the signs of dehydration is probably one of its most well-known cosmetic advantages. Evening primrose oil is used in beauty products because it has emollient qualities that help the skin be softer and smoother generally. Additionally, it aids in retaining hydration to reduce water loss. Due to these properties, it keeps the skin hydrated and the skin barrier healthy.
Other soothing ingredients in this moisturizer are panthenol, allantoin, Oenothera Biennis Oil, Dipotassium Glycyrrhizate, and Aloe Barbadensis Leaf Juice Powder. Humectants that can be found are glycerin, sodium PCA and sodium hyaluronate.  Anti-oxidants that are present in this moisturizer are Tocopheryl Acetate, Tocopherol, Magnesium Ascorbyl Phosphate and Sodium Ascorbyl Phosphate.
Affordable Anti Aging Moisturizers for Black Skin
In this section, you can find Olay products that are affordable and effective when it comes to anti-aging. To learn more about these and other Olay products make sure to read my post "Is Olay good for your skin?"
Olay Regenerist Retinol 24 Max Moisturizer, Retinol 24 Max Hydrating Night Face Cream
Olay Regenerist Retinol moisturizer is a great option if you have sensitive skin or if you are new to retinol because it is formulated in such a stable way. It is very moisturizing and has a great overall texture.
Olay Regenerist Vitamin C + Peptide 24 Brightening Face Moisturizer for Brighter Skin
As we age uneven skin tone and hyperpigmentation increase for a couple of reasons, such as a decrease in cell turnover, which means that it takes longer for new young cells to come to the top which leads to more dead skin cells build-up resulting in dull skin that holds more to old pigmentation.
So, exfoliation becomes a very important part of the skincare routine. This moisturizer contains lactic acid which belongs to the group of AHAs.  This is a  silky, light cream with a citrus fragrance that absorbs fast into the skin, does not clog pores, and does not leave any greasy residue, so I would not recommend it for aging skin, but more for prevention for people in their early thirties.
Olay Regenerist Niacinamide + Peptide 24 Hydrating Face Moisturizer with Vitamin B3
Olay Regenerist Niacinamide hydrating face moisturizer with 99% pure Niacinamide and peptides, hydrates skin while improving moisture and promoting the skin's natural regeneration process. Unfortunately, this one has a fragrance, so if you have sensitive skin it would be best to avoid it.
How Often Should You Use An Anti-Aging Moisturizer?
Now that we've debunked some of the myths about anti-aging moisturizers, it's time to address how often you should be using them. The answer to this question depends on several factors, including your age, skin type, and lifestyle.
For younger people you have to focus on prevention by keeping your skin protected from the sun's UV rays and preventing premature aging.
For people aged 30-50, a more intensive anti-aging product should be used. This could include products with retinol or other active ingredients to help reduce wrinkles and fine lines. It's best to apply these products at night after cleansing, as they can cause skin sensitivity when exposed to sunlight. For best results, use these products 2-3 times per week.
When it comes to selecting an appropriate anti-aging moisturizer for your skin type and age range, it's important to consult a dermatologist or skincare professional first. They can provide personalized advice on which ingredients will work best for your skin and how often you should use them. With the right product and regular usage, you can achieve beautiful ageless skin in no time!