What Is The Best Lotion for Black Skin In 2023?
In this article, I will help you to find the best lotion for black skin taking into account factors such as hydration, ingredients to avoid, and non-greasy formulas.
When it comes to choosing the best body lotion, it is essential to find a product that will provide hydration and nourishment without causing irritation or leaving a greasy residue.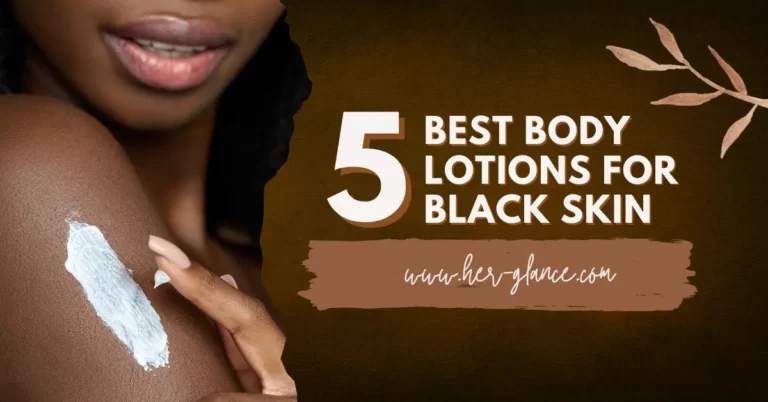 Best Lotion For Black Skin For All Skin Types (normal, oily, combination, and dry)
Necessaire The Body Lotion
For a long time, it has been very hard to find products for body care with active ingredients, because it was not profitable for the brands to add active ingredients into large containers. After all, people were not devoted to body care too much. Since nowadays people pay more attention to their bodies, fortunately, brands are more invested in products for the body.
Necessaire body lotion is a great solution if you have back acne, chest acne, or work out a lot and you need something to moisturize with. It is suitable for dry, oily, combination, and sensitive skin and it will help to moisturize, strengthen, and nourish your skin. This body lotion leaves your skin silky smooth without a greasy feeling.
It is important to note that this formula is alcohol, mineral oil, and fragrance-free, hypoallergenic, and non-comedogenic.
Since Necessaire body lotion doesn't contain common irritants, it is worth investigating its formula furthermore to look for active ingredients and humectants. It contains:
 Niacinamide, also known as the B3 vitamin is a great active ingredient for black skin because it can reduce irritation caused by other ingredients. Also, studies have shown that it has the ability to reduce dark spots on your skin. Including it, in your routine, if you have acne is a great way to reduce sebum production and breakouts due to its anti-inflammatory and anti-microbial benefits. Niacinamide also has moisturizing abilities. It belongs to the group of non-irritating ingredients which is very important for melanin-rich skin because even the smaller irritation can cause hyperpigmentation.
There are many conducted analyses of niacinamide. The particularly interesting one showed that topical niacinamide significantly improved several skin appearance impacts, including the appearance of fine lines and wrinkles, hyperpigmented spots, red blotchiness, and skin sallowness (yellowing). Additionally, elasticity was enhanced as determined by cytometry.
Another study showed that is a powerful skin-lightening agent that reduces the transfer of melanosomes (pigment cells in which melanin is synthesized and stored) from melanocytes (cells that produce melanin) to keratinocytes (cells in the epidermis, the outer layer of the skin).
You can do even more than applying niacinamide topically, you can include food that contains B3 into your diet.
Unfortunately, the percentage of niacinamide in this body lotion is not specified. But you should know that niacinamide is effective up to 5% and the higher percentage doesn't mean that the product will work better, it can even cause irritation in higher percentages.
 Glycerin is the most powerful humectant and belongs to the group of skin-identical ingredients which means that there are small chances that it will be irritating which is a good thing for avoiding post-inflammatory hyperpigmentation. Glycerin has multiple effects on the skin such as improving skin barrier function, protecting from irritating stimuli, helping with wound healing, and smoothing out wrinkles.
Studies have shown that glycerin-containing products used topically enhance skin characteristics in conditions such as atopic dermatitis that are characterized by decreased epidermal barrier function. In skin problems caused by dry and cold climatic circumstances, such as winter itchiness, the enhancement of epidermal hydration by glycerol is crucial.
Peptides or polypeptides are amino acids that naturally occur in the skin and make up certain proteins such as collagen. Applying them topically can help your skin to boost collagen production which means firmer skin and fewer signs of aging. Peptides also help to strengthen the skin barrier, reduce inflammation, and repair damaged skin. The body lotion is a great way to add peptides to your skincare routine because it is stay on the product which means that there is more time for them to work.
It also contains several plant oils, such as marula fruit seed oil which is rich in antioxidants, fatty acids, and amino acids that make it a great moisturizer for dry and aging skin that keeps skin hydrated and well-nourished.
Another oil in this formula is meadowfoam seed oil which is lightweight and suitable for all skin types. It is occlusive so it prevents water evaporation and keeps skin hydrated, soft, and supple. The presence of jojoba seed oil makes this lotion great for black skin because it is a plant oil that has anti-inflammatory properties that help to reduce chaffing, chapping, signs of eczema, and rosacea and keep skin calm.
Besides plant oils, this formula is also rich in fruit extracts. It contains green tea extract that has anti-inflammatory and antimicrobial properties which make it great for treating a number of skin concerns like rosacea, acne, and atopic dermatitis. Apple fruit extract can also be found in this lotion. It is great for moisturizing and smoothing skin due to the presence of malic and gallic acids that have mild exfoliating properties for skin brightening. Lemon fruit extract is also one of the extracts present in this body lotion. It helps to brighten up the complexion, control oil production, and unclog pores. And now based on the formula you can see why this lotion can be considered as the best lotion for black skin (for all types).
Paula's Choice Weightless Body Treatment 2% BHA, Salicylic Acid
Paula's choice Weightless Body Treatment is an exfoliating body lotion with 2% Salicylic acid which belongs to the group of BHAs. Exfoliation is very important for our skin especially as we age because cell turnover slows down and dead skin cells accumulate on the top layer of the skin which makes the skin look dull. But people with melanin-rich skin need to do it carefully because if you overdo it and your skin burns melanocytes can be triggered which leads to more hyperpigmentation.
You have to be gentle with your skin, use suitable products, and prevent hyperpigmentation with sunscreen. BHAs in the concentration of 2% are great for skin of color, especially for acne-prone skin. Exfoliating acids work on the epidermis and remove dead skin cells which improves the texture of the skin, reduces pigmentation due to the removal of pigment trapped in dead skin cells, and brightens up the skin. BHA exfoliating acids are fat soluble and have the ability to go into the pore, remove any debris and minimize the appearance of the pore.
So, Paula's choice Weightless Body Treatment is suitable for all skin types normal, oily, combination, and dry skin. This body lotion made my list of best body lotions for black skin because of the fact that people have reported that it also helps with keratosis pilaris. Keratosis pilaris is a common skin condition that frequently affects the upper arms, thighs, cheeks, and buttocks. It creates dry, rough areas and little bumps. Typically, the bumps don't pain or itch, but some people find them unappealing and want to get rid of them.
The formula is very interesting. As mentioned above it doesn't contain common irritants and besides salicylic acid, it also contains hydrating and skin-soothing ingredients.
Hydrating ingredients that can be found in Paula's Choice Weightless Body Treatment are:
Butylene glycol is a humectant that is beneficial for the skin and useful for the formula. It hydrates the skin and keeps it soft and moisturized. And it also helps to treat acne symptoms. It is useful for the formula because it reduces viscosity, stabilizes the product, and acts as a preservative.
Dimethicone is a non-comedogenic form of silicone that moisturizes the skin. It also protects the skin from irritants, seals in hydration, reduces trans-epidermal loss, controls shine, and gives the skin a silky feeling.
Cyclohexasiloxane is one of the numerous synthetic silicones used in cosmetic formulations to increase skin hydration and texture.
As you can see this body lotion doesn't contain common and stronger humectants like glycerin, urea, hyaluronic acid, sorbitol, or sodium PCA, so don't expect it to work like a regular lotion or body butter, it is a body treatment that exfoliates the skin and a great way to add active ingredients into your body care routine.
Skin-soothing ingredients in this formula are:
Chamomile extract is a great ingredient to include in your routine because it has antioxidant properties that help to fight damage caused by free radicals. It can help with several skin concerns like inflammation, redness, hyperpigmentation, and acne.
Willow-herb extract contains beneficial compounds. Salicin, which can be found in this extract has anti-inflammatory properties that help to treat acne and it is suitable for all skin types. Fun fact: salicylic acid, a common component in skin care products, is a derivative of salicin. Willow herb extract contains polyphenols that help to fight free radicals and reduce signs of aging. It also keeps skin hydrated by improving moisture retention. The presence of tannins makes tightening of pores possible.
Bisabolol besides skin soothing can also help maintain skin, tight and youthful looking by noticeably reducing the indications of aging due to its antioxidant qualities.
– Allantoin is a great ingredient for people with sensitive skin because it is not irritating, and it is an effective moisturizer that provides hydration and reduction of signs of aging.
Best Lotion For Dry And Sensitive Black Skin
Eucerin Intensive Repair Essential Oil Balm
Eucerin Intensive Repair Essential Oil Balm has kind of a misleading name. "Essential oil" on the packaging may indicate that the body cream contains essential oils and that is not the case. There are no essential oils in the formula, it contains plant oils that are essential for skin health, and I think that is where the idea for the name comes from. It also doesn't contain fragrance or alcohol.
When you first see it, you compare it to Vaseline, seems the same, but it spreads wonderfully and is lighter. The best way to use this body cream is to apply it after taking a shower and put on a robe to let it absorb before putting on clothing. Even though it is not that greasy it is for the best to include it in your nighttime routine since it does contain a lot of plant oils.
This cream is very moisturizing and ideal for dry, sensitive, and very dry skin since it doesn't contain irritating ingredients. Eucerin Intensive Repair body lotion is beneficial if you use retinoids like tretinoin or retinol and your skin peels, it moisturizes the skin and masks the peeling. It is very important to note that you should be careful with using retinol on dry skin and don't overdo it. Also, many users that suffer from eczema have reported that it has reduced their eczema flair-ups.
It can be slightly comedogenic for some people since it contains decyl oleate which has a comedogenic rating of 3 and Cetearyl alcohol which has a comedogenic rating of 2, which means that these ingredients are moderately comedogenic, and can cause clogging of pores to some people.
Eucerin Intensive Repair Essential Oil Balm can also be used as a foot or hand balm due to the presence of urea.
Hydrating ingredients that are present in this body lotion are:
Glycerin is the best humectant on the market according to many conducted studies and the effects that it has on the skin you can find in the section about Necessaire body lotion.
Urea acts as a humectant which means that urea can help to preserve skin health and hydration. It is a very great ingredient to include in a skincare routine for melanin-rich skin because urea has the ability to soothe irritation and increase penetration of other ingredients which is very useful if you are using some active ingredients for fighting hyperpigmentation. Unfortunately, just like in the case of niacinamide in previous body lotion, there is no specified percentage of urea which is important because different percentages are used for treating different conditions.
Studies have shown that creams containing urea are most effective for treating dry skin on the feet which means that this Eucerin balm is a great deal because of the ratio of its affordable price and benefits for the body.
Glycine can help to improve moisture retention, increase collagen formation, and ability to support skin repair and regeneration, this amino acid (glycine) is commonly employed in anti-aging skincare products. As an amino acid that is naturally present in the skin alongside sugars and electrolytes, it is great for keeping skin hydrated and supple.
Now let's move to the plant oils that can be found in Eucerin body balm. Plant oils are a great way to add extra nourishment to your skin and you can do so by using pure oils or products that contain oils. This body cream contains:
Castor seed oil contains ricinoleic acid which is a fatty acid that acts as an occlusive that can prevent water evaporation from the skin and smooth it. Other benefits include reducing signs of aging, puffiness, and damage caused by UV rays and moisturizing.
Shea butter helps to soothe, moisturize and tone your skin.
Sunflower seed oil is rich in vitamin E and linoleic acid and both of those ingredients are very beneficial for the skin. Vitamin E is an antioxidant that helps to fight signs of premature aging and linoleic acid helps your skin to retain moisture and keeps it hydrated.
If you are interested in oils that are beneficial for the skin of color, make sure to read one of my previous posts on the topic of the best oils for black skin.
Best Lotion For Black Skin That Is Prone To Eczema
CETAPHIL RESTORADERM Soothing Moisturizer
Cetaphil Restoraderm soothing moisturizer has a great formula for eczema-prone skin that will help to soothe dry itchy, irritated skin and restore skin's moisture retention. It checks all the boxes. Body lotion doesn't contain fragrance, alcohol, essential oils, or steroids, it is hypoallergenic and accepted by the National eczema association.
The formula of this body lotion is a combination of hydrating, soothing, skin-identical ingredients and even skin brightening.
The compounds that are responsible for hydration are:
Glycerin is the best humectant on the market and one of the market and adding it to your skincare routine will also help to tolerate other ingredients, smooth out wrinkles, and improve moisture retention and skin barrier function. These benefits are super important for dry skin and especially for dry skin of color.
Arginine belongs to the group of amino acids that are essential not just for hydration but also for the protection of the skin barrier from free radicals and premature aging. All of that is possible because arginine is a powerful antioxidant, acts as a humectant, and boosts collagen production. Besides applying it topically you can also add food that is rich in arginine (mead, dairy, seeds, beans, and nuts) into your diet for better-looking skin.
Ceramides are skin-identical compounds that are not humectants but they have hydration-boosting properties. They are naturally present in the skin but as we age their production and quality lowers which leads to a damaged skin barrier which means dry, rough skin, wrinkles, redness, irritation, dehydration and on top of that people with darker complexion naturally have lower levels of ceramides in the skin. So, it is very important to add products containing ceramides to your routine to replenish them.
Soothing ingredients that can be found in this formula are:
D-panthenol is an anti-inflammatory and great addition to any skincare product because it is emollient and humectant which means that it has the ability to moisturize and soothe the skin and also keep water in the skin or in other words reduce transepidermal water loss.
Allantoin has many other benefits for the skin besides soothing. Those other benefits include: moisturizing, improving cell turnover, increasing collagen production, and helping with wound healing.
Colloidal oatmeal calms irritation, soothes itching, and softens your skin. Due to its anti-inflammatory characteristics, which help maintain the pH balance of your skin naturally, it is excellent for persons with dry skin. To help your skin, rehydrate, colloidal oatmeal binds to it and traps moisture. It also helps to protect your skin by creating a layer over your skin and blocking irritants. If you have celiac disease, be a little bit careful and do a patch test because in rare cases applying it topically can trigger a rash.
CeraVe Moisturizing Cream
CeraVe moisturizing cream is great for dry skin that is also prone to eczema. It is one of those products with affordable prices and great formula.
The formula of this cream is great. It doesn't contain alcohol, fragrance, and essential oils and it is accepted by the National eczema association. Ingredients that make this cream worthy of your attention are glycerin, petrolatum, Cetearyl alcohol, and of course ceramides.
To find out more about CeraVe moisturizing cream you can read my previous post on the topic "Is CeraVe good for eczema" where you can find more CeraVe products that are suitable for dry skin and will help you treat eczema.
Why Is Finding The Best Lotion For Black Skin Important?
Melanin-rich skin needs special care in terms of hydration because studies have shown that it contains lower levels of ceramides, lipids that are a natural component in the skin in charge of keeping healthy skin's protective layer which limits water loss. So, because of the lack of ceramides black skin is more prone to dryness and needs skin-replenishing ingredients to keep skin healthy.
Skincare can help close the gap when skin is deficient in the natural nutrients it requires by replacing those chemicals and that is the reason why is finding the best lotion for black skin so important.  Antioxidants, skin-restoring components, and skin-replenishing compounds found in abundance in moisturizers, serums, body lotions, and therapy products assist the skin to maintain a healthy, normal water balance while avoiding moisture loss.
In your quest of finding the best body lotion there are factors that you have to take into consideration:
Hydration level implies the existence of humectants that will attract water molecules from the environment or deeper levels of the skin to the epidermis.
The ingredient list is very important, but unfortunately often people don't pay attention because that seems like too much work. When buying lotion try to avoid fragrance because it is the number one cause of contact dermatitis.                                              Also, look for simple alcohols because it is very important to avoid those since they tend to dry out the skin. Not all alcohols are drying, in many lotions, you can find fatty alcohols that are actually good for your skin such as Cetearyl alcohol, Cetyl alcohol, and isostearyl alcohol.
If it is non-comedogenic, this factor is very important for oily and acne-prone skin because lotions can contain plant oils that are comedogenic, which means that they can cause clogging of pores. So, to avoid that look for a non-comedogenic sign on the package.
How To Apply Body Lotion?
Body lotion should be a regular part of your shower routine, and yes that needs to be emphasized because a lot of people pay attention to facial skincare and neglect the body.
How many times have you hopped out of the shower and felt too lazy to apply moisturizer to your body?
That happens to all of us a little too often, so in this blog post, you can find tips on how to apply body lotion to take advantage of all the benefits that moisturizer offers.
After taking a shower make sure to pat your skin dry, but keep it damp before applying your moisturizer. This makes perfect sense because once your skin has completely dry water is evaporating, and it is also taking more water with it. If you completely dry your skin after showering your skin feels tight and dehydrated and that is what we don't want.
So, to avoid that tight feeling, which is a mistake, pat your skin dry, and on damp skin apply body lotion. Also, make sure you don't use any rough towel and scrub with a towel because that way you are irritating the top layer of your skin, which is unnecessary.