Is CeraVe Paraben Free – All Products Checked 2023
Are CeraVe products paraben free? For you, I went into the formulations of the most famous CeraVe products in detail and checked whether they are paraben-free and whether they are harmful to your skin. We talked a little more about what parabens are, how harmful are they, whether can children use products with parabens, and whether is there an alternative for them.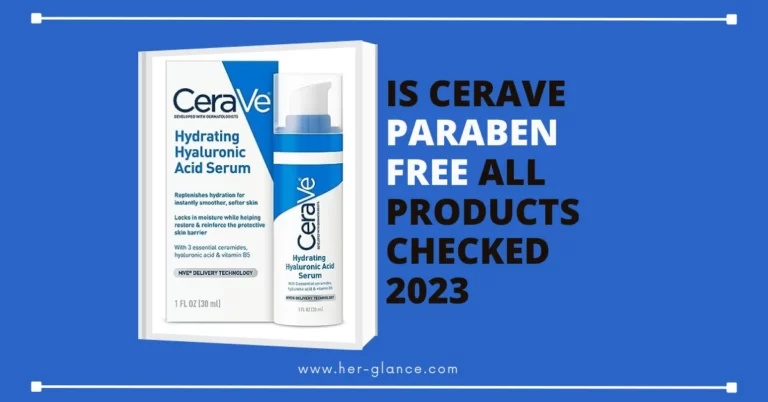 CeraVe hydrating lotion has a very similar formulation to the hydrating cream, primarily intended for dry skin, but the lotion is also suitable for extremely dry and dehydrated skin. It has an extremely light texture and from my personal experience it is also suitable for eczema problems. Also enriched with ceramides, but also with MVE technology, which enables the controlled release of long-term hydration and is responsible for 24-hour hydration. It also contains triglyceride, which is a super common emollient in the skin care industry that, take my word for it, makes your skin beautiful and smooth.
The product is fragrance-free, non-comedogenic and completely paraben-free.
Is CeraVe Hydrating Cleanser Paraben Free
CeraVe hydrating facial cleanser is an emulsion made mostly for normal to dry skin. With its composition, it also helps sensitive, irritated skin. It gently removes dirt and make-up and does not leave the skin dry or tight. The presence of hyaluronic acid and ceramide helps retain moisture, restore and maintain the skin's natural barrier. Here, too, MVE protection is present for long-term delayed full hydration. The formulation was developed in cooperation with dermatologists and is accepted by the National Eczema Association. 
The product does not cause irritation, is non-comedogenic and paraben-free.
Is CeraVe Sunscreen Paraben Free?
This is a 100% mineral cream with SPF50 and it repels all the sun's rays. Like every CeraVe product, it contains 3 ceramides, and like most products, hyaluronic acid is also present. What these ingredients do on your skin I have said several times in the text, so I will not repeat myself. The cream is also formulated with titanium dioxide and zinc oxide which creates a protective barrier on your skin to help reflect UVA and UVB rays without irritating sensitive skin.
It is ideal for daily use, and I recommend using it 15 minutes before sun exposure and reapplying it at least every two hours.
The cream is allergy tested, non-comedogenic and perfect for sensitive skin. It is fragrance-free and paraben-free, precisely to make it gentle on your skin.
Is CeraVe PM Face Moisturizer Paraben Free
CeraVe PM facial cleanser is a product that is perfect for your night routine, regardless of your skin type. It has soothing ingredients, a soft texture, and is useful in restoring and preserving the natural skin barrier. And the product does all this for you while you sleep, does it get any better than that? It has a very similar formulation to the previously listed products, with the addition that it is mainly intended for normal to oily skin.
The product was developed in cooperation with dermatologists, is completely safe for use, is odorless, non-comedogenic and paraben-free.
Is CeraVe Paraben and Sulfate Free
CeraVe is a brand that was invented 18 years ago and is a favorite among dermatologists, precisely because of its formulations and ingredients that are natural and do not cause any harm to your skin. CeraVe products are designed to work with the skin's natural biology to provide long-lasting hydration and help restore the skin's protective barrier.
One of the things that sets CeraVe apart from other skincare brands is its commitment to using only pure, non-irritating ingredients that are suitable for all skin types. They are completely free of parabens and sulfates, as well as any other preservatives that would extend the shelf life of CeraVe products.
To illustrate the CeraVe products ingredients and which ones are paraben free take a look at this table: 
| CeraVe Product | Paraben Free | Positive Ingredients | Negative Ingredients |
| --- | --- | --- | --- |
| CeraVe Moisturizing Cream | YES | Glycerin, Ceramide NP, Ceramide AP, Ceramide EOP, Sodium Hyaluronate | NONE |
| CeraVe Moisturizing Lotion | YES | Ceramide NP, Ceramide AP, Ceramide EOP | NONE |
| CeraVe Hydrating Cleanser | YES | Glycerin, Ceramides, Hyaluronic Acid, Phytosphingosine | NONE |
| CeraVe Sunscreen | YES | Titanium Dioxide (9%), Zinc Oxide (7%), Glycerin, Sodium Hyaluronate, Palmitic Acid | NONE |
| CeraVe PM Face Moisturizer | YES | Glycerin, Niacinamide, Sodium Hyaluronate, Ceramides, Carbomer | NONE |
Does CeraVe test on animals? CeraVe products do not contain fragrances, sulfates and parabens. They are also non-comedogenic, meaning they won't clog pores. So, now that we know a little about the brand and its products, let's take a closer look at whether CeraVe is cruelty-free.
Unfortunately, CeraVe is not a cruelty-free skincare brand. The company tests on animals when required by law. In addition, CeraVe products are sold in mainland China, where animal testing is required by law for all imported cosmetics.
So if you're looking for a cruelty-free skincare brand, CeraVe isn't for you. However, if you're looking for a brand that makes gentle, effective skin care products, CeraVe is definitely worth checking out.
Overall, reviews are mixed when it comes to CeraVe's animal testing policy. Some people are happy to continue using their products because they feel the company is transparent about their testing and only tests on animals when required by law. Others have decided to boycott the brand because they do not support any form of animal testing.
Their products are gentle and effective and offer a wide range of options for all skin types. Although it is of course important to consider animal welfare when choosing our skin care products.
What Means "Parabens Free"?
More and more often, the label "paraben-free" can be found on the packaging of cosmetic products. Do you know what she is telling you? The purpose of parabens, a type of preservative, is to slow down or prevent microbiological contamination of various cosmetic and pharmaceutical products. Parabens are the cheapest type of preservative used to extend the shelf life of products, and they were introduced in the middle of the last century.
The development of bacteria or mold in the product can adversely affect the health of consumers and cause various disorders and diseases, and it is estimated that parabens are found in almost 90% of cosmetic products. But why then, if their primary purpose is to prevent product contamination, do more and more products carry the "paraben-free" label?
In simpler terms, parabens are chemicals that have the properties of the hormone estrogen.
The danger of prolonged use of products containing parabens lies in the fact that they are not broken down in the body, but are deposited around the bones, heart, breasts… and, according to research, they are one of the potential culprits for the development of cancer.
But as is usually the case with controversial and hot topics, another type of research has shown that even long-term use of preparations containing parabens is not harmful to the body. However, it is up to each individual to decide whether to use such products or not, and that is why it is important to be informed and weigh the reasons "for" and "against".
The most common parabens used in cosmetic preparations are methylparaben, ethylparaben, propylparaben, isobutylparaben and others.
In addition to them, phthalates are often used, with the aim of more effective microbiological preservation of the product, which is also mentioned in the context of a negative impact on health, as well as preservatives that can release harmful formaldehyde (imidazolidinyl urea, diazolidinyl urea, DMDMD hydantoin, quaternion- 15).
Many opponents of parabens in cosmetics believe that they are only there to make the product last longer and that they are also quite harmful to the body, in the sense that they have a very bad effect on the body in the long run. Proponents of paraben in cosmetics emphasize its many positive properties. First of all, the fact that paraben-free cosmetics would be very short-lived if they were not there. What is even more important and what is perhaps the true value of parabens in cosmetics is that they protect cosmetics from spoilage.
We are quite aware of when cosmetics are bad and when we should not use them. First of all, we determine this based on the smell of cosmetics. Namely, when the contents of any bottle change the smell, of course we will not continue to use it.
However, there are also those types of spoilage of cosmetics that are not noticeable "at first smell". Namely, some bacteria or fungi can appear in cosmetics without us noticing it, at least at first.
Parabens in cosmetics serve precisely to prevent these harmful substances from spoiling the cosmetics in any way and to protect us from possibly using spoiled cosmetics without being aware of their bad effects.
How Harmful are Parabens?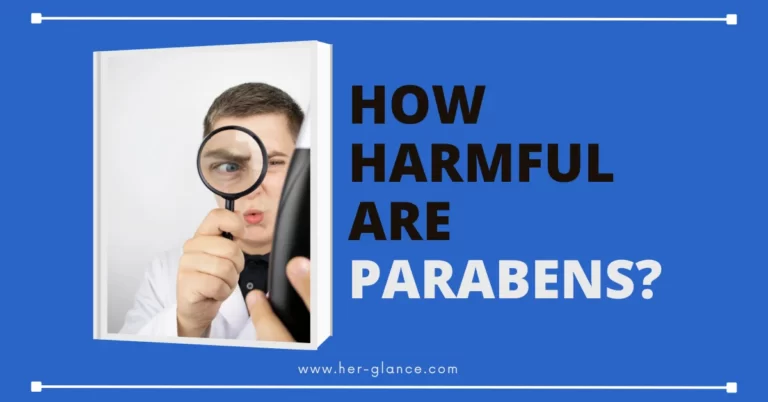 Companies use parabens to extend the shelf life of products and prevent the growth of bacteria and fungi, for example in face cream. No one wants to put mold on their skin, so it's understandable why companies use it.
But in recent years, there has been a debate between scientists, product safety regulators and cosmetic manufacturers about whether the ubiquitous chemicals that have been used for nearly 70 years are actually harmful to our health. They can cause various allergies on more sensitive skin, and some of the questions are whether parabens lead to breast cancer and whether they cause fertility problems.
Parabens in Products for Children
The permeability of the skin and the underdeveloped immune system of children under the age of three is a particularly "dangerous terrain", and great progress has been made here, so more and more cosmetic products intended for small children are reformulated, that is, parabens are removed, and harmless preservatives are used as substitutes, often from natural sources. (extract of rosemary, grapefruit, oregano, probiotics…).
Parabens are not only found in cosmetic products. Research has shown that some form of paraben is also found in food – yogurt, turkey, red wine, fish and seafood…
It is difficult to connect and prove the connection between the consumption of these products and various tumor diseases, but scientists are still trying to find the limit of harm and agree on this issue.
It should be kept in mind that a natural product is always a better choice, which, in truth, has a shorter shelf life because it does not contain questionable preservatives, but has no harmful effects on health.
Is there an Alternative to Parabens?
Although experts are still divided on this topic, some manufacturers have turned to alternatives and are creating paraben-free products. Due to the fact that they do not contain preservatives, their shelf life is shorter, but this only means that they contain more natural ingredients that are not harmful to your body. Therefore, such products are more suitable for those with more sensitive or problematic skin.
We live in an age where we can really be happy with the rise of products that do not use ingredients like parabens, alcohol and silicone. Such products require more attention, for example, some that we use for a long time after opening, such as face creams, must be kept in the refrigerator.
Natural ingredients such as almond, olive or lavender oil in paraben-free products will show their benefits for our skin in the best light without the intervention of preservatives.