Best Night Cream For Pigmentation
Finding the best night cream for pigmentation includes a lot of research and commitment. That kind of cream ideally should have a formula that fights against hyperpigmentation without irritating ingredients like fragrance or parabens. In the text below I have listed several night creams with different active ingredients, so you can make an informed decision. There you can also find tips on choosing the best night cream for hyperpigmentation, determining your skin type, and what ingredients to look for.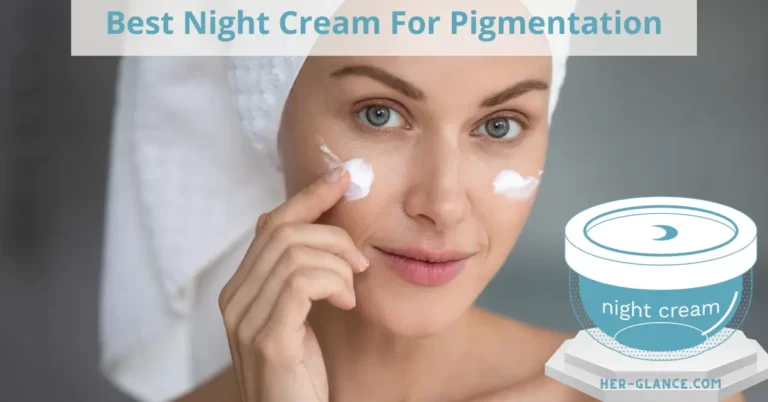 Bioderma Pigmentbio Night Renewer
This cream is a part of the Pigmentbio line that tackles dark spots. The formula contains superstar ingredients that are very effective in treating hyperpigmentation. The texture is lightweight cream-gel and absorbs quickly. I have seen reviews where people say that they had to use a small amount because combined with serum, it made their skin greasy. It was fine for my skin, and I have combination skin that is more on the greasy side. I have to note that the cream has a light floral scent, but Bioderma claims that the cream is suitable for sensitive skin. If I were you, I would be careful due to the fragrance and I would follow how my skin reacts.
It is on the pricy side, but I think the ingredients make it worth trying out. The cream works based on LumiReveal technology which prevents and reduces hyperpigmentation while boosting cell renewal where hexapeptide-2 reinforces the pigment fading action.
Superstar ingredients in the formula:
This night cream also has an anti-aging effect on the skin due to the previously mentioned hexapeptide-2, which helps to regulate collagen production.

Vitamin C and E help protect against oxidative damage while salicylic acid improves the overall look of your skin.

It also contains niacinamide which next to dealing with dark spots helps the skin to tolerate strong ingredients.

Another ingredient in the formula is azelaic acid which has many benefits for the skin. It has an anti-bacterial effect (including acne-causing bacteria) which makes it a great choice for acne-prone skin. It helps to prevent blackheads, whiteheads, and inflamed acne lesions, has anti-inflammatory effects, and reduces hyperpigmentation. Pigmentation on oily skin can be hard to get rid of. To learn more about causes and how to treat it make sure to read my post about the best serums for pigmentation on oily skin.

And last, but not least is licorice root extract. According to one study, licorice is even better than hydroquinone, the gold standard ingredient for hyperpigmentation. Licorice has been described as one of the skin-lightening treatments with fewer side effects overall.
Best Night Cream for Pigmentation With Mulberry Fruit Extract And Vitamin C
M.A.D Skincare Brightening Radiance
To be honest, I have not used this night cream, but based on the ingredients list and reviews it looks like it can make a difference on the skin and that is the reason it can be considered as the best night cream for pigmentation with vitamin C.
This luminous night moisturizer leaves your skin feeling hydrated and fresh while working to plump the skin, even out skin tone, and reduce the appearance of fine lines and wrinkles. Allow this thin moisturizer to give your skin a radiant, especially young appearance. I have to note that it does not contain both parabens and chemical colorants.
The formula has interesting ingredients like:
Emblica Fruit Extract, a plant derivative with skin-brightening properties, helps minimize skin discoloration, giving the skin a more luminous and healthier glow.

Multi Vitamin C Complex – As we already know vitamin C is an antioxidant that helps to fight free radicals and inhibits the production of melanin, which is responsible for skin pigmentation. It also promotes collagen production which means less apparent fine lines and wrinkles.

Mulberry Fruit Extract is traditionally used to treat hyperpigmentation. The extract contains natural humectants that can help improve skin hydration by attracting and retaining moisture and boosting collagen production according to some studies.

Bearberry Fruit Extract is another naturally derived extract that helps reduce melanin production and prevent hyperpigmentation.

 
Best Night Cream for Hyperpigmentation with Glycolic Acid
Before I start talking about the benefits of glycolic acid, I have to note that it can be potent, so you should choose concentration carefully. There are some guidelines when using this type of AHA. It's important to start with a lower concentration, incorporate it gradually into your skincare routine, and always use sunscreen throughout the day because the skin becomes more sensitive to UV rays. Also, be sure to wash your face in the morning! It wouldn't be healthy for your skin to leave it on all day. When choosing optimum concentration for your skin I would recommend you do it with a dermatologist's help.
Now let's move on to the benefits of this acid. The main benefit of glycolic acid that is important for the topic of my post is its capacity to play a role in the removal of the outermost layer of our skin by breaking the bonds that hold dead cells together. It "unglues" the skin cells from one another. Breaking this link sets off a series of events that increase cell turnover and renewal, giving your skin a fresh, youthful appearance. Your skin's pH level might be maintained, any leftover acne scars can fade, and pores unclogged.
Other benefits include anti-aging, fighting against a whole range of skin irritation and acne issues, and the fact that it is safe for all skin types. I have to note that glycolic acid can be strong for dark complexion, so if you need more information and want to learn how to treat hyperpigmentation on skin of color make sure to read my post "Best Hyperpigmentation Cream for Dark Skin".
Replenix Glycolic Acid Resurfacing Cream
Besides glycolic acid (20%), this cream also contains vitamins A, C, E, and CoQ10.  These ingredients provide triple antioxidant protection against free radicals keeping the skin barrier healthy. Replenix night cream also contains glycerin, a humectant that keeps the skin hydrated. It doesn't contain alcohol, fragrance, or essential oils which is always a big plus when choosing skincare products and that is why I consider it the best night cream for pigmentation.
Up until the threads on the jar started breaking (literally crumbling), the cream itself worked perfectly. The cream became of no use when the little, sharp shards of plastic fell in unless you were willing to risk getting cut on them. Other users also reported this problem, and I don't know if they have solved it. Excellent product, poor packaging in my opinion. When I bought my second round, I transferred the cream into an empty and cleaned container of another cream to avoid dealing with that mishap.
Naturium Glycolic Acid Resurfacing Gel 10%
Like the previous one besides glycolic acid of 10%, this night cream contains two forms of vitamin E, glycerin and hyaluronic acid for hydration. It is without fragrance, alcohol, or essential oils. There is not much to say about this cream because it is very similar to the previous one, the main difference is the concentration of glycolic acid.
YOUN Beauty Face Brightening Cream
This brightening cream is part of a skincare line created by cosmetic Surgeon Dr. Anthony Youn who is a supporter of ethical beauty that keeps its promises and is equally secure. He takes a two-pronged holistic approach to skin health: nutritious food and pure but efficient skin care. So, this night cream is without parabens, phthalates, formaldehyde releasers, and fragrances.
It has a thick and rich texture but goes on without feeling heavy or greasy and the face feels hydrated and supple after applying. The cream has a lot of brightening ingredients like licorice root extract, glycolic acid, kojic acid, and salicylic acid. It also contains moisturizing and hydrating ingredients like hyaluronic acid, sunflower oil, jojoba oil, vitamin E, and vitamin B5.
Best Night Cream for Pigmentation With Retinoids
SKINWIT Revitalizing Brightening Night Cream
Just one look at the ingredients list made me consider this cream as the best night cream for pigmentation with retinyl acetate. Skin texture issues and hyperpigmentation are common complaints for a lot of people, especially ones in their late 20s and early 30s, so including night cream with ingredients like retinoids, niacinamide, or hyaluronic acid can be a part of the solution.
The formula is quite interesting because it combines ingredients that brighten the skin, strengthen the skin barrier, stimulate cellular turnover, provide antioxidant protection, and deliver deep hydration. Another thing that I like about the cream is that it doesn't contain a bunch of ingredients that can be irritating to the skin.
There are no essential oils, artificial colorings, SLS, SLES, alcohol, or synthetic fragrance, among others Since it doesn't contain fragrance you can expect a different scent than you are used to (if you use scented products), but if you regularly use unscented products than it will be fine.
The formula has interesting ingredients like:
As I have already mentioned, the cream contains retinoids, a retinyl acetate to be specific, which is a milder form of vitamin A. Retinoids work on a principle that they promote skin cell turnover and renewal, which can help in fading dark spots over time. I have to mention that their ability to do so varies from person to person and results can take from several weeks to months. Also, they can be irritating to the skin, so you have to use them with caution.

Luckily this cream also contains niacinamide and hyaluronic acid which can help your skin tolerate stronger ingredients. As you already know niacinamide also reduces the production of melanin which helps to fade existing dark spots and prevent future ones. Even if it doesn't directly treat hyperpigmentation, hyaluronic acid helps in the other way. It helps to keep the skin hydrated and well-hydrated skin can look more plump and healthy, which can make hyperpigmented areas seem less noticeable.
Allies of Skin Retinal & Peptides Repair Night Cream
Allies of the Skin is one of those brands whose products are more of an investment, and worth trying out. They make their products with a busy lifestyle in mind. This is their "smart" beauty line "designed to be simple to use while maximizing the functions of smart formulations that support your skin's health."
Their products are free of silicones, sulfates, alcohol, synthetic colors, phthalates, perfumes, and essential oils and are PETA-friendly. I would recommend this cream for aging skin because it contains anti-aging ingredients that those of you in your early twenties don't need. On the other hand, they have stated in the description that the mask is clinically proven to help problematic skin types recover faster, reducing acne lesions by 67.2% in 28 days, so you will have to make your decision.
The formula has interesting ingredients like:
This innovative formula packs a punch with a time-release of 0.05% Retinaldehyde, a 13.5% Peptide Complex, 9 Antioxidants, and 5 Brighteners which is enough to consider it the best night cream for pigmentation with retinaldehyde. This mask is your skin's best friend when it's feeling stressed and fatigued. It not only replenishes much-needed moisture but also illuminates your complexion, by reducing signs of premature aging (dark spots, wrinkles, and fine lines).
So, one of the superstar ingredients in the formula is retinaldehyde (retinal). They have used encapsulated retinaldehyde which works wonders for the skin. It's a game-changer in fighting breakouts, smoothing out wrinkles, and reversing sun damage.
The best part? It does all this without the usual irritation associated with retinoids, so in my opinion, it is better to use retinaldehyde over retinol if you are just starting with retinoids. Because of the retinal formula, this cream is just for nighttime use, and you should apply SPF in the morning.
Also, if you have sensitive skin, or you just want to be extra cautious you can use toner or serum under the mask to make it easier for your skin. I use gentle niacinamide and hyaluronic acid toner that has a niacinamide concentration of 2% (I recommend using niacinamide up to 5% because anything above that can be irritating to the skin). How does niacinamide help? Well, it helps your skin to better tolerate strong ingredients.
Best Night Cream for Pigmentation With Retinol Substitutes
This night cream seems like a very good deal. It is affordable, has a great formula with beneficial ingredients, and is without those annoying ones that irritate our skin like fragrance. It is also oil-free which means that it will not clog pores.
I have purchased this product three or four times and have been using it for a while. It helps my skin appear beautiful and I believe it is one of the great products I have used to help fade dark spots. It leaves skin feeling smooth and moisturized. The only thing that I have a problem with is a lid. Oh my God, how that thing frustrates me. It is loose and has a hard time remaining on especially if the bottle falls over.
Now let's look at the formula. Cetaphil says that with a soft, souffle-like texture and bakuchiol as its main ingredient, Healthy Radiance Renewing Cream is the perfect retinol substitute for sensitive skin. The cream is designed to hydrate skin instantly for a smoother and more radiant look while significantly reducing the appearance of hyperpigmentation and dark spots. Besides Bakuchiol it also contains niacinamide which helps to tolerate strong ingredients, reduce hyperpigmentation, and helps to regulate sebum production.
Because of the bakuchiol, start with this cream a few times a week, so you can see how your skin will react to it, don't use it in a routine with other strong ingredients, and religiously apply SPF the day after.
Best Overnight Mask For Hyperpigmentation
Paula's Choice Radiance Renewal Night Mask
When you are dealing with hyperpigmentation both from sun damage and acne scars adding brightening treatments with ingredients that affect those is necessary.  So, this mask includes bearberry fruit extract, vitamin C, niacinamide, and arbutin, which are excellent treatment ingredients for hyperpigmentation.
Besides those brightening ingredients, it also contains glycerin and a form of hyaluronic acid, which are humectants, so they keep your skin hydrated. According to a 2016 study, glycerin is one of the best humectants on the market with small molecules that penetrate deep into the skin. So, after using this mask your skin should feel hydrated and brightened which in my opinion is a great deal, who minds extra hydration for their skin?
I love this mask because of alpha arbutin. It is a safer alternative to hydroquinone, which is the strongest and most effective hyperpigmentation ingredient, but it can irritate the skin. So, using alpha arbutin which is generally well tolerated and less likely to irritate is smart and beneficial for the skin.
Another thing I love about this mask is the fact that it doesn't contain dyes, alcohol, parabens, or fragrance.
How to Choose Night Cream for Pigmentation
Choosing the best night cream for pigmentation starts with knowing your skin type because not all creams are suitable for all skin types. The second step is the examining ingredients list. Take a close look at the ingredient list. Look for key ingredients that deal with your issues, in this case, hyperpigmentation. For example, if you also want anti-aging effects consider a night cream with retinoids or peptides. Or if you want your cream to be not just brightening but also hydrating go with hyaluronic acid or glycerin.
If you have sensitive skin and want to avoid irritation avoid fragrances, alcohol, and certain essential oils. The best way to do that is to look for fragrance-free and hypoallergenic formulas. Above I have included fragrance-free and scented formulas, so both you guys with sensitive skin and those of you who like your products to smell nice can find something for yourselves.
The textures of night creams vary from thin gels to thick creams. Pick a texture that is suitable for your skin type and needs. Consider a lightweight, oil-free product if your skin is greasy. A cream that is thicker and more emollient might be better for dry skin.
And in the end, it can take some time before you feel a night cream's benefits. Make sure to maintain your skincare routine with patience and consistency.
How To Determine Your Skin Type?
As a first step in choosing a night cream, I wrote that you should determine your skin type. So, if you are unsure of your skin type, here is an infographic that can help you.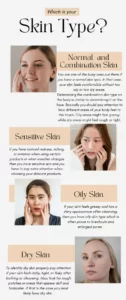 Key Ingredients For Hyperpigmentation
As a second step in finding the best night cream for pigmentation, I started examining the ingredients list. This includes looking for ingredients that fight against hyperpigmentation by inhibiting melanin production (the pigment responsible for dark spots) or by exfoliating. Those types of ingredients are:
-alpha arbutin (melanin inhibitor)
-niacinamide (reduces melanin production),
-vitamin C (melanin inhibitor),
-kojic acid (inhibiting tyrosinase, an enzyme involved in melanin synthesis),
-retinoids (increase skin cell turnover, which can help fade hyperpigmentation),
-licorice root extract (also inhibiting tyrosinase activity and reducing melanin production),
-azelaic acid (great for treating post-inflammatory hyperpigmentation (PIH)),
-mulberry extract (contains arbutin),
-glycolic acid (exfoliator from the AHA family),
-ferulic acid (combined with vitamin C and vitamin E, enhances their stability and brightens the skin).