Best Korean Sunscreen for Body in 2023
Today we present to you the Best Korean Sunscreen for Body, knowing that Korean cosmetic products are known for their effectiveness, innovation and the use of the best ingredients. So it's worth asking: Are Korean sunscreens the best on the market?
So when it comes to sunscreens, it's no surprise that Korean formulas are also considered a shade better than the rest. Koreans simply consider sun protection the last but most important step in their k-beauty routine. Sun protection is a very important part of the Korean lifestyle and Korean women apply sunscreen every day – whether indoors or outdoors.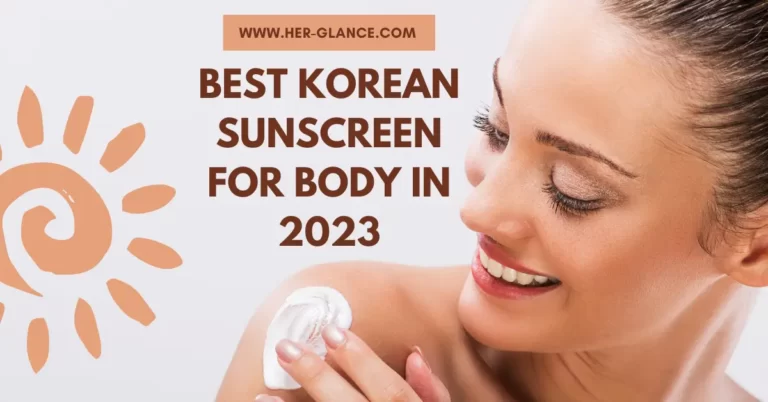 The best Korean Sunscreen for Body in 2023 are:
VILLAGE11FACTORY Cica Sun Lotion
Elizavecca Stick Milky Piggy Sun Great Block
Deoproce Hyaluronic Cooling Sun Gel

Dodo 3W Clinic Intensive UV Sunblock Cream

Elizavecca Milky Piggy

Frudia Ultra

Farm Stay Aloe Vera Sun Cream

Scenic Sun Essence

Day-Light Protection Airy Sunscreen

Missha All Around Safe Block Aqua Sun

THANKYOU FARMER Sun Project Water Sun Cream

Thank You Farmer Sun Project Shimmer Sun Essence
VILLAGE11FACTORY Cica Sun Lotion
If you have a normal skin type, then the best Korean sunscreen for your body is VILLAGE11FACTORY Cica Sun Lotion. The Korean cosmetic brand VILLAGE 11 FACTORY presents a product with the highest level of sun protection. In addition to its main function – protection from ultraviolet rays, it nourishes, moisturizes and restores. Contains squalane and soybean oil.
These ingredients soften the face and retain moisture, as well as prevent premature aging. The composition is also rich in chia and Centella seed extracts. They give the skin a natural glow and prevent the appearance of wrinkles. Suitable for any type of dermis and will not cause allergic reactions.
Best Korean Sunscreen for Body – For Kids
Elizavecca Stick Milky Piggy Sun Great Block SPF 50
The best Korean sunscreen for body for kids comes from the best manufacturer of Korean cosmetics, it is perfectly applied to the face in a thin layer and is almost invisible. The product has a wide range of functions – from lighting, and giving a glowing effect to improving the epidermis.
It should be applied immediately before sun exposure. The composition includes lavender, mint, chamomile, lemon balm, sage. Herbs promote hydration and rapid cell regeneration. Collagen makes the face elastic and prevents the appearance of red spots and other pigmentation.
Best Korean Sunscreen for Body – Combination Skin Type
Deoproce Hyaluronic Cooling Sun Gel
Gel with SPF 50+ protection moisturizes the face and prevents red spots and burns. Cosmetics are easy to apply, absorb well and leave no sticky or greasy residue. It is suitable for both oily and combination types.
Contains extracts of bamboo, olive, aloe and baobab seeds. It also contains hyaluronic acid and glycerin. They slow down the aging process of the dermis and whiten it a little, thereby getting rid of freckles. You must apply the gel 20 minutes before exposure to the sun.
Best Korean Sunscreen for Body – Against Freckles and Facial Redness
Dodo 3W Clinic Intensive UV Sunblock Cream
The best Korean Sunscreen for freckles and facial redness is 3W Clinic Intensive UV Sunblock Cream. Sun protection cosmetics from 3W Clinic can be used not only for sunbathing but also for water treatments. It is water-repellent. The product has a high level of sun protection, even when it is outdoors for a long time. It consists of natural ingredients – aloe, ginseng extract, mulberry. They sufficiently moisturize the face and maintain the moisture balance.
Best Korean Sunscreen for Body – Aging Skin Type
Elizavecca Milky Piggy SPF 50
Milky Piggy cosmetics is the best Korean sunscreen with an unusual name and design is the highest level of protection against direct sunlight. In addition to the main function, the product gives a light lifting effect, rejuvenates and tightens the face. It contains plant extracts and collagen. Milky Piggy is perfect for people with freckles, it whitens and heals cells. When applied, it does not leave traces and a greasy shine, therefore it is suitable for all skin types.
Best Korean Sunscreen for Body – Dry Skin type
Frudia is daily care. It is suitable for both dry and oily skin. Contains pomegranate and macadamia seed oils and natural extracts. The main function of the product is to protect the face from sunlight, retain moisture in the cells of the dermis and moisturize.
It is applied in one layer, the consistency is soft, it is absorbed immediately and leaves no residue.
Best Korean Sunscreen for Body – Irritated Skin type
Farm Stay Aloe Vera Sun Cream
The best Korean sunscreen for an irritated body is most definitely Farm Stay Aloe Vera Sun Cream. This Farmstay product reliably protects the body from the sun's rays, moisturizes and nourishes. By using this product, you can forget about burns, irritation and peeling after exposure to the sun. Its advantages are certainly that it is very easy to apply and absorb, and it has a divine smell.
Best Korean Sunscreen for Body – for Pigmentation Problems
Scenic Sun Essence SPF 50
The Best Korean Sunscreen for the body with pigmentation problems is Scenic Sun Essence SPF 50. Scenic essence perfectly protects the body from burns and pigmentation when exposed to the sun. Aloe and green tea extracts that are part of the composition sufficiently soothe and moisturize the body. The essence can replace the base for make-up or the usual day cream. With light application, it can be used daily.
Best Korean Sunscreen for Body – Oily Skin type
Day-Light Protection Airy Sunscreen
The best Korean Sunscreen for Oily skin type is Neogen Lab Day-Light Protection Airy Sunscreen. This light sunscreen provides the best sun protection for oily skin. Full of moisturizing ingredients and 20 types of plant extracts, helps calm, mattify and make the face and skin soft and velvety smooth.
Some of the other advantages are that it regulates the production of sebum and at the same time hydrates the face, gives the face a soft and velvety appearance, does not leave white marks, makes the face fresh and soft and absorbs well and does not stick.
Best Korean Sunscreen for Body – Sensitive Skin type
Missha All Around Safe Block Aqua Sun
The best Korean sunscreen for sensitive skin types is for sure Missha All Around Safe Block Aqua Sun. This protective preparation is an indispensable component of skin care when staying in the sun. Its advantages are that it protects the skin from damage due to UV radiation, absorbs quickly, nourishes the skin, the product is suitable for sunny, cold and windy weather and is mild for delicate, sensitive skin.
Apply the preparation about 20 minutes before sunbathing. Repeat as necessary, especially after bathing, in case of sweating and drying the skin with a towel. Apply protective preparations in sufficient quantity.
Best Korean Sunscreen for Body – Dry and Dehydrated Skin Type
THANKYOU FARMER Sun Project Water Sun Cream
The best Korean Sunscreen for dry and dehydrated skin is Water Sun Cream SPF50. The texture is smooth, light and non-sticky, and the feeling on the skin is like a pleasant moisturizing cream.
Contains plenty of natural ingredients such as phyto-oligo, inka omega oil and bamboo extract, sodium hyaluronate, aloe, centela asiatica. As the formulation contains plant extracts, it also has a mild smell, which quickly disappears after application. It does not leave a white film and protects using 5 chemical filters and one mineral filter. 
The packaging is elegant, it fits in any purse, and dry and combination skin will enjoy the formulation the most, without the need to apply a moisturizing cream at the same time. The serum will be enough for daily care.
Best Korean Sunscreen for Body – for Dark Spots
Thank You Farmer Sun Project Shimmer Sun Essence
The best Korean sunscreen for body with dark spots is  Sun Project Shimmer Sun Essence. Moisturizing African walnut oil locks in moisture, while aloe leaf extract and blueberry extract soothe inflammation.
The smooth, lightweight formula contains mineral and chemical ingredients and is infused with pink micro-pearls to brighten and even skin tone for a radiant finish. It is an excellent foundation for makeup as well as for days without makeup, because the slight subtle shimmer beautifies the skin, giving it the glow of well-hydrated skin.
It does not contain artificial colors, parabens or mineral oil. It is necessary to use the protective factor every day, in winter and summer, indoors as well as outdoors. Face care, serums, masks, chemical peels – everything is in vain if the skin is exposed to the sun and damaged without protection.
Why Are Korean Sunscreens with SPF So Popular?
We are often asked why Korean SPF  sunscreens are so popular compared to Western ones. To understand this, we need to consider how the use of sunscreen was (and in many cases still is) perceived.
In Asian countries, the skin should be as light as possible and have a flawless even complexion. In addition to a smart attitude towards the sun – that is, avoiding exposure of the skin to the sun, daily application of sunscreen has been common for a long time.
In America, on the contrary, a "healthy tan" is what we strive for, and only recently has it become common to use sun protection every day and not just on the beach. Personally, I didn't use sunscreen until my mid-twenties, and it definitely shows on my skin and resulted in an ongoing battle with hyperpigmentation, which in my twenties I called sun-crazy freckles.
When you wear a cream with a protective factor every day throughout the year, you expect that cream to have a light texture, a good foundation for makeup, and at the same time to nourish and hydrate.
Americans and Europeans who used SPF cream mainly on summer holidays had different expectations – to feel protected from redness and sunburn on the beach – a white film and a heavy, thick texture were considered desirable and provided a feeling of protection from sunburn in the sea and on the beach.
Precisely because of these differences in the sun and skin protection, completely different creams are formulated. Perhaps we can call it the culture of sun protection, where Asians have a centuries-old tradition and Westerners have recently started in that direction. A large number of women still consider the so-called "marmalade" to be a must-have on the beach and still want a bronze tan (which is unbelievable to me when I hear it).
Korean Sunscreens for Body: Light Formulations
The usual experience with sunscreen is a greasy, heavy, white formulation that is hard to absorb and leaves a mark on the skin. The most noticeable difference between Korean sunscreens and those produced in the Western market is that the former has a much milder formulation.
If you ask anyone in the K-beauty industry, they'll tell you it's because Korean chemists have access to the best and latest UV filters that are specifically designed for everyday wear — not just outdoor use, which is usually the main target of American brands. This is why Korean sunscreens are light, do not leave white spots and can be used under makeup.
How to determine the SPF of Korean Sunscreens?
Most Western cosmetic brands produce creams with a protective factor that only protects against UVB rays. Only if you see the PA mark on the cream, you will know that it also protects against another type of UV rays – UVA rays. Korean beauticians also use measures to protect against UVA rays, which are marked with PA.
The PA rating system looks like this:
PA+: Low UVA protection
PA++: Moderate UVA protection
PA+++: High UVA protection
PA++++: Extremely high UVA protection
Korean sunscreens usually have SPF 50+ which is relatively hard to find in other markets.
Benefits of Korean Sunscreens for Body with SPF
In contrast to the "Western" world, which is obsessed with sunbathing and tanned skin, in Korea as well as in Japan, light and especially airy skin is everyone's dream.
Have you noticed that on the beach these nations are always covered up and in the water they are wearing SPF from head to toe? And they always wear a hat with a wide brim!
You don't have to have excess wrinkles and pigment spots if you protect yourself well. Not to mention the risk of skin cancer. So, the benefits of Korean sunscreens for the body with SPF are:
High protection factor
Unlike most other sunscreens, Korean SPF creams almost all contain a protection factor of 50+. And this guarantees better and longer protection of your skin.
Perfect texture
Don't want to slather on SPF creams every day because the texture of high-factor sunscreens is usually too thick? You don't have to be afraid of that with Korean creams. They have a light texture that does not irritate the eyes, is easily absorbed into the skin and works perfectly even under foundation.
Caring substances
In addition to a high protection factor, Korean SPF creams also contain other substances that benefit the skin – for example hyaluronic acid that tightens nicely or antioxidants for particularly high protection against free radicals.
Easy refilling
You should properly reapply your SPF every two hours. And in Korea they thought of it again. Not only are the creams easy to reapply, but you can choose, for example, an SPF in a stick.
Although every sunscreen around the world has an obvious goal – protection from UV rays and then the first signs of aging, Korean sunscreens have another advantage: nutrients. They usually contain ceramides and hyaluronic acid, which protect the skin barrier and deeply hydrate the skin.
How to use Korean sunscreen?
The key part of sunscreen is reapplying it every two hours to protect your skin. Many Korean sunscreens are packaged and designed for easy reapplying as needed.
Are Korean Sunscreens Safe?
The fact is that the Korean beauty industry is constantly introducing novelties that are often not approved by the American Health and Safety Commission. However, according to the manufacturers, Korea itself has a strict cosmetic control system that guarantees that the cream that reaches us must be safe and healthy.
What To Pay Attention To When Choosing A Sunscreen
To choose the right individual sun protection, pay attention to your age, lifestyle and skin condition. The older a person is, the more protective cosmetics they will need. Until the age of 20, the skin needs little maintenance because it is still young and firm.
Release form and persistence play an important role in choosing the type of protective cosmetics. It can be cream, gel, lotion, paste, spray or mousse. Here you need to continue from the time spent in the sun. If you choose a cream or lotion, they will become very hot in the sun and are uncomfortable to apply. In this case, a spray is more suitable.
If a person plays sports in the heat, he needs a waterproof composition with a suitable compact package to take with him. If the time in the sun is less than 2 hours, it is better to choose the simplest cream with the minimum degree of protection.
If we intrigued you about Korean cosmetics through the text, then you should definitely read our other texts that talk about products from this country, such as Best Korean Sunscreen Stick In 2023, Best Korean Toners  or  7 BEST Vitamin C Korean Serums.