Best Face Cleanser for Black Skin in 2023
Today we bring you the best face cleanser for black skin, for every type of black skin that will fit perfectly into your routine. Daily cleansing of the facial skin is a small but very important ritual that the skin remembers. Impurities, make-up and excess sebum that accumulate on the facial skin during the day must be thoroughly removed every day. But you surely already know that very well.
You may not always be in the mood to cleanse, but this short ritual will really make your skin remember. And she will thank you. Insufficient and improper facial cleansing causes clogged pores, blackheads, acne, fatigue and lifeless complexion.
There are different facial cleansers, and we try our best to bring you the best for your skin type.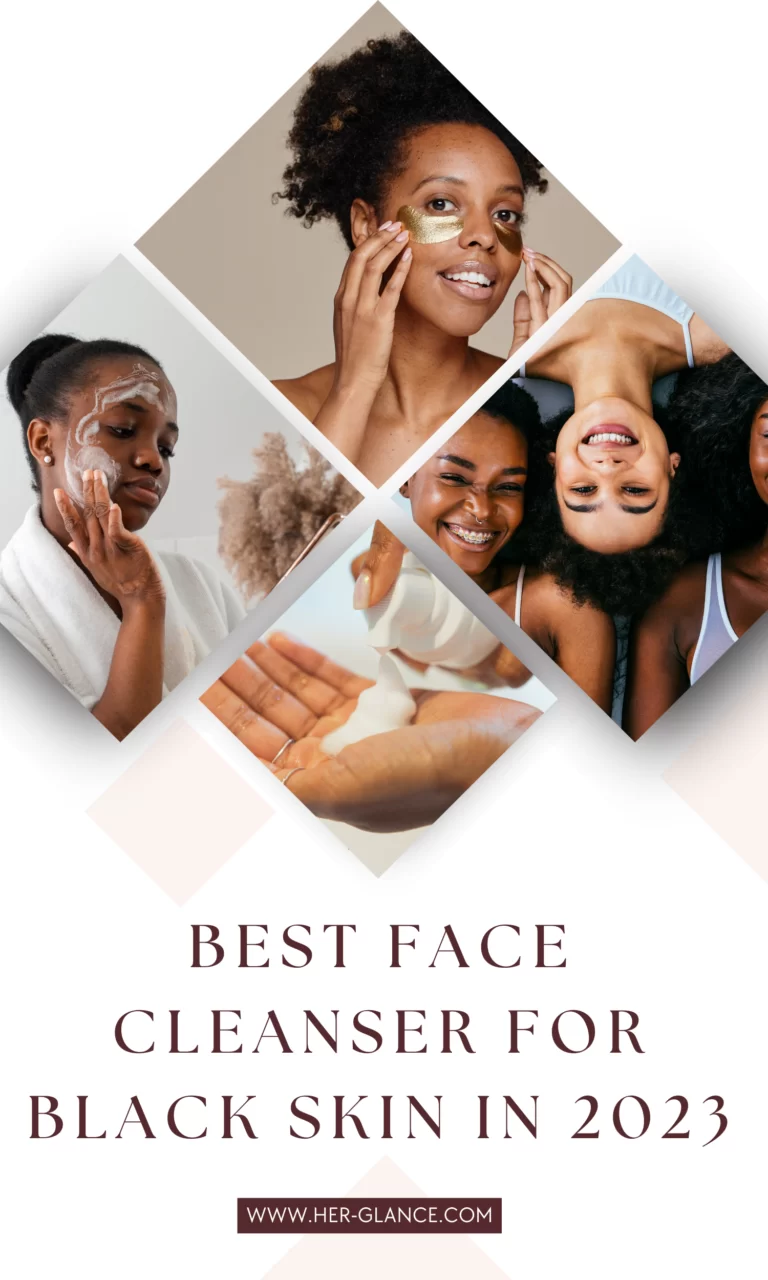 The best Face Cleansers for Black Skin in 2023 are:
Uriage Hyseac Cleansing Oil
Novexpert Cleansing Oil With 5 Omegas
Vanicream Gentle Facial Cleanser
Bioderma Sensibio Micellar Water
Eucerin Hydrating Cleansing Gel
CeraVe Foaming Facial Cleanser
Uriage Hyseac Cleansing Oil
The best face cleanser for oily black skin is Uriage Hyseac Cleansing Oil. For oily and acne-prone skin, the biggest problem is sebum, that is, the greasy shine that breaks out on the surface of the skin.
If you use strong products to clean oily skin, the skin will retaliate by producing even more sebum. So, even if it seems to you that oily skin needs a stronger product, choose a mild product adapted to an oilier skin type.  For ladies with problematic skin to have a "weapon" for all the problems their skin faces in their minimalist routine, the Hyseac line of the Uriage brand includes Purifying Oil for facial cleansing and makeup removal.
Of course, this is only the first step, during which even waterproof makeup is removed from the face, but it is definitely not "just" cleaning. The product is intended for mixed to oily acne-prone skin, and it also works by cleaning pores and reducing excessive sebum secretion, restoring the skin's radiance.
Considering the composition, it is also suitable for cleaning the sensitive skin around the eyes: it contains, namely, sunflower oil – rich in omega 3 and 6 acids – in addition to removing make-up, it has an antioxidant and moisturizing effect.
There is also black seed oil rich in fatty acids, antioxidant vitamins and anti-inflammatory and antimicrobial active ingredients, which purify, soothe and stimulate. Malic acid ester has an exfoliating effect and stimulates cell renewal with its keratoregulating effect, and it also contains vitamin E, one of the most well-known antioxidants.
Best Face Cleanser for Dry Black Skin
Novexpert Cleansing Oil With 5 Omegas
You don't have time to use several products in your daily face care routine, make-up remover, facial cleanser, moisturizer, anti-aging cream… Novexpert proposes a new, quick and simple ritual. One single step, 4 effects. Cleansing oil with 5 Omega removes all types of make-up, is even waterproof, and can be used on the entire face, around the eyes and on the lips.
After cleansing, the facial skin remains hydrated all day, and 5 Omega fatty acids (3, 5, 6, 7 and 9) will significantly improve the surface texture and smoothness of the skin in a month. In combination with a soft cotton tissue, this highly effective oil will work powerfully, but at the same time very gently.
Thanks to the 100% natural composition and the high proportion of ingredients formulated by doctors, it is a formula that will leave the face well-groomed, soft and radiant.
For daily use, it is recommended to apply a few drops of oil on one side of a moistened tissue, after which remove the rest of the make-up with the other – clean side. For evening, deep cleansing, it is best to apply a few drops of oil on dry hands and massage the face, including the area around the eyes.
After that, it is necessary to add lukewarm water with your hands and thoroughly rinse the product, which will turn into an emulsion when it comes into contact with water.
Best Face Cleanser for Sensitive Black Skin
Vanicream Gentle Facial Cleanser
The best face cleanser for sensitive black skin is most definitely Vanicream Gentle Facial Cleanser. This facial moisturizer from Vanicream is designed with sensitive skin in mind, so it's free of dyes, fragrances and other preservatives. 
Moisturizing, dermatologically tested formula locks in moisture without clogging pores, which is ideal if your skin is sensitive or prone to irritation. The product is very practical and can be used day and night. It consists mostly of hyaluronic acid and ceramide to keep your skin constantly hydrated.
If you are interested in the differences and similarities between the brands Vanicream and CeraVe, you can read our text Vanicream vs CeraVe FULL COMPARISON. 
Best Face Cleanser for Normal Black Skin
Bioderma Sensibio Micellar Water
The best face cleanser for black skin that does not have any particular problems is Bioderma Sensibio H2O micellar water.
In one stroke, it removes all make-up, including waterproof eye make-up, without burning or irritation. After use, the skin is refreshed without signs of tightening and redness and impurities and makeup are completely removed.
It does not leave any trace on the face and if you are not already in the habit of washing your face after micellar solutions, you will be grateful for this. The absence of taste when removing the product from the lips is another positive characteristic in the series, as well as the fact that there is no smell.
This will probably be the gentlest micellar water you've used and will completely remove all impurities and make-up from your face, which will make you use this product for a very long time.
Best Face Cleanser for Dry and Sensitive Black Skin
Eucerin Hydrating Cleansing Gel
The best face cleanser for dry and sensitive black skin is Eucerin Hydrating Cleansing Gel. Dry and sensitive, intolerant and redness-prone skin requires special care with very mild cleansers that do not contain any aggressive ingredients, parabens and perfumes.
Among the active ingredients there are APG complex, Glyco-glycerol and Hyaluronic acid. The APG complex is an efficient and very mild cleaning complex. `G' stands for glucoside, which is a naturally occurring surfactant. Surfactants are active ingredients in cleansers that allow them to cleanse the skin by dissolving and removing impurities.
Glyco-glycerol is an identical combination of glycerol and glucose as in nature. Glyco-glycerol, which has been used by blue-green algae for 3.5 billion years to survive, has been proven to stimulate the formation of aquaporin 3 (AQP3) in human skin cells, thus increasing the number of aquaporins. Aquaporins control the transfer of water into and out of cells.
The more AQP3, the better the distribution of water within the deeper layers of the skin. By stimulating the distribution of water in the skin itself, glyco-glycerol helps to hydrate the skin as well as strengthen its barrier function.
Hyaluronic acid is a substance that is created inside the body and forms part of the connective tissue of the skin. One of its basic functions is to maintain moisture in the skin by binding water to itself. It can increase 30 times its molecular weight in water.
As we age, the skin's natural ability to produce hyaluronic acid declines and wrinkles begin to form and deepen.
Best Face Cleanser for Acne-Prone Black Skin
CeraVe Foaming Facial Cleanser
All CeraVe products are very mild, non-comedogenic, odorless, and at the same time have a simple composition. In addition to ceramides, CeraVe cosmetics also contain other active ingredients such as hyaluronic acid, glycerin or cholesterol.
The most important ingredients are hyaluronic acid which retains moisture in the upper layer of the skin, MVE technology that gradually releases moisturizing substances over 24 hours, essential ceramides that help restore the skin's natural protective layer, and it is certainly important that the product is soap- and perfume-free and that hypoallergenic product.
You can use the emulsion both in the morning and in the evening so that it becomes a constant ally in your routine. In the evening, use double facial cleansing, while in the morning wash only with emulsion.
What do I get with Face Cleanser for Black Skin?
Facial cleansing:
– Remove dirt, dust, grease and other impurities that remain on the skin every day;
– Removes make-up, remnants of creams with SPF and other facial care products;
– Reduces the appearance of redness, pimples and similar unwanted changes;
– Prepares the skin for further care steps and the application of serums, creams, makeup.
 As a rule, after cleansing, facial toning follows, to restore the natural pH balance, cleanse the face (remove particles that are not soluble in water, such as limescale) and soothe the skin. Only then are serums, creams and similar cosmetic products applied.
When, How And How Often To Use Face Cleanser For Black Skin?
It is recommended to use products for cleaning the face twice a day: in the morning and the evening. Cleansing your face is the step you should take to start any care routine, including facial makeup.
Evening cleansing, usually before going to bed, removes make-up, impurities accumulated during the day, sweat, dust, excess sebum. Even if you don't wear makeup, don't skip this step. If you use waterproof makeup, it is advisable to apply the so-called double cleansing treatment. This includes: 1) removing makeup with an oil-based product, which enables efficient and easy removal of waterproof makeup, and 2) additional cleansing of the face with a mild water-based product.
It is known that the skin is renewed overnight, so morning cleansing removes fat, remnants of creams and other products used for night facial care, as well as the surface layer of dead cells.
As a rule, the skin cleansing product is applied to a slightly damp face and massaged with gentle, circular movements until soapy water forms. It is recommended that the movements be directed upwards, as well as when applying creams, to further stimulate circulation.
For application and massage, devices with brushes intended for cleaning and massaging the face, brushes with synthetic fibers or silicone needles, cotton swabs, gloves or fingers can be used. If you apply and massage the product with your fingers, be sure to wash your hands well beforehand.
After using the skin cleanser, it is necessary to thoroughly wash the face with lukewarm water, paying particular attention to the area next to the hair. After that, it is necessary to dry the skin with a towel, with gentle patting movements, i.e. to collect excess water. Make sure that the towel is always clean, dry and soft. Avoid rough fabrics and aggressive skin rubbing.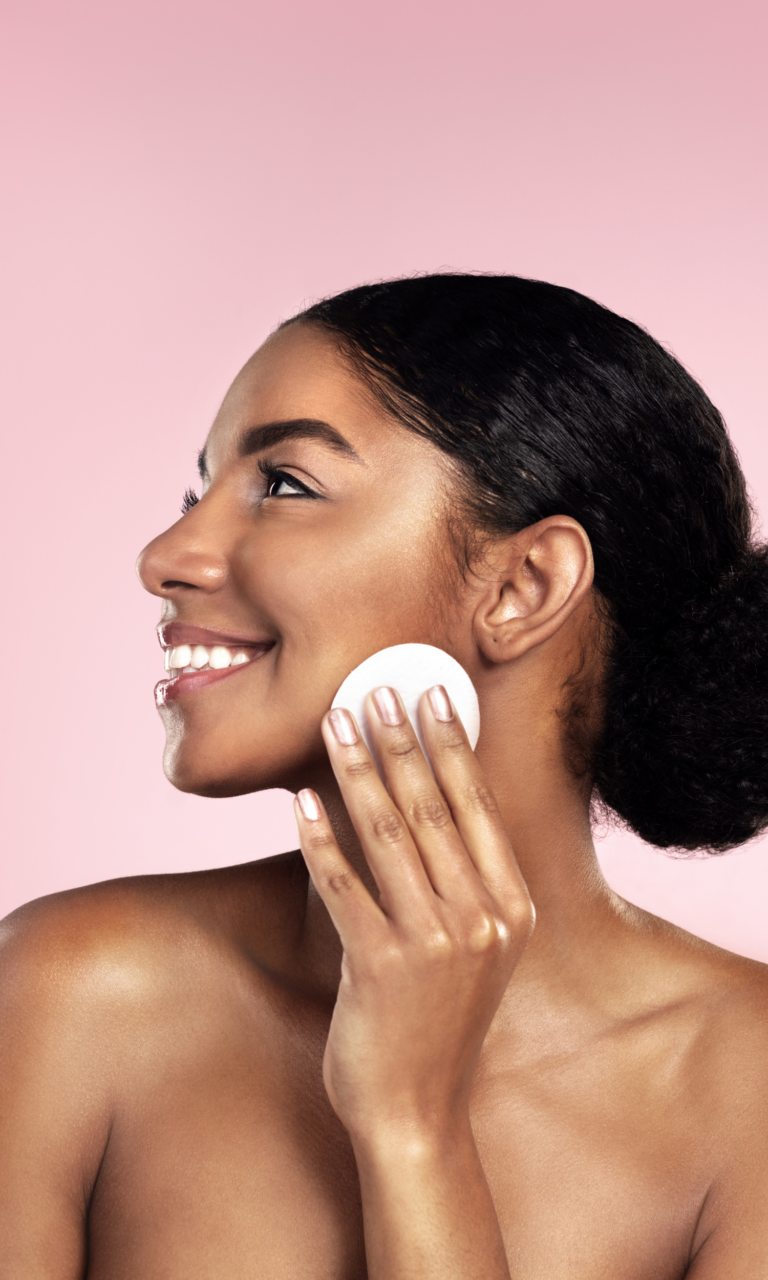 How To Clean Your Face Properly?
Proper facial cleansing can do much more for your skin than just removing make-up, impurities and sebum – it can have a big impact on improving the overall condition and appearance of your skin. For healthy skin, it is important to know three key steps: cleansing, toning and hydration.
Facial skin should be given more attention if we want to keep it healthy and youthful for as long as possible.
Insufficient and improper facial cleansing causes clogged pores, blackheads, acne, fatigue and lifeless complexion. Therefore, follow the simple steps to keep your facial skin healthy.
When choosing a product to clean and care for your face, take your skin type into account. Skin care with products that are not intended for your skin type can cause redness and dryness of the skin.
Facial cleansing and washing gels are ideal for oily and combination skin, while for dry and sensitive skin, gentle foams and skin cleansing milks are best.
Refreshing micellar water is loved by all skin types. It can be used as a pre-cleanser for removing make-up. Namely, it cannot be our main cleaner because it dissolves dirt and therefore does not remove it thoroughly.
Peeling is good for the skin because it removes impurities from the pores, sebum and dead cells, and makes the face radiant and refreshed. It is enough to do it once or twice a week to achieve a clean and even complexion.
Hydration of the skin is extremely important if we want to maintain a healthy and youthful appearance of the skin. A healthy and youthful appearance is due to hyaluronic acid in our skin, and hydration helps restore the necessary moisture and hydrates all cells, nourishes and hydrates the collagen. However, the basic prerequisite for the cream to work is that it is used on cleansed skin.
Moisturizing masks also help with hydration. They are rich in active ingredients that will ensure that the skin is healthy and youthful even in the deeper layers. They are extremely important in the case of a damaged skin barrier because such skin loses moisture intensively and in dry skin types. It is recommended to introduce them in the middle of summer and winter because that is when the greatest loss of moisture occurs.
Face Cleanser for Black Skin – Importance of Quality micellar water
It is necessary to pay attention to the ingredients. Micellar water should be mild and contain as many natural ingredients as possible. It is necessary to soak the pillow well so that there is no excessive friction and therefore irritation on the skin.
Cleansing the face and removing make-up with micellar water is very easy, without a lot of rubbing, and dirt and make-up come off quickly.
Therefore, quality micellar water is one that:
removes make-up,
instantly dissolves waterproof make-up,
It is suitable for sensitive eyes and the sensitive area around the eyes,
respects the physiological balance of the skin,
does not cause redness,
leaves the skin comfortable, without a feeling of tightness.
For most people, facial cleansing should be done in the morning and at night before going to bed. If you have been exposed to a lot of dust, dirt or pollution, it is necessary to clean your skin afterward.
However, it is not good to clean the skin too much either, because in that case the precious natural oils are removed from the skin.
What Does Professional Facial Cleansing Look Like?
For many women who haven't had the opportunity to go for a professional facial, it can seem a bit intimidating. The treatment, which lasts for several hours and is somewhat painful at the same time, can initially put us off the idea of visiting a beauty salon. However, by doing so, we deprive our skin of all the benefits of this treatment.
Facial cleansing is recommended for all skin types, and the treatment process itself is divided into three or four segments, depending on the type and condition of the skin being treated. The first segment is the removal of dead skin cells by exfoliation and the opening of pores using water vapor and ozone, which will allow us to extract blackheads or milia more easily.
This is followed by mechanical cleaning or extraction, which must be done for a maximum of 30 minutes, to avoid violent cleaning of the pores. If the skin has not been cleaned for a long time, it is better to repeat the cleaning in three weeks, than to overdo it and irritate the skin by cleaning for too long. The extraction is followed by toning and high-frequency disinfection of the pores.
The third segment is calming and nourishing the skin with a face mask, which again depends on the type and condition of the skin we have treated.
As a fourth segment, a massage of the face, neck and décolleté is usually suggested to further stimulate the metabolic processes of the skin and for the skin to better absorb the nutrients from the mask and cream that we apply at the end of the treatment. Massage is not performed on skin affected by acne, as well as on extremely sensitive skin types.