Best Collagen for Women Over 50
Today we're talking about how collagen helps you stay healthy, beautiful and vital in your 50s, and I present you the best collagen for women over 50.
Collagen is a key component in bones, skin, muscles and other parts of the body. Supplementing collagen peptides may benefit women in their 50s and promote skin and bone health as they age.
The influence of collagen is much more extensive than that, so let's look at what it all helps us with and which one to choose.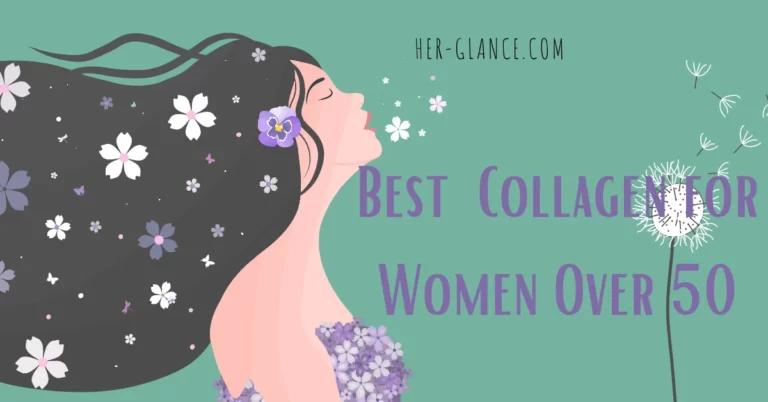 Collagen is the most abundant protein in the human body, and it plays the most important role in the health of the skin, hair and nails.
As you age, your body's collagen production declines, leading to signs of aging like sagging skin and wrinkles. The integrity of the collagen network found in bones also decreases with age, leading to a decrease in bone strength. Naturally, you cannot increase the production of collagen to such an extent, so supplementing with collagen is necessary if you want to maintain a youthful appearance and stay healthy at the same time.
Studies have shown that supplementing with collagen peptides – broken down collagen that is more easily absorbed by your body – is beneficial for older people and will promote skin and bone health during aging.
One study of 102 postmenopausal women with decreased bone mineral density (BMD) found that taking 5 grams of collagen peptides daily for 1 year significantly increased BMD of the femoral neck and spine, indicating decreased bone breakdown and increased bone formation.
Other studies have noted similar results, suggesting a positive relationship between collagen intake and bone health.
Research has also shown that collagen supplementation can improve skin health in the elderly. A review of 11 studies found that oral intake of 2.5-10 grams of collagen per day for up to 6 months improves hydration, elasticity and collagen content in the skin, this is especially true for women in their 50s.
There are few downsides to older people taking collagen at all. Unlike many dietary supplements, oral collagen supplements have a solid safety profile and are not associated with side effects. Attention should only be paid to women who, due to kidney problems, are on a special diet based on less protein.
Additionally, taking collagen supplements can help increase protein intake. Increased protein consumption can help reduce age-related muscle loss and boost muscle function, which can improve your overall quality of life.
How Collagen Can Help Women Over 50
Take a look at concrete examples of how collagen can positively affect your health, appearance and where it can help you.
Collagen Helps Protect Against Bone Loss
Bones are mainly made of collagen, so as our body ages, it also loses collagen. Bone mass and bone strength suffer, so adding a collagen supplement, along with other exercises and bone-strengthening supplements, can help prevent bone fractures.
Collagen Helps Build Muscle
There is a lot of evidence today that taking collagen can help you build muscle and possibly lose fat! However, you can't just take collagen and sit back and wait for it to work. The key is to take it in combination with exercise and/or a weight lifting routine, as appropriate. So talk to your doctor or other health professional if you need or want to start a new exercise routine.
Collagen Helps Facilitate Digestion
Increasing collagen intake through its supplementation helps with all the gastrointestinal problems that women in their 50s face, including heartburn and bloating. But again, if you suffer from these conditions, consult your doctor first.
Collagen Helps In Wound Healing
Because collagen can strengthen skin and tissues, much like it helps regenerate cartilage, taking collagen can help wounds heal faster.
Best Budget Collagen for Women Over 50
L'Oréal Paris Anti-Aging Collagen
Anti-aging cream from L'Oréal is a cream on which you will not spend a lot of money, but you will get what you need. The formula with collagen peptides and amino acids gives the skin a youthful and tight appearance. At the same time, you will raise the level of collagen in your body, which will have a positive effect on your hair and nails.
This cream offers all-day hydration, is quickly absorbed and is non-greasy. It has been tested for allergens and is free of parabens and mineral oils.
Due to its anti-aging composition, it is perfect for women over 50, it also fights against sagging skin and evens out the tone.
Best Rated Collagen for Women Over 50
Orgain Hydrolyzed Collagen Powder
The collagen supplement from the company Orgain is the best rated collagen on Amazon. With more than 30,000 ratings and an average rating of 4.5, this product has several tens of thousands of satisfied users who speak for it.
The product contains type I and III collagen. Type I is the most common form of collagen and is found in hair, skin, nails, organs, bones and ligaments. On the other hand, type III is contained in embryonic tissues, in adult women it is found as an integral part of blood vessels, gastrointestinal tract and uterus.
One serving comes with 70 calories, 18 grams of protein and 20 grams of collagen peptides. It is completely made without added sugar, lactose, gluten or soy.
Best Vegan Collagen for Women Over 50
Sunwarrior Collagen Protein
Sunwarrior Collagen Protein is the best vegan collagen for women over 50 you can probably find on the market. It helps in building lean muscle mass, maintains it, affects the elasticity of the skin, and provides cellular hydration, which are very important things for everyone, especially for women in their 50s due to the natural aging process.
The product contains a complete amino acid profile, BCAA, vitamin C and biotin. One serving has 15 grams of protein, 100 calories and only 2 grams of fat. It is also completely free of added sugar, gluten and soy.
Best Anti Aging Collagen for Women Over 50
Eva Naturals Collagen Peptide Serum
This is the best anti aging collagen serum for women over 50. It has the perfect ingredients for one collagen supplement in the form of a serum. There we have hyaluronic acid, lactic acid, dandelion and geranium.
As for the anti-aging effect, this serum is proven to reduce fine lines and prevent the further spread of wrinkles. It hydrates the skin, protects it from the sun and gives it new strength.
It can be used on all skin types, it does not irritate even on the most sensitive skin. Equipped with the best ingredients for hydration and protection, this serum is a must have for anti aging.
Best Overall Collagen for Women Over 50
Essential Elements Hydrolyzed Collagen Peptides Powder
With this protein, you get everything a woman in her 50s needs. From great support for bones, skin and hair, all the way to its effect on satiety and indirect help with weight loss. It consists of type I and III collagen, and in one portion it has only 40 calories, 0 grams of additives and 0 grams of sugar. It is completely gluten, soy and GMO free.
Best of all, it can be mixed with almost any drink. In addition to water, of course, you can take this protein during the day with coffee, milk or a smoothie. It is completely unflavoured and blends perfectly with any mix.
Can We Slow Down the Signs of Aging through Nutrition?
Proper nutrition is one of the foundations of normal and healthy aging, and research shows that the Mediterranean diet is the one we should follow. Daily intake of fruits, vegetables, whole grains, legumes and nuts, fish and poultry twice a week, and olive oil and herbs are the basis of this diet.
Adequate water intake is extremely important and often underestimated. With a sedentary lifestyle, it is 8 to 10 glasses of water distributed throughout the day, while with increased physical efforts and ambient temperature, the need for water increases. Dry skin is one of the signs of insufficient water intake.
For women in their 50s, it's time for a diet rich in nutrients and fiber through the intake of fatty fish, legumes and mushrooms, which are a source of vitamin D. Vegetables and fruits are an essential source of vitamin C. Rich bone broths bring the body amino acids, which form collagen, and in the menu include two walnuts a day – they have a positive effect on the walls of blood vessels and circulation.
Top 3 Collagen Rich Food for Women Over 50
Our body produces collagen, but as soon as we reach the age of 20, the production slows down, and in our 50s we have 45% less collagen than the amount we had when we were 20.
Slow collagen production is one of the main reasons why our skin no longer looks youthful, why our joints hurt and why our hair is thinning. Collagen is the most abundant type of protein in our body, making up as much as 30 percent of the total amount of protein in the body. It is found throughout the body, including muscles, bones, hair, skin and nails.
For women over 50, boosting collagen production often means choosing some new foods that are rich in vitamins and minerals. They can help to improve the production of collagen and elastin, components that will make the skin look youthful, but will also protect our bones and digestion, as well as heart health.
If you are 50 years old and want beautiful skin, eat these three foods rich in collagen as often as possible.
It is little known that the largest source of collagen is found in the skin and bones of fish. That's why sardines are ideal for a natural intake of collagen because they are eaten whole and thus we will directly increase the intake of collagen in the body.
Sardines are full of calcium, vitamin D and omega 3 fatty acids, and all these ingredients will also affect bone health.
Knowing that during menopause there is a loss of bone mass, even up to 20%, it is very important that women over 50 take care not only of the beautiful appearance of the skin but also of the health of the bones.
We have chosen for you Chicken of the Sea sardines, proven quality and taste, which come in 5 forms with different side dishes.
And while there is no collagen of plant origin, because it comes from animal products, the body will produce it and stimulate its production if it is offered the right products.
Chickpeas are precisely one of those products, as they are a rich source of ingredients that stimulate collagen production, and that is zinc and proline. Proline will support the stability of collagen, while zinc will slow down its deterioration.
Here, we have singled out Biena Foods Chickpea from the competition because it is free from excess unnecessary calories and has a minimal amount of fat in it.
Barley contains a mineral that will activate your enzymes involved in the production of collagen and will help restore skin elasticity and reduce the visibility of wrinkles. It is a food rich in soluble fiber that will help control blood sugar and cholesterol.
Creams and serums are a great help, but a diet rich in foods that stimulate collagen production is certainly the best way to maintain youthfulness and skin health.
Perhaps the best form of barley intake is through tea because it is the most concentrated, and it certainly has a pleasant taste and is worth trying.