Is CeraVe Good For Eczema? 
In this post, I will answer your question "Is CeraVe good for eczema?" by analyzing their products and the ingredients that those products contain.
CeraVe has products that are good for eczema because they contain ceramides, which form a protective moisturizing layer on the skin that helps to keep moisture, increase resistance to burning, dryness, and itchiness and heal eczema skin.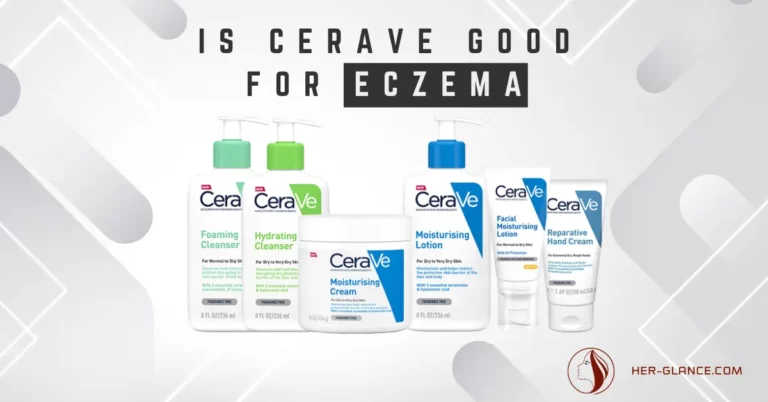 Is CeraVe Good For Eczema On The Body?
If you have eczema you have to take into consideration your entire routine. You must think about your haircare, makeup, and body care and make sure that it is eczema friendly.
In the text below you can find CeraVe eczema suitable products that can help you take care of your skin. The answer to your question is CeraVe good for eczema can be the fact that a lot of CeraVe products are accepted by the National eczema association.
CeraVe Soothing Body Wash for Dry Skin
CeraVe soothing body wash is intended for people with very dry, sensitive, eczema-prone, or itchy skin, so it helps to calm and cleanse the skin. Cleaning your skin if you have eczema is very important because sweat after a workout and environmental stressors like pollen or dust can aggravate eczema and cause itching, but you have to do it with gentle body wash and lukewarm water.
CeraVe soothing body wash is very gentle and accepted by the National eczema association. It contains ingredients that are going to decrease trans epidermal loss, calm, moisturize and keep the skin barrier healthy.
Its formula is soap-free, paraben-free, fragrance-free, sulfate-free, and non-comedogenic. Beneficial ingredients in this body wash are:
Ceramides are the backbone of CeraVe products and very important molecules for the structure and function of the skin barrier. They prevent moisture loss and protect the skin against environmental damage.
Lack of ceramides leads to the dryer and more sensitive skin, so taking supplements or applying them topically can help with that. Knowing what leads to a lack of ceramides is as important as applying them to the skin. As we age, we lose ceramides, so there is nothing that we can do about that, but we can stop using harsh soaps and exfoliants on our skin because they can lead to ceramide loos.
Including ceramides in your body care routine will help with boosting hydration because they decrease transepidermal water loss (amount of the water that passes through the epidermis and evaporates on the skin's surface and leads to psoriasis, acne, and eczema). Other benefits of ceramides include rejuvenating aging skin and repairing sun-damaged skin.
Hyaluronic acid is very well tolerated because it is a sugar that occurs naturally in our skin, and it is crucial for skin moisture since it is a humectant. According to a 2011 study about hyaluronic acid-based foam and ceramide-containing emulsion cream for treating mild to moderate atopic dermatitis, hyaluronic acid significantly improved overall eczema severity by week 2. If you are interested in the study, here is the link.
It is hydrating and moisturizing which increases the quality of life for those with very dry skin. Other benefits include smoothing skin texture, helping heal wounds, and having anti-aging effects because it enhances skin firmness and elasticity.
Omega oils that are present in this body wash are soybean oil and castor seed oil. Soybean oil helps to promote the skin's overall health. In many studies, it has been shown that applying soybean oil helps to enhance the skin barrier, retain moisture and protect against inflammation caused by UV rays. It is also rich in vitamin E which has anti-inflammatory properties that help with certain skin conditions like atopic dermatitis and acne.
Castor seed oil is very good at fighting eczema flair-ups because of its analgesic and anti-inflammatory properties. It is also anti-microbial and helps to heal wounds, so if you have wounds because of scratching castor oil may help.
CeraVe Moisturizing Cream
CeraVe moisturizing cream is suitable for people with normal, dry, and very dry skin. You can use it on your body and your face. Including this cream in your skincare routine will help you to restore and keep a healthy skin barrier by hydrating and retaining the skin's natural moisture.
It is very important to note that this cream is also accepted by the National eczema association which makes it great for people with eczema flair-ups and it doesn't feel greasy and heavy.
Unfortunately for some people this cream stings and burns which can be caused by a genetic tendency to sensitive skin or using harsh products and acidic PH of this cream stings. There is no way of predicting if your skin is going to have that reaction, so if that happens stop using it.
Like other CeraVe products, moisturizing cream also affords sustained ongoing hydration for 24 hours after applying it, which is possible with their MVE Delivery technology. To get the maximum effect of this cream it is best to apply it immediately after showering. When you come from the shower apply it on damp skin to bind all that water into the skin and keep it from evaporating.
It has a great formula with beneficial ingredients and without fragrance and non-comedogenic properties. Besides ceramides and hyaluronic acid, it also contains:
Glycerin is one of the hydrating ingredients that you should look for on the list of ingredients alongside urea and hyaluronic acid. Glycerin belongs to the group of NMF compounds, the hygroscopic molecules that are present in the skin and protect it from severe drying.
Studies have shown that even under conditions of low water activity, which would otherwise cause the skin membrane to dry and reduce permeability, the skin membrane can maintain the skin permeability properties linked to a hydrated skin membrane.
Other benefits of glycerin include improving skin elasticity, making the barrier hydrated and more functional, reducing irritation from other ingredients, and attracting water to the epidermis.
Cetearyl alcohol belongs to the group of fatty alcohols that are not drying to the skin and it is used to soften the skin and stabilize cosmetic products.
Petrolatum is used to seal in water and hydration and, to rehydrate, soothe and moisturize the outer layer of the skin. Studies have shown that it is a gentle ingredient.
CeraVe Itch Relief Moisturizing Cream
CeraVe Itch Relief moisturizing cream is formulated for eczema skin to soothe itching, which can have bad consequences for the skin. It is very important to get it under control because the more you itch, the worst it gets.
This cream is great for those times when the itch is too much to handle because it relieves itching associated with minor skin irritations and dry skin temporarily. It is important to note that you should not use this cream just on its own. Itch relief moisturizing cream should be applied over a moisturizer because you don't want to get addicted to the anti-itch cream.
Like all of the products above this cream is also accepted by the National eczema association, non-comedogenic, fragrance-free, and steroid-free.
The combination of ingredients and MVE, technology that encapsulates ceramides to provide effective transport across the skin's barrier and gradual release over time, make this cream fast-acting and gives long-lasting results.
Besides ceramides, petrolatum, and Cetearyl alcohol CeraVe itch relief cream also contains:
Pramoxine hydrochloride has anesthetic properties which means that it can numb the skin temporarily when it is applied to minimize itching and pain.
Shea butter is safe for all skin types because it has a low level of proteins that can trigger allergic reactions. It is rich in linoleic, oleic, stearic, and palmitic acids which are rapidly absorbed into the skin restoring lipids and creating moisture. It has the ability to hold in moisture and minimize the risk of dryness. Shea butter has anti-inflammatory properties which means that it has the ability to slow down the production of inflammatory cells. This might lessen aggravation caused by inflammatory skin disorders like eczema as well as environmental aggressors like dry weather.
Other benefits of shea butter include boosting collagen production, preventing acne, promoting cell regeneration, reducing scaring, reducing the appearance of fine lines, and having anti-fungal, anti-bacterial, and antioxidant properties.
Cetyl alcohol is emollient (chemicals that soften, moisturize, and reduce flaking and irritation of the skin), that is applied topically as a moisturizer to treat or prevent mild skin irritations and dry, rough, scaly, itchy skin.
CeraVe Eczema Relief Creamy Body Oil
CeraVe eczema relief creamy body oil is a great addition to a skincare routine for very dry skin prone to eczema because it has the formula to soothe dry, itchy, and irritated skin. Like the other itch-relive treatments don't apply it just on its own, do it after moisturizing your skin and as needed.
It is not a moisturizer, and it is not oil, the cream feels like a combination of both. This treatment absorbs quickly and leaves skin smooth and hydrated without the greasy feeling. It is fragrance-free, paraben-free, steroid-free, non-comedogenic, and accepted by the National eczema association.
Besides hyaluronic acid and ceramides, CeraVe eczema relief creamy body oil also contains:
1% colloidal oatmeal is used in skincare products because of its soothing properties for many skin concerns such as atopic dermatitis, contact dermatitis, or dry skin. It has occlusive abilities because colloidal oatmeal protects the skin from harsh irritants by creating a layer over your skin. Another benefit of this ingredient is that it gives your skin a chance to rehydrate which makes it great for people with dry skin.
Safflower seed oil is rich in vitamin E and omega 6-fatty acids. Due to the presence of vitamin E, safflower seed oil has anti-oxidative abilities, which means that it can fight free radicals and reverse the damage they caused such as rough skin, age spots, and skin irritations. The ability to soothe skin and create a protective barrier to reduce water loss makes it great for dry and eczema-prone skin. It has a comedogenic rating of 0, which means that it will not clog pores and it is lightweight, so it absorbs very quickly.
Niacinamide is beneficial for all skin types, but its ability to improve skin hydration by reducing transepidermal water loss makes it great for dry skin. It has anti-inflammatory properties, which means that it can calm irritated skin. Also, niacinamide can help to tolerate other ingredients better, so it is great for sensitive and irritated skin.
Grape seed oil can moisturize dehydrated skin and reduce signs of aging. It is rich in linoleic acid and vitamin E which means that it helps to retain moisture, restore elasticity and protect the skin from environmental damage.
CeraVe healing ointment can be your savior when you have cracked skin and chaffing or when your skin feels extremely dry. This is a product that is suitable for all skin types with its great combination of ingredients and lightweight texture.
Petrolatum, ceramides, and hyaluronic acid provide extra hydration, and the absence of fragrance and lanolin for avoiding irritation makes it great for very sensitive skin. You can apply it as needed before bed to lock in moisture for all-night-long hydration.
Formed protective barrier besides enhancing skin's barrier function also temporarily shields damaged or exposed skin (if you have made wounds by itching your skin) from external irritants, creates a layer of protection that could speed up skin's normal healing process, and locks in moisture to treat dryness.
The presence of panthenol which is another moisturizing ingredient decreases transepidermal loss and can be used to heal wounds, minor skin injuries, and sunburn. It also has anti-inflammatory properties that can help to protect and reduce itchiness and irritation caused by environmental stressors.
CeraVe healing ointment is also accepted by the National eczema association.
Is CeraVe Good for Eczema On the Face?
Depending on your skin tone, eczema on the face may look like red, white, or purple bumps. Additionally, it could manifest as a rash, blisters, or cracked skin. In the text below you can find the answer to the question" Is CeraVe good for eczema on the face" and tips for dealing with it.
When it comes to face eczema it is very important to use a cleanser that doesn't contain harsh soaps. Also, don't wash your face with too hot or too cold water because extreme temperatures affect eczema.
CeraVe has a lot of products that are good for dealing with eczema on the face, and that are accepted by the National eczema association.
CeraVe Hydrating Cleanser is very effective without disrupting the skin's natural protective barrier and stripping away natural oils which makes it safe for eczema-prone skin. Ceramides, hyaluronic acid, and glycerin in combination with MVE technology will help to restore natural moisture and lock in moisture.
It is suitable for normal to dry skin, non-comedogenic, nonirritating, and fragrance-free and it is accepted by the National eczema association.
After cleansing your face look for a serum or toner that contains ingredients that are eczema friendly like oat or shea butter, aloe, glycerin, hyaluronic acid, niacinamide, or vitamin E. If you want to learn more about niacinamide and research products that contain it, visit my previous post about toners with niacinamide.
The third step of your routine should be a moisturizer and you can use CeraVe Moisturizing Cream.
The final step of a morning routine is sunblock, and you have to be really good with it meaning that you have to apply it regularly especially if you have eczema on the skin of color. If you want to learn about Cerave's effects and benefits for black skin, here is the link to our post.  Inflammation on the skin triggers melanocytes which lead to hyperpigmentation. So, to prevent that from happening apply your sunscreen.
Hydrating Mineral Sunscreen SPF 50 Face Lotion
Hydrating Mineral Sunscreen SPF 50 Face Lotion is a mineral sunscreen with a broad spectrum that is suitable for people with eczema because of its formula with ceramides, hyaluronic acid, niacinamide, zinc oxide, and titanium dioxide.
It is always better to choose mineral sunscreen over chemical one because zinc oxide and titanium dioxide form a protective barrier on the skin without entering the bloodstream and without irritating sensitive skin. This combination of ingredients restores the skin's barrier, provides hydration, and calms your skin.
CeraVe sunscreen is oil-free, noncomedogenic, fragrance-free, paraben free, and gentle on your skin. Like all of the products above, CeraVe sunscreen is also accepted by the National eczema association.