Do You Apply Toner To Wet Or Dry Hair
You just got your hair colored and it looks amazing but you are one of the smartest people out there and you know how that color will fade and turn brassy over time. Since you are thinking that smart I will try to help you out and answer probably one of your most burning questions right now that is do you apply toner to wet or dry hair?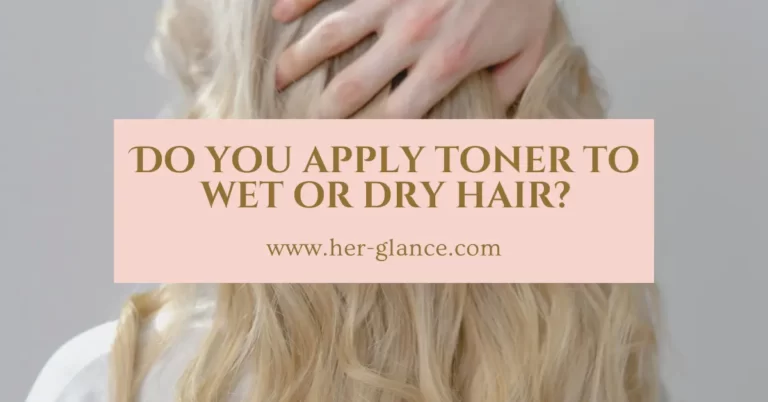 Hair toner is an extremely important product if you want to maintain your hair color and protect your hair from damage. Because of this, it is important to use hair toners properly and that's why I will answer the burning question, do you apply toner to wet or dry hair?
A toner is a demi-permanent color that is deposit-only which means that it only adds color and does not "lift" or lighten the hair. This coloring option uses a low-volume developer to open up the cuticle to deposit color and it is good for use when you want to try out the color for about a month.
The hair toner has several main purposes, some of which are refreshing the hair, and neutralizing unwanted colors or any unwanted tones.
Many people think that the toner is used only by people who have pre-lightened hair, of course, this is not true and toners are not reserved just for blonde hair. Even brunettes or redheads who have never colored their hair before can use the toner to refresh and richen up your color
Do You Apply Toner To Wet Or Dry Hair?
Some people die their hair on wet hair, some on the dump or dry hair, and each has pros and cons. Many factors should help you to choose which way to dye your hair, some of them are speed, time, convenience, and many more.
In reality, it is ok to apply toner on hair that is in any of those three conditions but you need to know why and what the differences are if you decide to go with one of them. All of the toner manufacturers recommend it to be applied on dry hair for the best longevity of the product.
Out of these three options (wet, towel-dried, or dry), it is not recommended to apply toner on wet hair since you will get a much darker tone than expected. It is recommended to do it with towel-dried hair (should be 70% dry) or on dry hair but keep in mind if you do it on towel-dried that you will still get slightly more tone than expected.
The biggest problem with applying toner on wet hair is that when you wet your hair you change its pH.
When you put your hair in the water its pH changes from 5.5 to 7 which is not recommended by any manufacturer of hair toners. When pH is higher more cuticle layers are open and there is more chance of color from the toner going deeper in the hair than you were expecting in the first place.
All of this may result in unexpected results for example if your hair is blonde after you tone it while its wet result might be a bright yellow color. Since the results of this method are unpredictable it is also not recommended by any experts or even manufacturers of the toners.
It is important to note that you should use toner only after you have lightened your hair which all comes to the color wheel. After the lightening, the hair will usually be in its undertone pigment or its natural pigment which is normally red, orange, or yellow. When it comes to lifting it's usually rare that somebody will lift completely natural and perfect.
Toner will not lift the hair unless you use a permanent color which is not recommended.
To put everything into the perspective if you have a level 2 color which means darkest brown, and you have colored your hair to that you won't be able to lift more than level 4 or 5.
You can not go from level 2 to let's say level 9 and have that grey ashy color, toners just don't work like that.
It is important to understand that color does not lift the color, toners only help neutralize hair color and because of this, it is important to understand the color wheel. If you want to neutralize red you will have to use a green base which will cancel that red tone.
To sum everything up if you have level 9 hair that has yellow color in it you want to use a toner that will put level 9 color on it because this way you won't be darkening or lighting your hair. If that toner has a purple base and in theory that purple will counteract the yellow in your hair and that way you will just change the tone.
How long does toner last if you apply it on damp, wet, or dry hair?
The longevity of the toner does not depend only on the state of your hair when you have applied it but it is proven that if you apply it on dry hair you will get the best longevity.
The longevity of the toner depends on several more factors and some of them are how many times per week a person washes their hair, do they use the heat on the hair, and of course on the person's hair porosity. On average and for most people toners do last from 4 to 8 weeks of course depending on the factors above.
How to Preserve Hair Toner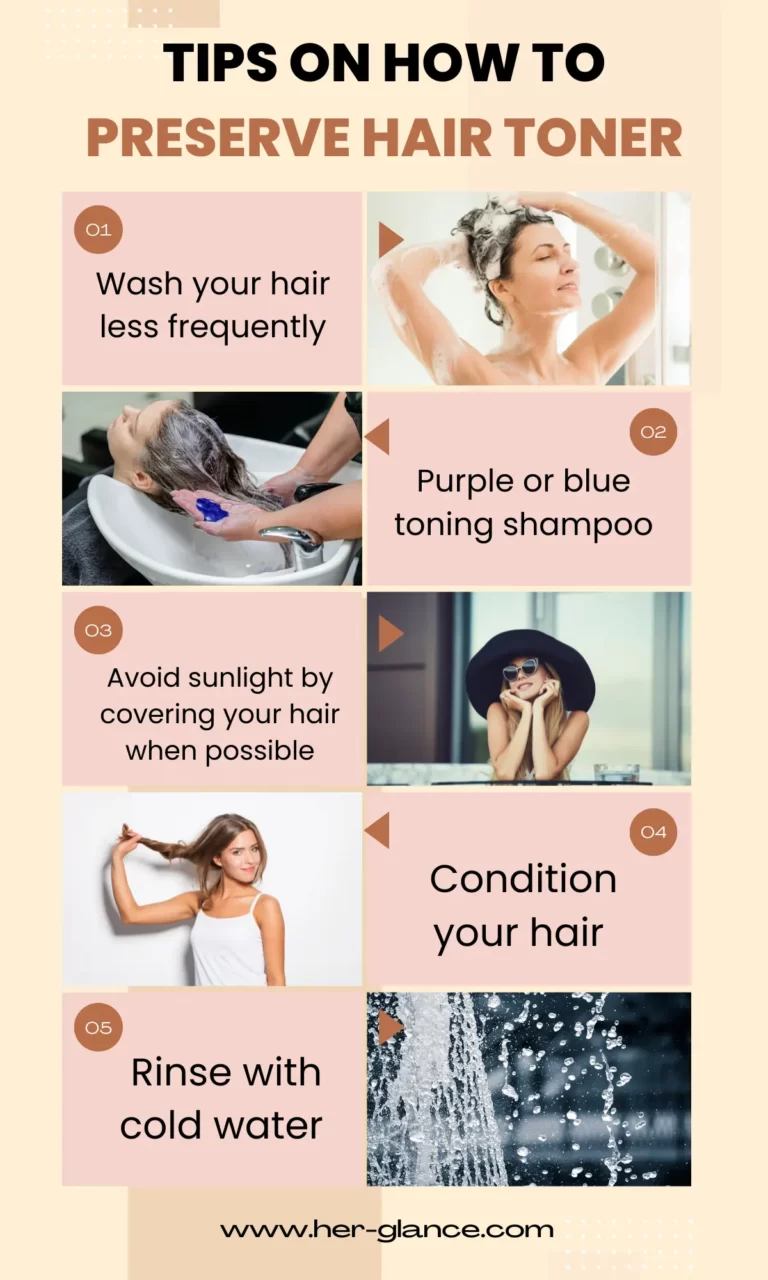 Wash your hair less frequently
Generally speaking, if you are washing your hair too often it can not only negatively impact your toner but also your hair's health. If you wash too often you will strip your hair of natural oils together with your applied toner.
The studies
have shown that washing your hair twice a week is perfectly balanced between clean hair and healthy hair.
Purple or blue toning shampoo
It's just color theory – yellow and purple are on opposite sides of the color wheel. Because these complimentary hues cancel each other out, purple toning shampoo is great for yellow tones and blonde hair, while blue toning shampoo is best for orange streaks. It's the most secure technique to get rid of the brassiness right away.
Avoid sunlight by covering your hair when possible
Sometimes it can be annoying to cover your great-looking hair with a hat but keep in mind that sun damage is a big factor when it comes to toner longevity.
Suns UV lights play a major role as they tend to fade out your color. If you have colored hair UV rays can fade your color, which is why your blond color can turn brassy or your light brown hair turn red!
To prevent this you can cover your hair when you are exposed to sunlight, of course, you should do this when you feel comfortable doing it.
Conditioning involves sealing the hair strand to ensure that no water escapes and that the moisturizing elements remain inside. If you are not used to using conditioner after shampooing, now is the time to start. For moisture and hydration, use WOW Coconut & Avocado Natural Hair Conditioner. Your toner will last longer as a result of your foresight and perseverance.
Hot water is not ideal for protecting hair integrity, so give your hair a last cold rinse before getting out of the shower. This will shut the pores, flatten the cuticle, lock in moisture, and extend the life of your toner.