Best moisturizers for sensitive skin with SPF - 2023
Finding the best moisturizers for sensitive skin with SPF is easily accessible to everyone today, but as with everything we apply to our skin, it is necessary to take a closer look at this and give some useful tips. And that is exactly what you will get in this article.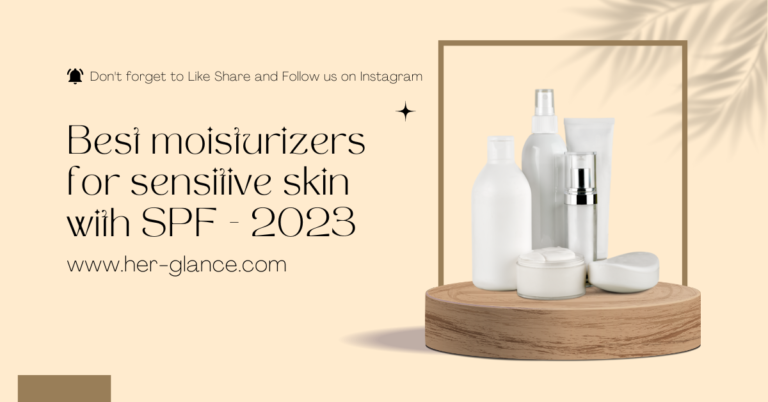 You're probably already familiar with the downsides of the sun – from wrinkles and dark spots to permanent DNA damage and melanoma. Therefore, it should not be surprising that conscientious sunbathing and daily use of sun protection cream is the number one advice of every dermatologist when it comes to preserving the health and beauty of the skin.
An ideal sunscreen should have a broad spectrum of UV activity to prevent photodamage and provide the skin with a wonderful feeling of care and hydration. If you're spending the day outdoors, choose SPF 30 or 50 if you want to maintain your flawless complexion because not only does the SPF prevent future premature aging, but it also helps against existing wrinkles, pigmentation and uneven skin texture.
In the following, we will share some tips with you, and then we will present you with the best moisturizers for sensitive skin with SPF.
– Do not mix different means of different factors, because they can mutually cancel or reduce the mutual effect.
– When buying products, make sure that they provide both UVA and UVB protection (it is UVA rays that give us a beautiful, tanned color and penetrate deeper into the skin).
– The labels "sunblock" and "waterproof" do not guarantee 100% protection and water resistance.
– It all depends on how much you sweat/spend time in the water, so be sure to lubricate often.
– Lotion is almost always more intensive protection than spray, although spray is easier to apply. A large part evaporates or does not manage to come into contact with the skin.
– If you do not expose them to high temperatures, the sunscreen can last up to 3 years.
– UV radiation also penetrates through clouds, be careful even on cloudy days.
– A protective agent with a factor of 30 is quite sufficient for our temperatures/climate and penetration of the sun.
– Pamper yourself on average every 40-80 minutes.
– The SPF factor should be used regularly as a daily beauty routine on exposed parts of the skin (especially on the face), and not only during the summer vacation.
List of the best moisturizers for sensitive skin with SPF
1. Eucerin Sun Lotion SPF 50
Eucerin Sun Oil Control SPF 50 is a face sun protection lotion specially designed for oily and acne-prone skin. Provides high sun protection while addressing common problems associated with oily skin.
The product has oil-control technology with L-carnitine and absorbent microparticles, leaving an instant dry finish and a long-lasting anti-shine effect. It is also enriched with glycyrrhetinic acid, which supports the skin's own DNA repair mechanism.
The lotion is non-comedogenic, odorless and has a pleasant, light texture that does not leave a white mark. It is also water resistant, making it a great choice for those hot, sweaty summer days or use during physical activities.
Eucerin SPF 50 sunscreens offer numerous benefits. They provide a high level of protection against harmful UV rays, help prevent sunburn and reduce the risk of skin cancer. They also address various skin concerns, such as oiliness, aging and dryness, thanks to their specialized formulas.
What's more, Eucerin sunscreens are dermatologically tested and often free of potential irritants such as fragrances and dyes, making them suitable for all skin types, including sensitive skin.
2. CeraVe AM Facial Moisturizing Lotion SPF 30
This cream is intended for sensitive skin and does not cause reactions. The ingredients include ceramides, niacinamide and hyaluronic acid, which are known to strengthen the skin barrier, hydrate it and have a calming effect on inflammatory changes.
Ceramides are intercellular lipids and are the main component of the skin barrier. Their quantity decreases with age, so it is important to replace them with products.
Niacinamide is vitamin B3, which enriches the skin and stimulates the formation of ceramides, free fatty acids and cholesterol in the skin. Hyaluronic acid is an important skin moisturizer.
It remains on the surface of the stratum corneum and draws water onto itself, after which the skin becomes smooth, tight, more voluminous and hydrated. In addition to all that, there is also SPF 25 and the label that the cream provides UV protection. Looking at the ingredients, we are talking about high UVA protection, which is even slightly higher than the prescribed standard, which ensures this cream has the status of a product with a wide spectrum of protection.
The packaging of the cream itself is excellent because it has a pump, which makes dosing much easier. The cream has a great texture and you won't have the feeling that something is "lying" on your face, and you will definitely like the fact that it noticeably moisturizes the skin.
At no time will you see that the cream has accumulated in some parts of your face or that it has made you greasy.
3. Neutrogena Sheer Zinc Oxide Mineral Sunscreen SPF 50+
The mineral sunscreen is water-resistant for up to 80 minutes and provides effective protection against skin-damaging UVA rays and UVB rays.
It is composed of 100% natural mineral zinc oxide as well as vitamin E and is ideal for sensitive skin and does not contain fragrances, dyes and parabens. Neutrogena is a dermatologist-recommended brand that, if used properly, helps prevent sunburn and reduces the risk of skin cancer.
This cream has an oil-free formula, is non-comedogenic (meaning it doesn't clog/block pores), contains 100 percent zinc oxide, and dries to an invisible, matte, non-greasy finish. It's waterproof so it's the perfect option for lounging on the beach, hiking, and more.
4. La Roche-Posay Anthelios Mineral Ultra-Light Face Sunscreen SPF 50
La Roche-Posay Anthelios Mineral Ultra-Light Face Sunscreen SPF 50 is ultra light liquid texture, and it is made for sensitive skin prone to allergies to the sun. Also, this unique La Roche-Posay product affects the reduction of oxidative stress, pigmentation and signs of photoaging such as wrinkles, loss of skin elasticity and spots. As true advocates of healthy skin, especially when it comes to sun protection, La Roche-Posay with its Anthelios line presents excellent dermocosmetic solutions for safer and more protected skin, while also paying attention to environmental protection.
It is this ideal combination that provides top protection to the skin throughout the year and helps prevent oxidative stress caused by infrared rays and pollution. La Roche-Posay is faithful to its long-standing practice of providing high skin protection, while also taking care of the preservation of marine life. In its mission to change life for the better, the La Roche-Posay brand is guided by the philosophy that products must be good for people, good for the planet and good for the communities with which it collaborates in sourcing raw materials.
5. Kieh'ls - Super Fluid UV Defense SPF 50+
Kieh'ls not only has UVA and UVB protection but also protects the skin from swelling thanks to vitamin E, which helps neutralize free radicals that damage the skin. Kiehl's Ultra Light Daily UV Defense Aqua Gel SPF 50 is intended for people with a combination of oily skin.
This cream will delight you because it has an airy and light texture, and I can confirm with certainty that with this formulation you will forget about enlarged pores and skin irregularities. The texture is extremely refreshing, light, and non-sticky, and it absorbs surprisingly quickly, which is a great advantage if you are constantly in a rush and don't have much time to wait for the cream to be absorbed by the skin.
The packaging is practical with a tight lid, so you can be sure that the cream can be taken with you on a trip. Comes in 30ml and 60ml packaging.
Some of the other advantages are certainly:
– Protects against UVA and UVB rays (thus, at the same time protects against premature aging and the appearance of wrinkles, as well as dark spots on the skin)
– It has high SPF protection which I need because I use products based on vitamin C, and besides that I love to spend most of the day in nature whenever possible and that's why I like to have a face cream that I can rely on
– Contains vitamin E, which protects the skin from free radicals or swelling
– Does not clog pores and does not cause skin irregularities
It is perfect as a foundation
– The skin is soft and smooth after application
– It has a light and airy texture, there is no feeling of weight on the skin
– Absorbs quickly (almost instantly, but still applies and spreads easily)
– Perfectly refreshes and hydrates the facial skin
A Completely Natural Sunscreen
According to Consumer Reports, mineral-based sunscreens are less effective than chemical-based sunscreens with active ingredients. "Natural" sunscreens are usually mineral-based. However, if you're looking for an all-natural sunscreen, the study suggests choosing one based on olive or coconut oil, which provides the most protection due to its natural SPF base of around SPF 8.
Consumer Reports also found that many sunscreens don't work as advertised, so caution is advised when choosing a very low SPF. SPF 50 is the recommended minimum for adults of all ages and skin colors. Interestingly, there is no more protection than SPF 50, so it's best to stick with it if you're not sure about the SPF rating.
Wearing sunscreen does not guarantee that you will not tan. Constant reapplying is essential, as sunscreen can rub off, sweat or wash off, especially if you spend time in the pool or water.
The key is to use sunscreen to reduce the harmful effects of UVA and UVB radiation from the sun. All adults should use a minimum of SPF 30 during all outdoor activities, regardless of their age or skin color. Children older than six months should use a sun protection cream with at least SPF 30. It is also necessary to wear protective clothing and seek shade to avoid solar radiation.
Always choose a broad-spectrum sunscreen that protects against both UVA and UVB rays. It's the best way to protect your skin from sun damage.
Is the SPF Factor Important In Your Moositurizer?
SPF, an acronym for sun protection factor, plays a key role in protecting your skin from the sun's harmful radiation. The sun emits two types of radiation, namely UVA and UVB rays, which hurt the skin. UVA radiation is responsible for signs of aging, such as sagging and wrinkles, while UVB rays are more carcinogenic and can lead to sunburn.
These two types of radiation have a synergistic effect, and their combination can seriously damage your skin.
It is important to note that solar radiation affects your skin regardless of whether you are prone to burns or not. This radiation can penetrate through windows and affect you whenever you are near them. SPF works by increasing your skin's natural defenses against these rays.
For example, an SPF of 15 provides approximately 15 times the protection your skin would have without sunscreen. On the other hand, an SPF of 50 offers 50 times the protection your skin would normally have without sunscreen.
The key is to choose a broad-spectrum sunscreen that can protect your skin from UVA and UVB radiation. This will ensure that your skin is adequately protected from these harmful rays.