Partial vs Full Balayage – Everything About Balayage Hairstyle
Partial vs. Full Balayage has always been a question if you have decided to change your hair and the super famous Balayage. When it comes to hair coloring techniques, there is nothing that is mentioned more than once like Balayage highlights. If you are still thinking or are not familiar with them, then read this article till the end and know all about Balayage fever.
Famous ladies who adore Balayage and whose pictures are most often shown with this technique tell us how popular this trend is, and some of them are Jennifer Aniston, Lauren Conrad, Gisele Bundchen, Heidi Klum, Jennifer Lopez, Julia Roberts, Sarah Jessica Parker…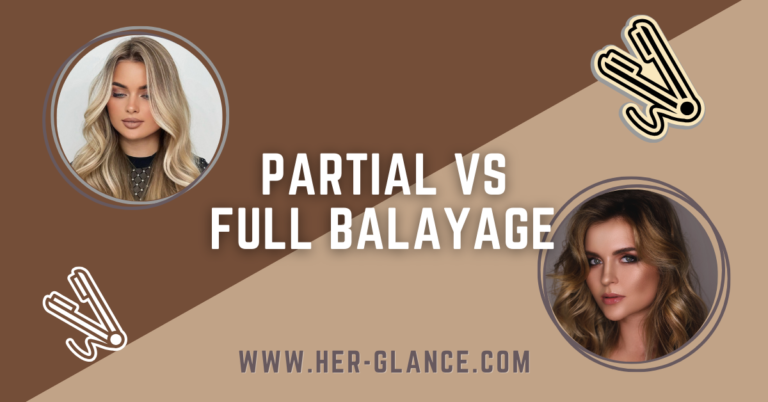 A freehand coloring process where only part of the hair is highlighted is known as partial balayage. Partial balayage takes less time because there are fewer areas to cover. Generally, it focuses on the top layer of the head which is around the face and also on the ends.
Adding color and highlights to the entire mane is known as Full Balayage. For any radical change and someone who wants completely lightened hair, opt for full balayage.
Full balayage involves bleaching the entire hair and removing only 5-7 centimeters of hair from the roots. These are also long-term processes.
Partial Balayage mainly focuses on certain parts of the hair, framing the face, while full Balayage covers the entire hair. Partial balayage takes less time than full balayage, making it a more time-efficient option. Full balayage creates a more dramatic and uniform look, while partial balayage gives a subtle, natural-looking effect.
Partial balayage is a situation where stylists add highlights and colors to a specific section of hair, which is ideal for subtle changes. Full balayage is when hairdressers will completely change and shape all parts of the hair to a different color.
| Cases | Part Balayage | Full Balayage |
| --- | --- | --- |
| Hair Style | Preffered for subtle hair changes. | Ideal for radical hair changes. |
| Price | Require less work, so it is cheaper. | More expensive than part dyeing. |
| Duration | The required time is about 45 to 60 mins. | The required time is 3 to 4 hours. |
| Advantages | Less damage, cheaper, low maintenance. | Versatility, great looks, more options available, great look on all hair types |
Let's go back in time, to France, more precisely to Paris. In the 1970s, in the "Carita"   beauty salon, one of the most popular beauty trends adored by women all over the world – Balayage, because once you discover its world, you will fall in love forever!
The goal of this technique is the effect of sun-bathed hair with the idea of achieving as natural a look as possible. The name itself comes from the French verb Balayer, which means – to swing, and it is these movements that are used to dye strands.
In this case, we mean freestyle paint application. The transition between strands gives the impression of naturalness, and the hair looks as if it has been painted and cared for by the sun's rays. Perfectly suits both straight and curly hair. At the roots of the hair, the color is applied in a very thin layer, and at the tips in a thick layer, which results in wide strands that look as if they have been lightened naturally.
In 1974, "The New York Times" magazine published an article about hair coloring, both the one that can completely change the look and the minimalist one that can refresh it. In the 1970s in New York, ladies often changed their hair color drastically.
Brunettes often turned into blondes or redheads, which particularly intrigued Rose Reti, a coloring expert. Rose has been challenged countless times to explain to clients with darker hair that going completely blonde isn't such a good idea.
In response, she always got the same answer: "But men still prefer blondes". As an accompanying photo to this text, the prestigious "The New York Times" also published a photo of a woman sitting in a beauty salon with her hair full of cotton swabs – in this way, when coloring her hair, the hair that was not dyed were separated with the swabs.
Little by little, colorization entered everyone's heart. In the 1980s, different hair lightening techniques were created, and in the early 1990s, balayage completely attracted the attention of celebrities and remains one of the favorite hair trends to this day.
As soon as she entered the beauty scene, the balayage technique of pulling out lighter strands was announced in all beauty magazines and on all beauty portals as a technique that completely overshadowed the previously unsurpassed Ombre! Let's note once again, that balayage strands stand out from all other shades by looking completely natural.
The hair is lightened mainly in the surface parts, the transition from the growth to lighter strands is discreet and almost imperceptible so that everything looks more natural. The return of the balayage technique to the big doors of fashion trends and conquered the fashion industry again in 2015, and its popularity is not decreasing even today.
Balayage hair is another type of hair lightening, like Ombre. But the main difference between balayage highlights and ombre highlights is that balayage highlights look completely natural like hair lightened in the sun. On the other hand, the Ombre technique is easily recognizable and obvious, because the difference between the roots of the hair and its tip is visible, especially when it comes to completely different shades of color.
At the root, in the case of Balayage hair, the strands are lightened in a thinner layer and surface, so it is gradually placed in an increasingly dense and thicker layer, which eventually results in wide, enlightened strands, which go particularly well with a graduated curly hairstyle.
The main advantage of the Balayage hairstyle is its natural appearance. Most other hair shading techniques have a clearly defined line, by which even with the naked eye you can easily distinguish the dyed from the natural part of the hair, while Balayage strands are completely irregular and "unplanned", which achieves the effect of a natural look.
Hair care itself is also not a problem. Balayage strands do not require any special care or additional money. Hair in this case is treated like any other colored hair, depending on the habit and type of hair. For example, there are women who, after dyeing their hair, treat it with ordinary shampoos, while some still turn to special shampoos for colored hair, which contain more vitamins and additionally care for the hair, but also maintain the color.
Advantages of the Balayage Technique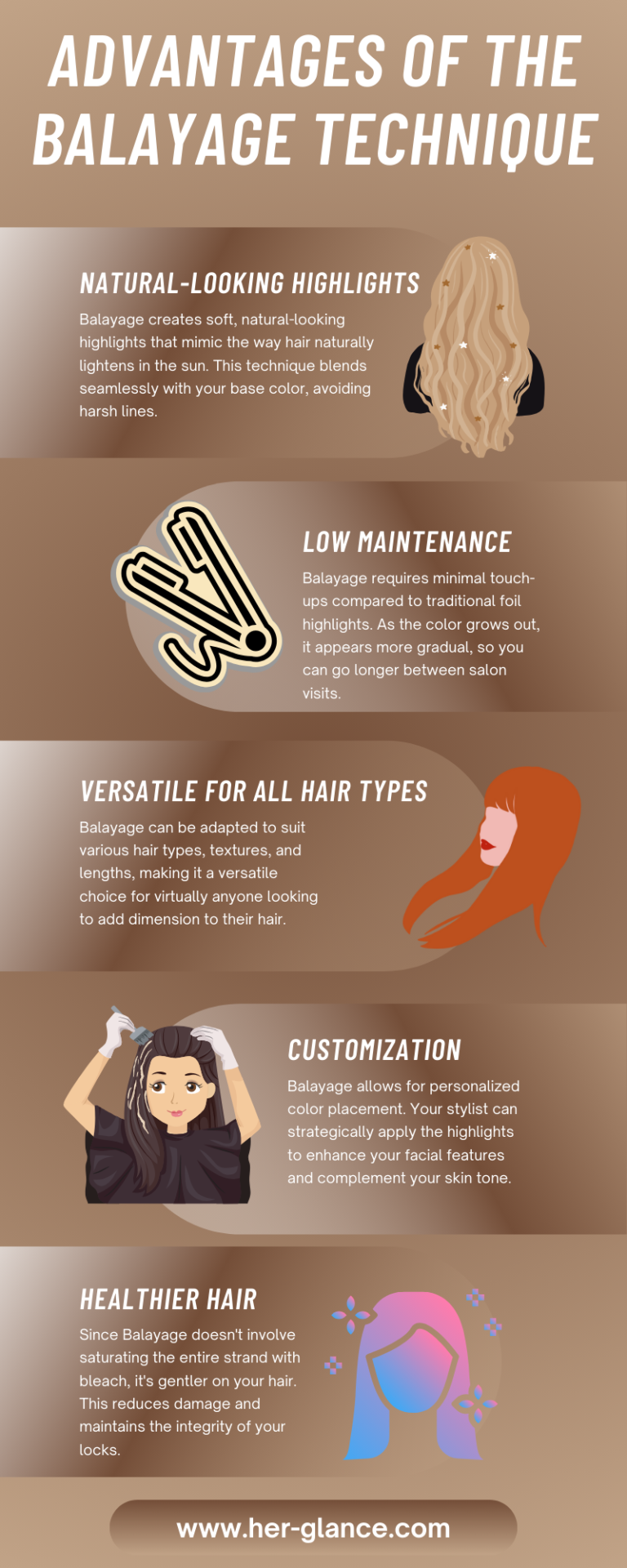 Let's note once again, the main advantage of this technique is a completely natural look. It is easy to maintain, as the hair grows, it still looks beautiful, with a subtle transition between the growth and colored hair – no obvious line as with the ombre technique. When it comes to care, it's the same as with any colored hair – use shampoo for colored hair, be sure to use masks as often as possible and pack from time to time – because only healthy hair looks beautiful!
The shade can be corrected – from a completely natural look to a slightly stronger effect – the only difference is the amount and intensity of the paint that is applied. Perhaps the best thing about the balayage technique is that you can change your hair color with gradients every time.
Is Balayage Suitable for All Hair Lengths?
When we think of balayage, images of long hair flowing beautifully with luxurious strands come to mind. However, balayage can also be performed on shorter hair, especially in a lob version, i.e. a long shoulder-length bob haircut. Keep in mind that balayage highlights look best on slightly wavy hair that you can style with the heat of a curling iron or hair dryer and without using heat, such as braids on wet hair. If you have naturally straight hair, balayage highlights might take more work to style.
We are also happy that balayage is suitable for all hair colors, whether you have naturally light or dark hair. For people with darker hair, the "bronde" shade of hair is great, i.e. a perfect combination of brown and blue tones to get a lighter brown hair color at the ends, while avoiding a strong contrast against the growth.
Balayage - Hairstyle Ideas
At the mention of the balayage technique, everyone always first imagines long wavy hair. However, balayage is also feasible on shorter hair, for example on the popular lob hairstyle, and there are no restrictions when it comes to hair color either. The only thing that matters is that you surrender to the hands of experts in hairdressing salons. And to come to the salon prepared, that is, with an idea of what you want, listen to our balayage hairstyle ideas.
Thanks to the balayage technique, brown hair color has never looked better. Luxurious tones of blue or brown on brunettes bring a completely new dimension to this "classic" hair color, yet so natural that it is the biggest advantage of the balayage technique.
Balayage in combination with blue hair color gives a romantic, and on the other hand, "wow" effect, which is why many blondes decide to refresh their hair with balayage. You can play with cooler ash tones warmer honey shades, or both, right?
You don't want that standard red hair color, but would like to try out how red or copper tones look on you? Balayage is also a hit in this case to get a result that will delight you. Red, orange, pink and even purple tones – all combinations are possible!
Many women get bored with curls and want to have straight hair just as women with straight hair usually want those same curls. By emphasizing the curls with the balayage technique, you will suppress the desire for straightening, and we don't even have to talk about the effect that does not go unnoticed!
Even the shortest pixie or bob looks great in combination with the balayage technique. It is only important to pay attention to the amount of color that is applied so that you do not get the effect of classic locks on your hair.
Balayage Dyeing Procedure
This technique is also called free hair coloring because it does not always have to include foils when coloring. The color is applied to the surface of the hair and does not soak the strands, because in that case you would have a clearly visible line. A little more color will be applied to the ends of the hair, while the hairdresser (in case you need to tone your hair completely) will also color the upper part of the hair/growth to make the color look as natural as possible.
When dyeing hair using the balayage technique, the hairdresser will divide the hair into several larger parts (if the hair is thick or very long). The duration of the balayage procedure depends on many factors, the most important of which are whether the hair has been previously dyed/damaged, how quickly it receives the color, the density and of course the length of the hair.
In general, balayage is considered to be more long-lasting than regular highlights, as the hairdresser works the strands of hair in detail and adjusts the color. Due to the way it is dyed and the final result, balayage requires almost no maintenance as it looks natural and allows your natural color to grow without a sharp growth line. Of course, this is not the case with people who have dyed their hair to the roots, and their maintenance will be somewhat more demanding. Before dyeing your hair, it is advisable to consult the hairdressing salon where you want to go for dyeing.
Maintaining a Balayage Hairstyle at Home
If you want to refresh the color at home, we have selected several steps that can help you with this:
Apply part of the bag to the lengths and ends to protect the existing color. This will help protect the hair – do not dye this part.
Mix and apply the color to the roots – the first 1-2 centimeters of hair – and let it develop for 15 minutes.
Then, using a brush or a wide comb, pull the color of the roots another 1-2 centimeters, with a blending brush, so that you don't get a line, and leave the mid-lengths and ends smeared with conditioner. Develop for a further 10 minutes.
Rinse thoroughly with shampoo (make two shampoos if necessary). Then use the rest of the dye bag, apply to the lengths and ends and let soak in for 2-5 minutes. Rinse and style as usual.
If you wish to learn more about hair stlye and beauty in general, visit this link.