What Is Best Olay Cream For Fair Skin?
In this post, I will guide you through the creams that Olay offers that could be beneficial for fair skin. It is important to note that Olay doesn't have a cream that specifically targets fair skin but there are certainly a few products that will be useful to you. I will go through the ingredients of each cream and of course, elaborate why each ingredient is useful or not so useful to you. So let's get going with the first Olay cream for fair skin.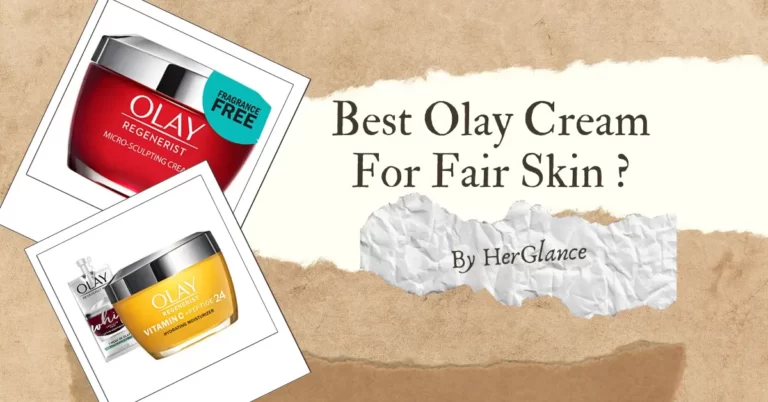 Best Moisturizing Olay Cream For Fair Skin
VITAMIN C + Peptide 24 LIMITED EDITION FEARLESS ARTIST SERIES
So as you can see from the name of this cream its two main ingredients are vitamin C and peptides. They both can be beneficial for fair skin and I will explain why.  Commonly, products that are labeled Peptide 24 are intended to moisturize and nourish the skin by boosting its natural processes. Of course, this is the case with this Olay moisturizer.
Taking a look at its ingredients list we can see that contains Peptides (Palmitoyl Pentapeptide-4). They are included in this cream to increase the collagen production of the skin and to improve the texture of the skin. By doing this peptides also have anti-aging effects on the skin because as we grow older collagen production in our skin decreases. This is why many products that are intended for anti-aging mostly contain peptides.
Next to the peptide's main ingredient is vitamin C which is a  potent antioxidant that can brighten the skin and reduce hyperpigmentation. Also, it protects the skin from external damage or free radicals.
The cream also contains water which is commonly used as a base ingredient in almost all skincare products.
The next ingredient is glycerin which is considered safe for fair skin and almost all other skin types. Glycerin is used to moisturize the skin and hydrate it. Glycerin is a humectant which means that the way it draws moisture to the skin is from the atmosphere.  It also contains Isohexadecane an ingredient that is perfectly safe for all skin types. It is used to make the cream appear smooth.
Niacinamide: VITAMIC C + Peptide 24 cream contains niacinamide which can be useful for fair skin. The function of niacinamide is usually to reduce the redness of the skin. It can also fix uneven skin tone and it helps the natural skin barrier.
The next important ingredient is lactic acid which is usually used in products to exfoliate the skin. Of course, exfoliation can be beneficial for fair skin as it is for any other skin type. It clears the skin of the top layer of dead skin cells and It unclogs the pores. This can result in the evening the skin tone, it can improve the texture and brighten the skin.
So how do you use this cream properly?
The first thing you should do is of course cleanse your skin. This also includes removing any dirt, oil, or other products that you have been using before. If you wish to do proper cleansing here is a link to our post that describes that process to the fullest.
After you are done cleansing you can apply the Olay cream then gently massage until it is fully absorbed. After you are done applying the cream it is also important to apply SPF if it is daytime and you wish to go outside. Since you have fair skin you should not miss this step under any circumstances. Fair skin is generally more susceptible to sun damage due to lower melanin levels, which provides less natural protection against UV radiation.
If you have fair skin and you are exposed to the sun without sun protection it can cause premature aging, increased risk of sunburn, and increased risk of getting skin cancer. I suggest using a SPF of at least 50 and I suggest using CeraVe 100% Mineral Sunscreen SPF 50
As for the customer's experience with this cream, it has been reported that it has a citrus scent and it is very lightweight. It didn't bring any side effects and it was moisturizing. One of the most common comments for this cream was that it didn't leave the skin greasy. If you think this is not the right cream for your fair skin, let's go to the second option.
Best Olay Cream To Achieve Fair Skin
Regenerist Micro-Sculpting Cream Moisturizer
This cream contains ingredients that are hydrating agents, skin-conditioning ingredients, peptides, and antioxidants that can potentially benefit fair skin. This cream leaned more toward the readers who would like to achieve fair skin and not so much toward the ones that already have it and want to maintain it. Some of the most notable ingredients are these:
Panthenol which is also known as provitamin B5 helps moisturize and soothe the skin which helps to improve the complexion. The next ingredient is niacinamide which can also be found in the previous cream. Palmitoyl Pentapeptide-4: A peptide that can help stimulate collagen production, leading to improved skin elasticity and reduced signs of aging.
Sodium Hyaluronate: The salt form of hyaluronic acid, it helps to hydrate and plump the skin, reducing the appearance of fine lines and wrinkles. Of course, there are even more ingredients that this cream contains so if you are interested in that you can check out this link.
As for the usage of this Olay cream, you can apply it the same way that the previous one is applied. Make sure to cleanse and use SPF afterward.
CONCLUSION On What Is Best Olay Cream For Fair Skin
In conclusion, when considering the best Olay cream for fair skin, two options stand out based on the listed ingredients.
The first option contains niacinamide, which will help even out skin tone and improve the skin's barrier function. It also includes panthenol for moisturizing and soothing effects, along with palmitoyl pentapeptide-4 to stimulate collagen production and promote skin elasticity.
The Regenerist Micro-Sculpting Cream Moisturizer includes key ingredients like niacinamide and dimethicone, providing similar benefits in terms of evening out skin tone and maintaining hydration. It also incorporates hyaluronic acid in the form of sodium hyaluronate to help plump the skin and reduce the appearance of fine lines and wrinkles. Furthermore, the inclusion of titanium dioxide offers added protection against harmful UV rays.
Of course, both of these creams have potential benefits for fair skin, such as improving skin tone, enhancing hydration, and addressing signs of aging. As I said above the second one should be your choice if you wish to achieve fair skin and the first one if you already have fair skin and wish to maintain it.
I hope that this post will be helpful to you and that you will purchase one of the creams I have listed above.