Is La Roche Posay Good for Acne?
This post aims to explore "Is La Roche-Posay good for acne" and why it has become a popular choice among individuals seeking solutions for their acne-related issues. By diving into the brand's approach to skincare, its key ingredients, and its success stories, we can comprehensively understand whether La Roche-Posay is suitable for managing acne-prone skin.
In the text below I will analyze their Effaclar line which is a line suitable for acne-prone skin. I will also talk about ingredients that are beneficial and ones that can have drawbacks. Also, in the text below you can find some products from other lines that are a good option for acne-prone skin.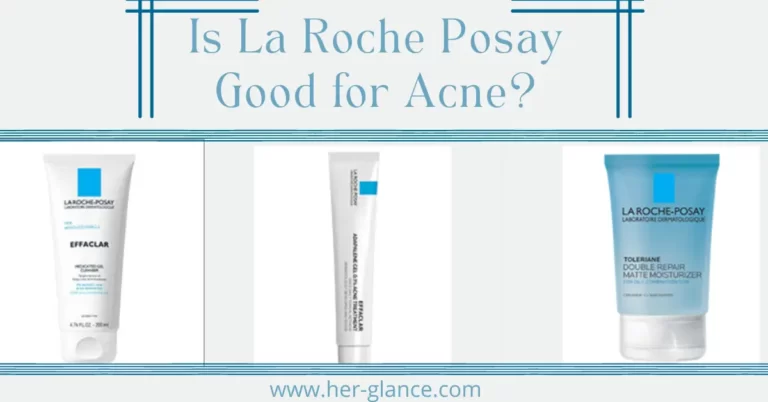 Is La Roche Posay Effaclar Line Good for Acne?
La Roche-Posay has a unique approach to acne management, with their focus on treating existing breakouts and preventing future ones. The good thing about their products is that they are often non-comedogenic, meaning they do not clog pores, and are suitable for sensitive skin, reducing the risk of further irritation.
Moreover, the Effaclar line offers a range of products to introduce into your routine, including cleansers, toners, moisturizers, and targeted treatments. This approach allows you to build a skincare routine tailored to your specific acne concerns, ensuring a more effective and personalized experience, but you have to make sure to read the ingredients list and think about every ingredient on there.
Overall, based on its extensive research, dermatologist recommendations, and positive user experiences, La Roche-Posay's Effaclar line has products that can be a reliable option for individuals seeking effective solutions for acne-prone skin, but there are some ingredients that I don't like in their formulas.
Ingredients that I don't like in La Roche Posay Effaclar line
It is important to note that not all of the products in the La Roche Posay Effaclar line contain these ingredients, so you have to make sure to carefully read the ingredients list, and make a decision for yourself based on your skin.
Fragrances are common irritants and allergens in skincare products. People with sensitive and reactive skin may experience redness, itching, or rashes when using products containing fragrance. Fragrances can also disrupt skin barrier function by causing irritation and inflammation in the skin leading to serious skin concerns like dryness, acne, or redness. It is important to note that some individuals may not experience any adverse effects from using fragrance and that not all fragrances are harmful, for example, natural fragrances derived from essential oils or plant extracts that sensitive skin tolerates.
Alcohol denat is mostly used in products because it affects the formula. It acts as a preservative, reduces the greasiness of certain products, and enhances the penetration of certain ingredients. But while it helps the formula it may have potential bad effects on the skin. First of all, it can be beneficial for people with oily skin because it can temporarily reduce oil and grease, but prolonged use of alcohol denat can disrupt the skin barrier by stripping natural oils and causing dryness, flakiness, and increased oil production. It is one of those ingredients that it's best not to use at all, but if it's in one of your favorite products, use it sparingly, not more than once every two weeks, dermatologists advise. To find more information about this ingredient make sure to visit this link.
Ingredients in the Effaclar line that are beneficial for acne-prone skin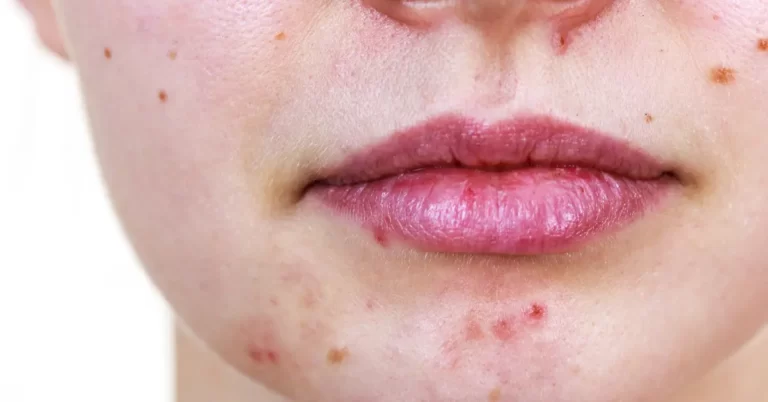 To answer your question "Is La Roche Posay good for acne" I have listed beneficial ingredients, that can be found in their line that is targeted for acne-prone skin, their benefits and drawbacks, and my opinion on some of the products.  
5.5% Benzoyl Peroxide
has anti-inflammatory and anti-bacterial properties. It helps to remove excess oil, dead skin cells, and other debris that can clog the pores, which helps to prevent the formation of new acne lesions. Using Benzoyl peroxide in combination with topical or oral antibiotics can help to manage acne. Its presence can help prevent the development of antibiotic resistance in acne-causing bacteria, making it a valuable component of combination treatments. Benzoyl peroxide can be found in
EFFACLAR DUO ACNE SPOT TREATMENT
, and it doesn't contain fragrance, essential oils, and alcohol.
Adapalene Gel 0.1% 
is a topical retinoid that treats acne deep in the pores at the source, which leads to the prevention of new acne from forming, and as a result of reduced acne, your skin's natural texture and tone are improved. 
EFFACLAR ADAPALENE GEL 0.1%
doesn't contain alcohol, fragrance, or essential oils, and with a known amount of active ingredients.
Salicylic acid 
belongs to the group of BHA exfoliating acids and has anti-inflammatory and anti-bacterial properties, which are great for acne-prone skin. Excess oil and dead skin cells clog skin pores, resulting in acne, which makes a great environment to allow bacteria to get stuck inside the pore and can lead to inflammation and pus-filled pimples. By clearing clogged pores, salicylic acid allows more oxygen to enter a pore which treats acne.
EFFACLAR CLARIFYING SOLUTION ACNE TONER
 contains 0.5% salicylic acid and it does contain alcohol denat, so decide for yourself if you want to use it. To find suitable toner for your skin type make sure to browse through
 my site
 for a detailed product analysis, from affordable toners, to toners with niacinamide to toners for hyperpigmentation.
Lipo-Hydroxy Acid is derivative of salicylic acid and has beneficial properties for acne-prone skin. This acid is a frequent component in skin care products and has skin-renewing, exfoliating, and acne-treating effects. This acid has a very interesting way of working. It offers individual cell-by-cell exfoliation which means slow penetration and better tolerability. Studies have shown that lipo-hydroxy acid promotes the synthesis of glycosaminoglycans, collagen, and elastin. And finally, this acid has comedolytic properties, which means that it inhibits the formation of comedones, blemishes that form when oil and skin cells become trapped in the pore.
Glycerin 
is the best humectant with small molecules that can penetrate deeper layers of the skin and settle between skin cells to hydrate. Since it is a humectant, it improves moisture retention and skin barrier function by pulling water from the atmosphere and deeper layers of the skin. It is also naturally present in our skin and helps to reduce irritation from other ingredients. 
EFFACLAR MEDICATED ACNE FACE WASH
contains salicylic acid, lipo-hydroxy acid, glycerin, and menthol which has antibacterial, antifungal, and even penetration-enhancing properties, but it can be a potential irritant that increases transepidermal water loss, so it would be best to avoid it if you have sensitive skin or dark complexion.
Glycolic Acid belongs to the group of AHA exfoliating acids which help to remove dead skin cells from the surface of the skin. This exfoliation helps to unclog pores, preventing the formation of acne. Glycolic acid has small molecules that penetrate the skin and help to dissolve the buildup of sebum, dirt, and bacteria that can contribute to the formation of acne. Because of these small molecules, this type of acid is not suitable for skin of color because it can cause paradoxical darkening of the skin by stimulating melanocytes (melanin-producing cells) and lead to hyperpigmentation.
Zinc Pidolate has antibacterial properties that can help fight against the bacteria responsible for causing acne, particularly Propionibacterium acnes, and the reduction of that bacteria in the skin prevents future breakouts from forming. It also helps to regulate sebum production which leads to less clogged pores and acne formation.
Niacinamide 
is a form of vitamin B3 that is not irritating because it has a PH similar to the skin's PH. It is a great ingredient for acne-prone skin because of its anti-inflammatory and anti-microbial properties. Niacinamide also reduces sebum production and acne pigmentation. There have been studies that showed that niacinamide reduces hyperpigmentation without side effects as opposed to hydroquinone. Another study showed that niacinamide offers a similar reduction of acne as clindamycin but without developing bacterial resistance. Niacinamide, 1.5% salicylic acid, lipo-hydroxy acid, and glycolic acid can be found in 
EFFACLAR SALICYLIC ACID ACNE TREATMENT SERUM,
 but it also contains alcohol denat.
Zinc Sulfate has anti-inflammatory properties that help to reduce redness, swelling, and inflammation associated with acne and anti-bacterial properties that help fight against the bacteria Propionibacterium acnes, bacteria that causes acne.
La Roche-Posay Thermal Spring Water
La Roche-Posay Thermal Spring Water is a core ingredient in most of their products. It contains a unique combination of minerals, trace elements, and a high concentration of selenium which is a natural antioxidant.
Is La Roche Posay Good For Acne With Products From Other Lines
LA ROCHE POSAY TOLERIANE DOUBLE REPAIR MATTE FACE MOISTURIZER FOR OILY SKIN
Toleriane double repair is a daily moisturizer for sensitive and oily skin. This mattifying moisturizer aids in repairing the skin barrier and offers all-day hydration without shine. It has a great formula without alcohol fragrance and essential oils.
Toleriane Double Repair contains a combination of skin-identical, anti-acne, and cell-communicating ingredients. Glycerin and niacinamide are the ingredients that are present in this moisturizer. Besides those two very beneficial ingredients there are also:
Silica is an ingredient that is supposed to keep your skin mate because it has great oil-absorbing abilities. It also has a good effect on the formula. It is supposed to thicken up products or suspend insoluble particles.
Ceramides are non-comedogenic and have many benefits for the skin. They help to prevent water loss and protect the skin from external irritants and pollutants. Applying them topically leads to replenishing ceramide levels, which means that the skin's barrier function is strengthened, resulting in improved hydration and protection. Ceramides have anti-inflammatory properties that can help soothe and calm irritated skin and they have anti-aging properties by restoring suppleness, smoothness, and elasticity.
Sodium hyaluronate is another humectant that is present in this moisturizer. It is a form of hyaluronic acid that is more stable, easier to formulate, and cheaper so it pops up more often on the ingredient lists.
LA ROCHE POSAY ANTHELIOS UV CORRECT FACE SUNSCREEN SPF 70 WITH NIACINAMIDE
Anthelios UV-correct sunscreen is a chemical sunscreen that has a mild, non-greasy texture that aids in both correcting and protecting against indications of sun damage. It is clinically tested and blends easily into all skin tones. It has a very good formula without fragrance, alcohol, and essential oils. Key ingredients that this sunscreen contains are niacinamide, glycerin, panthenol which has soothing properties, and candle tree which has anti-microbial and anti-inflammatory properties.
LA ROCHE POSAY ANTHELIOS MINERAL TINTED SUNSCREEN FOR FACE SPF 50
Anthelios mineral-tinted sunscreen is suitable for all skin types. It doesn't contain alcohol, fragrance, or essential oils. This sunscreen has Cell-Ox Shield® technology which is an antioxidant technology in the Anthelios sun care range that makes this sunscreen worthed. The technology combines photostable UVA/UVB filters to deliver broad spectrum protection and powerful antioxidant protection with Senna Alata, a tropical leaf extract known to defend skin cells against damaging free radicals caused by the sun. It also contains Tocopheryl acetate, a form of vitamin E that acts as an anti-oxidant, dimethicone that prevents water loss, silica, La Roche-Posay Thermal Spring Water, titanium dioxide, and iron oxides.