Glycerin Skin Whitening – Why You Should NOT Do It
Glycerin skin whitening is not scientifically proven, and the reason for that is that it is the best humectant, so it hydrates the skin and does not have any effect on pigmentation cells. 
Glycerin skin whitening is possible only if you use products that are glycerin based and contain whitening ingredients that can help you with dark spots and evening out your skin tone.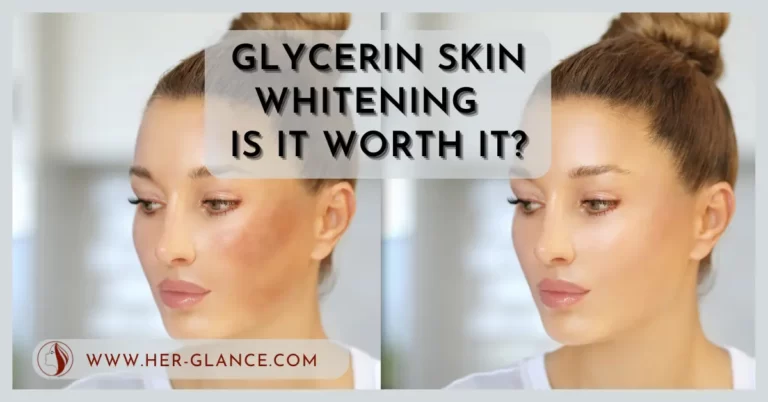 In this post, I will tell you why following DIY recipes for glycerine skin whitening can be harmful to your skin. Also, I will give you ideas for products that are glycerine based and contain whitening ingredients.
Glycerol, sometimes referred to as glycerin, is a substance that is naturally present in our body, but for skin care products it is generated from vegetable or animal fats. It has a sweet taste and is a transparent, flavorless, syrupy liquid. Glycerine is very beneficial for the skin.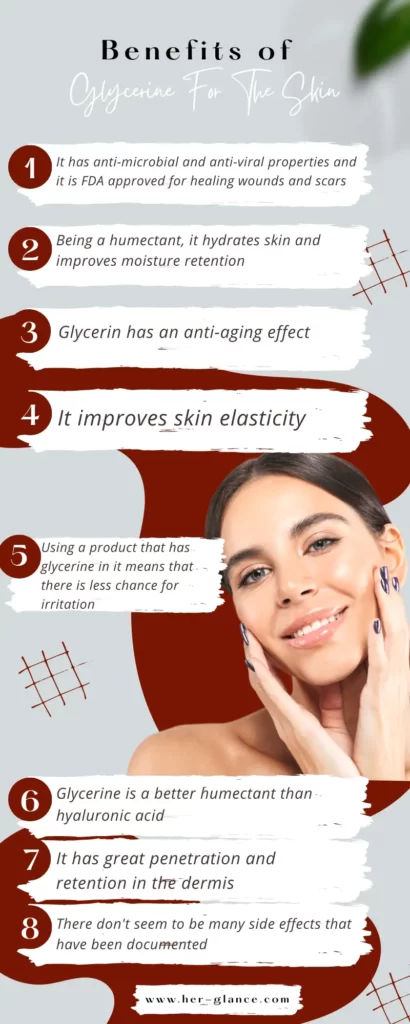 It has anti-microbial and anti-viral properties and it is FDA-approved for healing wounds and scars.
 Being a humectant, it hydrates skin and improves moisture retention and skin barrier function.
Glycerin has an anti-aging effect because it can smooth out wrinkles by space filling
 It improves skin elasticity by making the skin barrier hydrated and more functional
 Using a product that has glycerin in it means that there is less chance for irritation because it helps to reduce irritation from other ingredients by keeping the skin barrier healthy
 Glycerin is a better humectant than hyaluronic acid because it has a molecular weight of 92Da and hyaluronic acid had over 500 Da (any ingredient that has a molecular weight less than 500 Da can get deeper into the skin). It can penetrate the second layer of the skin (dermis) and gets water from the blood supply instead of dehydrating your skin.
 It has great penetration and retention in the dermis even if you are in an environment where the air has low water content and that makes it much better than hyaluronic acid because it is often recommended to get a humidifier if you apply hyaluronic acid in that kind of environment.
Even though there don't seem to be many side effects that have been documented, as glycerin is a natural substance, there is always a chance that an allergic response might occur. Stop using the product right away if you feel irritation, itching, or any other side effects. Choose a different product if the one you have contains glycerin, and be sure to carefully read the labels.
Why You Should Not Do DIY Glycerin Skin Whitening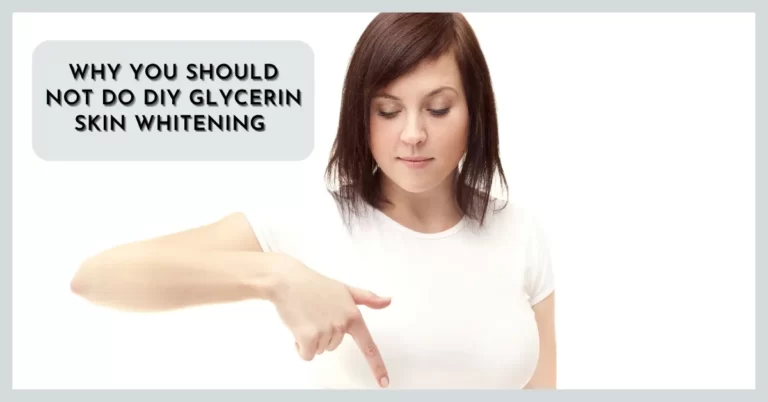 Maybe you will not like what you hear, but DIY recipes for glycerin skin whitening do not work because glycerin is a humectant, not a lightning ingredient. Yes, you can mix it with lemon juice and expect a lightening effect, but using lemon juice on your face can lead to severe irritation and damage to your skin barrier.
Taylor Worden, the celebrity esthetician, claims that possible symptoms include peeling, dryness, stinging, and redness.
Since there is no scientific data to prove that glycerin has whitening properties, following DIY recipes that claim to have that kind of effect can only bring severe dehydration to your skin, even to the point of blistering.
Why is that so?
As I already said glycerin is the best humectant on the market according to a 2016 study and that means that it can attract water and hold onto it if you use it appropriately. Using glycerin appropriately means that there is no need for a separate product, since a lot of products contain it, and there is no need to apply it straight on your face.
"If you decide to put straight glycerin on your face, while it holds and pulls water from the air and deeper layers of your skin to hydrate if there is no corresponding occlusive ingredient to seal all of that in you can end up losing more water", Dr.Dray says.
An occlusive ingredient is one that seals the water in, it has a thick, waxy, and oily texture that doesn't allow water to evaporate, for example, shea butter. So, because there is no occlusive ingredient in DIY recipes glycerin will just hold all of that water for a bit, and then it will evaporate, resulting in pulling out more moisture and that is how applying straight glycerin on your face will lead to dehydration.
Even if you want to mix in occlusives, formulating your skincare products with glycerin can be hard because it is very sticky and impossible to mix in properly.
It is a better idea to leave it up to professionals and use products that contain glycerin in them.
Fighting hyperpigmentation and scarring can be hard, so don't rely on DIY recipes that can make that concerns even worse.
Products For Appropriate Glycerin Skin Whitening
When we talk about glycerine skin whitening we can only refer to products that are glycerine based and contain whitening active ingredients. Since glycerine is the best humectant it is worth including in your skincare routine.
That kind of product is created to give the skin a whitening effect. They include several ingredients that interfere with the melanogenesis process (appearing of melanin, the natural pigment that is a protective measure when skin is exposed to the sun). Having those ingredients in your skincare routine can help with your hyperpigmentation and evening out your skin tone.
Whitening ingredients are retinoids, ascorbic acid, and its derivates, kojic acid, azelaic acid, and niacinamide. Often these products contain AHA or BHA exfoliants to remove a layer of dead skin cells for enhancing the performance of lightening ingredients.
PCA SKIN Vitamin B3 Brightening Face Serum
PCA SKIN Vitamin B3 Brightening serum is a great example of bland hydrating and whitening ingredients. It contains glycerine for hydration and niacinamide, mulberry, and green tea extract for a clear, even complexion, and plankton extract for reducing discoloration. To find out more about these ingredients just keep reading.
It is intended for normal skin types. It will leave your skin feeling smooth and even out your skin tone. The only problem with this serum is the packaging because the pump blasts a lot if you are not careful enough.
Here are the benefits of ingredients in PCA skin serum:
Niacinamide is better for hyperpigmentation than hydroquinone according to studys. It is great for redness and has anti-aging properties since it prevents water evaporation from the skin and stimulates collagen production.
Mulberry extract is well known for its natural skin-replenishing and brightening abilities and for minimizing the appearance of scars, age spots, and other types of discoloration brought on by sun exposure or the aging process.
Green tea extract can do wonders when it is used regularly, it improves skin's natural moisture and can help to reduce inflammation.
Plankton extract is a very versatile skincare component that provides an even complexion. It helps keep poisons and contaminants from reaching the skin while shielding it from UV rays and blue light. It lessens oxidative stress, safeguards cells, and combats early skin aging symptoms.
La Roche-Posay Toleriane Double Repair UV SPF Moisturizer for Face
This is an oil-free moisturizer that has an SPF of 30. It provides hydration and restores the skin barrier and it is suitable for all skin types. After applying it skin feels smooth and protected, and it has a light, non-greasy texture and barely any scent. You can use it as a primer before makeup, just wait for 5 to 10 minutes and you are good to go.
This moisturizer is intended for the morning routine because it has SPF.
Next to glycerine and niacinamide it also contains ceramides. Ceramides are naturally found in our skin, they are fats that make up 30-40% of our outer skin layer, the epidermis.
They are important for improving the health of our skin cells, preventing moisture from leaving the skin, protecting the skin from environmental damage, and promoting anti-aging.
ARCONA Desert Mist - Protective Barrier Serum with Vitamin C, Vitamin E + Glycerin
This product is a great way to incorporate vitamin C and glycerin into your skincare routine.
 Vitamin C has extraordinary anti-inflammatory and antioxidant properties that are proven to moisturize the skin, enhance skin tone and texture, and lessen the indications of aging. According to one study, vitamin C's antioxidant qualities are crucial in reducing sun damage-related indications of aging and undesirable dark spots. 4 Tyrosinase, an enzyme that participates in the synthesis of melanin, is likewise inhibited by vitamin C, reducing hyperpigmentation.
Normal complexion color will not be lightened by vitamin C; rather, it will only affect the irregular melanin deposits brought on by sun damage. If you have sun-damaged skin I recommend you my post about repairing sun-damaged skin. 
 Vitamin E research is still ongoing. It stops the skin from losing moisture and protects skin from UVB rays by absorbing them."It probably makes moisturizers work better, but it's unclear in most studies if it has a direct medicinal role," says Dr. Kassouf. "Its effects are fairly subtle. It doesn't treat any particular skin condition other than helping a bit with general skin aging and lack of moisture."
SkinMedica Retinol 0.5 Complex
Next to retinol complex SkinMedica Serum also contains niacinamide, ceramide and bisalbol.
Vitamin A in the form of retinol has several applications in skin care. It contains anti-aging properties and is used to treat acne. Without a prescription, you may purchase retinol over the counter. You can also consult a doctor to learn how retinol could work best in your skincare regimen.
Retinol promotes the generation of skin cells (proliferation). It aids in pore cleaning. Additionally, retinol exfoliates your skin and boosts collagen synthesis, which can lessen the visibility of wrinkles and fine lines and give your skin a younger, plumper appearance.
When using retinol make sure to use it with care and follow instructions. If you want to start using retinol go with smaller percentages and do a patch test to see how your skin will react.
Retinol is great for hyperpigmentation.
Topical retinol treatments can help lessen the irritation and swelling associated with breakouts and can also help prevent new ones. But severe acne scars that are elevated or sunken may not usually respond well to topical retinol therapy.