Best Korean Toners
LIST + FULL REVIEWS
In this post, we are going to categorize the best Korean toners based on the skin type they are suitable for the most.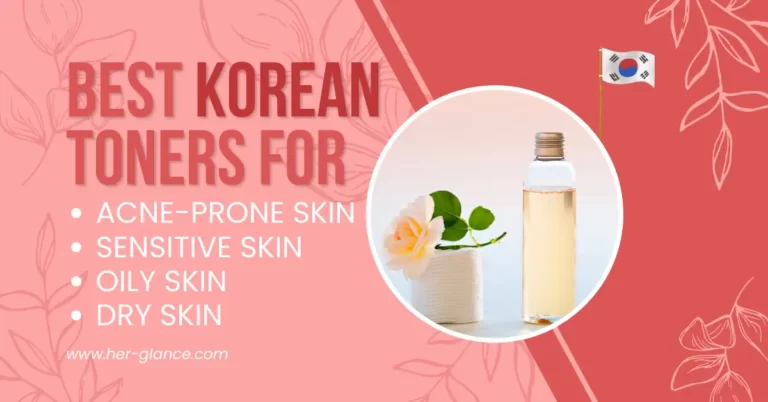 Korean beauty has extremely big standards and that's why lately a lot of people from western countries are starting to trust Korean products. Toners as one of the most important and most common skincare products are no exception and because of that, we have decided to create a list of the best Korean toners.
Regarding your skin type, you can skip to it and find the best toner for yourself. To do this you can use provided table of contents below.
IUNIK Tea Tree Reliet Toner
This toner is certainly one of the best Korean toners overall but its specialty is acne prone skin, it is recommended and specially made for acne prone skin. Although many people have reported that it showed great success with oily and sensitive skin types.
That is the case because it's relatively lightweight and doesn't have many ingredients in itself.
The main ingredient is green tea leaf water since it makes 67% of this toner. This ingredient is extremely common in Korean beauty products. If you are wondering what are benefits of this ingredient are, we will list the main and most unique of them here.
Green tea is antioxidant and anti-inflammatory, which means it helps protect the skin from outside factors like UV lights and pollution. When we say anti-inflammatory, it means it helps reduce redness and pain on the skin.
The next very important ingredient is Centella Asiatica leaf water which makes up 19.5% of this Korean toner. The main job of this ingredient is to make the toner hydrating and easy to soak into the skin. Next to the good and useful ingredients, the toner has one more great characteristic, and that is its smell. The smell is not overpowering but it does give a hint of tea tree smell which is calming and pleasant.
Overall if you are looking for a toner with a watery texture that will treat the acne on your face this is the one for you. Make sure to check the price on Amazon by yourself as they are constantly changing them.
SOME BY MI Aha.Bha.Pha 30Days Miracle Toner
This toner is specifically made for acne prone skin and that's its main job to do when you apply it to the skin. Many people have reported that it gave some serious results when it comes to acne reduction. The important thing is that this Korean toner works on breakout chance reduction and not only to reduce the effects of breakouts.
Of course next to acne reduction it also does pore care, moisturizing, and whitening of the skin. If you are wondering what the hell is whitening well that is the same effect as brightening which is a more commonly used term in Western countries. Brightening is a term used to describe improved cell turnover which in turn can reduce dark spots of hyperpigmentation.
This is a low pH toner, which means it focuses on the skin's natural pH balance and hydrates and cleans pores that way.
Toner comes in 150 ml packaging and by our calculations, if you use it both in the morning and night, one package should be enough for 2 or 3 months of use. The package is made of plastic and it looks really good a very pleasant design.
As for the ingredients of "SOME BY MI Aha.Bha.Pha 30Days Miracle Toner " the main ones worth mentioning are this.
AHA is a chemical that stands for "alpha hydroxy acid" and it works as an exfoliator above the skin. But what are the benefits of AHA you ask? Well, the most notable benefits of alpha hydroxy acid for your skin consist of anti aging, improved skin texture overall and it even fades dark spots on the skin.
BHA is the most important ingredient because it does most of the hard work for this toner. Since this is the toner mainly for acne prone skin BHA does exactly that. It helps to remove blockages in your clogged pores and allows you to have acne free skin.
Mandelic Acid 5% Skin Prep Water
Mandelic Acid 5% Skin Prep Water is a Korean toner that is usually used in spring and fall since most ladies have problems with acne at those times of the year. It is recommended to be used two to three times a week which means one package can be used for a long time. These characteristics make this toner a good investment. Now about the ingredients, mandelic acid is an AHA (it was explained what AHA is before) with a significantly larger molecular structure than glycolic acid which means that it does not penetrate deep into the skin. Since mandelic acid doesn't penetrate deep into the skin this means that the whole product is gentle to the skin. As the name says 5% of this Korean toner makes mandelic acid but of course, toner contains other ingredients. Some of them are
beta-glucan
,
panthenol
,
centella extract
, and
sodium hyaluronate.
Of course next to its main purpose of fighting acne, it hydrates the skin while gently exfoliating the skin at the same time without any irritations. Since it has these characteristics the toner is also suitable for sensitive skin types. As for the texture, the toner is watery and bright, don't be fooled by its brown bottle as that is not the color of the toner. It is packed in this type of bottle because mandelic acid is sensitive to light. As for its scent "Mandelic acid 5% skin prep water" has none and it doesn't smell like anything. If your skin does not tolerate Glycolic acid but you still want a bit more effect than you get from PHA then this toner is the right choice for you. It is used as any other toner, when you apply it you can carry on with the rest of your skincare routine and leave it on until the next time you do your routine again which can be the next morning or the next night.
BENTON Aloe BHA Skin Toner
One of the many Korean toners focused on acne problems is definitely BENTON Aloe BHA Skin Toner. This toner has a watery texture but not as watery as the toners mentioned before him which might be the case because of the presence of aloe vera gel in it.
Benton toner is different from other toners with BHA because it contains only 0.5% of it which allows its usage on daily basis without irritating the skin. Of course, many people especially with oily skin tend to favor toners with at least 5% of BHA. If you have an oily skin type maybe you would like to skip this one, but surely we will be listing more toners down below for oily skin types.
But why is this toner so good at preventing acne?
Since it has BHA in it, Benton can remove dead skin cells that can clog your pores and start acne breakout. It is also well known that dry skin can result in acne breakout, as the answer to that this toner has aloe vera in it which helps the skin to stay hydrated.
Overall very good toner that can help you stop acne breakouts. Since it has only 0.5% of BHA it is extremely light and can be used on sensitive skin too also if you are just getting into Korean beauty products Benton is the right choice.
BENTON Snail Bee High Content Skin Toner
BENTON Snail Bee High Content Skin Toner is a toner of a medium to the light texture which offers medium hydration to the skin which might come as a surprise because it has a lot of snail extract.
Since the "BENTON Aloe BHA Skin Toner" was not recommended for oily skin, this one is. It is recommended to be used in the morning if you have oily skin. Many people with oily skin don't like to use hydrating toners because it usually results in shiny skin for the rest of the day.
The package contains 150ml and currently costs 17$ on Amazon but make sure to check the current price by yourself since the prices tend to change very often.
It is important to note that from all of the Korean toners we have listed for acne-prone skin this toner is considered the least acne friendly because it contains polysorbate 20, an ingredient that can cause acne outbreaks for some people.
Still, it's pretty much acne-friendly but not 100% acne-safe as the rest of the toners on this list. Make sure to be careful when using it as it is not recommended to use it more than once a day.
Best Korean Toners For Oily Skin
COSRX AHA/BHA Treatment Toner
COSRX AHA/BHA Treatment Toner is largely considered the best Korean toner for oily skin and that is rightly so.
Cosrx is one of the most popular Korean brands in the world of beauty and it should not come as a surprise that we have listed their toner as one of the best available.
As for the consistency of COSRX, AHA/BHA Treatment toner is definitely as liquid as most of the other toners out there but the main difference is that it is applied as a spray. This way if you are spraying it on your skin it can become wasteful, the toner may end up in your eyes or you won't spray it evenly across your face it is recommended to use a cotton pad and spray the liquid on the pad. After you have sprayed it then apply it to the skin with the pad. This way you won't waste a bit of the toner you have paid for and your eyes won't hurt.
As for the ingredients of the toner, it contains Slix Alba (Willow) Bark Water with the main purpose of hydrating and soothing the skin. The next ingredient is The most researched and well-known AHA exfoliant and that is Glycolic Acid. It gently lifts off dead skin cells to reveal newer, fresher, smoother skin. In larger concentrations (>10%) it's a proven collagen booster.
This Korean toner also contains Betaine Salicylate which counts as a mild exfoliant and natural moisturizer and skin smoothing agent. It is usually only found in Korean beauty products and can be used only in small amounts. The next ingredients are Allantoin which is means to soothe the skin and Panthenol which is a good moisturizer and acts anti-inflammatory.
Toner is usually recommended to people whose skin is not used to AHA/BHA and who have acne-prone and oily skin.
Acwell Licorice pH Balancing Cleansing Toner
This toner will do the work when it comes to hydration and surely won't leave your skin dry. It is mostly recommended for acne-prone, oily, or combination skin. If you fall in this category make sure to check this one out. The current price of this Korean toner on Amazon is $22.5, regular price is $25 which means it's on discount. If you are in a rush to get yourself a new toner it might be a good idea to save a few bucks this way. We will also talk about key ingredients of this toner, some of them are
Glycyrrhiza Glabra (Licorice) Root Water
which is a great antioxidant, and
Camellia Sinensis Leaf Extract
which is a green tea, one of the most researched natural ingredients in the skincare industry.
Green tea
has proven antioxidant, anti-inflammatory, antimicrobial, and anticarcinogenic properties. The next ingredient on the list is
Perilla Ocymoides Seed Extract
which also acts as an antioxidant. As many of the ingredients in these toners are good antioxidants, if you are wondering what antioxidants mean here is the answer.
Antioxidants
are molecules that fight free radicals in our body which if their levels get too high can cause various illnesses. Of course, our body produces its antioxidants but they can be found in other sources such as food, fruits, vegetables, etc.
Tocopheryl Acetate
is a form of vitamin E which also works as an antioxidant. The rest of the ingredients are mainly used for skin brightening and soothing some of them are:
Glycyrrhiza Glabra (Licorice) Root Extract

and
Camellia Sinensis Leaf Extract

.
Innisfree Pore Clearing Facial Toner
Certainly one of the best Korean toners for oily skin Innisfree Pore Clearing Facial Toner is part of a volcanic clay trio bundle together with the Innisfree Volcanic clay mask and facial foam. Volcanic Clay products are traditionally aggressive and are marketed as a relatively fast way of removing dirt and oil from your skin.
Further, this toner also tightens the skin and also removes the pores that are often a problem associated with oily skin type. Manufacturers of Innisfree Pore Clearing Facial Toner are claiming that it can be used on all skin types, all textures, all ages, and all skin colors. Of course, this is true but generally speaking, most of the benefits from this toner will grab people with oily skin since it controls oils really well on your skin.
Since it removes the oils from the skin it also removes the shine on the facial skin with them.
This is also a wipe-off toner, which means you should wipe it off with water after you have used it, this is usually not the case with most of the toners but you want to do this.
The toner comes in really pretty packaging and before using it you should shake it up because a lot of the ingredients are usually stacked at the bottom. The current price of this Korean toner is $20 on Amazon which is considered a regular price for a toner, of course, you are welcome to check the price yourself as they do get changed often.
Best Korean Toners For Dry Skin
APRILSKIN Artemisia Rice Essence Toner
This is probably the best Korean toner for dry skin
since it is extremely lightweight without any aggressive ingredients. Its main purpose is to hydrate the skin which is what dry skin mostly needs. Of course, since it targets mostly people with dry and sensitive skin the manufacturers took care that the skin is not dried out while its soothing and hydrating the skin. Some of the most important ingredients in this toner are,
Artemisia Vulgaris Extract
which makes up to 80% of the toner. This ingredient calms the skin and removes the redness on it, it also soothes the skin and prevents acne breakouts. Next is
Purslane Extract
which is a traditional Korean medicinal plant with skin-soothing, antioxidant, and wound healing abilities.
Sodium Hyaluronate Crosspolymer
acts as an antioxidant and gives skin long-term moisture. The rest of the ingredients are
Glycerin

,

Sodium Hyaluronate

,
Sodium Hyaluronate Crosspolymer
, and
Purslane Extract
.
The only con of this toner is that it leaves an oily residue after you use it.
If you think that will be a problem for you we suggest you skip this one.
Toner currently costs $22
on Amazon which is the usual price for a toner you might expect.
The Lab Oligo Hyaluronic Acid 5000Da Toner.
This toner made it to the list since it is considered one of the best Korean toners for dry skin. After you apply it definitely will leave a feeling of well-hydrated and healthy skin. Since it contains hyaluronic acid it forms a protective layer on your skin that keeps your skin clean and healthy.
The main ingredient of this toner is hyaluronic acid which alleviates dry skin, helps heal wounds, and even more. We have also written an article about the best toners with hyaluronic acid, make sure to check it out since hyaluronic acid is extremely beneficial for dry skin. 
The main benefit of this protective layer is that your pores cant get clogged and it prevents the acne breakouts that are usually caused by clogged pores.
Of course, like most products, it has certain cons but the one you might consider is that it is sticky once you apply it to the skin. We recommend you not to touch your face once you apply the toner for at least 10 min to let the skin absorb it fully. After you have waited it out, you can carry on with your skincare routine.
The Face Shop Mango Seed Silk Moisturizing Toner
This toner is probably the most expensive among the ones considered the best Korean toners for dry skin, it costs $27 currently on Amazon. But the cost is reasonable when you consider the benefits this toner brings to your skin. The main purpose of this Korean toner is hydration of the skin without preventing radiance loss due to dryness.
The biggest con of this product is the strong presence of fragrances.
According to the
American Academy of Dermatology
, fragrances are the main cause of skin irritation and we recommend that if you have sensitive skin you should stay away from this toner.
Best Korean Toners For Sensitive Skin
Etude House Soonjung ph5.5 Relief Toner
"Etude house soonjung ph5.5 relief" is the Best Korean toner for sensitive skin if you ask any dermatologist and we can only agree with them. We talked with several of them and the biggest plus they give to this toner is its simple ingredient list. Since it does not contain many ingredients there is simply less chance that it's going to irritate your skin and that's why it's considered to be the best Korean toner for sensitive skin.
The toner comes in a very well designed plastic transparent bottle. Now, this might be a problem since the bottle is transparent and some of the ingredients inside might get degraded if exposed to the light. Considering this you should keep the toner in a dark place where it's not exposed to the sunlight if you decide to purchase one.
As for the texture, toner is extremely watery and its texture is a bit thicker than the water itself.
The most important ingredients that make this toner so good for sensitive skin are Panthenol, Madecassoside, Green tea extract, and Skullcap root extract.
Panthenol is an ingredient that soothes the skin it also protects the skin and reduces any irritations that might be bothering you.
Madecassoside is an ingredient that heals the wounds on the skin and also protects it.
Green tea extract carries antioxidant protection and is usually used when toners are lightweight.
Skullcap root extract is a traditional Chinese herb that has anti inflammatory properties. It also contributes to the fight against acne, especially if the acne is the fungal type. So if you are having trouble with acne this Korean might be the solution to it.
COSRX Galactomyces 95 Tone Balancing Essence
"Cosrx galactomyces 95 tone balancing essence" is a holy grail for many people and we understand why.
Cosrx made a great job with this toner since it does what it is intended for, it hydrates the sensitive skin without any irritations or redness. The ingredient list of this Korean toner is extremely short where COSRX made sure that they are not adding any fluff and that the product won't irritate sensitive skin.
The main ingredient of the toner is galactomyces ferment filtrate which makes up 95 % of the toner's formula. This ingredient is extracted from Japanese rice wine and it has hydrating and antioxidant effects. Of course, this ingredient is extremely popular but there are a lot of people who are allergic to it. So if you have sensitive skin and you are looking for a perfect toner this might be the one under the condition you are not allergic to its main ingredient.
Currently, the price of this toner is $14 on Amazon which is a discount from $25, if you are planning to buy the toner this might be the perfect chance. When it comes to the ratio of what you get and what you pay this is certainly a no brainer since this is one of the best Korean toners for sensitive skin.