Best Facial Products For African American Skin
Today there are many products that can be used for any type of skin and of course any skin colour. Of course, there are the ones that are simply better for each skin colour and in this post, I will talk about the best facial products for African American skin. I will list the best moisturizer, exfoliant, cleanser, and sunscreen and of course, give you my idea of the perfect skincare routine in order to combine these products.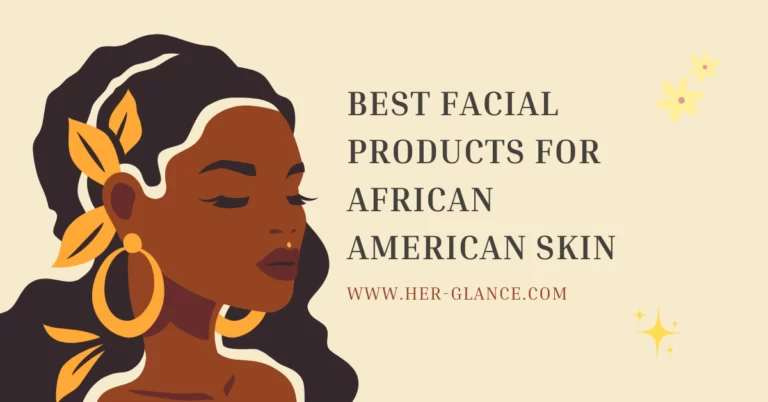 Best facial products for African American skin are:
CeraVe Foaming Facial Cleanser
Paula's Choice Skin  Liquid Exfoliant
Fenty Skin Fat Water Pore Refining Toner Serum
Black Girl Sunscreen SPF 30
List Best Facial Products For African American Skin
Best Cleanser For African American Skin
1. CeraVe Foaming Facial Cleanser
The foaming facial cleanser from Cerave is usually meant for normal to oily skin but not superbly oily. On the packaging of the product, you can see that it states how it cleanses and removes oil without disturbing the protective skin barrier. Now why is this so important?
This is important because a lot of oily cleansers contain acids like glycolic acid and salicylic acid which can be important because they exfoliate the skin but they disturb the skin barrier on any skin no matter the pigmentation of it.
One of the most important ingredients of this cleanser is ceramides which can be extremely helpful to African American skin because they help hydrate the skin partially. Unfortunately, most of the time if a product contains ceramides it is not an affordable one.
Cleanser also contains niacinamide which is a good ingredient that can reduce the amount of inflammation and redness which happens to your skin especially when you have a little bit of acne on your skin. Niacnimde at the same time reduces the redness caused by sensitive skin and redness caused by acne scars. It also helps restore the natural skin barrier.
It also contains hyaluronic acid which is good for hydration.
I think that it would be helpful to add that it also has foaming action. The foaming action is not due to SLS, it doesn't contain any sls inside. It is actually due to one of his proprietary technology inside so you just need to pump it up and add a little bit of water and then mix it with your palm. Then you realize that it will have a little bit of foam, unlike products that contain SLS.
The cleanser will surely not clog any pores which is extra important if you have acne-prone or combination skin. Niacinamide it contains will surely calm your skin and it won't trigger any irritations. Also, it doesn't contain any fragrances nor it will dry out your skin.
The product contains parabens but my unpopular opinion is that parabens are not your enemy, they extend the shelf life of the product and prohibit any fungus and bacteria development in the product.
Best Exfoliant For African American Skin
2. Paula's Choice Skin Perfecting 2% BHA Liquid Exfoliant
Paula's Choice Skin Perfecting 2% BHA Liquid Exfoliant is a favorite among many skincare enthusiasts no matter the skin color. With more than 47000 five-star ratings this liquid exfoliant is one of the most popular exfoliants out there. Surely there must be a good reason for that. In my opinion, this exfoliant is perfect for people with black skin who are looking to unclog the pores as well as reduce the appearance, smooth out wrinkles and fine lines, brighten and even out skin tone, keep the blackheads out, and attack those sebaceous filaments. Of course, you will be able to reap the benefits of salicylic acid in only 8 ingredients.
Out of 8 ingredients that make out this product there are 2 out of the bigger importance for you and that make this exfoliant unique.
The first of them is salicylic acid. Most brands out there don't disclose the pH levels of their products. Salicylic acid works best when pH levels are at around 3.0 to 4.0.
This product discloses this information and its pH range is from 3.2 to 3.8 which will increase its efficiency. Not only that but this is the salicylic acid left on the product and not rinsed off the product. This means that it doesn't contain any of the little microparticles.
Those are the little scrubbing beads that can be found in some other exfoliators that can be harsh and damaging. Instead, this formula is very light and watery that goes on easily, and absorbs pretty quickly. A second important ingredient is green tea. I think that the manufacturers added this ingredient for a very purposeful reason which is brilliant.
The green tea is in the form of camelia oleifera which will help counteract the irritation from salicylic acid, especially for those who are prone to it. It has anti-aging benefits since the antioxidants called catechins in it, help protect the skin from free radicals that cause aging. Furthermore, green tea will help with sun damage and sun spots on the face.  These two ingredients are not that commonly found in other exfoliants and that's why this product is different.
The tube that it comes in is really easy to open and the product is also super easy to apply. When you do apply it, it feels moisturizing and I am not going to lie the skin feels sticky for around 5 minutes after you apply it but I don't think that will represent an issue to anyone. You will probably need around 3 drops of this to exfoliate your skin and the bottle design makes sure that you don't apply too much of it.
Best Toner For African American Skin
3. Fenty Skin Fat Water Pore Refining Toner Serum
First of all, I want to state that a lot of people don't need a toner in their skincare routine unless they bring in some active ingredients like glycolic acid or niacinamide, etc. So, if toner has active ingredients it can do for your skin but most of the time they are overly stripping for the skin and cause more oil production. Long-term that will lead to detrimental effects on your skin.
The first notable ingredient is hazel water. A lot of skincare brands like to use this because it gives a very soothing effect on your skin in the short term after you apply the toner. The second beneficial ingredient is niacinamide which brings many benefits to the table. It has anti-inflammatory properties, helps with oil production, and has anti-acne properties, anti-redness, etc.
Also, it contains Barbados cherry which contains a lot of vitamin c in it, an antioxidant that is extremely good for collagen production of your skin.
If you wish to explore more about best toners for black skin, we have a post about that as well!
Best Sunscreen For African American Skin
4. Black Girl Sunscreen SPF 30
This product is specifically designed to combat the number one reason why black women didn't use sunscreen and that is the white cast. There are three things you have to look at when searching for the perfect sunscreen. The first thing is that it won't cause irritation and break out your skin. The second thing to look for is that it wears well under makeup of course if you choose to wear makeup at the same time as sunscreen. The third thing is that it doesn't leave a white cast on the skin.
This product is a chemical sunscreen and it is ultra sheer and there is no white residue. It doesn't contain any fragrance which is a good thing and it is infused with jojoba and avocado. Of course, there are a lot of other sunscreens that have ingredients that are beneficial for African American skin but I would personally suggest using this one as it is moisturizing because of the avocado and jojoba but at the same time it doesn't leave a white cast.
Best Skincare Routine For African American
The best way to start applying Paula's Choice Skin Perfecting 2% BHA Liquid Exfoliant is to apply it once or twice a week if it's your first time with chemical exfoliants. Then, you will be able to work your way up to every other day for two weeks. Of course, you should pay attention to your skin's response to the product.
So after one month of using it, you should start using it once a day for another two weeks. Technically you can go twice a day but I think how that is too much exfoliation for your skin.
If you immediately start using the exfoliant too often you will cause burning and trust me you don't want that. I think that sweet spot is at 2 to 3 times a week to ensure that irritation doesn't go unmanageable. For the daytime start with a gentle cleanse (already suggested
CeraVe Foaming Facial Cleanser ) and then finish with an SPF of 30 or even more. One tip I would suggest is to wait at least 10 to 15 minutes before adding your moisturizer. Moisturizers usually have different levels of pH so for the best results make sure that Paula's choice is processed first before adding anything else on top that will slow it down.
I assume that it will take probably around 4 weeks for you to see results with this exfoliant so don't write it off in the first days of applying.  This brings me to the biggest misinformation circling this exfoliant which is that people often forget that this is a chemical exfoliant.
So, knowing this there is no need for additional chemical or physical exfoliants in your regimen unless of course you know your skin can handle it. But why would you test your luck when you can probably get the same results if you just wait? Also, this product can cause skin purging around the 2-week mark and it doesn't mean you have an irritation to it, it just means that you are purging which is a big difference. And, lastly, the absolute must-know-you need to be aware of before trying Paula's choice that I have broken down into 4 things.
Make sure you don't rinse this off. Often it may seem like a natural thing to do right after you apply something but this is meant to be left on until the next cleansing specifically so it can work. If you rinse it off, you won't see the results you are after and you might irritate.
You will need to use sunscreen with it. If you don't use sunscreen then you should not use exfoliant as well. Any BHA or AHA exfoliant will increase the sun sensitivity of your skin by a lot. So, if you struggle with the sun it would probably be a good idea, not to use it during the daytime and instead use it at night time.
The less is more, and what I mean by this is that a little goes a long way and you will have to wait 30 more minutes for it to sink in if you use too much.
You will have to expect some irritation. Chemical exfoliants can be a bit rough and harsh even if you have never reacted to them. You have to give yourself enough time to adjust to it and yes you can over-exfoliate as well.
Before you introduce the Fenty Skin Fat Water Pore Refining Toner Serum, ensure your canvas is ready. Cleanse your face using your trusted CeraVe Foaming Facial Cleanser, followed by exfoliation using Paula's Choice Skin Perfecting 2% BHA Liquid Exfoliant on exfoliation days. This preps your skin, removing impurities and allowing the toner serum to penetrate effectively.
Hold the Fenty Skin Fat Water Pore Refining Toner Serum bottle in your hand, ready to dispense. Give the bottle a gentle shake to ensure the product's contents are well-mixed. Then, open the cap and gently tilt the bottle downward. A few drops are all you need for the full benefits. The formula's concentrated nature means that a little goes a long way.
Here's where the magic unfolds. Dispense the drops onto your fingertips, focusing on just a few drops to start. The goal is to apply the product strategically, ensuring it covers the areas that matter most. Gently press your fingertips onto your face, beginning at the center – your forehead, nose, and chin – and then working your way outward towards your cheeks.
As you press the toner serum onto your skin, employ a technique known as the "press and release." Gently press your fingertips onto your skin, allowing the product to make contact. As you release, you're creating a pathway for the product to be absorbed. This technique promotes better penetration, ensuring the toner serum's potent ingredients are absorbed effectively.
After application, patience is key. Allow the toner a few moments to fully absorb into your skin. During this time, the product's refining and hydrating properties are at work, making a noticeable difference in your skin's appearance and texture.
After the Fenty Skin Fat Toner has been absorbed, you're ready to move on to the final step of your skincare routine, which includes applying your chosen sunscreen with SPF. By allowing the toner serum to absorb fully, you're creating a clean canvas for your sunscreen to adhere to, ensuring optimal protection and benefits.
Remember, consistency in the application is key to reaping the full rewards, so indulge in this process daily for skin that radiates health, balance, and a refined glow.