What Is the Best Essence for Acne Prone Skin?
When it comes to finding the best essence for acne-prone skin, there are a few key ingredients to look for that can help keep breakouts at bay while also providing hydration and nourishment to the skin. When choosing such an essence, it's also important to look for products that are labeled "non-comedogenic" and "oil-free" to avoid exacerbating any existing breakouts.
It's also important to consider your skin type, sensitivity, and other skincare concerns when selecting an essence. Be sure to read ingredient lists carefully, and consider consulting with a dermatologist if you have any questions or concerns. In the text below you can find essences with explained ingredients and how those ingredients may affect acne-prone skin.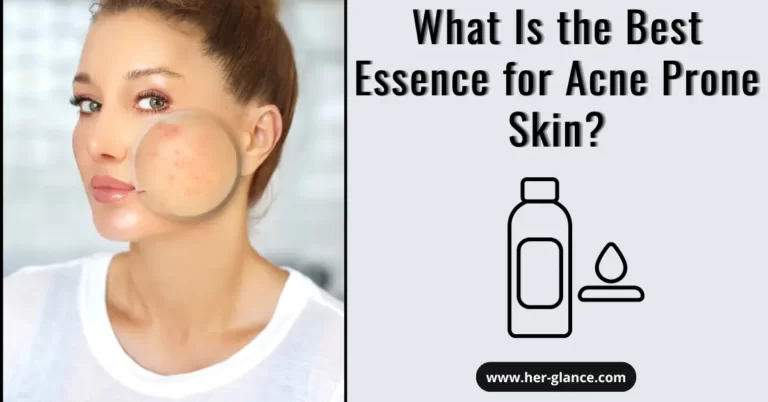 When it comes to skincare for acne-prone skin, finding the right products can be a game-changer. Using the right essence can provide the skin with the hydration and nutrients it needs to stay healthy, while also helping to prevent breakouts and reduce inflammation. However, with so many options on the market, it can be overwhelming to determine which product is the best fit for your skin.
To help you out, we've put together a list of some of the best essences for acne-prone skin, based on their ingredients, effectiveness, and customer reviews. Keep in mind that what works for one person may not work for another, so it's important to patch-test new products and listen to your skin's needs.
JIN JUNG SUNG Soothing Non-sticky Face Moisturizer Essence Serum
Jing Jung Sung soothing face moisturizer essence serum has a name that suggests that it can be used as a toner, essence, or serum. But I would recommend using it as an essence because of its texture. The reason behind this is that you should apply the thinnest (typically water-based) products first and the heaviest (usually oil-based) products last, due to the fact that a thinner product cannot penetrate a thicker one to reach your skin.
So, this essence has a viscosity that is very similar to that of a toner, which is essentially water, but it is still too thick to be that. It's too thin to be a serum and doesn't act like a serum; rather, it's more like the product that makes all the other products more effective and brings an extra step of hydration to your routine.
Jing Jung Sung is a great option if you have dehydrated skin prone to acne.  You are dealing with dehydrated skin and acne, which is very distinct from dry skin and acne if your skin feels tight, dry, as well as oily, and prone to breakouts at the same time. This occurs due to barrier damage that appears because usually, people with oily skin tend to use the incorrect skin care products, such as excessively dehydrating cleansers or products with abrasive chemicals like denatured alcohol, mint, menthol, eucalyptus, and lemon, which can lead to dehydration. So, this essence can be your extra step in repairing the damaged skin barrier.
It can also be applied before strong ingredients like retinoids if you have sensitive skin that doesn't tolerate those types of ingredients and if the sandwich method doesn't work for you (moisturizer-retinoid-moisturizer).  You don't need as much as you might believe, no need to slather it on because it can come out sticky and tacky, particularly with other serums piled on top of it. Use a pea-sized amount, and let it absorb until there is a healthy and radiant look without greasy residue.
This effective essence with interesting formula. It contains humectants, soothing ingredients, anti-mycobacterial ingredients, antioxidants, and ingredients to maintain a healthy skin barrier.  The formula is vegan, plant-based without fragrance and leaves no stickiness, no greasiness, and no residue,
The number one ingredient that makes this essence the best essence for acne-prone skin is niacinamide. Even though niacinamide is more of a supporting ingredient in anti-acne routine, it is worth including it. Studies have shown that niacinamide is as effective as clindamycin (an antibiotic that can lead to bacteria resistance), but without developing bacteria resistance. Niacinamide is not irritating, so it is suitable for all skin types. Its other benefits include reducing fine lines, improving elasticity, and reducing acne and acne pigmentation. Its ability to help with acne comes from anti-inflammatory and anti-microbial properties and reducing sebum production.  
Other anti-bacterial ingredients in this formula are Pulsatilla Koreana Extract which has moderately good results against bacteria that cause acne, Zanthoxylum Piperitum Fruit Extract, and Usnea Barbata Extract. When combined, these three ingredients are said to create a natural preservative system with anti-inflammatory properties and may be beneficial for treating skin conditions like acne, atopic dermatitis, and dandruff.
The ingredients that soothe irritated, sensitive, and damaged skin present in Jing Jung Sung essence are:
An avocado fruit extract that contains important multivitamins like vitamins A, E, B6, C, and K, folic acid, potassium, magnesium, salt, and niacin. Avocado has anti-inflammatory properties that help to reduce acne inflammation. Other benefits of avocado extract include skin moisturization, reducing signs of aging, and helping with wound healing.
Blueberry fruit extract improves the way dead skin cells are shed and provides a nourishing boost to the new cells that replace them, softening skin and helping to retain hydration. This results in skin that is more radiant and healthy looking.
Madecassoside increases skin hydration, reduces inflammation, and reduces free radicals. Chang claims that madecassoside may be advantageous for irritated, acne-prone, and photodamaged skin.
Among hydrating and skin barrier replenishing ingredients in this formula, there are hyaluronic acid, sodium m hyaluronate (hyaluronic acid's cousin), glycerin, and ceramides.
Best Essence For Acne Prone Skin With Malachite Extract
EltaMD Skin Recovery Essence Face Toner
EltaMD Skin Recovery Essence has an oil-free, lightweight formula that is safe for sensitive and acne-prone skin. The formula is also fragrance-free and non-comedogenic which are requirements for the best essence for acne-prone skin. This essence helps to detox the skin, deliver essential nutrients, and improve the skin's ability to absorb and maintain moisture.
EltaMD Skin Recovery Essence is enriched with anti-oxidants that fight free radicals damage. It contains glycerin, which is a humectant that draws water to the outer layers of the skin. It is an important ingredient for acne-prone skin because it helps to minimize water loss due to evaporation which keeps the skin hydrated. Other benefits of glycerin for acne-prone skin include improving skin barrier function and providing protection against skin irritants which is very handy if you use strong acne-fighting ingredients.
This essence also contains Malachite Extract, which comes from malachite, a mineral, rich in copper. In skincare products, malachite extract acts as an antioxidant that protects the skin from environmental stressors (oxidative stress). This essential mineral, copper, is used in many bodily functions to keep them running smoothly. Superoxide dismutase, a potent enzyme antioxidant that develops spontaneously in the body, contains this mineral. It is important to note that copper helps to promote skin health when applied topically; however, it interacts negatively with vitamin C, thus using the two together is not advised.
Well, how is malachite extract beneficial for acne-prone skin?
According to the studies, oxidative stress is a major factor in the development of acne. The indicators that your body uses to let you know that there is just too much oxidative stress and that it has to be eliminated as quickly as possible include skin redness, inflammation, and typical acne outbreaks. However, no clinical studies are showing the effectiveness of antioxidants used orally or topically in the management of these conditions.
But the benefits of this extract include promoting cellular detoxification by increasing glutathione. Glutathione is a potent antioxidant that occurs naturally and has several anti-aging advantages. By increasing the amount of this chemical in your body, you may improve skin quality, fight acne, make more collagen, hide blemishes, and lighten your skin. To learn more about malachite extract, you can visit this link.  
Arginine is another ingredient that is present in this formula. Arginine often has a positive charge (cationic), which makes it effective as a film former and substantive to skin and hair (those are more negatively charged surfaces). The positive charge also helps to form a complex with AHAs (AHAs like to be negatively charged and lose a hydrogen ion, thus the positive and negative ions attract each other) that results in a "time-release AHA effect" and lessens the discomfort caused by AHAs. It maintains your skin's health even when traveling. It guards against skin dryness brought on by cabin air and stops acne and rash flare-ups brought on by travel stress.
Best Essence For Acne Prone Skin With Niacinamide
BACIEL - Hydra Barrier CICA Essence Toner
After washing your face, you should apply carefully picked-out essence since it will be in direct touch with your skin. The best essence for acne-prone skin should be packed with powerful components and doesn't have ingredients that are bad for your skin. Just like previous ones on this list of best essences for acne-prone skin, Baciel Hydra barrier CICA essence doesn't contain alcohol, fragrance, or essential oils.
This essence has a clear, non-sticky, and very interesting formula. Instead of purified water, it contains Centella Asiatica Extract. This extract has many benefits. It is anti-aging because of its antioxidant components that fight free radical damage caused by sun and pollution. It is soothing and moisturizing because of its amino acids. Centella Asiatica is beneficial in the management of eczema, psoriasis, veins, and stretch marks. For acne-prone skin, it speeds healing, helping to prevent scars and prevent future blemishes. Although allergies are uncommon and Centella Asiatica Extract is a natural component, they are possible and because this essence contains 83 % of it, it would be ideal to perform a patch test behind your ear or on your arm for a few days before applying it to your face.
Other ingredients that can be found in this essence are niacinamide, glycerin, arginine, 10 types of hyaluronic acid, adenosine, beta-glucan, allantoin, and panthenol. Niacinamide, glycerin, arginine, and hyaluronic acid are ingredients that have been discussed as a part of the essences above, so if you have forgotten their role in a skincare routine make sure to read again their description above.
Adenosine is beneficial whether you have oily, dry, sensitive, or combination skin. It helps with barrier protection and repair, It has anti-inflammatory properties and Adenosine-containing skin care products can aid in the treatment of small burns, scrapes, and other wounds. Adenosine has collagen-stimulating qualities that also improve skin suppleness and moisture. Beta-glucan has powerful skin-repairing and wound-healing capabilities. Applying it to your face also has a lot of positive effects. It's a moderate antioxidant, a fantastic skin soother, and a moisturizer, and it even shows promising anti-aging properties. Allantoin and panthenol are amazing skin-soothing ingredients.
If you need help with your routine I have written about Vanicream and whether their products are good for acne, so make sure to check that out. 
Best Essence For Acne Prone Skin With Propolis Extract
SKINFOOD Royal Honey Propolis Enrich Essence
Skinfood Royal Honey Propolis Essence is a very interesting one because of its naturally derived and highly beneficial ingredients. The formula is a combination of natural and conventional ingredients that is suitable for normal, dry, oily, and combination skin and doesn't contain alcohol, fragrance, and essential oils. It moisturizes the skin and keeps it moisturized. It may help you if you have sensitive and acne-prone skin to better tolerate exfoliating acids, just apply it before. The trick is not to use too much or otherwise your skin will get sticky and oily.
The ingredients that can be found in this essence are:
Propolis extract can speed the healing of wounds because of its antibacterial and anti-inflammatory qualities. Propolis, according to Dhingra, appears to have good wound-healing qualities beyond treating superficial skin infections, and it may be used for minor cuts, scrapes, and burns that don't necessarily require medical treatment. According to the website Bee Pollen Buzz, propolis may smooth skin and lessen the appearance of wrinkles. That comes from the fact that propolis can help to treat UV-damaged skin because of its antioxidant properties that fight oxidative damage on the skin. Even though it cannot be used as a single therapy for resistant acne, it is great for scarring and pigmentation that may occur after acne healing. It is important to note that it is reported that propolis helps with mild to moderate acne. Propolis, a natural sealer, could also assist the skin in retaining more moisture so that it can keep a healthier, more radiant complexion. Propolis and products made from this natural component moisturize the skin and keep it hydrated while strengthening the skin barrier. Additionally, propolis reduces the redness by assisting in the healing of the irritation brought on by outside stimuli. Because it hydrates the skin, it leaves it looking plump and healthy. It is important to note that like with many other ingredients propolis can cause an allergic reaction or contact dermatitis when applied to the skin, so be careful with the products that contain it.
Amino acids, antioxidants, vitamins, and minerals found in honey are good for fighting free radicals and enhancing skin health in general. Honey is a natural humectant that moisturizes the skin by drawing water from the environment. This additional hydration offers the skin a vibrant, youthful shine and suppleness, reducing the visibility of fine lines and wrinkles. A natural antioxidant found in the honey fight, free radicals are one of the main causes of premature aging. Honey's enzyme activity allows it to hydrate the deeper layers of the skin due to its penetration ability, which leads to softer, plumper, and luminous skin. Because of its anti-inflammatory and anti-bacterial properties, it helps to reduce breakouts. It also reduces hyperpigmentation and scarring over time.
Royal jelly is a very potent and effective skincare ingredient because it contains protein, lipids, amino acids, minerals, and vitamins. It also contains bioactive compounds such as peptides, flavonoids, fatty acids, and phenolic acids. Its benefits for the skin include Increasing collagen production, promoting wound healing, and fighting inflammation. It is not irritating and can be used with strong ingredients like retinol and AHAs. Royal jelly's high lipid content is fantastic for keeping skin supple, moisturized, and bouncy. It regulates sebum production, so it is a great ingredient for oily skin.
Among other more common ingredients that this formula contains are glycerin, sodium hyaluronate, and arginine which are humectants that hydrate the skin and help the skin to retain moisture.