Is Carmex Bad For Your Lips
Most of us use lip balms daily and we use them to protect our lips from drying out. All of the lip balms contain a moisturizing ingredient that is supposed to prevent water loss. All lip balms have their pros and cons and of course, Carmex is no exception. If you are wondering if Carmex is bad for your lips, then stick to this post.
Carmex is a lip balm that moisturizes lips but it can be bad for them in certain cases. First, if you are allergic to any of its ingredients it can be dangerous, if you apply it too often and if you apply it while it's melted. If you apply it while it's melted it can cause swelling and bumps around the lips.
Is Carmex Bad For Your Lips
1. You apply it too often
If you apply Carmex too often your lips can become reliant physically on it. This means that your body will stop protecting the lips in natural ways and rely only on you putting the lip balm on it for protection against drying out.
This is not the case only with Carmex but with all lip balms out there.
This phenomenon can be illustrated with weightlifting, when you are handling heavy weights you will notice calluses appear on your hands in areas of pressure.
This is the body's defensive mechanism against the stress your hands go through as you are weightlifting. Our lips are the adaptation to the environment and if you use too much lip balm your body will stop "worrying" about the lips and leave the job to you.
2. You apply it while it's melted
If you leave Carmex in a heated place and it melts down you should not apply it in that state. If you apply it while it's melted in some cases especially if you have sensitive skin it can cause breakouts.
What happens is when you melt it its formula changes which leave a lot of room for irritations and breakouts. This mostly occurs when people leave the lip balm in the car which is exposed to the sun and impatiently use lip balm while it's melted.
If it happens to you make sure to wait while it hardens again and then use it.
3. You have an allergy to the ingredients
When it comes to the allergy to ingredients in Carmex lip balm, studies have shown that most of the time they occur when people are using Carmex that is flavored. This is not only the case with Carmex lip balm but all of them, ingredients that add flavor are more likely to cause an allergic reaction.
An allergic reaction doesn't necessarily mean you will get bumps, redness, and swelling around your lips. Most of the time allergy only causes lips to be more chapped. When this happens most people don't even realize they have an allergy to the ingredient in the balm.
If you have an allergy to the ingredients in balm, the more you use it the worse your allergy will be. This cycle might lead you to apply the balm even more.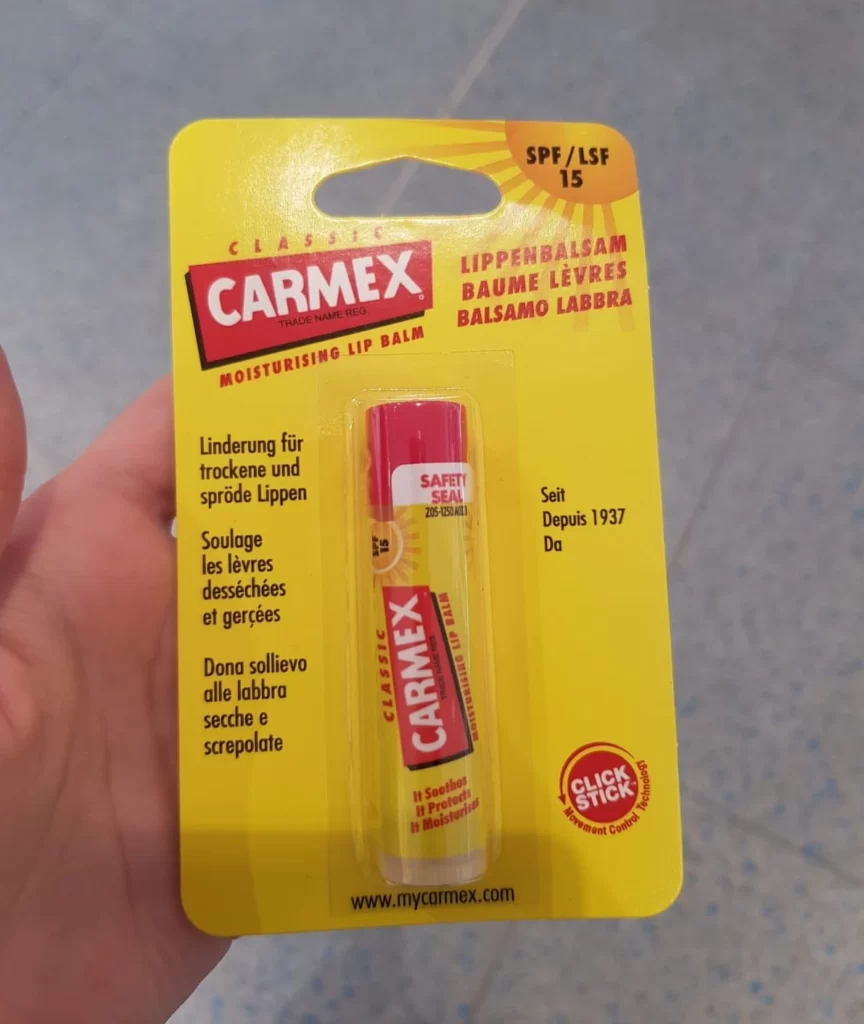 4. Can lead to addiction to the lip balm
It is medically proven that there is no addiction to Carmex and that there can not be any. This is not medically possible because Carmex doesn't contain any ingredients that can cause addiction. Instead of calling this problem addiction, we can call it a habit. Many of us have a habit of applying lipstick and this is not a problem tied only to Carmex.
Since there is a lot of variant of Carmex that are flavored many people develop something called "lips licker dermatitis". A lot of people love to lick their lips after they apply the balm. Since they lick the lip they put saliva on it which has enzymes that irritate the skin and cause the lips to dry out even more.
When you feel that your lips are dry the natural reaction is of course to reach for the lip balm and apply it. This is called "the lip drying cycle" which can leave you with dry and chapped lips even when you are using lip balm regularly.
If you just thought, oh that might be me then I think the solution is quite simple. To avoid getting "addicted" to the Carmex you should simply use the one without the flavor so you won't be putting yourself to the temptation to lick your lips.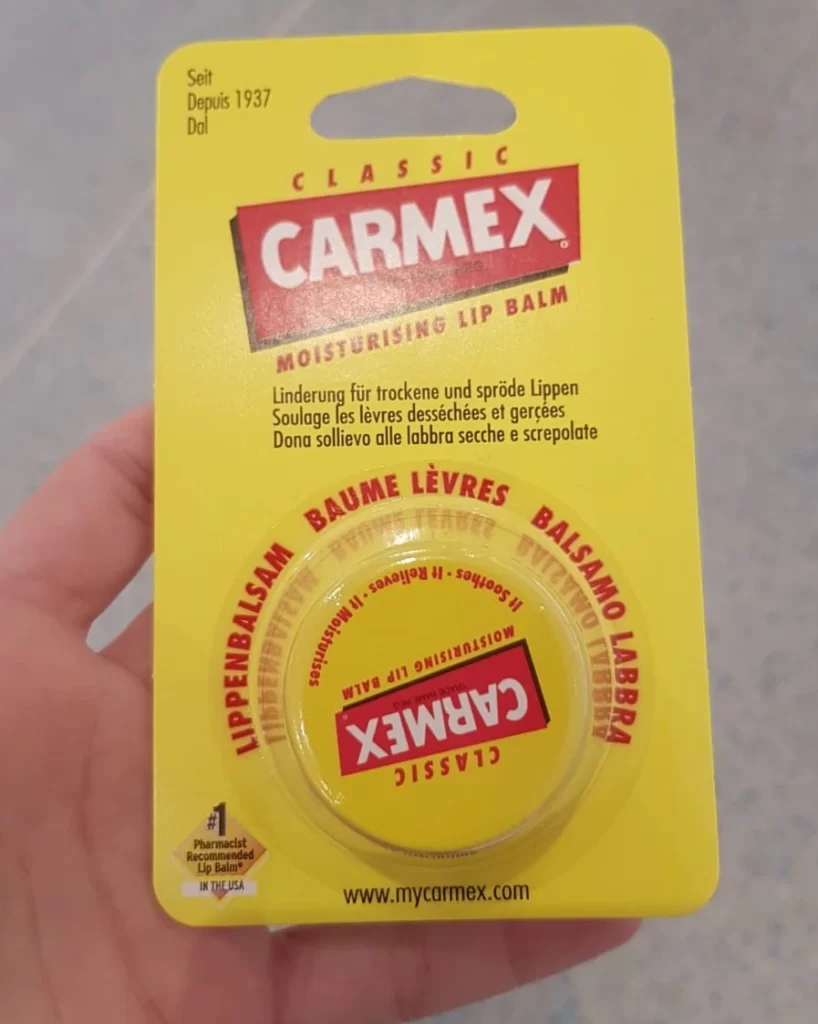 GOOD INGREDIENTS IN CARMEX
This is the material that bees use to build their honeycomb and it is a common ingredient in lip balms. It is used in Carmex as it softens the lips and gives shine to them. Beeswax is never absorbed by the skin and instead it provides a protective outside layer on the lips. Since it's never absorbed it is good for sensitive and dried-out skin.
The protective layer beeswax creates is super useful when it comes to the effect of weather on the lips. This is a good ingredient in lip balm which is recommended by dermatologists.
This is the ingredient with the texturizing property as well as its ability to create barriers between the skin and harsh environmental stressors making it a valuable ingredient in products such as lip balms. People in Carmex recognized it and used this ingredient. It is a vegan-friendly ingredient that should not be avoided.
Cocoa Butter also called, Theobroma Cocoa Seed Butter
Cocoa butter contains a lot of fatty acids which can be extremely useful for dry and chapped lips. This ingredient is good and should not be the cause of any negative effects Carmex could cause.
Cold Press Cranberry Seed Oil
This oil contains a lot of vitamin c which helps our skin to produce collagen. This can be useful to the lips because more collagen means more elasticity to the skin and less chapping. It's a natural ingredient and should not be a problem even for sensitive skin.
Colloidal Oatmeal is a natural ingredient that has good effects on the skin. It is a common ingredient in many skin care products that deal with dry skin. Since it contains a plant chemical called avenanthramides it has anti-inflammatory effects.
Vitamin E is one of the best ingredients to have in your lip balm as it has many benefits. Some of the benefits are its anti-inflammatory effects, its healing of damaged skin, and its contribution to the creation of a protective layer on the lips.
This is considered a safe-to-use ingredient on your lips. Shortly, it is a synthetic wax that is a replacement for a wax that's obtained from sperm whales.
It is considered a non-toxic, safe soothing ingredient that is commonly used in lip balms. Its main purpose in Carmex is that lock moisture on the lips to keep them hydrated for a longer period.
White Petrolatum is an ingredient that helps create a protective layer over the lips which means that it is not absorbed by the skin. Unfortunately, it can be toxic and cause an allergic reaction in many people.
Sunscreens contained in Carmex are great ingredients that not only protect the lips from the sun but also add to the hydration of the lips and fight the signs of aging. It is important to protect the lips from negative UV lights as it is to protect any other part of the skin.
BAD INGREDIENTS IN CARMEX
Benzocaine is one of the ingredients that lead to a tingling feeling on the lips many people feel when they apply Carmex. This ingredient is a topical local anesthetic used for the temporary relief of pain and itching but of course in much bigger amounts than it is found in Carmex.
The reason behind adding this ingredient in Carmex might sound crazy but they added it so you can give an unexpected experience for those that you kiss by creating a tingling feeling.
This is one of the worse ingredients to have in a lip balm, camphor is a very aggressive ingredient that is added to give a cooling effect when Carmex is applied.
It can lead to skin irritation and if you apply the balm too often it can even strip your lips of the outer layer and leave them completely unprotected against environmental factors. This is the ingredient that makes your lips dependent on the lip balm for protection and leads you to apply it more and more.
Same as camphor this ingredient gives a cooling effect but in my opinion, it should not be a thing in lip balms because it can cause irritations of the lips for many people.
Menthol is alcohol which means it dries out the skin. The main reason it's added in Carmex is because of the cooling effect. Menthol works differently than Phenol and Camphor because menthol activates the cold receptors on the lips and you actually may feel other cooling ingredients cooler than they are.
It is an ingredient that you should watch out for, it can be a cause of allergy reactions and lead to the drying of your lips in a short period. It is used to exfoliate the dead skin cells on the lips.
Of course, you should try using it, if you see that it irritates your skin you can always stop. After all, it's not an expensive product and you can always try new lip balm.
Since I have stated above in which cases Carmex can be bad and dangerous for you I think that if you fall in any category you should not use it. Of course, if you decide to buy and use Carmex make sure to buy one without the flavor so you can avoid "lips licker dermatitis" and many problems that come along with it.
Twitter Reviews and Poll Regarding the CARMEX
Here are several reviews on the Carmex lip balm from our audience on Twitter, we have used 5 of the most informative comments in hope that they will help you out. We have also created a poll with the question "is Carmex bad for your lips" and here are the results.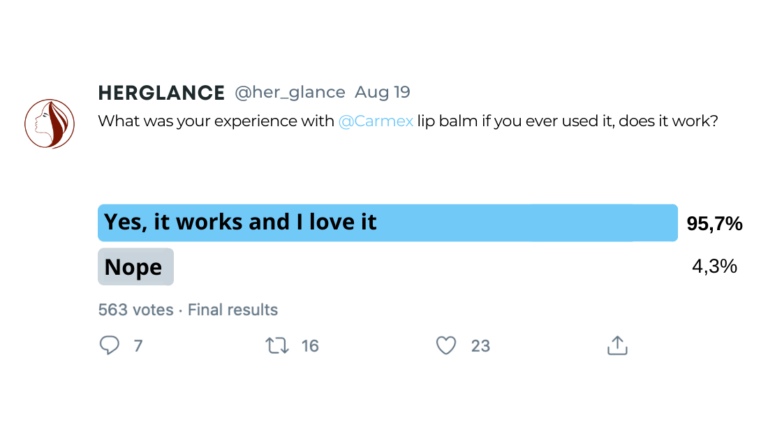 1. "Dear HerGlance, Carmex is always effective for chapped lips. It's not necessary to reapply every 3 hours since it works. I apply it beneath gloss to preserve my lips and at night as needed. Excellent work." Hailie
2. "I truly believe that it is possible to grow addicted to lip balm. CARMEX is the ultimate "must-have" item. It's a little, affordable tub that provides gorgeous, kissable lips. My CARMEX is always around. My nightstand, my desk, my side table, my make-up bag, my handbag, and my automobile. My lips are always smooth and velvety, regardless of the weather (snow, ice, wind, or heat)." Maria
3. "It is a great lip balm, but the smell is the usual strong smell. It works well, so I should not really complain too much." Betty G. Ervin
4.  "For about ten years, I've been buying Carmex original lip balm. I like the thicker container over the squeeze tube of this product. To me, the squeeze tube looks so much like Vaseline.
Be aware that this product has changed; the analgesic component (cooling effect) is no longer as powerful, and the bottle itself is the same size, but it is misleading since there is such a wide indentation on the bottom; you are only receiving half of a container of the product.
The price has risen rather than fallen.
At its best, American capitalism." Shan J. Kenyon
5. "I've tried every lip balm I could get my hands on and they did nothing but color my lips or make them shiny… this really soothes my dry lips and it actually heals them… Since I've been using it my lips are not dry all the time" Beverly
Alternative if Carmex is bad for your lips
If you think that Carmex is too aggressive and too harsh for your sensitive skin then there are certainly more secure and lighter alternatives. When I say lighter I mean products with fewer ingredients that can cause irritations.
Something I can certainly recommend is "Vanicream Moisturizing Ointment", an ointment I personally use and it never lets me down.
Vanicream Moisturizing Ointment
This is a non-comedogenic product which makes it a perfect skin protectant anywhere on your body which means it's not only reserved for the lips. Since it doesn't contain many ingredients it has far less chance of causing inflammation, irritation, and allergic reaction. Some of the ingredients are
Dimethicone
,
Polydecene
,
Silica Dimethyl Silylate
,
Hydrogenated Polydecene
,
C30-45 Alkyl Methicone

,
and
Microcrystalline Wax

.
You can see that it varies from Carmex a lot when it comes to the ingredients. Vaniply doesn't contain any fragrances, alcohol, or essential oils which are usually the reason for skin irritation. Vaniply works the same way as any other lip balm which means that it creates a protective layer above the skin to trap moisture in the skin. I personally use it and it never caused any issues. I apply it two to three times a day which I think is far less than most lip balms demand.