Scientifically Proven Anti Aging Products
In this post, I will explore scientifically proven anti aging products, with a detailed look at their ingredient list, available studies about their ingredients, their benefits, and potential drawbacks. The key advantage of those products lies in their ability to target multiple signs of aging, including fine lines, wrinkles, uneven skin tone, dullness, and loss of elasticity.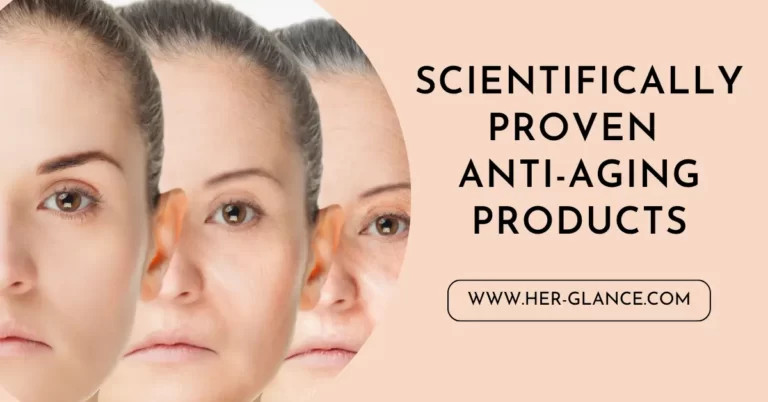 To find products that will have anti-aging properties you have to look at their ingredients list. Those products frequently contain potent chemicals with proven anti-aging properties, including retinol, peptides, hyaluronic acid, or antioxidants. To learn about the benefits of those and the products containing them make sure to continue reading.
Numerous studies and clinical trials have demonstrated the effectiveness of over-the-counter retinol treatments and prescription-strength retinoids like tretinoin in reducing wrinkle appearance, enhancing skin texture, and boosting collagen production. Those studies searched for the effect of retinoids on photoaged skin.
Two different biological processes make up the complex biological process of skin aging. While intrinsic or chronological aging is a natural process, photoaging refers to skin that ages prematurely because of repeated exposure to UV light. Even though we cannot have a substantial impact on chronological aging, we can at least work on photoaging by preventing it with SPF and applying topicals that will reduce signs of aging.
Tretinoin is perhaps the strongest and most well-researched retinoid for photoaging treatment among the retinoids. Although retinoids have potential in the treatment of skin aging, there is a risk of irritating responses including burning, scaling, or dermatitis since they are strong for many people. Those side effects can be avoided with proper and careful usage. With tretinoin and tazarotene, this issue is more severe, but other retinoids, primarily retinaldehyde, and retinol, are far less irritating.
Since tretinoin and tazarotene are prescription treatments, I will list over-the-counter products with retinol and retinaldehyde. I would like to note that I prefer retinaldehyde over retinol because it is more effective and there are fewer side effects.
Eau Thermale Avene RetrinAL Cream
Eau Thermale Avene RetrinAL cream made my list of scientifically proven anti aging products because of its studied formula. Besides retinaldehyde, it also contains antioxidants, peptides, evening primrose oil, and Avène Thermal Spring Water. It doesn't contain fragrance, alcohol, or essential oils which I love because people with sensitive skin and dark complexion can use it.
Wrinkles/fine lines, lack of firmness, vascular conditions, and variations in pigmentation are the four primary concerns of skin aging, so look for products that can help with those conditions. Crow's feet, also known as wrinkles and fine lines, are particularly noticeable in parts of the body that are exposed to the sun, such as the hands, arms, neck, upper chest, and periocular zones of the face, and are the main concern of many women, so the product should be able to help with those.
There was a study that evaluated the effectiveness of a product containing retinaldehyde, delta-tocopherol glucoside (vitamin E), glycylglycine oleamide, and Avène Thermal Spring Water for managing naturally aged skin. The study included both in vitro (lab-based) and clinical studies. The results of the study showed that the product had promising effects on naturally aged skin. In the in vitro studies, the product demonstrated antioxidant properties, which can help protect the skin from oxidative stress and damage associated with aging. It also showed potential in stimulating collagen synthesis, which is important for maintaining skin elasticity and firmness.
In clinical studies, people with naturally aged skin applied a product. They experienced improvements in various signs of aging, including reduced appearance of wrinkles, increased skin smoothness, and improved skin hydration and these positive outcomes suggest that the product may be beneficial for managing the effects of aging on the skin.
Evening primrose oil has emollient properties, which can help improve skin hydration and reduce dryness.
Why is this so important?
 Well, proper moisturization is essential for maintaining the skin's elasticity and preventing the appearance of fine lines and wrinkles and that is something we all need. Hydrated skin means a stronger skin barrier, which protects the skin from environmental stressors and maintains its moisture balance.
This oil has anti-inflammatory properties and that is another benefit that is very important for aging skin. By reducing increased inflammation, which is a common concern of aging skin, evening primrose oil helps to soothe the skin.  Due to the presence of gamma-linoleic acid, this oil has anti-oxidant properties that reduce the damage caused by free radicals and enhances skin firmness and elasticity.
Avène Thermal Spring Water
On the skin, Avène Thermal Spring Water is calming and soothing. It can help in relieving skin sensitivity, discomfort, and irritation caused by things like sun exposure, dermatological procedures, or environmental stressors. Thermal water also helps to hydrate the skin due to minerals and trace elements that replenish the skin's moisture barrier. Other benefits of this type of water include anti-inflammatory properties, keeping the skin barrier healthy and anti-oxidant properties (fighting free radicals). 
Peptides in Scientifically Proven Anti Aging Products
Alongside retinoids, peptides are the most associated ingredient with anti-aging in the skincare world and everybody must have heard of them. Well, those short chains of amino acids that build proteins like collagen are very beneficial for aging skin and including them in your routine can start in your late 20s and early 30s.
So, what are the benefits of including peptides in your routine?
Peptides have the power to encourage the skin's natural production of collagen, the structural protein that gives the skin its firmness and flexibility. Unfortunately, as we age, we lose collagen which causes the development of wrinkles and sagging skin. So, peptides can help increase the skin's overall firmness and resilience by encouraging collagen production. That collagen stimulation also causes wrinkles to smooth out which leads to improved skin texture.
Another protein that peptides stimulate is elastin, which maintains skin elasticity. So, increased production of elastin leads to more firm and elastic skin that looks more tightened and lifted. Some peptides are humectants, which means they draw and hold moisture to the skin. This contributes to increased skin hydration, giving the appearance of a plumper and smoother complexion. Well-hydrated skin is less likely to experience dryness, which may enhance the appearance of fine lines and dullness.
There has been a study in which, researchers conducted a randomized, double-blind, placebo-controlled clinical trial to evaluate the effectiveness and tolerance of a peptide serum designed to target expression lines (lines caused by repeated facial muscle contraction, so basically around the mouth and on the forehead).
The results of the study showed that the peptide serum had a positive impact on expression lines. People who used the serum demonstrated improvements in the appearance of their expression lines compared to those who used a placebo. The peptide serum was also well-tolerated by the participants, suggesting that it is safe for use on the skin.
Medik8 Liquid Peptides - Advanced Regenerating Multi Peptide Serum
Medik8 Liquid Peptides serum is a great example of serum that is described in the previously mentioned study because it can target the appearance of expression lines and deep wrinkles. This is one of the great scientifically proven anti aging products that helps to stimulate the production of collagen and elastin, increase stores of hyaluronic acid, and balance the skin's natural microbiome to ensure optimum skin health.
The serum has a very interesting formula. Besides the combination of peptides, it also contains glycerin (hydrating), arginine (soothing), sodium hyaluronate (hydrating), panthenol (soothing), and lactic acid (exfoliating and helping the complexion hold onto water). Another important thing about this serum is that it doesn't contain fragrance, essential oils, or alcohol, so people with sensitive skin and dark complexion can use it.
The combination of peptides is what makes this serum stand out. Drone-Targeted Copper Peptide, a copper-based peptide that stimulates collagen and elastin production. You must be wondering how it got that name. The peptide is encapsulated, and the capsule is directed, like a drone, to a specific target cell. Copper peptides have anti-inflammatory properties that can help calm and soothe the skin. They can reduce redness, inflammation, and irritation, making them suitable for people with sensitive or reactive skin.
Expression Line Peptide is a cutting-edge peptide that reduces muscle contraction to fight expression wrinkles. This peptide can prevent neurons from signaling muscles to contract, so noticeably lessening the visibility of expression lines. Carnosine is a protective peptide that the body naturally produces. It prevents skin-harming sugars from attaching to collagen in the skin, which delays the appearance of wrinkles.
Below you can find more affordable options, that also contain peptides but not in the same combination which means that they target different skin concerns.
Paula's Choice Pro-Collagen Multi-Peptide Booster
Peptide Complex Serum by Microderm GLO
Hyaluronic acid in Scientifically Proven Anti Aging Products
Hyaluronic acid is a naturally occurring substance in the body that plays a crucial role in maintaining skin health and hydration, so it is well tolerated by most people. Hyaluronic acid is a humectant, but I would say not the best one because there was a study that showed that glycerin is the best one because of its smaller molecules that can penetrate deeper.
When it comes to hyaluronic acid, products can be more beneficial if they contain nano (small molecules that reaches the deepest layers of the skin for optimal penetration) or hydrolyzed molecules of hyaluronic acid (hyaluronic acid that has been broken down into elements small enough, bigger than nano, to penetrate the skin) that our skin absorbs better.
In this study researchers aimed to evaluate the effectiveness of a new topical nano-hyaluronic acid product in humans. They conducted the study to assess how well the topical nano-hyaluronic acid worked when applied to the skin. The goal was to understand its efficacy and potential benefits for human participants. The results of the study showed positive outcomes, indicating that the new topical nano-hyaluronic acid product was effective. It demonstrated noticeable effects on the skin, which suggested that it had desirable effects when used topically, so choosing serum with that type of hyaluronic acid can be very beneficial for your skin.
The benefits of hyaluronic acid include hydration because of its ability to retain moisture, firmness, and elasticity by supporting collagen production, a plumping effect that reduces the appearance of wrinkles, and skin rejuvenation.
In the text below you can find two serums that contain two types of hyaluronic acid. One of them has hydrolyzed hyaluronic acid and encourages the skin to create its own, resulting in long-term anti-aging and hydration and the other one has nano hyaluronic acid.
PCA SKIN Hyaluronic Acid Boosting Face Serum
This serum has a formula that can provide deep, long-lasting hydration on three levels: on the surface, deeper in the skin (with hydrolyzed hyaluronic acid), and by increasing the skin's own hyaluronic acid production with Proprietary blend HA-Pro Complex resulting in long-term anti-aging and hydration. Besides hyaluronic acid, this serum also contains niacinamide and ceramides. Unfortunately, the serum does contain fragrance, so if you have sensitive skin be careful.
Niacinamide is one of my favorite ingredients because it is well-tolerated and has many benefits for the skin. It can be useful if you are using strong active ingredients because it helps the skin to tolerate them better. Including it in the form of toner before retinoids can be very good for your skin, especially if you are just starting to use them. To give you another idea, because my skin is very sensitive, I use it even before applying exfoliating acids, so that way I avoid irritation. If you need help with choosing a toner with niacinamide make sure to check out my previous post where you can find detailed descriptions of several toners.  Just a heads up, some toners contain exfoliating acids, so be careful to find one without them if you plan on using toner as a layer of protection.
Other benefits of niacinamide include:
wrinkle reduction because it can stimulate collagen production,
enhancing skin firmness and elasticity which also come with increased collagen production,
skin hydration by reducing water loss and improving moisture retention.
evening out skin tone by reducing the production of excess melanin, niacinamide can help fade dark spots which are common concerns of aging skin.
anti-inflammatory properties
regulating sebum production
Ceramide levels naturally reduce in our skin as we age and replenishing them with topical products can be very beneficial for the skin. That reduction can lead to dryness and a compromised skin barrier because ceramides are essential for maintaining the integrity and strength of the skin barrier. By restoring and reinforcing the skin barrier, ceramides help to improve skin health and resilience.
Increased water evaporation from aging skin can cause dryness and the development of fine lines and wrinkles. Ceramides prevent transepidermal water loss (TEWL) and help to lock in moisture. They can enhance skin hydration and fight aging symptoms by reducing moisture loss. The ceramides in the skin help make it supple and smooth. The skin's texture could improve, appearing smoother and more even, by raising its ceramide levels. So, the appearance of fine lines, wrinkles, and rough patches will decrease as a result.
Nanoceutical Solutions Nano 2% Hyaluronic Acid
Nanoceutical Solutions Nano 2% Hyaluronic Acid serum has a very simple ingredient list, and it is a great product if you need just hyaluronic acid in your routine. It made my list of scientifically proven anti aging products because alongside nano hyaluronic acid with small molecules that can penetrate deeper into the skin, the formula also contains glycerin and panthenol.
Due to the short ingredients list, this serum doesn't contain fragrance, alcohol, or essential oils which is very important for people with sensitive skin and dark complexion.
Vitamin C in Scientifically Proven Anti Aging Products
Vitamin C is one of the most popular anti-oxidants and should be included in your routine in your 20s because of its numerous benefits. Those anti-oxidants like vitamin C work to combat free radicals, unstable molecules that can harm the skin. Free radicals cause accelerated aging and get on the skin by environmental factors, including pollution and UV rays. Vitamin C helps to maintain a more youthful appearance by preventing the degradation of collagen and elastin caused by free radicals, which protects the skin from oxidative stress.
To find products with vitamin C make sure to check out my previous post about the best serums for the morning routine. In that post I have explored various forms of vitamin C, the benefits, and potential drawbacks of each one, so give it a try.
Another benefit of vitamin C is the reduction of hyperpigmentation. That reduction happens because vitamin C can inhibit the production of excess melanin, the pigment responsible for dark spots and hyperpigmentation. Vitamin C can offer extra protection against UV deterioration, but it cannot take the place of the requirement for sunscreen. Vitamin C reduces the damaging effects of sun exposure on the skin by assisting in the neutralization of free radicals produced by UV radiation. Including vitamin C in your skincare regimen can improve your skin's ability to protect itself from UV damage.
This study aimed to understand how Vitamin C impacts the skin when used topically. The researchers examined its effects on various skin concerns, such as aging, uneven skin tone, and damage caused by environmental factors.
The results of the study showed positive outcomes, indicating that Vitamin C had significant benefits for the skin. The study showed that vitamin C has previously mentioned benefits for the skin, it helped to improve skin texture, reduce the appearance of wrinkles and fine lines, and even out skin tone. Additionally, Vitamin C demonstrated antioxidant properties, protecting the skin against damage from free radicals and UV radiation. In summary, the study confirmed that Vitamin C is an effective ingredient for addressing various skin issues. Its ability to promote collagen production, brighten the skin, and provide antioxidant protection makes it a valuable addition to skincare routines, especially for anti-aging routines.