Mara Skincare
Everything You Should Know
Mara skincare products are ones that are setting an example of how other brands should take care of our planet and our health.
Their packaging is recyclable, from glass bottles to product boxes.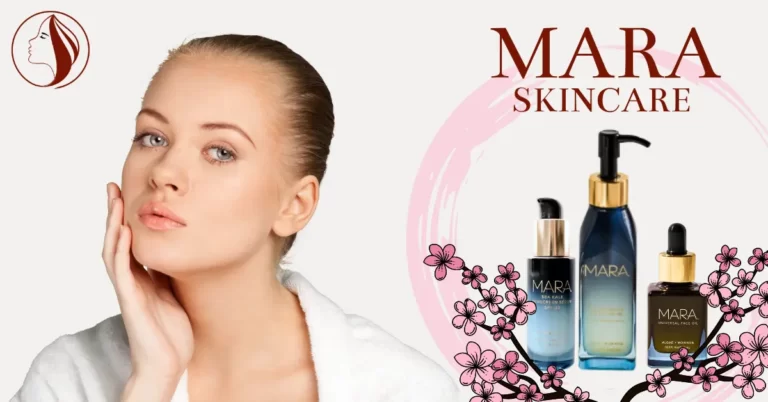 Mara skincare is a brand that features products with clean ingredients. Their formula is vegan, gluten-free, cruelty-free, and alcohol-free and it doesn't contain synthetic fragrance, parabens, added color, phthalates, PEGs, and silicones. This brand stopped using over 2000 ingredients that are harmful to the planet and people's health. 
Their most popular products are:
• MARA – Natural Chia + Moringa Algae Enzyme Cleansing Oil
• MARA – Natural Algae + Moringa Universal Face Oil
• MARA – Natural Algae + Zinc Sea Kale Sunscreen Serum SPF 30
• MARA – Natural Evening Primrose + Green Tea Algae Retinol Face Oil
• MARA – Natural Volcanic Sea Clay Detox Masque
If you are looking for clean products that work we highly recommend Mara skincare.
In this post, we are going to list Mara skincare products and the ingredients that are found in them. Also, we are going to state their benefits for the skin.
This brand uses algae blend as a base for all formulas and combining it with other active ingredients was a great move towards products that give great results.
Now we are going to list Mara skincare products and some of the ingredients that they contain.
MARA - Natural Chia + Moringa Algae Enzyme Cleansing Oil
The first step of every skincare routine should be a cleanser. This cleanser has great benefits and contains an interesting blend of ingredients. We have a full review of Mara Beauty Algae Enzyme Cleansing Oil on our site, check it out.
MARA - Natural Algae + Moringa Universal Face Oil
This is award-winning oil that is suitable for all skin types. It will give you a stunning glow, hydrate dry skin, and visibly minimize fine lines and wrinkles. Having bouncy, glowy, and healthy skin is possible with a half dropper full of this oil as part of the morning and nighttime routine.
This oil should be the last step of your skincare routine because if you apply it as the first step the rest of your skincare products will not absorb properly.
Some of the ingredients that Mara Universal Fce oil contains are:
• Moringa– this plant can be used in two ways in skincare products, as a powder (grounded leaves of Moringa tree) and as an oil (cold pressed seeds). It contributes to natural collagen production which keeps skin healthy and glowing.
Moringa seeds are full of antioxidants (vitamin A, vitamin B, vitamin C, vitamin E) that will help regenerate skin cells for younger-looking skin, and heal and moisturize damaged skin. Also, one more thing that is great about this plant is that it is suitable for both oily and dry skin types.
Moringa will soothe breakouts and calm redness, soften and hydrate damaged skin.
If you want to learn more about moringa, visit this website.
• Plankton extract has positive effects on the skin. It contains elements that hydrate, clean, and revitalize skin. It also protects the skin from pollutants and toxins by stopping them to penetrate the skin. It also contains zinc, which has antibacterial properties, which means that it keeps pimples and breakouts at bay.
• Baobab is full of antioxidants and it is great for softening the skin and healing imperfections. It has regenerative abilities. One of the oxidants that baobab contains is vitamin C, which prevents dullness and fades away dark spots.
• Kalahariwatermelon has anti-aging qualities thanks to vitamins, minerals, and fatty acids. It is suitable for all skin types because it is light, fast absorbing (both of those qualities are important for oily skin), and nourishing (which is important for dry skin). It is great for making fine lines disappear.
• Bilberry, yes bilberry, not blueberry. Bilberry is loaded with antioxidants that brighten and protect skin from free radicals. These berries contain tannin which helps skin feel tight and toned.
MARA - Natural Algae + Zinc Sea Kale Sunscreen Serum SPF 30
Applying sunscreen is a must and you should not skip it. This sunscreen serum protects skin from UV rays and benefits skin in many other ways because it contains skincare ingredients.
You can find more about its benefits for the skin in our full review.
MARA - Natural Evening Primrose + Green Tea Algae Retinol Face Oil
MARA – Natural Evening Primrose + Green Tea Algae Retinol Face Oil is oil for the nighttime routine.
In general, you should never use products that contain retinol as part of your morning skincare routine. It contains 1.2 retinol, which is high strength retinol and it is suitable for people with stubborn skin concerns (like deep wrinkles and uneven skin tone).

We would not recommend this percentage for sensitive skin. It is recommended to use it 2-3 nights a week, and build to nightly use. If you have sensitive skin don't use it every night.

Some of the ingredients that make this oil great are:

• Retinol is great for minimizing wrinkles and fighting acne and dark spots.

• Cacay oil– The Cacay nut, which naturally grows in South America's Amazonian regions, is used to make the oil. Cacay oil is extremely rich in a unique blend of fatty acids and vitamins that will start to work on rejuvenating your skin within weeks, reducing fine lines, blemishes, and loss of firmness while leaving your skin radiant.

It is also great for improving skin tone and skin texture, reducing pigmentation, and hydration, and reducing scars.
For more information visit this link.
• Fermented green tea's main property of green tea is the greater preservation of EGCG, that aids in the defense against UV damage and promotes the smooth progression of collagen creation for a firm, supple skin. It is important to note that using fermented green tea, means that the benefits and absorption are amplified.
MARA - Natural Volcanic Sea Clay Detox Masque
Clay masks are known for their detoxifying properties. This mask will clean your skin without leaving it dry. Here are key ingredients that make this mask great:

– Natural cleansing clays (Mediterranean sea clay, two purifying kaolin clays, and bentonite) cleanse the skin by pulling out toxins and leaving smooth skin.

– Volcanic ash is great for preventing breakouts and reducing the size of pores. It has exfoliating and anti-aging qualities.

– Ashwagandha is very beneficial for the skin. It has anti-inflammatory properties and reduces oil production. It is rich in antioxidants which means that it fights signs of aging, and breakouts and reduces dark spots.
Ashwagandha will leave your skin hydrated and moisturized since it increases the development of hyaluronan (which is responsible for hydration).

– Ethically sourced honey softens the skin layers and works to eliminate impurities from pores, including debris that causes blackheads, because it has antioxidant, antiseptic, and antibacterial characteristics. Also, it has moisturizing properties, in fact, honey is the best natural moisturizer.