Is Vanicream Good For Acne?
Are you searching for a skincare product that can effectively combat acne? Look no further than Vanicream. In this comprehensive blog post, we will explore the question of "Is Vanicream good for acne?" by examining the ingredients, user reviews, and overall effectiveness of each Vanicream product for treating acne.
From cleansers to moisturizers, we'll leave no stone unturned in our quest to uncover the truth about Vanicream and acne.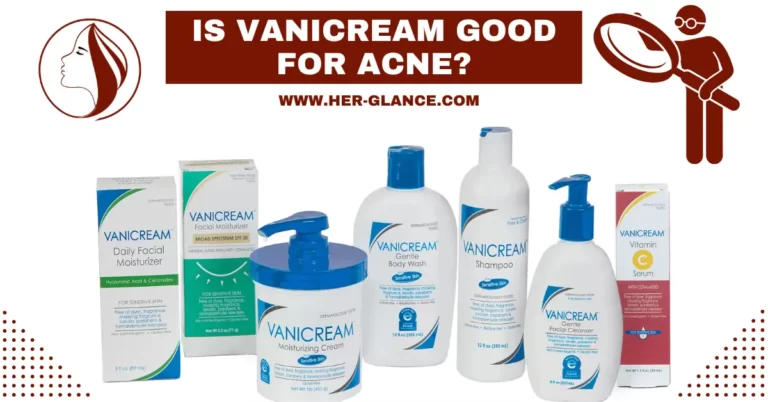 Vanicream Gentle Facial Cleanser is a non-comedogenic and oil-free product (won't cause clogging of pores) and because of that, it is suitable for people with acne-prone skin. Also, it is free of dyes, fragrance, lanolin, and other potential irritants which makes it great for sensitive skin.
It contains gentle surfactants, so there is less chance of developing allergies. Other ingredients of this cleanser are:
Glycerin is a great ingredient for cleansers because it is a humectant that allows the skin to retain moisture which helps with skin hydration, relieving dryness and refreshing the skin surface. Since this is a wash-off product you will not get the benefits of glycerin you would have from a stay-on one that contains glycerin. It is important to note that Vanicream cleanser will leave your skin feeling clean and soft.
Coco-glucoside is a gentle surfactant used in cleansers for improving cleansing abilities by lifting dirt and oils from the skin allowing them to be washed away. It consists of a blend of glucose and coconut-derived fatty alcohol. While coco-glucoside is regarded as non-comedogenic, coconut oil and some other substances derived from coconuts may be comedogenic, or pore-clogging.
Sodium cocoyl glycinate is another mild and non-drying surfactant (cleaning agent) that is amino based and composed of glycerin and fatty acid.
1,2-hexanediol is a humectant that also has emollient properties and helps to hold moisture in your skin. It is great for softening and soothing skin by creating a protective moisturizing film on the skin. It is a safe and non-irritating ingredient.
How to use Vanicream Gentle Facial Cleanser?
To get the most out of this cleanser it should be part of a functional skincare routine. And that means using it as a second cleanser of the double cleansing method and pairing it with the right actives in form of toner or serum and regularly moisturizing your face.
If you wear a lot of, make up your first step should be a cleansing balm, and as a second step use Vanicream cleanser. On a day without a lot of makeup, you can use an oil-based cleanser to remove sunscreen and follow by a Vanicream cleanser for deeper cleansing.
For more information on skin cleansing, check out my previous post about skin cleansing and everything you should know about it. 
Is Vanicream Daily Facial Moisturizer Good For Acne?
Vanicream Daily Facial Moisturizer is a lightweight moisturizer that is not greasy and that is what makes it good for people with oily skin and  acne. Also, it is non-comedogenic and free of fragrance and dyes. Even though it is lightweight and perfect for wearing under makeup, it leaves the skin feeling smooth and intensely hydrated.
Usually, people with acne skip moisturizer because they think it will cause more oil production, but that is not the case. Actually, dehydrated skin with stripped natural oils leads to more sebum production and ultimately to more oily skin.
Vanicream moisturizer can have another function for your skin besides hydration. This moisturizer can be used to reduce irritation from strong, drying, and irritating actives like retinol or retinoid. All you have to do is to apply it before retinol because it contains amazing ingredients that can help to reduce that irritation.
Vanicream daily facial moisturizer has a great formula that includes ingredients that are skin-identical, cell-communicating, and have antioxidant properties.
Skin identical ingredients are:
Squalene is pretty much suitable for all skin types. Since it is non-comedogenic it is great for acne-prone skin. Another reason that makes it great for acne-prone skin is the fact that squalene is a natural part of sebum and by applying it on your face your skin will see it as a naturally occurring oil and generate less of it on its own. Also, it has many benefits for the skin, making it a desirable ingredient in moisturizers. Including squalene in your skincare routine will help with moisturizing the skin, fading dark spots, soothing, and preventing irritation. Fatty acids from this source restore and nourish the skin, calming inflammation. If you have been reading my posts you could have noticed that I love niacinamide for calming irritation, but squalene will do just fine too. You can find more information about squalene on this link. 
Hyaluronic acid is a powerful humectant with small molecule weight, which means that it is capable of penetrating deeper into the skin. Also, it enhances the penetration of other ingredients. This is one of the ingredients that are tolerable for all skin types because it is naturally present in our skin. Hyaluronic acid is responsible for skin hydration, moisturization, and pulpiness of the skin. It acts like a magnet because it attracts water molecules and helps to hold them in the skin.
Ceramides are skin-identical ingredients that are very helpful for maintaining a healthy skin barrier which leads to less water loss and protection from harmful environmental stressors.
Glycerin is the best humectant and applying it in form of moisturizer will be very beneficial for your skin. Molecules of glycerin have smaller molecular weight than molecules of hyaluronic acid which means that glycerin has better penetration. It is a very important ingredient for the health of your skin barrier because it keeps it fluid and hydrated allowing it to be more functional. It can reduce irritation from other ingredients and improve skin elasticity. In Vanicream daily moisturizer, glycerin is high up on the ingredient list and I love it for that.

An ingredient with antioxidant properties is carnosine, a peptide that is naturally present in muscle and brain tissue. It has anti-aging abilities by slowing down glycation (a process of damaging skin proteins by eating a lot of sugar), and it can rejuvenate the skin.
Is Vanicream Sunscreen Broad Spectrum SPF 50 Good For Acne?
Vanicream Sunscreen Broad Spectrum SPF 50 blocks UVA and UVB rays. It is a great choice for people that are dealing with oily skin and acne because it is non-comedogenic which means it will not clog pores. Also, this sunscreen doesn't contain common irritants and it is comfortable to wear.
This is a mineral sunscreen (a better option than chemical sunscreens because they enter the bloodstream and the effects of that are not fully studied) so, it will leave a little bit of white cast, and if you have the skin of color you might want to apply tinted cream over it, like BB or CC cream.
Vanicream sunscreen is very well formulated. Ingredients that are present in its formula are:
Zinc oxide is one of the most secure ingredients that may provide your skin with the necessary UV protection. By blocking harmful UV rays, it helps shield cells from damage, slows down the aging process, and reduces skin dryness.
Allantoin is an emollient that helps to soothe, soften skin and heal wounds. Also, it helps to prevent dry, rough, itchy, and irritated skin.
Is Vanicream Moisturizing Ointment Good For Acne?
Vanicream Moisturizing Ointment is a product that is not for treating acne per se, but I decided to include it in this post" Is Vanicream good for acne" because it helps people that are dealing with acne by using Accutane.
Accutane treats acne by reducing the amount of oil that skin oil glands produce. The result is a drying of all your body's mucous membranes due to reduced oil production. Without getting too technical, Accutane results in dry, chapped lips.
If you have severely dry lips due to Accutane this ointment is a great choice for you.
Is Vanicream Moisturizing Skin Cream Good For Acne?
Vanicream Moisturizing Skin Cream is a very heavy moisturizer that is not a great choice for acne-prone skin, it is more suitable for dry skin.
But if you decide to purchase it, get one with the pump dispenser or use a scooper if you get a regular one, because that way is more sanitary.
Frequently Asked Questions
Is coco glucoside comedogenic ?
Coco glucoside is not comedogenic which means that it will not clog pores and cause breakouts. It is a very beneficial ingredient that gives the skin all the moisturizing qualities of coconuts. It is a very nourishing emulsifying component that profoundly hydrates the skin and keeps moisture in for a long time. As it gives the goods moisturizing qualities, it also stops the skin from drying out.
Is Vanicream non comedogenic?
Vanicream products for the face are non comedogenic, light and gentle. Another great thing about these products is that they don't include colors, fragrances, lanolin, parabens, or formaldehyde releasers.
Does Vanicream clog pores?
Vanicream does not clog pores. It contains ingredients that have a low comedogenic rating which means that they will not clog pores.
Vanicream is considered safe for all skin types including sensitive skin. But this may not be the case for people that are allergic to certain ingredients. So, if you are just starting to use their products you should do a patch test to see how your skin is going to react, just like with any other skincare brand.
Does Vanicream cause acne?
Vanicream does not cause acne because of non-comedogenic ingredients which make it possible to moisturize and hydrate oily skin without breaking out. Using non-comedogenic products allows the skin to breathe and remain hydrated. You should keep in mind that this applies to products that are marked for oily skin, don't use moisturizing skin cream that is a heavy moisturizer suitable for dry skin.
Some people have reported several cystic spots which can be caused by an allergic reaction to one of the ingredients, like Cetyl alcohol or propylene glycol. If that happens you should compare ingredients with some product that gave you the same reaction (if there is one) to look for the culprit and visit a board-certified dermatologist.
As a brand Vanicream is good because it is very well formulated, with lots of beneficial ingredients, and without harmful ones such as dyes, fragrances, masking fragrances, lanolin, parabens, and formaldehyde releasers. Also, their products are affordable and recommended by dermatologists.