CeraVe Acne Control Gel HOW TO USE
Acne can affect teenagers and adults alike, and an effective acne gel or cleanser is an essential step in any anti-acne skincare regimen. In order to help all people who have trouble with acne, Cerave created both acne control gel and cleanser.
Of course, it is important to use both of these products carefully, as a wrong use can make your acne trouble much bigger. The first thing I will be covering is Cerave acne control gel and how to use it.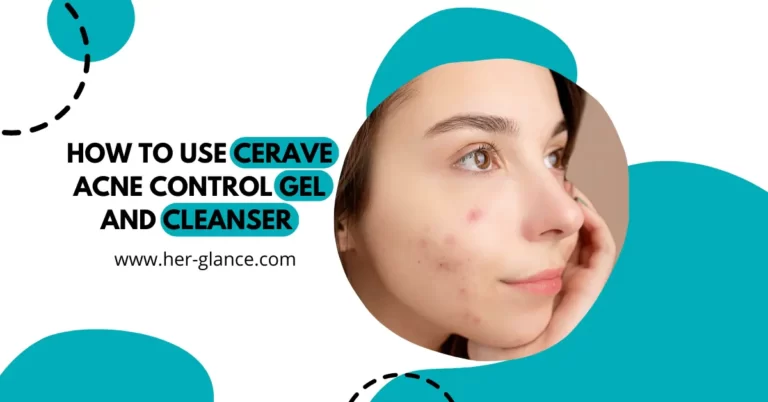 You can use Cerave acne control gel three times a week if you have used products that contain hydroxy acids. If you have never used that type of product you need to introduce this gel slowly into your skincare routine.
So, if you have used products like The Ordinary AHA 30% + BHA 2% Exfoliating Peeling Solution, and Tansy AHA + BHA Resurfacing Clarity Mask which contain hydroxy acids then you can start off using CeraVe acne control gel three times a week.
In case you did not here is how you should do it. At night after you cleanse your skin and apply the moisturizer allow the moisturizer to absorb fully and then apply the pea-sized amount of the gel. Of course, you don't have to apply Cerave gel all over your face, doing it only on the area that is problematic with acne is certainly enough.
One more important thing to add is that you should not apply the gel around your eyelids since if the gel gets on the thin skin on the eyelids it can cause severe dryness and irritation. As an added precaution, you can apply a little bit of vaseline on the eyelids while applying the gel, to prevent any gel from getting on the thin skin. In the start, you need to use, the gel once a week in order to determine if it will cause any irritations.
You can apply it once a week for three weeks and if everything is alright you can start using it three times a week. You should follow this routine, especially if you have a deeper skin tone and have never used products containing hydroxy acids.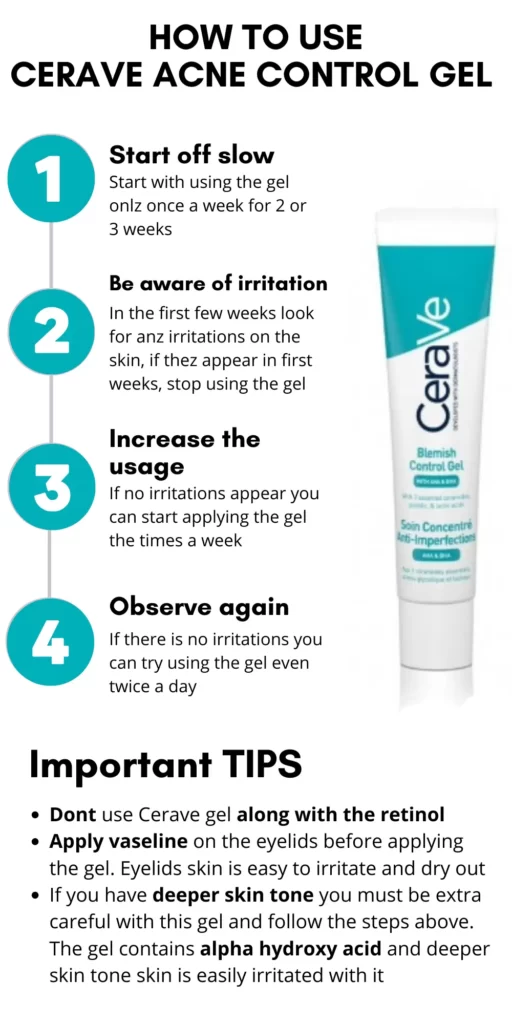 If your skin still doesn't get irritated with the gel you can start using it nightly or even twice a day after the first two months of use. You can bump up using it twice a day especially if you have oily skin with lot of active acne that you are trying to treat.
If you decide to do it twice a day, you can do it nightly and also once in the morning. In the morning, after you wash your face and apply moisturizer you can apply Cerave acne control gel. After you give your skin time to absorb the gel, it is critical that you apply sunscreen because the gel will certainly make your skin more sensitive to the sun.
If you are using any form of topical vitamin A at night time, whether that is prescription tretinoin, xeratine prescription, etc. Then I don't suggest using Cerave gel along with that. You can incorporate the gel into your skincare routine by applying it only in the morning if you are somebody who uses retinol every night. If you are not using retinol every night, then you can apply the Cerave gel at the retinol off nights.
Skincare Regimen For Black Skin With CeraVe Products
🌟 Discover Your Best Skin: Unleash Radiance with CeraVe! 🌟 Get the essential guide to vibrant black skin: "Skincare Regimen For Black Skin With CeraVe Products." Embrace tailored routines, expert tips, and CeraVe's proven products.

Download now for a limited-time glow-up! 💖📚
EVERYTHING ELSE YOU MUST KNOW
About Cerave Acne Control Gel
Cerave ance control gel is a 2% salycidic acid levon product. The biggest advantage of leaving the salicylic acid on the skin for a certain period compared to rinsing it off with the cleanser is that you are going to get the results faster. Of course, leaving the salicylic acid on the skin has a big con, that is that it is going to likely cause irritation and dryness of the skin.
I have to give credit to CeraVe for formulating this gel, it contains inactive ingredients that actually make this gel into something you would want to have on your face. The result of the good formulation is the moisturizing effect this gel gives when you put it on your face. A few ingredients that you can find in CeraVe acne control gel are niacinamides, ceramides, and hydrolyzed hyaluronic acid which helps hold onto the hydration.
It also includes poly hydroxy acid and glucona lactone which can help improve the moisture barrier. Compared to the CeraVe acne control cleanser, the gel contains alpha hydroxy acids which can make you more sensitive to sun exposure. This is why the packaging contains a sunburn warning, this means that you have to wear sunscreen. It is also important to note that since this gel contains alpha hydroxy acid you need to be extra careful if you have a deeper skin tone.
Deeper skin tones are more likely to develop irritations that ultimately cause hyperpigmentation. This doesn't mean you can't use the CeraVe gel but it is advised to be more cautious about how much you use it and how frequently. If you want to learn if CeraVe in general is suitable for the black skin, you can read our previous post.
Cerave Acne Control Gel Before Or After Moisturizer
Many people misunderstand the purpose of the moisturizer because of the name of the product. The main purpose of the moisturizer is not to hydrate the skin but actually to keep the moisture in the pores. So that is why you should first wash your face with the water then apply the moisturizer, wait for about 3 to 4 minutes and then apply the CeraVe acne control gel.
This way your moisturizer will serve its purpose and keep the moisture in the skin and you will give it enough time to do so by waiting a few minutes before applying the gel.
It also important to note that many people who dry their skin with the towel after they wash it with the water actually contaminate their skin with the bacteria that has been stored on the towel. For this reason, it is also more sanitary to apply moisturizer right after you wash your face.
How To Use CeraVe Acne Control Cleanser
Like the Cerave gel you can use the cleanser both in the morning and in the evening. This will mostly depend of the rest of your skincare routine as this cleanser can be used on its own and in combination with moisturizers. If you decide to use the cleanser together with the moisturizer you should first wash your face with water then apply moisturizer then use the CeraVe cleanser.
As the cleanser contains similar ingredients that the gel, the frequency of using it will depend on the sensitivity of your skin to the hydroxy acid. If you have never used products with hydroxy acid then you can start using the cleanser once a week for three weeks then increase it to three times a week if the dryness and irritations dont occur.
If you see that your skin can handle it then you can start using it every day or even twice a day both in the morning and in the evening. The pro tip is that you should combine it with the moisturizer that contains SPF in its formula or you can use the regular sunscreen product.
I personally use Paula's Choice Essential Glow Moisturize with an SPF of 30, if you want to add it to your skincare routine, here is the link to amazon so you can check the current price. Also if you want to use regular sunscreen, there is no better option then CeraVe Hydrating Sunscreen which has an SPF of 50 and should go very well with CeraVe cleanser. Also, here is the link to the mentioned sunscreen.