What is the Best Toner for Hyperpigmentation in 2023?
In the text below you can find ingredients that fade hyperpigmentation, and you can choose the best toner for hyperpigmentation based on those ingredients.
The best toner for hyperpigmentation is one that contains active ingredients that can deal with post-inflammatory hyperpigmentation like soy, azelaic acid, salicylic acid, niacinamide, vitamin C, and licorice root.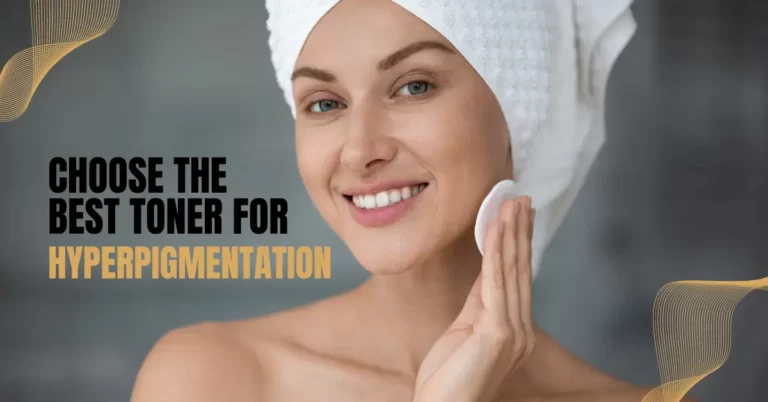 Post-inflammatory hyperpigmentation also known as dark spots can occur whenever there is any irritation on the skin. It happens when acne heals, if you have been using some irritating skincare products, or if you have been exfoliating a lot (this refers to scrubs that cause a lot of irritation to the skin). Below you can find the ingredients that are beneficial when dealing with hyperpigmentation and toners based on those.
If you have that skin concern and dark complexion make sure to check out my e-book "Skin of Color: Hyperpigmentation". to find out more about ingredients that are effective in treating hyperpigmentation and what other products you can include in your routine. 
Soy can help with hyperpigmentation and evening out skin tone because it prevents pigment from entering the top layers of the skin. It is important to note that soy is very well tolerated unless you happen to be allergic, so in that case don`t use it. Look for toners with other ingredients that target dark spots.
It also has other benefits for the skin. It has anti-inflammatory, skin-firming, and anti-aging properties. Those anti-aging properties come from the presence of antioxidant compounds known as isoflavones and they include reduced wrinkles, dullness, thinning of the skin, and increased collagen levels in the skin. Since it contains antioxidants, it can also reduce damage caused by UV rays, which includes fine lines and dark spots both when applied topically or eaten. It is not good just for skin discoloration. Soy soothes and calms down the skin and reduces redness.
So, if you are somebody that is looking for an ingredient that helps with signs of aging and also brightens up and evens out skin, soy is a great choice for you.
GLOWOASIS- Milkdew PH Balancing Toner
Glowoasis Milkdew toner is a hydrating toner that also contains soybean extract. It can help to energize dry and dull skin. They also stated that it removes dirt and excess oil.
Let's clear something up. Toner should be hydrating phase of your skincare routine, so like any other product, it should be applied on clean skin. Don`t waste your money by using a toner with a cotton pad to check if you have removed all the makeup. Apply it after a double cleanse and with your hands to avoid absorption into the cotton pad (wasting money).
This toner has a great formula. It is vegan, cruelty-free, and doesn`t contain simple alcohols (contains fatty alcohols that are beneficial for the skin). Other ingredients that make this toner great are:
Apricot kernel oil is a very interesting ingredient. It can be used on dry and acne-prone skin because it is hydrating and contains linoleic acid which can increase moisture retention, soothe acne and prevent breaking out. One of the components that also make it great for acne-prone skin is alpha-linoleic acid which reduces inflammation. The presence of oleic acid makes it great for reducing signs of aging and maintaining soft, supple, and radiant skin.
Cica extract contains amino acids, antioxidants, and vitamins A, C, and B. All those compounds make it great for reducing signs of aging, moisturizing, and soothing sensitive and dry skin types that suffer from redness, inflammation, and itchy skin.
Prickly pear extract has antibacterial, hydrating, and antioxidant properties. It helps to reduce skin inflammation and prevent skin damage and acne.
Glycerin is the best humectant which is derived from vegetables for skincare products. Since it is a humectant, it hydrates skin and smooths out fine lines, improves moisture retention and skin barrier function. Also, it can reduce irritation from other ingredients. The great thing about glycerin is that you don`t need a separate product since many toners and moisturizers already have it.
Sana Japan Nameraka Honpo Q10 Soy Milk Moisturizing Lotion Toner
Sana is a Japanese brand that uses soy in its products which helps to treat hyperpigmentation. This particular product is an excellent lightweight lotion (toner because it has a watery texture) that will also help to moisturize and soften your skin.
It is important to note that this toner is without artificial coloring, fragrance-free, and mineral oil-free, but it contains alcohol (and that is a huge but). To be more specific it contains ethanol which belongs to the group of not-so-skin-friendly alcohols alongside isopropyl alcohol and alcohol denat and causes the stripping away of natural oils and can be drying to sensitive skin. And since ethanol is high on the ingredient list it will have a strong influence on the skin.
Other ingredients that this toner contains are:
Co-enzyme Q10 is a substance that occurs in our skin naturally and it is essential for the skin`s basic functions like regeneration and repair. Q10 performs two tasks in the skin. It is necessary for energy generation and for fighting free radicals that occur due to UV radiation and environmental stressors. If their concentration is too high, they can lead to promoting inflammation, damaging skin and skin accelerated aging.
Carrot extract is rich in antioxidants that help to fight above mentioned free radicals and brighten up the skin. It also increases cell turnover which means that younger, healthier skin cells emerge on the skin's surface.
Aveeno Skin Clarifying Toner with Soy Extract
Aveno toner with soy extract is suitable for all skin types for reducing hyperpigmentation and dullness. It has a short list of ingredients. Next to soy, this toner contains panthenol.
Panthenol is a moisturizing ingredient that has many benefits for the skin. It hydrates the skin and reduces water evaporation through the skin. It also reduces oil production and leads to less oil accumulation which prevents breakouts. Panthenol has wound-healing abilities and helps to form new tissue.
The good thing about this toner is that it doesn`t contain alcohol and it is also oil-free and hypoallergenic. You can find on Amazon that this toner is characterized as unscented, but if you look up the ingredients list you can find perfume there, which is a cosmetic ingredient that is added to the product for a nice smell. If you are someone with sensitive skin or someone that simply doesn`t like fragrance, then this product may not be for you.
Best Toner for Hyperpigmentation with Azelaic Acid
"Azelaic acid is a naturally occurring dicarboxylic acid found in cereal grains like wheat, rye, and barley and animal products," Dr. Thiede said. "It is produced by Malassezia furfur, a yeast that lives on normal skin."
It is great for people that have sensitive skin dealing with hyperpigmentation and/or acne. If you are struggling with acne make sure to check out my e-book, where you can find all about ingredients that help that condition, a simple skincare routine, advice on the prevention of acne, and much more.
Regarding hyperpigmentation, azelaic acid has a very strong influence on inhibiting the free radical formation and tyrosinase (an enzyme that leads to hyperpigmentation and dark spots). Its effect on acne is modest, it can help break up closed whiteheads and has anti-inflammatory and anti-bacterial properties that benefit both hyperpigmentation and acne. Because of that modest effect on acne, it shouldn't be used to treat cystic acne because it cannot penetrate deep enough, so in that case, it would be best to visit a board-certified dermatologist.
Those anti-inflammatory properties are beneficial for sensitive skin with rosacea, and azaleic acid is a very effective treatment for that condition. It is very easy to tolerate but to be on the safe side apply it as a part of the nighttime routine because it can sting and be drying. So don't forget to apply sunscreen while using azelaic acid. Also, there is one more thing that you have to be careful about while using azelaic acid, use it with caution alongside retinoids, hydroxy acids (AHAs, BHAs, and PHAs), and benzoyl peroxide because combined they can be irritating and dehydrating.
Since azelaic acid is a relatively unknown ingredient here is the link to find out more about it.
BelleCôte Paris Skin Care Acne Treatment Toner
This toner is suitable for normal to oily/combination skin that deals with acne, blackheads, inflammation, hyperpigmentation, and rosacea. Having toner with a powerful formula like this and without harmful ingredients is a very rare thing. It is important to note that it doesn't contain simple alcohols, parabens, or gluten, and all ingredients are natural, so because of that, it can be characterized as the best toner for hyperpigmentation with azelaic acid.
One downside is that it has fragrance, but if you are someone that doesn't mind or if your skin is not that sensitive you are good to go.
Under directions on their website can find that it can be used 2 times a day, but it is better to start with once a day to see how your skin will react. Also, you can find that they recommend applying it with a cotton pad, which is just a wasteful way because of the absorption of the product.
Next to azelaic acid BelleCote Paris Skincare acne treatment toner also contains:
Salicylic acid is one of the beta hydroxy acids that remove dead skin cells and fights acne. More benefits of this acid include fighting whiteheads and inflammation, reducing sebum secretion, and unclogging pores.
Allantoin is water-soluble hydrator that has mild exfoliating abilities, moisturizing and anti-inflammatory properties. It is recommended for people with inflamed or irritated skin from using too strong ingredients like retinol. It is a great anti-aging ingredient because it prevents fine lines by increasing collagen in the skin.
Other ingredients that can be found in this toner are Cetearyl alcohol which belongs to the group of fatty alcohols that are beneficial for the skin, organic tea tree oil, thermal water, and witch hazel which can be irritating to very sensitive and dry skin.
Best Toner for Hyperpigmentation with Salicylic Acid
Salicylic acid is another ingredient that is very beneficial for hyperpigmentation. It belongs to the group of beta hydroxy acids which means that it is oil-soluble and because of that it penetrates deeper into the skin.
Salicylic acid fights hyperpigmentation by helping skin cell turnover (the ongoing process of removing old skin cells and replacing them with newer ones), to smooth out the skin and remove superficial hyperpigmentation. Also, it is anti-inflammatory, can have a skin-brightening effect, and give you acne control. The best effect of salicylic acid is on blackheads and whiteheads because it can dissolve debris and clogged pores.
It can be very helpful if incorporated right into the routine. Don't overuse it and apply sunscreen religiously the day after. If you have a problem with acne that heal with hyperpigmentation you can incorporate salicylic acid toner in the morning and use retinol in the evening. Just make sure to apply sunscreen in the morning to avoid damaging your skin.
Salicylic acid is not a good choice for people with very sensitive, dry skin or rosacea because it can aggravate those conditions. Also, start using it gradually by one or two times a week, and work up from there if your skin tolerates it.
Paula's Choice--SKIN PERFECTING 2% BHA Liquid Salicylic Acid Exfoliant
The best toner for hyperpigmentation with salicylic acid is Paula's choice liquid exfoliant. It is a great alternative for mechanical exfoliating to avoid little tears in the skin it causes. This toner helps with improving skin's texture, smoothing out wrinkles, and evening out skin tone.
You can find on the website that this is gentle toner suitable for all skin types and daily use. To be on the safe side start implementing it into your skincare routine gradually.
To lower the risk of irritation you can also first apply niacinamide toner and then follow with this exfoliator because niacinamide helps to tolerate other strong actives like BHAs and retinol. Besides that, niacinamide has many other benefits including fighting hyperpigmentation. If you want to learn more about niacinamide go down below in the section about niacinamide.
Paula's choice exfoliator has a relatively short list of ingredients. It doesn't contain fragrances, simple alcohols, and parabens. Next to the salicylic acid, there is also green tea extract which helps to improve your skin's natural moisture, unclog pores, fight acne and reduce inflammation.
Best Toner for Hyperpigmentation with Niacinamide
Niacinamide is one of the active ingredients that are suitable for all skin types and well tolerated (even sensitive skin). It reduces hyperpigmentation by interfering with the interaction between cells that make pigment (melanocytes) and keratinocytes. It has been shown that it helps with acne by reducing oiliness, strengthen the skin barrier, reduce fine lines, improve eczema and increase elasticity.
I have a whole post dedicated to niacinamide and toners with niacinamide, so if you want to learn more and find the best toner for hyperpigmentation with niacinamide, feel free to check it out.
Best Toner for Hyperpigmentation with Licorice Root Extract
Licorice root extract is very well tolerated, and every skin type can benefit from using it. You can introduce it slowly into your skincare routine to see how your skin reacts by starting just in the evenings. Including it in your routine helps to brighten and even out the skin because it can inhibit how pigment is dispersed throughout the skin. It has anti-inflammatory and soothing properties and also helps to reduce redness and irritation.
Licorice root is a great ingredient for people with acne that heals with redness and discoloration.
Finding the best toner for hyperpigmentation with licorice root that doesn't contain alcohol and fragrance is very hard. In my previous post that I mentioned above in the section about niacinamide, you can find a toner that doesn't contain those ingredients (PSA Heroine Glow toner).
Hydrating Toner for Face by Reflectionzz
Hydrating Toner for Face by Reflectionzz is sulfate-free, alcohol and paraben free, but it does contain a mild fragrance. It is suitable for all skin types, oily/combination, and dry.
Its formula is bland of natural ingredients. Alongside licorice root, this toner also contains hyaluronic acid, vitamin E, and tiger grass.
Tiger grass has antioxidant and anti-aging properties, and it helps to reduce inflammation, improve dullness, protect skin from free radicals and soothe sensitive skin. It works well with hyaluronic acid by improving the skin's ability to retain water and hydrate.
Best Toner for Hyperpigmentation with Vitamin C
Vitamin C is an antioxidant that is great for fighting hyperpigmentation, but it has one disadvantage. It is very unstable, it degrades and oxidizes easily which can be irritating for the skin, so manufacturing a product that is going to work is hard. I would not use it in the form of toner because it might be a waste of money. It is better to look for it in a form of serum alongside ingredients that enhance penetration and stability, like ferulic acid and vitamin E.