Best Sunscreen for Combination Skin Dermatologist Recommended
To help you find the best sunscreen for combination skin dermatologist recommended I have singled out a few sunscreens that are also recommended by Skin Cancer Foundation. Those sunscreens contain additional ingredients that don't belong to the group of sun-protecting ingredients but rather have other benefits for the skin like hydration, anti-aging properties, and more.  In the text below there are benefits and potential drawbacks of those ingredients, so you can make your choice.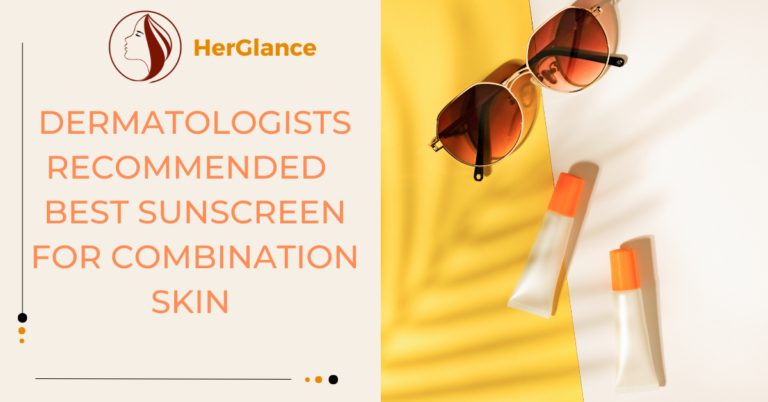 I know that many reviews of sunscreens and product descriptions just state that it protects from various types of rays (UV, visible or infrared) which is not that helpful to us buyers. To understand why sunscreen is important and to motivate you to apply it religiously, especially if you use strong active ingredients that make your skin more sensitive to the sun, I will explain what consequences all the previously mentioned rays have.
What do ultraviolet rays do to our skin?
UV radiation exposure leads to sunburn, which means that there is redness, discomfort, and skin peeling. When your skin burns like that it means that skin DNA damage has occurred which can cause more serious skin problems. Long-term UV radiation exposure may speed up the aging process of the skin. It can make the skin look older than it is by causing wrinkles, fine lines, dryness, sagging, and dark patches.
What do visible rays do to our skin?
Long-term exposure to visible light can cause hyperpigmentation, especially when other factors like inflammation or certain chemicals are involved. Another side effect of prolonged exposure to visible light can cause damage to skin protein, inflammation, and even damage to the skin barrier because it generates heat when the skin absorbs it, and that heat is what causes all the damage.
What do infrared rays do to our skin?
Infrared rays also produce heat when they penetrate our skin. This heat has the ability to expand blood vessels, increasing blood flow to the skin and causing momentary flushing or redness. According to studies, extended exposure to infrared rays, especially IRA, might speed up the skin's degradation of collagen fibers. Since collagen is a protein that makes our skin firm, losing it to harmful rays seems a bit unnecessary. Studies showed that infrared radiation can also cause skin irritation. There may be redness, swelling, and pain because of this inflammatory reaction.
List of Dermatologists Recommended Sunscreens for Combination Skin
MDSolarSciences Mineral Crème SPF 50 Sunscreen for Face
This is a broad-spectrum sunscreen which means that it protects the skin from UVA and UVB rays and it is safe for sensitive skin. MDSolarSciences sunscreen has a lightweight formula that doesn't leave a white cast. It has a very alcohol-free, fragrance-free, and essential oils-free formula that is recommended by the Skin Cancer Foundation which makes sure that you are buying safe and effective products that can prevent skin damage that can lead to skin cancer when used as directed.
Besides ingredients for sun protection, this sunscreen also contains forms of vitamin C, vitamin E, green tea, cranberry fruit, and pomegranate extracts that help it to be in the run for the best sunscreen for combination skin dermatologist recommended.
Tetrahexyldecyl Ascorbate (a form of vitamin C)
This is a form of vitamin C that has a low potential for irritation, so it is safe for combination skin. It can be very beneficial for combination skin that is prone to pigmentation because it has a brightening effect by inhibiting the excess production of melanin. This is an antioxidant which means protection from free radical damage that causes aging and oxidative stress on the skin.
Tocopheryl Acetate (a form of vitamin E)
This is the most used form of vitamin E that is more stable and has a longer shelf life than pure vitamin E, but unfortunately, it does not have the same photoprotective benefits for the skin. Tocopheryl Acetate is not comedogenic which is a great feature for the oily T-zone of combination skin. Like pure vitamin E and its other forms, it offers skin antioxidant protection which means that it helps to protect the skin from damage caused by free radicals generated from UV radiation and other environmental stressors. It also has moisturizing benefits for the skin, soothing effects, and photoprotection enhancement of other ingredients in this sunscreen.
Green tea in sunscreen for combination skin offers numerous benefits. It has calming and hydrating properties that help to reduce dryness and leave the skin feeling nourished and renewed, which is great for normal to dry cheeks. Its anti-inflammatory properties, which help to reduce redness, irritation, and inflammation caused by UV exposure, are great for oily T-zone. Green tea also shows anti-aging properties by inhibiting the harmful effects of UV radiation on the skin, such as DNA damage and collagen degradation.
This is a great additional ingredient in sunscreen because it is rich in vitamins and minerals that help to nourish the skin. It is a great source of antioxidants, including vitamins C and E, as well as polyphenols. So, it offers antioxidant protection, anti-inflammatory properties, moisturization, hydration, and skin barrier support.
In addition to antioxidant protection (protection from free radicals that damage our skin by the antioxidants), anti-inflammatory properties, moisturization, and hydration it also helps to stimulate collagen production in the skin.
Obagi Sunscreen Sun Shield Matte Broad Spectrum SPF 50 Sunscreen Dermatologist Recommended
Obagi Sunscreen protects your skin against the previously mentioned ultraviolet (UVA and UVB), visible, and infrared rays that may pass through many layers of skin. It is important to note that this sunscreen is also recommended for daily use by the Skin Cancer Foundation.
This sunscreen has PABA-free and fragrance-free formula that applies completely sheer in a matte finish. Besides ingredients that are for sun protection, the formula also contains glycerin, squalene, and forms of vitamins C and E.
Those additional ingredients are what make the difference. For example, glycerin in sunscreen has several purposes. Since it is a humectant and the best one on the market, it can prevent the skin from becoming dry and dehydrated, and those are conditions that sun exposure can lead to. The way glycerin does that is that it helps to strengthen the skin barrier and forms a protective layer that prevents water loss and shields the skin from environmental stressors.
Since glycerin is non-comedogenic, it is unlikely to clog pores or cause acne breakouts, which is very important for a combination skin type because of its oily T-zone. So, glycerin is a great ingredient for combination skin because it prevents dehydration of normal to dry cheeks and does not cause breakouts.
It is important to note that while this formula contains squalene to moisturize skin and provide other skin benefits, it is not usually the main active component that provides UV protection. Squalene helps to moisturize and soften the skin and has great moisturizing qualities. It works well as an emollient, which can aid to smooth the skin's surface. Like glycerin squalene also helps to strengthen the skin barrier and additionally has antioxidant properties that help to prevent damage caused by free radicals generated by UV exposure.
Tetrahexyldecyl Ascorbate (form of vitamin C)
This is a form of vitamin C that is also present in the previously mentioned sunscreen, so if you need to remind yourself about its benefits make sure to read that section again in the text above.
Tocopherol (a form of vitamin E)
Although tocopherol does not by itself offer much protection from the sun, it can improve the photoprotective properties of other sunscreen components. It aids in stabilizing and enhancing the effectiveness of UV filters, enhancing the total level of sun protection provided by sunscreen. Tocopherol also has antioxidant, moisturizing, and soothing properties.
It is important to note that the comedogenicity rating (likelihood to clog pores) for this ingredient is 0-3, which means that the ingredient's comedogenic potential can vary, and the specific rating within that range can provide a general indication of its likelihood to clog pores and cause comedones.
Naturium Dew-Glow Dermatologist Recommended SPF 50 for Combination Skin
Naturium Dew-Glow Moisturizer is a great option for combination skin. When it comes out of a tube it has a kind of texture that looks more suitable for dry skin. It is a very dense and plush cream, but it melts into the skin and doesn't make it oilier over time. This is a chemical sunscreen that easily blends into the skin, so it will not leave a white cast on people with a darker complexion.
Like the previous sunscreens, it also has a great formula with additional ingredients and without fragrance, alcohol, and essential oils. It contains a combination of antioxidants, hydrating and soothing ingredients.
Antioxidants that are present in Naturium Dew-Glow Moisturizer SPF 50are tocopheryl acetate and tocopherol (both are forms of vitamin E whose benefits I have explained in the text above), 3-O-Ethyl ascorbic acid (a form of vitamin C), and argan oil. Hydrating and soothing ingredients that help this cream to be the best sunscreen for combination skin dermatologist recommended are glycerin, sodium hyaluronate, squalane, niacinamide, and bisabolol.  
Although it is not an essential ingredient in sunscreens, incorporating it in sunscreen formulas can have certain benefits. Besides its antioxidant properties argan oil also has a reputation for being extremely hydrating. It is rich in fatty acids like oleic and linoleic acid, which support the hydration and nourishment of the skin. Argan oil can help with moisturization to keep the skin supple and silky.
Argan oil contains soothing properties that are beneficial for calming and reducing skin irritation. It may help calm skin that has been exposed to UV rays and gotten burned or irritated. It also helps to prevent moisture loss because it contains fatty acids that strengthen the skin barrier.  
Niacinamide is a beneficial ingredient for combination skin because it helps to control oil production and by doing so it can help to prevent and minimize the appearance of enlarged pores and future breakouts. The reason to include it in the sunscreen is that it is a very stable ingredient that can help to reduce the damage caused by UV damage that leads to premature aging.
Niacinamide helps lighten dark spots, hyperpigmentation, and uneven skin tone. It results in a brighter and more even complexion by preventing the migration of melanin to the skin's surface. If you want to include more of Niacinamide into your routine make sure to visit my previous post about toners with niacinamide.
Bisabolol has soothing properties that help sun-exposed skin by reducing redness, irritation, and inflammation caused by UV rays. It has anti-inflammatory properties and helps to repair damaged skin and improve the overall appearance of the skin. This ingredient also has antioxidant properties and helps to moisturize and hydrate the skin. Another great reason to include bisabolol in sunscreen formula is that it helps other ingredients to penetrate better which means that they can reach deeper layers of the skin more effectively.