Best Body Lotion For Hyperpigmentation In 2023
Hyperpigmentation can be really hard to treat especially on the body. The biggest impact hyperpigmentation can have on you is the emotional one whether it's dark marks followed by acne or post-inflammatory hyperpigmentation following a bug bite or even melasma believe me I can sympathize with you.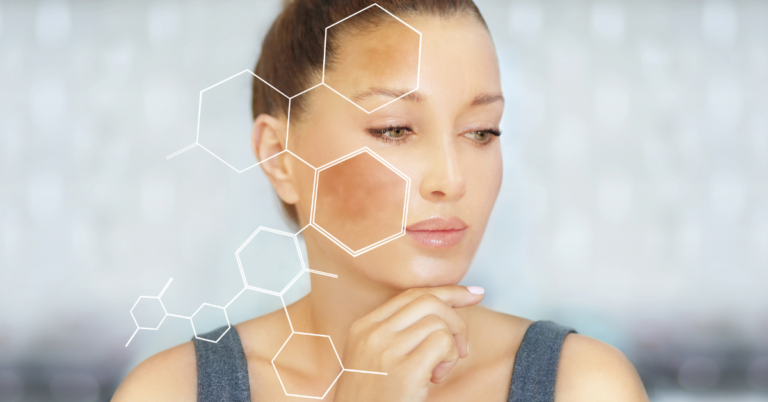 I am writing this post in order to help anyone that is going through this and wants to have even-toned skin. First of we are going to look at what kind of lotions to look for and how is hyperpigmentation even treated, then I will suggest to you the best body lotion for hyperpigmentation considering every other skin condition, skin type, skin color, etc. Let's get into it!
Best Body Lotion For Hyperpigmentation That Suits All Skin Types
PCA SKIN Daily Body Therapy Lotion
Best body lotion for hyperpigmentation that suits all skin types is PCA SKIN Daily Body Therapy Lotion.
If you want to exfoliate your skin while leaving a smooth and soft feeling to it this is probably the right lotion for you. Of course, you can use it on all parts of the body without any issues. It contains some of the best ingredients out there when it comes to treating hyperpigmentation. I will of course analyze the most important ones and give you my opinion.
The first ingredient is obviously water which is really important to hydrate the skin. It will help you balance out the moisture in your skin and prevent dryness, flakiness, and dullness.
The next ingredient is Lactic acid which is an alpha-hydroxy acid that is used to dissolve the outer layer of dead skin cells. Of course, by removing the layer of the dead skin cells lactic acid will help you to get rid of hyperpigmentation.
The next important ingredient is Glycerin which is a humectant that will keep the moisture on the top of the skin and that way prevent dryness and flakiness and improve the skin's overall texture. Next up is Jojoba esters wax which are beads made from jojoba oil. This ingredient is the reason for very smooth and soft skin after you use this body lotion.
There are even more ingredients that increase the moisturizing and exfoliating effect of this lotion but I won't name every single one ingredient. Of course, there are ingredients that might have a negative impact on some people. Since the PCA SKIN Daily Body Therapy Lotion contains few alcohol ingredients I would not recommend you to use it if you have sensitive or dry skin.
Also if you are suffering from hyperpigmentation because of the acne this is certainly not a lotion you should use since it can cause even more breakouts on your skin. I will surely list out some of the lotions below that you can use if you have mentioned the situation.
Otherwise, this lotion should cover most people and help them in treating hyperpigmentation. In my opinion, it is specifically recommended for people with oily or combination skin that is not overly sensitive or prone to dryness.
As I have mentioned before lotion is just one piece of the regimen to treat hyperpigmentation and you should include it with other above-mentioned steps.
Best Body Lotion For Hyperpigmentation For Dry Skin
Asap Revitalising Bodymoist
Best body lotion for hyperpigmentation and dry skin is Asap Revitalising Bodymoist
It has some things in common with the first lotion I have suggested but there are some pretty big differences as well. When we look at the ingredients list of asap Revitalising Bodymoist it contains a lot moisturizing ingredients such as Shea Butter and Glycerin.
Same as the first lotion this one also contains an exfoliating agent, it is a Glycolic acid and there is a difference since PCA SKIN Daily Body Therapy Lotion contains lactic acid for exfoliation.
Both Glycolic Acid and Lactic Acid can be effective in reducing hyperpigmentation, but they work in slightly different ways.
Glycolic Acid is a type of alpha-hydroxy acid (AHA) that works by exfoliating the top layers of the skin and promoting cell turnover. This can help to reduce the appearance of hyperpigmentation by removing dead skin cells and revealing brighter, more even-toned skin.
Lactic Acid is also an AHA, but it has larger molecules than Glycolic Acid, which means it penetrates the skin more slowly and gently. Lactic Acid works by exfoliating the surface of the skin and breaking down the glue-like substance that holds dead skin cells together. It can also help to increase skin hydration and improve the overall texture and tone of the skin.
Also, it is very important to note that both of these ingredients can increase sensitivity to the sun so it is important to wear sunscreen as well.  The asap Revitalising Bodymoist also contains Green Tea Leaf Extract and Grape Seed Oil which are great antioxidants which means they will protect the skin from further damage.
One ingredient that can be bad for hyperpigmentation is Phenoxyethanol, which is a preservative used in skincare products. While it is generally considered safe in small amounts, some people may be sensitive to it and experience skin irritation or inflammation, which could worsen hyperpigmentation.
Another ingredient that may be less suitable for those with sensitive or reactive skin is Citrus Grandis (Grapefruit) Peel Oil. Citrus oils can be phototoxic, meaning they can increase the skin's sensitivity to the sun and cause hyperpigmentation or other skin damage. Asap Revitalising Bodymoist also contains some alcohol, specifically Cetearyl Alcohol.
 Even though this is a lot less alcohol than the first lotion, I would not suggest using it if you have very sensitive skin and some the skin conditions like eczema or rosacea. If you have skin that is moderately sensitive I would suggest doing a patch test to find out if it will affect you negatively. 
If you would like to look at the list of all ingredients for this lotion here is the link to that.
Best Body Lotion For Hyperpigmentation For Acne Prone Skin
Paula's Choice Weightless Body Treatment
Best body lotion for hyperpigmentation and acne prone skin is  Paula's Choice Weightless Body Treatment.
It contains Salicylic Acid which is a beta-hydroxy acid that is commonly used as an exfoliant in skincare products.
You will also find it in a lot of acne-based products because it is really great for unclogging pores and removing dead skin cells. This being said Paula's Choice Weightless Body Treatment should be your choice if your hyperpigmentation is caused by acne. With this lotion, you will be treating acne as well as hyperpigmentation.
 The lotion also contains two flower extracts that will soothe the skin and will reduce redness and inflammation. It also contains Leaf Extract and Vitamin E which will protect the skin from further damage and free radicals.  Furthermore, this Paulas Choice lotion contains Bisabolol and Allantoin ingredients which are also great for the reduction of inflammation. As you can see it contains a lot of ingredients that reduce redness and inflammation so if your hyperpigmentation is caused by inflammation this is the one for you.
Overall it contains very useful ingredients for hyperpigmentation while it is paraben-free and fragrance-free. Paula's Choice Weightless Body Treatment in my opinion is the best body lotion for hyperpigmentation for people who have sensitive skin and cant use the two lotions mentioned above. If you think this is the one for you we have a link here that leads to Amazon where you can purchase this lotion for a lower price than usual.
How To Choose Best Body Lotion For Hyperpigmentation
Hyperpigmentation is an accumulation of extra color also known as pigment in one specific area of the skin. It results from too much melanin being produced in one area making that spot darker than the skin around it. It is really important to note that hyperpigmentation is something that is extremely normal and it is really hard to have skin that keeps the same color from head to toe. Hyperpigmentation is simply a body's reaction to some kind of injury or inflammation. The more melanin your body is producing the bigger your chances of you having a dark mark or hyperpigmentation on the skin.
In general, there are three main factors that cause your melanocytes or your pigment-producing cells to produce hyperpigmentation and the main factor of the three is inflammation.
Inflammation – It can be a result of any type of injury, bug bite, acne, etc. Even some of the daily things all of us do can cause inflammation, like if your thighs rub off each other while walking or while you are cleaning something and you are kneeling or exercising on the floor. That's the type of friction that can lead to inflammation and hyperpigmentation.
Hormonal changes – There are certain times in our life when we are more likely to suffer from hyperpigmentation and one of those times is when we have hormonal changes. There are various reasons that can cause hormonal changes and some of them are pregnancy if you are on birth control, menopause, etc. These are all big shifts in the hormonal balance that can cause different types of hyperpigmentation but especially the type called melasma. You can get melasma, especially on the parts of the skin that are more exposed to light like the upper chest or forearms. Other hormonal changes can cause darkening of the skin like insulin resistance or diabetes.
UV radiation – The third factor is of course UV radiation or exposure to the sun. Make sure that you are wearing sunscreen to reduce the risk of UV lights revving up your melanocytes and causing them to produce more pigment.
Hyperpigmentation Treatment That Includes Body Lotion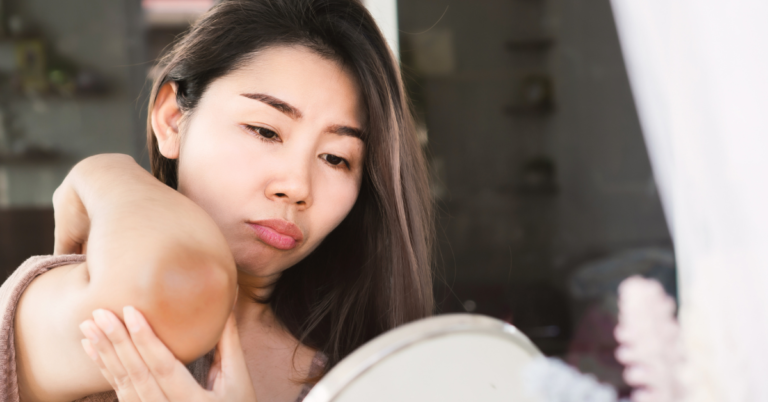 Keep in mind that it is really important to understand what is the cause of your hyperpigmentation so that you can know how to treat it. I will give you a small example, if your hyperpigmentation is caused by acne you want to treat acne as well as the hyperpigmentation. One of the great products you can use to do this is Clear and Even Tone Cleansing Bar By Urban Skin RX.
This product contains salicylic acid, sulfate, charcoal kojic acid, and licorice root. It means that it contains ingredients that are reducing acne and calming down your skin and inflammation while treating hyperpigmentation. If the cause of your hyperpigmentation is one of the medical conditions we have mentioned above then make sure that you are using your prescribed medications while treating hyperpigmentation.
If the cause of hyperpigmentation is friction, make sure to avoid it especially while treating hyperpigmentation. If the cause is bug bites make sure to wear protective clothing while in those vulnerable places.
So, now that you understand what to do before even starting the treatment, here is what the true skin cycling body hyperpigmentation regimen would look like. The first thing you should do is rejuvenate so obviously you should use your retinol products. So what this will do is speed up the cell turnover.
Then you should exfoliate your skin the next night where you can use Skinfix Resurface Glycolic Renewing Scrub. This product has glycolic acid and lactic acid which are great exfoliations but also great humectants.
This means that they will help you hydrate your skin while exfoliating it as well. It will also help even out the skin tone by sweeping off the dead cells from your skin that hold onto the pigment at the top.
After you exfoliate your skin, the next night you can use FADED Topicals Brightening & Clearing Serum to actively treat your pigmentation. This product contains many pigment inhibitors like kojic acid, niacinamide, licorice root, and glycolic acid.
The one more thing you should be doing every single night is to use the right lotion. Of course, you can see the best body lotions for hyperpigmentation in the text below. So let's talk more about lotions. Also if you want to include a toner in this routine you can find the best toners for hyperpigmentation in our previous text.
So, in conclusion I can say that these three lotions will most certainly cover most of the people and that everyone will find something for themselves. As I said in the text I would only urge people with sensitive skin not to buy the first two lotions and to buy the third option. I hope that this text will help you to find the best body lotion for hyperpigmentation